Melting Pot for Silver and Gold
Small Electric Induction Gold and Silver Melting Machine
More Details of Silver and Gold Melting Pot
The gold and silver melting pot is designed to melt about 1kg to 2kg of metals. It is suitable for melting metals such as Karat- gold, gold, silver, copper, brass and their alloys. This melting pot for gold and silver is used in foundries, jewelry making industries, scrap recycling industries, etc.
The melting temperature is 1800 degree celsius which takes only 4 minutes through the induction heating system. The melting pot for gold and silver is easy to install, use and maintain. The PLC control system makes it easy to use.
The furnace is equipped with a water cooling unit that prevents the furnace from overheating during melting.
Superbmelt's gold melting furnace is easy to use and brings high melting quality for your productions.
Get Price of Silver and Gold Melting Pot
Features of Silver and Gold Melting Pot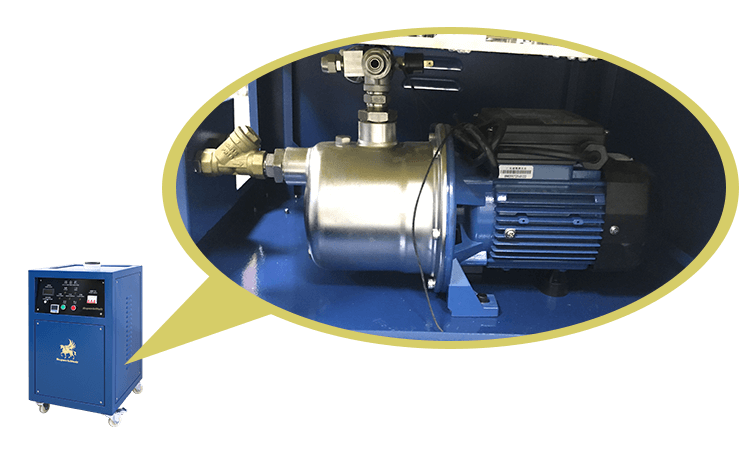 SuperbMelt gold smelting equipment built-in water pump, connected to the tap water can be cooled directly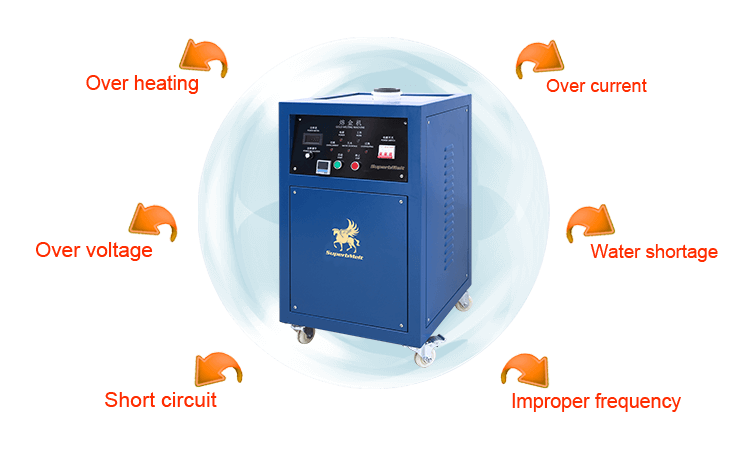 Gold melting pot is equipped with all-round protection to ensure the safety of the machine and the operator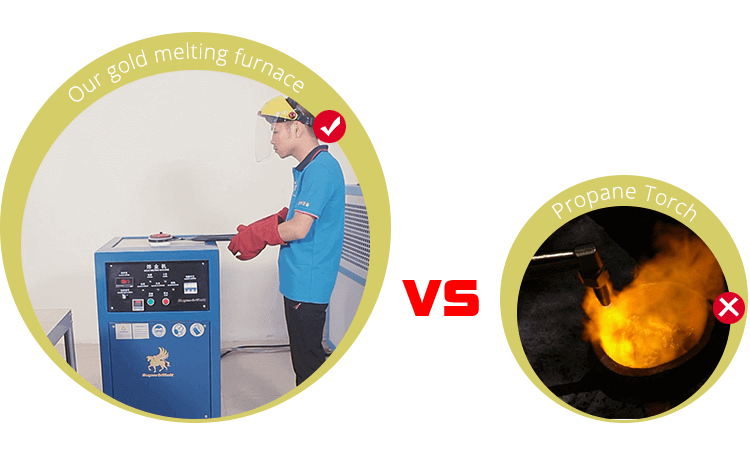 Comparing with traditional melting, SPB-H5 reduces the loss of precious metal, safe work, save operation cost
Details of Silver and Gold Melting Pot
Features & Benefits
The melting gold pot is a portable furnace that is convenient to move. The 4 direction wheel and 2 fixed wheels makes it very easy to transport even to different work sites.
During melting, the magnetic field stirs molten metal to achieve a uniform consistency for high quality casting.
The power required to work this furnace is only 15kw. The induction heating system makes it possible for the furnace to use less power, this is because no energy is lost when melting.
You can work continuously for 24 hours without recording any issues due to the efficiency of the furnace. Also, the water cooling system, induction coil and induction power supply, helps to maintain the temperature of the furnace.
The maximum melting temperature is 1800 degree celsius which can be achieved within 4 minutes. This means that you can melt each batch of your metal for 4 minutes. This contributes to a fast production process.
This furnace can save up to 30% of energy when melting, therefore, saving money on energy use.
The furnace is an environmentally friendly method of melting metals, the furnace does not generate smoke, heat, harmful emissions or noise.
When compared to gas fired furnaces and electric arc furnaces, it is efficient, fast, saves time and cost of production and stress free.
The dimension is 530*530*900mm, this means it does not require so much space in an already busy production line.
Charging and removal of molten metal is easy and safe, you don't have to worry about molten metal spillage.
You can melt Karat- gold, gold, silver, copper, bronze, etc, with our melting pot for gold and silver.
Parameters
Crucible
Any Question About SuperbMelt Silver and Gold Melting Pot
Superbmelt's professional technical team and sales team are at your service
(7/24hours service)