Integrated Gold Melting Furnace
Gold Melting Furnace Description
The gold melting furnace is designed for melting 1g – 12kg gold. It is also suitable to melt other precious metal like silver, copper, palladium.
Based on the latest and most advanced IGBT induction technology, the top speedy melting could be realized within 2-4 minutes. The crucible is extractable by means of matched tong.
It is the better choice for lab, jewelry shop , research institute and mining company comparing with gas melting device and resistance melting type.
We will make testing videos for each  machine to ensure quality. Superbmelt also provides warranty of full refund due to bad quality within one year.
Gold melting furnace parameters
Model number
SPB-H1
SPB-H2
SPB-H5
Photo
Power source
Single phase 220V±10%, 50/60Hz
Single phase 220V±10%, 50/60Hz
Three phase 380V±10%, 50/60Hz
Power
3.5 kw
3.8 kw
15 kw
Applicable metal
Gold, Silver, Copper, Brass, Bronze, and their alloys
Gold, Silver, Copper, Brass, Bronze, and their alloys
Gold, Silver, Copper, Brass, Bronze, and their alloys
Melting time
2 minutes
2 minutes
4 minutes
Max capacity
24K Gold: 1.2 kg
18K Gold: 1.0 kg
925 Silver: 0.6 kg
24K Gold: 2.6 kg
18K Gold: 2.0 kg
925 Silver: 1.2 kg
24K Gold: 7.0 kg
18K Gold: 5.0 kg
925 Silver: 3.5 kg
Max temperature
1500℃
1500℃
1800℃
Temperature control k-type
Optional
Optional
Optional
Dimension
320*280*550mm
340*380*680mm
530*530*900mm
Weight
20 kg
25 kg
72 kg
Heating technology
IGBT Induction heating
IGBT Induction heating
IGBT Induction heating
Water pump
Optional
Optional
Equipped
Energy saving, Environmental protection, Low pollution level
Light weight, Economic Space Occupation, Easy installation
Enhanced monitoring and diagnostics system— SPB-H device, guarantee the machine of high stability,reliability and security.
Strict Supplier Management System and ISO9001:2000;CE Quality Management System guarantee high quality of each equipment.
100% duty cycle , 24hours continuous working ability at maximum power.
Take Use of solid-state IGBT inverter and power regulation, soft switch three resonance and frequency automatic tracking technology.
The top speedy melting rate can finish per batch within 3 mins nearly.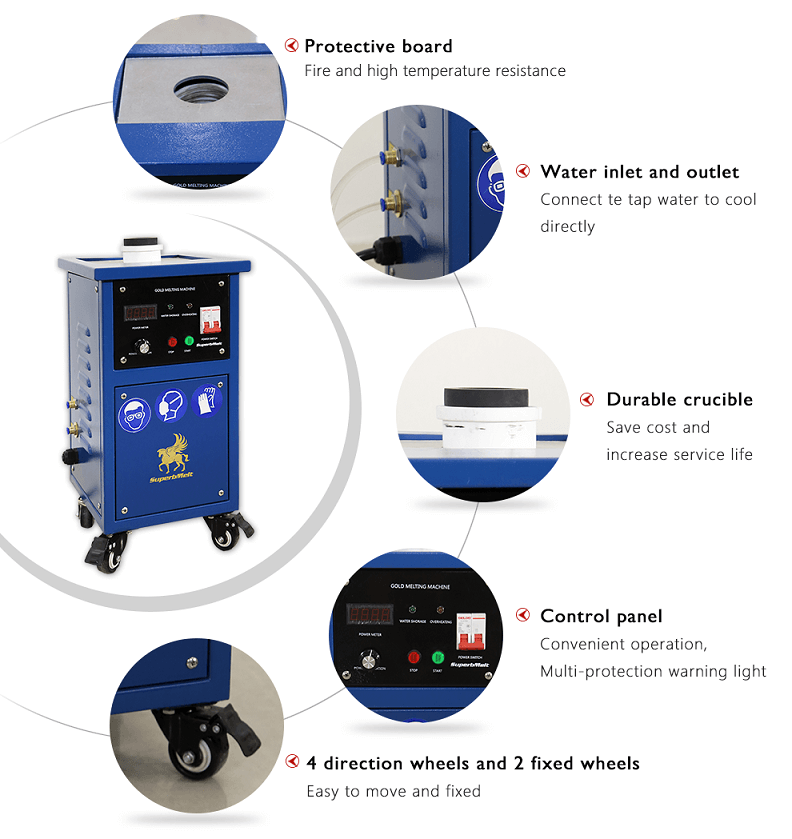 Amazing speedy melting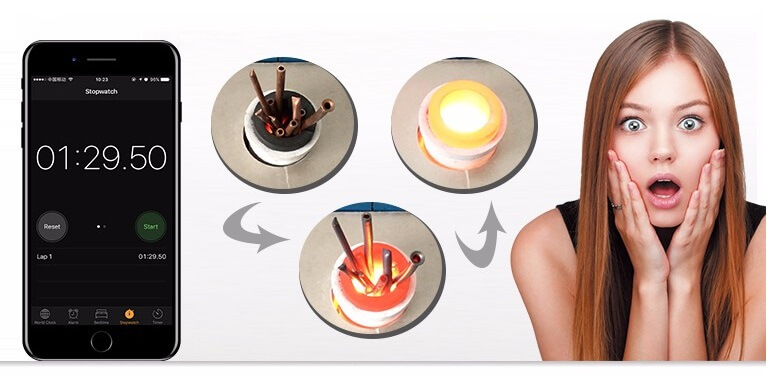 Crucible for induction gold melting furnace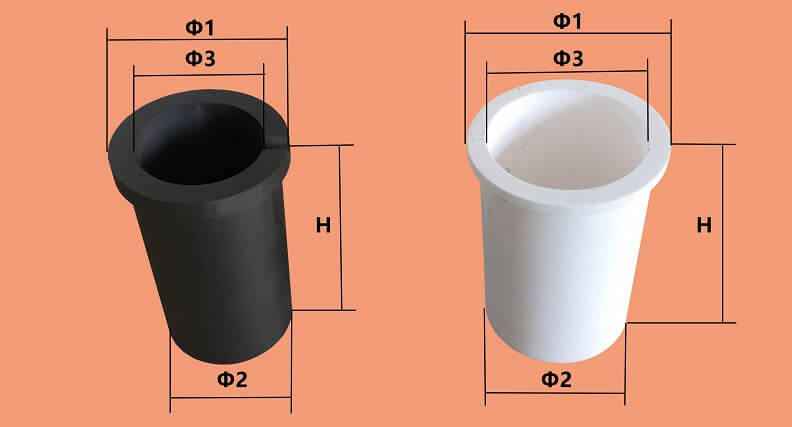 Description
Weight(g)
Size(mm)
Ф1
Ф2
Ф3
H
1kg Graphite crucible
160
58
46.5
35
88
2kg Graphite crucible
240
68
57
43
108
2.5kg Graphite crucible
300
68
58
43.5
120
3kg Graphite crucible
390
72
66
51
110
4kg Graphite crucible
500
85
75
60
130
5kg Graphite crucible
700
100
88
69
132
5.5kg Graphite crucible
800
104
92
69
155
6kg Graphite crucible
1650
112
98
76
178
8kg Graphite crucible
1900
125
112
185
185
Model
SPB-H2
M.MF03
Photo
Heating principle
Induction heating
Resistance heating
Power
3.5kw
1.7kw
Melting time
2kg gold is molten within 3mins nearly
2kg gold is molten within 20mins nearly
Moten metal stirring
The magnetic field will stir the molten metal to realize mixing alloy abundantly based on induction heating
No stirring function. it is by resistance heating transferring
Power consumption
The induction heating furnace can save over 10 times power consumption per kilogram than the resistance heating furnace
Cooling system
Need water cooling
No need water cooling
Protection alarm
Over voltage warning, Over current warning, lack of water warning, phase loss warning, improper frequency warning
Simple working
Working time
Theoretically, 24 hours continuous working
After 2-3 hours working, need 30 mins stop working for cooling
Remark
If you have requirement about melting time and long time working, the induction gold melting furnace is the best choice. The resistance furnace is more simple and cost saving. Generally, the life time of induction gold smelter is much longer than resistance one.