The Most Popular SuperbMelt 3-6kg gold (Ag, Cu, Al etc) melting equipment on the market
SuperbMelt gold melting equipment (SPB-H5) can conveniently melt between 3 and 5 kg of gold within 3 minutes. It can also be used for melting other ferrous and non-ferrous metals (aluminum, and silver etc.).
The gold smelting machine can melt gold and any other metals at very high temperatures (1800℃). This provides a competitive advantage over other similar products available on the market.
This gold melting equipment is ideal for old jewelry refining plants and metal/gold foundries.
If you wanna check gold melting furnaces with bigger capacity, Please click here.
Features & Benefits
This technology deployed in the design of this product is an advanced induction technology with a power rating of 15kw. This is considerably efficient and will help to cut electricity costs thereby resulting in increased profits.
Your gold or metal melting business is sure to benefit from the versatility of the gold melting furnace (SPB-H5). You do not have to use a separate furnace for different metals.
The gold smelting equipment also helps you to be environmentally responsible even while making a profit.
The circumvention of combustion in the operation means that there is zero emission of harmful gases. Oxides of carbon and nitrogen which are by products of combustion can be easily abated
The IGBT Induction technology utilized in this furnace also helps the operator to achieve more precise control of the operating parameters compared to common furnace types such as gas furnace and resistance furnace.
The gold melting kiln is operator friendly. An easily detachable crucible design helps to make maintenance easier. It also significantly reduces downtime due to crucible cleaning, repair or replacement.
SuperbMelt gold melting pot also comes with an omni-directional warning system that helps to ensure safety of the operator by raising an alarm when potentially harmful operating conditions are reached. This reduces medical costs for injured staff and lost man hours. It also helps to boost your company's or business' safety rating.
From the above, SuperbMelt as a top supplier of gold smelting equipment, SPB-H5 is the unarguably best choice for your foundry, laboratory or mining company if you're looking to achieve highly efficient and qualitative melting operations.
Parameters
| | |
| --- | --- |
| Model number | SPB-H5 |
| Power source | Three phase 380V±10%, 50/60Hz |
| Power | 15 kw |
| Applicable metal | Gold, Silver, Copper, Brass, Bronze, and their alloys |
| Melting time | 4 minutes |
| Max capacity | 24K Gold: 7.0 kg 18K Gold: 5.0 kg 925 Silver: 1.5-3.0 kg |
| Max temperature | 1800℃ |
| Temperature control k-type | Optional |
| Dimension | 530*530*900mm |
| Weight | 72 kg |
| Heating technology | IGBT Induction heating |
| Water pump | Equipped |
Comparison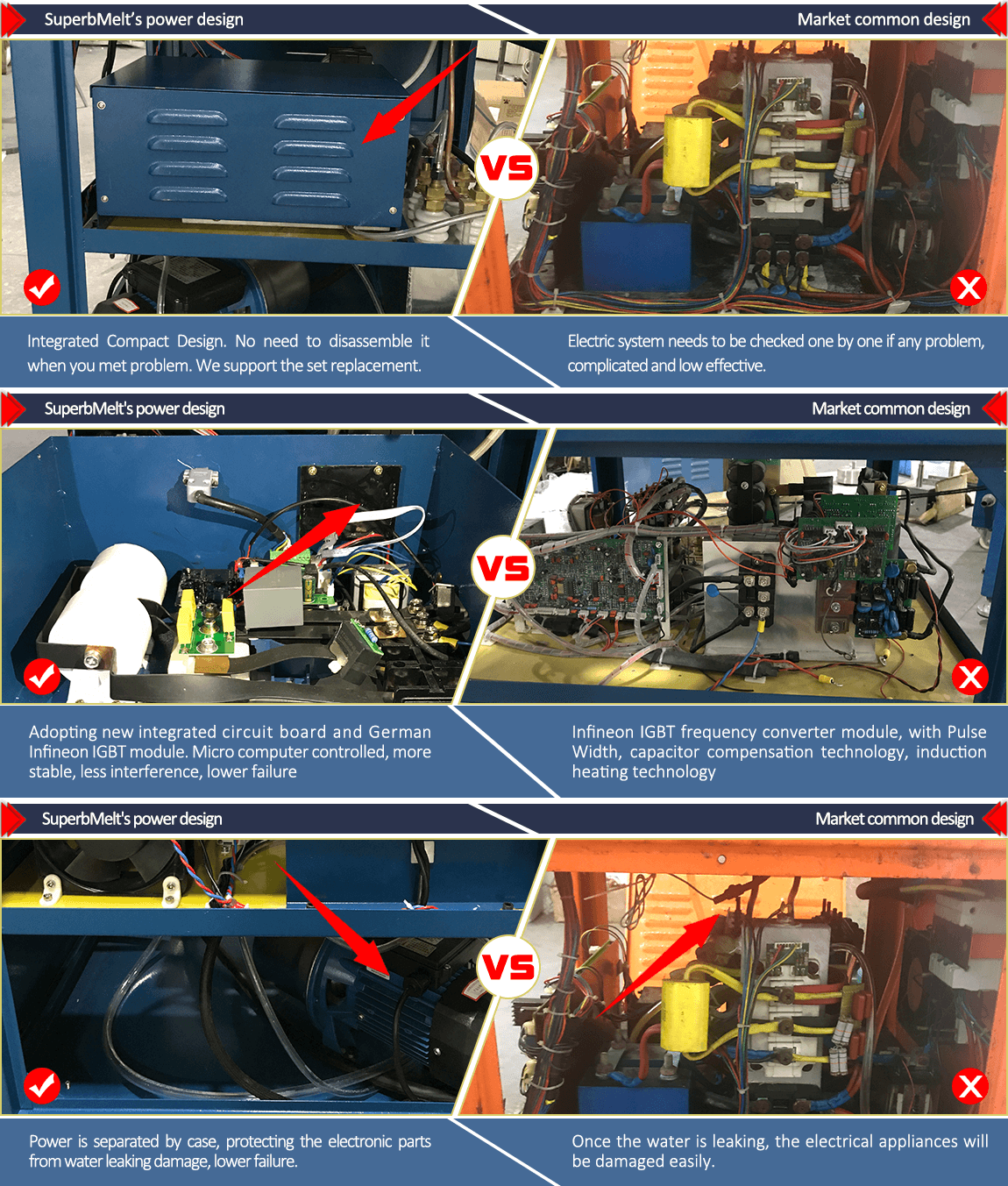 Compared with the common type, Our Superbmelt latest design power:
1,Save time and power
2,More Stable
3,Less Interference
4,Speedy melting, High efficient
5,Lower failure
6,Convenient repairing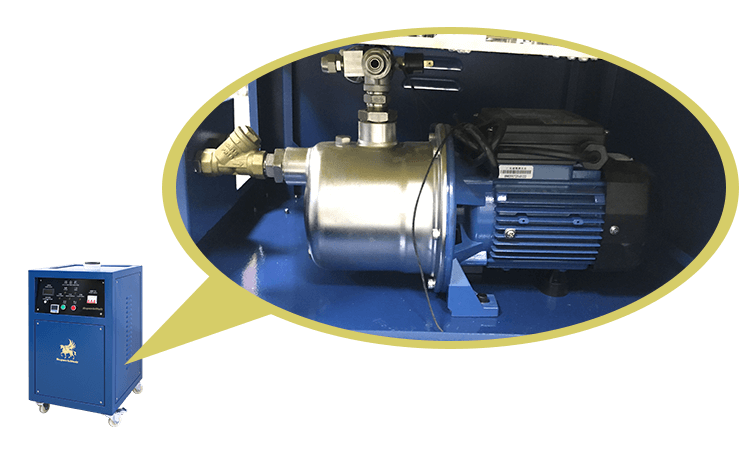 SuperbMelt metal smelting equipment built-in water pump, connected to the tap water can be cooled directly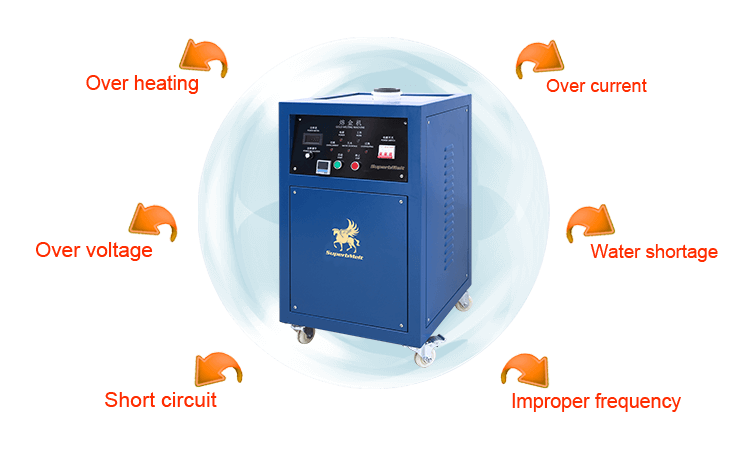 Gold smelter is equipped with all-round protection to ensure the safety of the machine and the operator.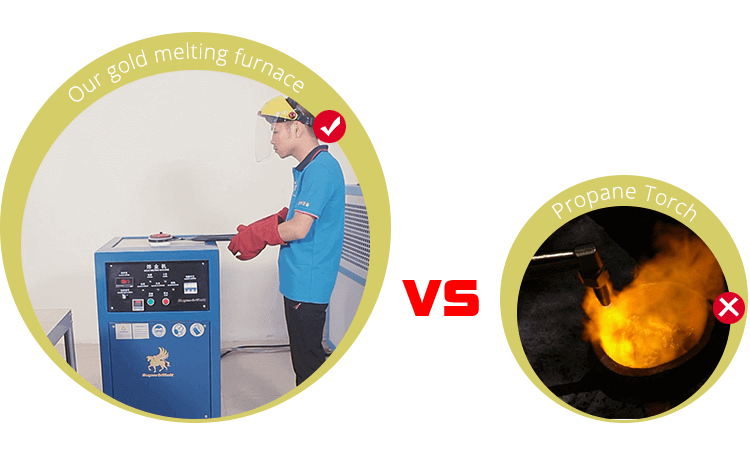 Comparing with traditional melting, SPB-H5 reduces the loss of precious metal, safe work, save operation cost.
W

hy SuperbMelt Gold Smelting Equipment

2 Years Warranty:
One year longer than the warranty provided by other factories

High Quality:
Only choose famous brand main electric components for production

Fast Delivery:
SuperbMelt gold melting pot (SPB-H) has sufficient stock and greatly shortens our delivery cycle
H

elpful Resource For Your Reference ( An expert about gold melting equipment )
More SuperbMelt Gold Melting and Casting Equipment For Your Choice
Any Question About SuperbMelt Gold Smelting Furnace