Motor Tilting Metal Melting Furnace
SuperbMelt motor tilting metal melting furnace (SPB-MTF) for 10-100kg non-ferrous melting
This motor tilting induction metal melting furnace is designed for 10-80kg ferrous and non-ferrous metal melting based on induction technology.
SuperbMelt metal meilting furnace is constructed for one-man pouring action. Tts body is mounted onto a steel frame. By manual control, the furnace body can be set in any position when tilting.
According to ferrous melting or non-ferrous melting, the crucibles will be taken use of different material. Graphite crucible is special for non ferrous metal like copper, gold, silver, aluminum. Silicon crucible is suitable for ferrous metal.
The small land occupied, fast melting and energy-saving are its obvious features. That is the cost performance choice for metal casting with small capacity.
Power Supply Parameter of Induction Metal Melting Furnace
Model
MTF-15
MTF-25
MTF-35
MTF-45
MTF-70
MTF-90
MTF-110
MTF-160
MAX input power
15KW
25KW
35KW
45KW
70KW
90KW
110KW
160KW
MAX input current
23A
36A
51A
68A
105A
135A
168A
240A
Input voltage
Three-phase 340V ~420V 50/60Hz
Oscillation frequency
1K~20KHz
Requirement of cooling water
Hydraulic pressure
≥0.2Mpa
≥0.3Mpa
Flow rate
≥6L/Min
≥20L/Min
Temperature of water
≤45℃
Generator box
Weight
28kg
29kg
52kg
52kg
57kg
91kg
99kg
134kg
Volume
51×28×49cm
65×35×58
78×40×88
78×50×88
Transformer box
Weight
35kg
35kg
35kg
38kg
52kg
68kg
95kg
95kg
Volume
62×30×53cm
64×48×58
64×65×61
Melting Capacity Parameter of Tilting Metal Melting Furnace
Model
Fe, ss
Cu, Au, Ag
Al, Al-alloy
Model
Fe, ss
Cu, Au, Ag
Al, Al-alloy
MTF-15
3kg
10kg
3kg
MTF-70
25kg
80kg
25kg
MTF-25
5kg
20kg
5kg
MTF-90
40kg
120kg
40kg
MTF-35
10kg
30kg
10kg
MTF-110
50kg
150kg
50kg
MTF-45
18kg
50kg
18kg
MTF-160
100kg
250kg
100kg
Remark: Above melting capacity sheet for general reference;
Melting duration:  When the crucible is hot,20~30min./workload;
When the crucible is cold(first melt),40~50min./ workload.
Induction Metal Melting Furnace Features
Medium frequency metal melting furnace can be used for the melting of gold, silver, steel, stainless steel, brass, aluminium, lead, zinc and so on.
Comparing with SCR/KGPS technology, IGBT technology can save 15%-30% energy and is much more efficient than gas-fired and coal-fired method.
Small light, a lot of models can be selected to melt different amount of metals. Not only is it suitable for the factory, but also suitable for the college researching companies to use.
The crucible replacement is very easy for different metal material.
The occupied land for the induction metal melting furnace is less than 1 square meter.
Modular design, ease of maintenance, no need to repair any special foundations, requires low operation cost, easily operable, produces no pollution and noise.
24 hours constant working will meet your long time melting.
Power protection warning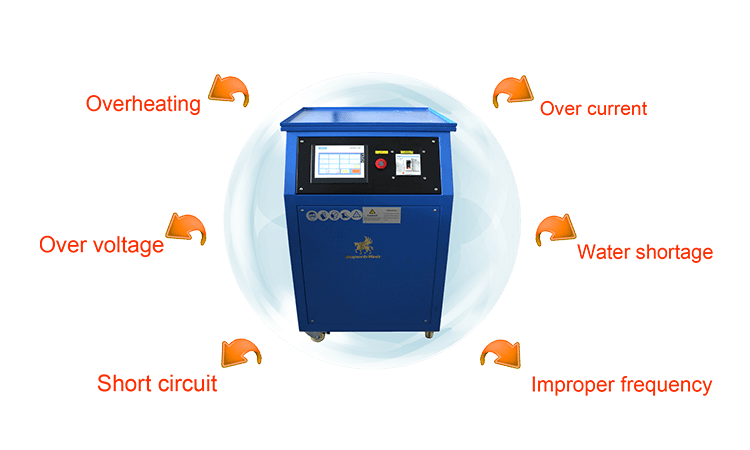 PLC control Panel of Tilting Metal Melting Furnace (optional)
Lower power consumption, the IGBT technology saves 15-30% energy than KGPS,100% full load.
Installation and maintenance are convenient, it can be finished by video or our manual guide. So it reduces the cost which you need pay for the engineers abroad for installation.
Low pollution, low noise.
Induction metal melting furnace with multi-protective functions to over-voltage, over-current, less water, over-heating with low fault rate and is safe and reliable.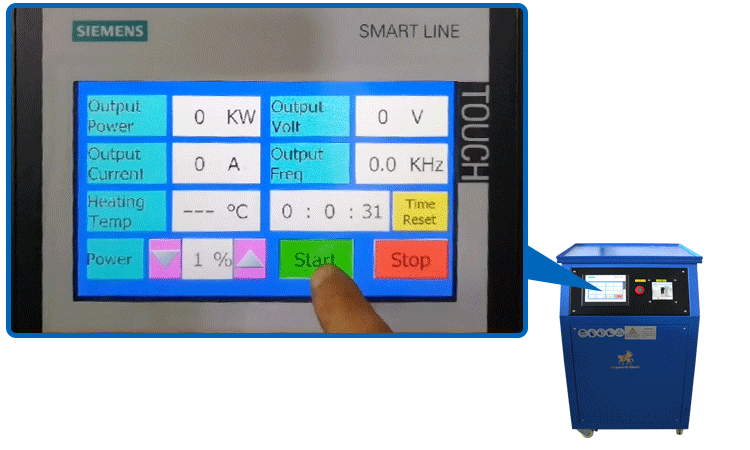 100% successful start-up rate, power factor > 95%.
The comprehensive full load design is available for 24-hour continuous operation.
Perfect and complete protection functions, increasing machine's reliability & stability.
Wide frequency range from 1KHZ to 20KHZ, working frequency can be designed by changing the coil compensating capacitor according to the melting material, quantity, stirring effect desire, working noise, melting efficiency other factors.
A maximum ten types fault protection and display of over-current, over-voltage, water shortage and phase missing can provide higher reliability and durability.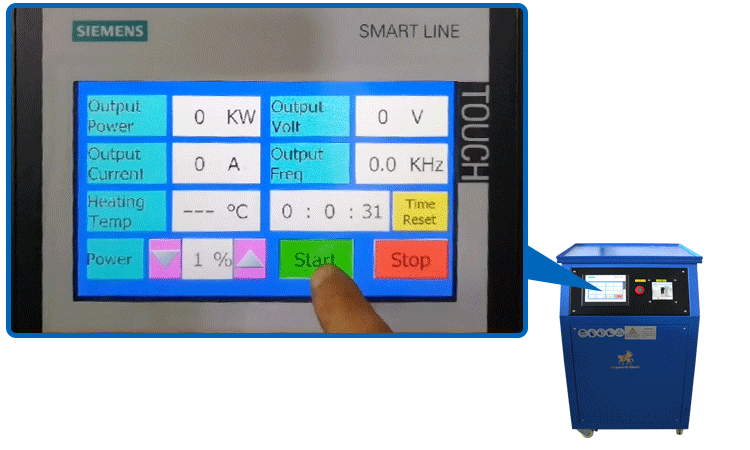 The power supply with SIEMENS's PLC control system is more intelligent for the whole melting process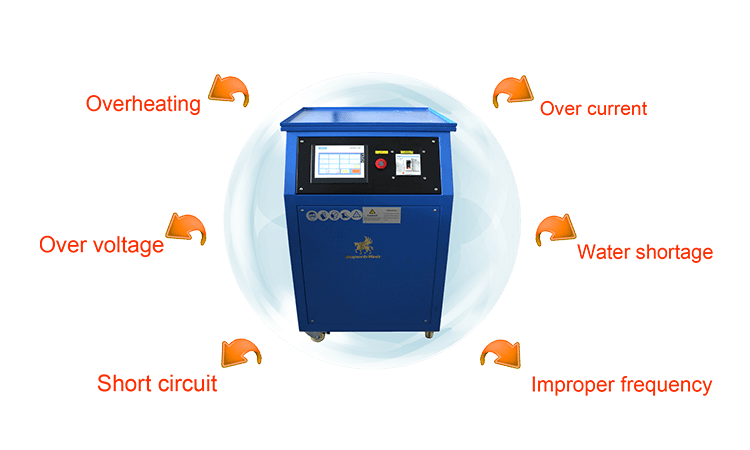 The power supply has an omni-directional protection to ensure the safety of the machine and operator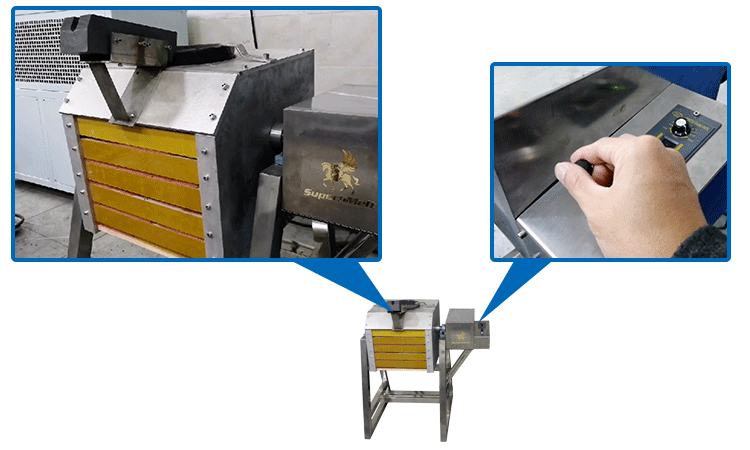 Adopt motor tilting type furnace for one-man pouring of metal liquid, stability and safety
W

hy SuperbMelt Motor Tilting Metal Melting Furnace

ISO CE SGS Approved:
Professional certification bodies certify that the machines are of high quality

High Quality:
Only choose famous brand main electric components for production

2 Years Warranty:
One year longer than the warranty provided by other factories
H

elpful Resource For Your Reference
( An expert about SuperbMelt induction metal melting furnace)
More SuperbMelt Metal Melting Machines For Your Choice
Any Question About Motor Tilting Melting Equipment