Induction Melting Furnace
China Top Induction Melting Furnace Manufacturer
At SuperbMelt, we have high-end induction melting furnaces that fit all sorts of applications. You can melt both ferrous and non-ferrous metals such as copper, silver, iron, gold, platinum weight from 1-250kg.
They have adequate features that let you regulate temperatures as you look for accurate melting and smelting processes. Also, they come with elaborate cooling systems, so you can use them for more than 24 hours nonstop without them developing any mechanical complications.
SuperbMelt has been in the industry for a long time. Therefore, we understand the specific needs of our clients and always ensure that they are all met.
Superbmelt induction melting furnace list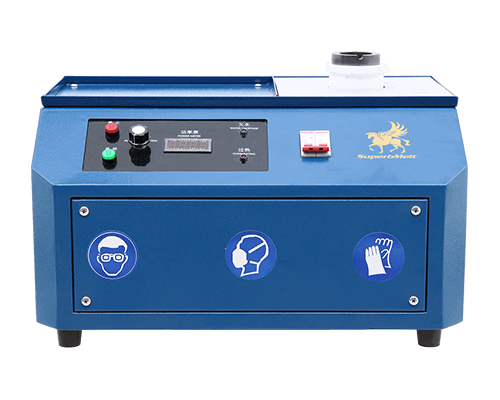 Introducing our compact 1-2kg desktop induction melting furnace – the perfect choice for small-scale melting needs. With a maximum temperature of 1600 degree Celsius, it can melt up to 30kg per hour. Its energy-efficient and environmentally friendly design allows for 24/7 nonstop operation. Whether it's gold, copper, silver, or brass, this mini melting furnace is easy to use and highly portable, making it the ideal choice for private or small-scale melting purposes.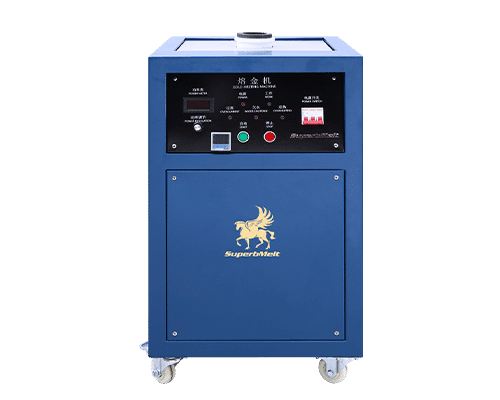 Integrated Induction Melting Furnace
Introducing our efficient and user-friendly induction metal melting furnace, capable of melting 3 to 5 kg of metal in just a few minutes. This industrial furnace has a compact design and does not consume electricity, making it ideal for small-scale operations. It also comes with a one-year warranty for added peace of mind. It can melt gold, silver and copper in 2 to 4 minutes and can run continuously for 24 hours. Its compact size does not take up much work space, and its unique cooling system allows for uninterrupted operation. In addition, the crucible can be easily extracted by using pebbles.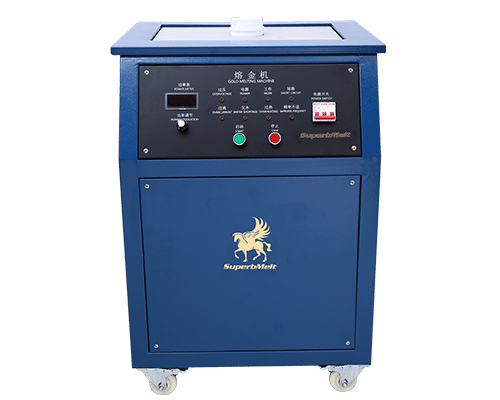 Introducing our stationary platinum melting furnace – designed to melt platinum, gold, palladium and alloys quickly and efficiently. With a maximum temperature of 2800°C, it can melt any form of metal, including ingots, dust, powder or scrap. Our 1-4 kg platinum melting furnace can melt 1 kg to 4 kg of metal in just 5 minutes, thanks to its powerful electromagnetic stirring system. It prevents the metal surface from being uneven. It is also equipped with a pump system that regulates the furnace while melting the metal. An all-round alarm system sounds in case of overheating, low water in the pump or high current. Its compact size makes it easy to transport, and it operates quietly without producing any environmental pollutants. Whether you are in the scrap business or need to melt precious metals for other purposes, our platinum scrap melting furnaces are the ideal choice.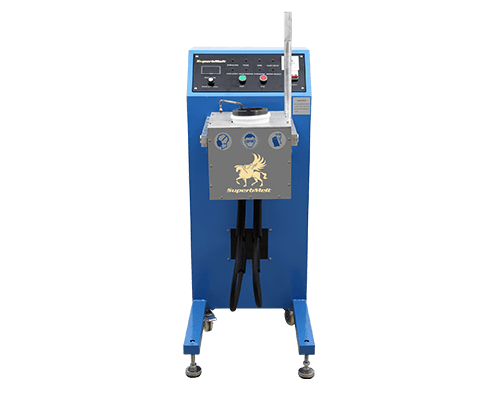 Tilting induction melting furnace
Superbmelt10kg Manual Tilting Induction Melting Furnace – The perfect solution for your large scale melting needs. Whether you're processing gold, silver, copper or other alloys, our furnaces can handle it. With a well-designed cooling system, it can run for a long time without any issues. Plus, it's eco-friendly and easy to use, making it an ideal melting pot for any business. The inclined design ensures that the molten metal can be easily poured into the mold, saving you time and energy. Don't let your smelting work get in the way – upgrade to our 10kg manual tilting induction melting furnace today and experience efficient, hassle-free smelting like never before.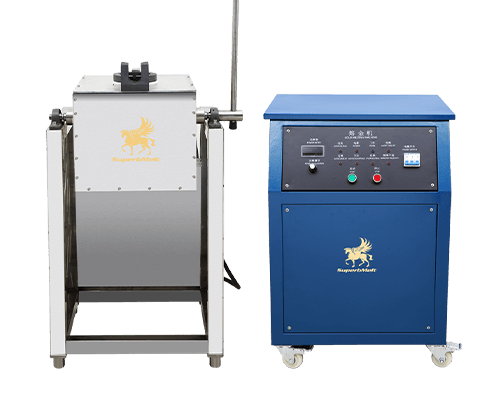 Split type manual tilting gold melting induction furnace
The 20-30 kg manual tilt induction melting furnace is perfect for large scale melting needs. It utilizes digital induction technology for precise applications and features an all-around heating system for added safety during operation. With a maximum temperature of 1800 degrees Celsius, it can melt gold, silver, brass, copper and other non-ferrous metals in as little as 6 to 8 minutes. The tilted design makes it easy to pour into the mold and ensures uniformity of the melted metal. The furnace has 25KW to 35KW of power and is equipped with a water cooling system that allows for extended run times without causing harm to the environment. It is both reliable and safe, making it ideal for your high temperature induction melting furnace needs.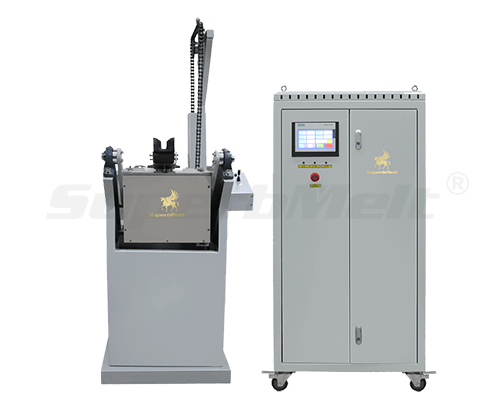 Chain type tilting induction metal melting furnace
The 10-50 kg chain tilting induction melting furnace is an affordable option for those who need to melt large amounts of metal. Its zero-emission operation makes it environmentally friendly, and its motor-driven chain tilting technology increases efficiency and ensures easy metal pouring. This furnace can accommodate three different furnaces at the same time and has a power range of 15 KW to 90 KW. it uses IGBT technology for 30% power savings and is equipped with an omni-directional warning system to alert the user to any problems. This tilting metal furnace is able to work continuously for 24 hours with less noise and pollution, making it a reliable choice for melting almost all types of metals.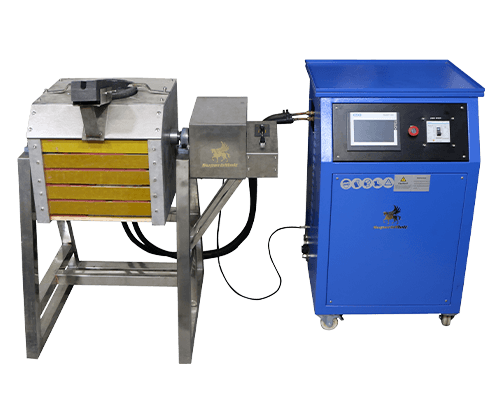 Electric induction melting furnace
The 10-100 kg motor tilting induction melting furnace is a high-end but user-friendly melting furnace for ferrous and non-ferrous metals. It has an input power range of 15KW-160KW and can efficiently melt gold, steel, silver, stainless steel, brass, aluminum, lead, zinc, etc. The IGBT technology used in this furnace provides energy savings of 15-30%, making it an energy-saving option. The crucible for melting cast iron is easy to change and takes up less space for all melting applications. This motorized tilting furnace produces low noise and no harmful fumes to the environment. It can work continuously for 24 hours.
Hydraulic metal melting furnace
The 50-250kg hydraulic tilting induction melting furnace is the perfect solution for melting various types of metals effortlessly. With the convenience of interchangeable crucibles and a control system that ensures optimal performance, this furnace guarantees efficiency and productivity. The machine can operate continuously for 24 hours, and its omni-directional warning system ensures maximum safety by monitoring key parameters. The melting furnace uses IGBT technology to save 15-30% of power, with a power input of 45KW to 160KW. The tilting function can be remotely controlled with a trolley panel. The melting furnace is easy to install, operate, and maintain, with a strong steel shell furnace that ensures durability and longevity.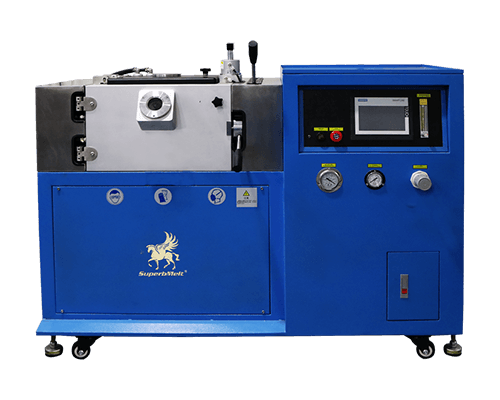 Vacuum Induction Melting Furnace
As a leading induction furnace manufacturer, SuperbMelt offers high-quality vacuum induction melting furnaces that utilize electromagnetic induction in a vacuum environment. Our furnaces are designed to melt a wide range of metals and alloys, including superalloys, aluminum, stainless steel, and other oxygen, nitrogen, and hydrogen-sensitive materials. With advanced technology and exceptional quality, our vacuum induction melting furnaces are trusted by professionals in the industry. Choose SuperbMelt for reliable and efficient metal melting solutions.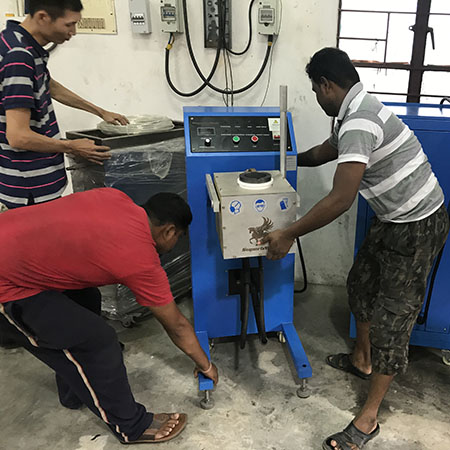 Platinum Melting Machine
"SuperbMelt platinum melting furnace have a solid reputation in Saudi Arabia as a reliable and efficient tool for melting and refining gold. I think this machine can melt all types of gold including scrap, jewelry and coins with minimal effort and time. The induction melting furnace digital display and controls make it easy to monitor and adjust the temperature and melting process, ensuring consistent and precise results."
Klaus Mogensen Managing Director, Dynamic Fume Exhaust Systems.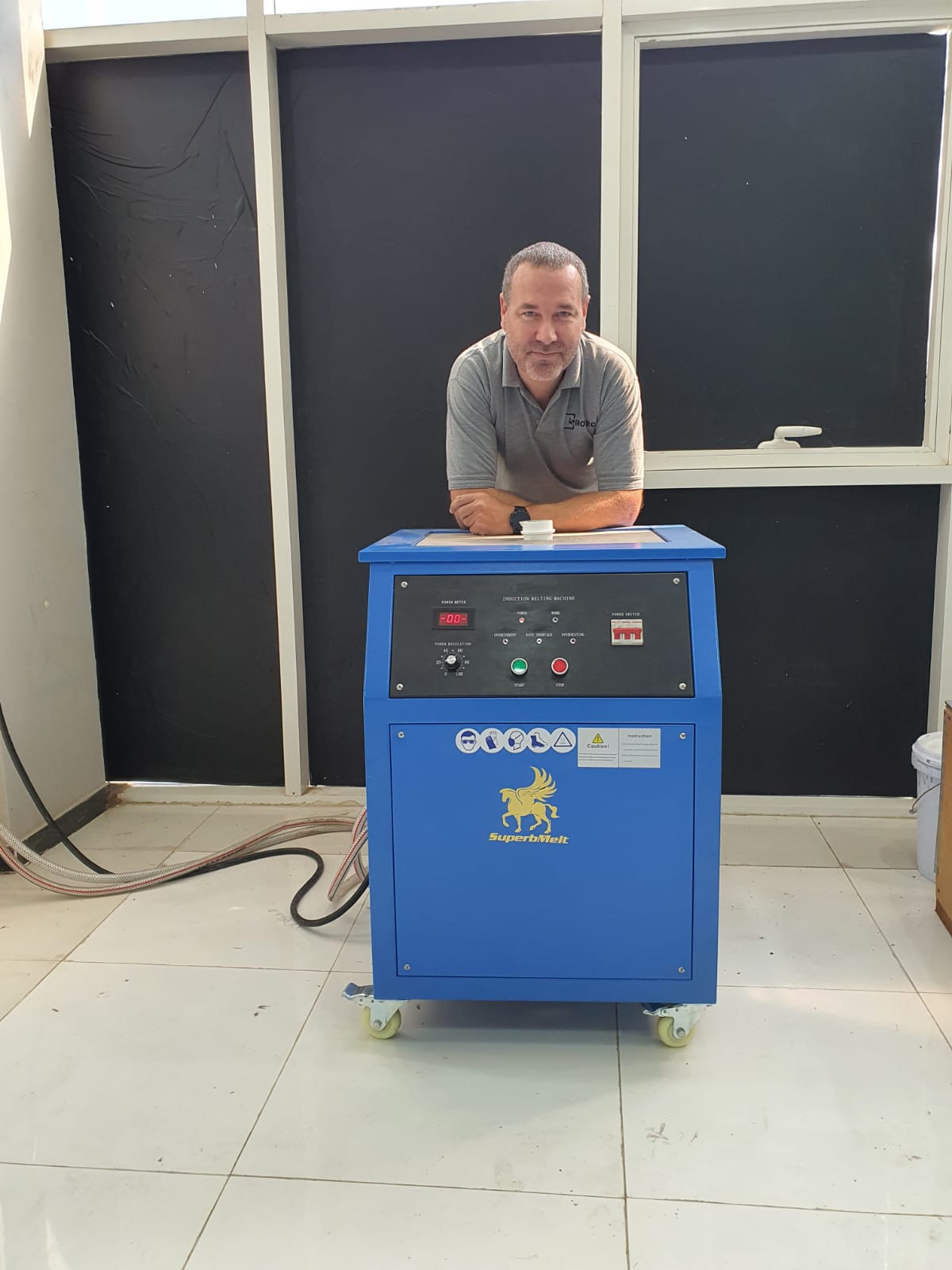 Customer from Israel 50kg gold induction melting furnace
"We recently purchased a precious metal melting furnace from Superbmelt and we are very pleased with the product. Not only was it of high quality, but it arrived promptly and was easy to install. We were so impressed with the product that we decided to visit the company in person. We were warmly greeted by the staff and given a thorough tour of the company's facilities. We were particularly impressed with the level of attention to detail and care taken at each step of the manufacturing process. Overall, we would highly recommend this company to anyone looking for a high quality, reliable melting furnace. The product exceeded our expectations and the customer service was outstanding. We look forward to doing business with this company again in the future."
Levi, Production Manager, Tel Aviv Gold Ltd., Israel.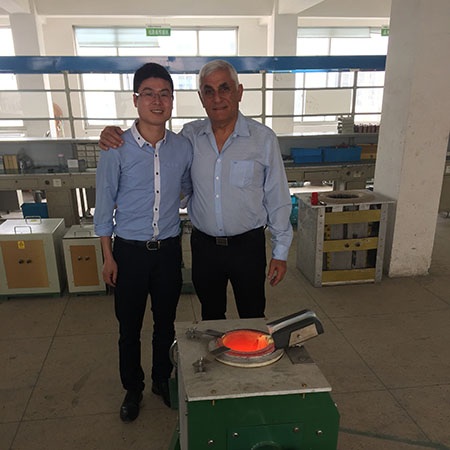 Azerbaijan 22k gold chain making line
"I purchased a high quality jewelry melting furnace from superbmelt last month and I am incredibly impressed with the product. The melting process was efficient and seamless, and the end result was consistently excellent. I was particularly impressed with the level of customer service I received throughout the purchase process. The staff was knowledgeable, responsive, and went above and beyond the norm to ensure I received the product that best met my needs. In addition, I appreciated the opportunity to tour the company's facilities and see the manufacturing process in action. It is clear that there is a great deal of care and attention to detail in every product they create."
Nicolai, Operations Manager, Azer Gold Factory.
Why You Could Choose Superbmelt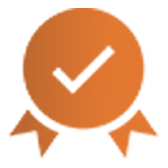 2 years warranty
The warranty for our machine is one year longer than the warranty provided by other factories.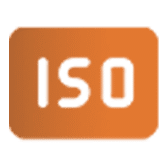 ISO CE SGS approved
Professional certification bodies certify that the machines are of high quality.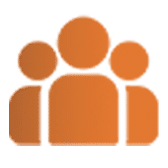 Strong service team
We will give response within 24 hours against your problem by our professional engineer.
W

hy Choose a SuperbMelt Induction Melting Furnace

Professional R&D Team:
Over 15 years R&D experience in gold machinery with a top engineer team supported

High Quality:
Only choose famous brand main electric components for production

ISO CE SGS Approved:
Professional certification bodies certify that the machines are of high quality
Induction Metal Melting Furnace