Induction Melting Furnace
Top Manufacturer in China
Top Indcution Melting Furnace for Sale
At SuperbMelt, we have high-end induction melting furnaces that fit all sorts of applications. With a temperature that goes up to 1600 degrees Celsius, you can melt both ferrous and non-ferrous metals such as copper, silver, iron, gold, platinum weight from 1-250kg.
They have adequate features that let you regulate temperatures as you look for accurate melting and smelting processes. Also, they come with elaborate cooling systems, so you can use them for more than 24 hours nonstop without them developing any mechanical complications.
SuperbMelt has been in the industry for a long time. Therefore, we understand the specific needs of our clients and always ensure that they are all met.
Superbmelt induction melting furnace list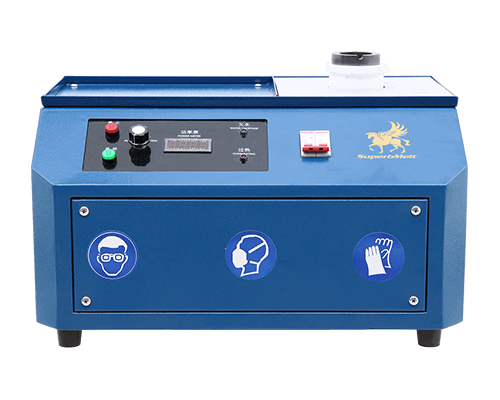 Mini induction melting furnace
1-2kg desktop induction melting furnace only takes two minutes to melt a batch of two kilograms of metal. It comes in a compact design and can work for 24 hours nonstop. Also, this metal furnace is highly environmentally friendly, and does not consume a lot of energy to deliver the desired results.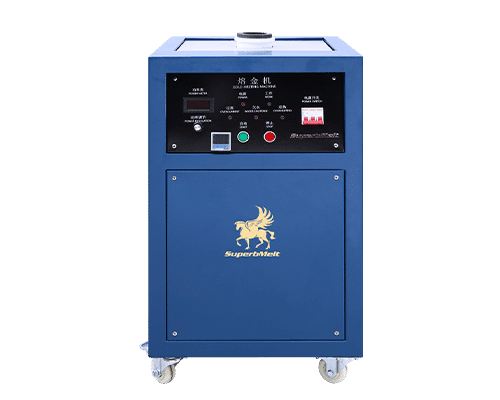 Integrated Induction Melting Furnace
Integrated induction melting furnace works within a few minutes, and you have completely melted metal. It is best suitable for metals of between 3 and 5 kg. This industrial induction furnace does not consume power and comes with easy-to-use features. It needs between 2-4 minutes to complete the work and comes with a one-year warranty.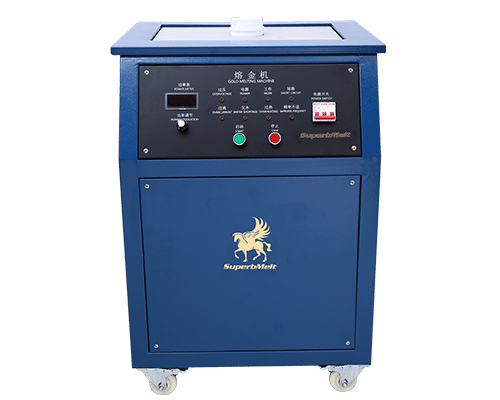 Stationary Platinum Induction Melting Furnace
1-4kg stationary platinum melting furnace adopts medium frequency induction heating method to melt platinum, gold, palladium or alloys. Whatever it is ingot, dust, powder or scrap, they all could be melt. The max temperature could be up to 2800℃.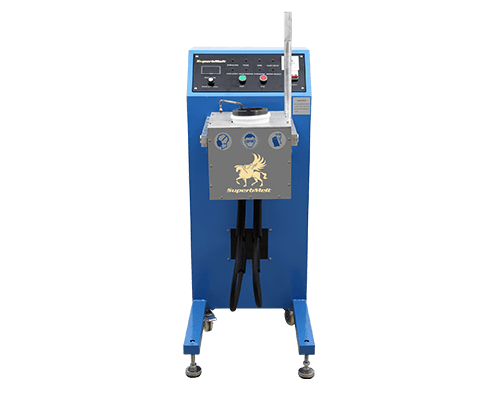 Integrated Manual Tilting Induction Melting Furnace
10kg manual tilting induction melting furnace is ideal if you have huge amounts of smelting work to take care of. It is best suitable for large scale melting purposes and does come with an elaborate cooling system that lets it work for long hours. Being environmentally friendly and easy to use, this might be your ideal melting furnace. The tilting furnace design ensures that melted metals can easily be poured into the mold.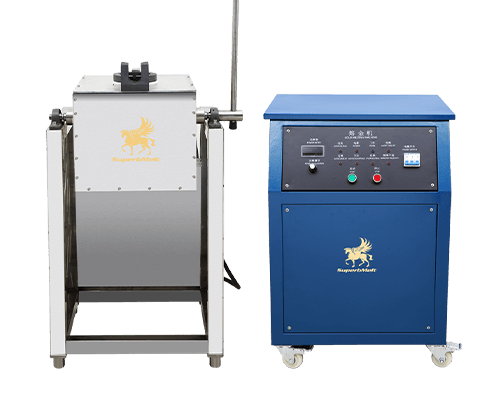 Splited Manual Tilting Induction Melting Furnace
20-30kg manual tilting induction melting furnace comes with an in-built Omni-directional warming system to ensure that you are safe during operation. It leverages digital induction technology to ensure that accurate application is seamlessly achieved. It has safety refractory and crucible, both of which are detachable. The tilting design improves mixing and ensures the homogeneity of the melted metal as it melts at a temperature of up to 1600 degrees Celsius.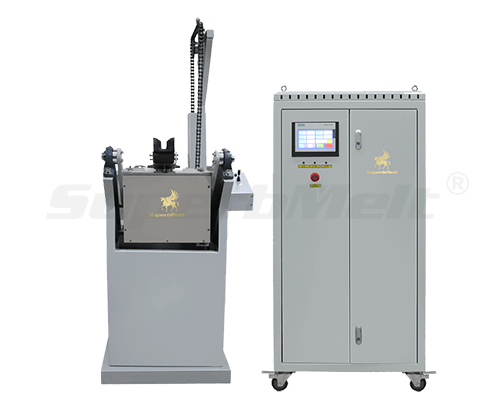 Chain Tilting Induction Melting Furnace
10-50kg chain tilting induction melting furnace is designed to melt high volumes of metals. Also, the fact that it operates with zero emissions makes it environmentally friendly. From us, you don't have to worry about induction furnace price since this one works flawlessly and is still very easily affordable. The motor drive chain tilting technology improves your work efficiency and easy pouring of metals.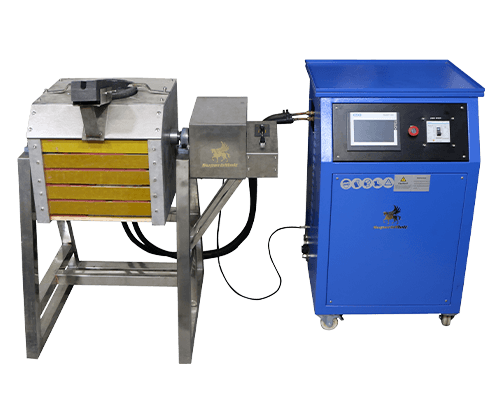 Motor Tilting Induction Melting Furnace
10-100kg motor tilting induction melting furnace does not consume a lot of energy and still ensures that melting is done efficiently. Though high-end, it does come with straightforward features accompanied by a user manual. It is perfect for melting both ferrous and non-ferrous metals. To use this product, you have to mount its body on a steel frame to enhance stability.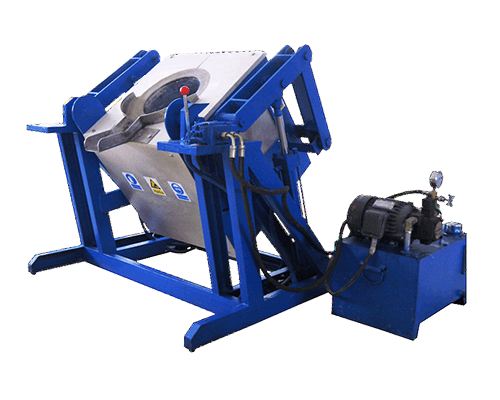 Hydraulic Tilting Induction Melting Furnace
50-250kg hydraulic tilting induction melting furnace lets you enjoy the flexibility of melting different types of metals with just one furnace. It comes with convenient crucibles that are also very easy to replace. The control system is put in place to ensure that you do not exceed your input and output parameters. This machine can be used consistently for 24 hours without developing complications.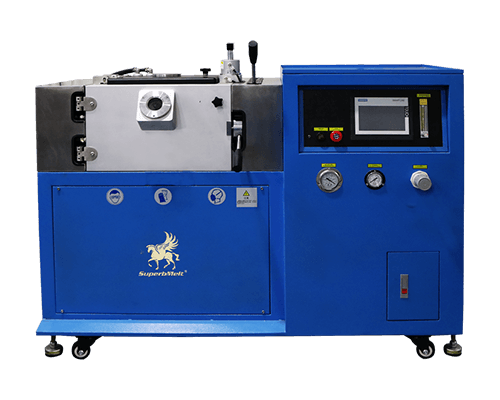 Vacuum Induction Melting Furnace
Vacuum induction melting furnaces use electromagnetic induction under vacuum conditions to melt metals and alloys that combine easily or have close affinity with oxygen, nitrogen and hydrogen. Such metals include superalloys, aluminum, stainless steel and a range of other metals.
Why You Could Choose Superbmelt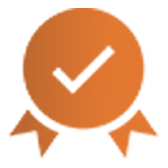 2 years warranty
The warranty for our machine is one year longer than the warranty provided by other factories.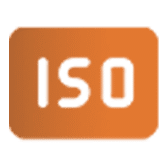 ISO CE SGS approved
Professional certification bodies certify that the machines are of high quality.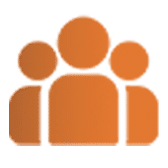 Strong service team
We will give response within 24 hours against your problem by our professional engineer.
induction melting furnace FAQ guide
Why do you need an induction melting furnace?
Induction melting furnace in the foundry industry Induction melting furnaces are ideal for melting and alloying a wide range of metals. All metals either ferrous or non-ferrous products, require melting before they can be formed or produced. There are several reasons why an induction melting furnace is important, the reasons can be found below.
1. Metal Melting to Remove Impurities Ferrous and non-ferrous metals are melted in furnaces before casting. Removing impurities from the molten metal is an important separation process for all casting industries. Certain technologies make use of deoxidants such as silicon or aluminium or addition of magnesium to remove oxygen and sulfur. Improved and cost effective technologies such as SuperbMelt induction melting furnace can perform the function of removing impurities from molten metal.
2. Metal Melting to Make Alloy Making alloys is impossible without going through the process of melting. Most of the metals we use are alloys which are a combination of one metal and one or more metal or nonmetal element. Alloys provide good electrical conductivity, hardness, heat and corrosion resistant. An induction melting furnace helps to combine all these properties of alloy to create metals that are useful for all purposes. There are different machines that can be used to get the pure alloys.
3. Metal Melting for Industrial Casting Many industries and foundries that make use of metals require an induction melting furnace for parts such as automotive parts, construction rods, etc. Metals are first melted before casting them into different shapes and sizes. Industrial induction furnaces are used for industrial melting depending on metal type. Furnaces found in industries are of different sizes, ranging from small ones to larger ones that can melt large tons of metals at once.
How does an induction melting furnace work?
The principle of an induction melting furnace is that a high voltage electrical source from a primary coil induces a low voltage and high current in metals. Induction heating is simply a method of transferring heat energy into metals.
Once molten, the high frequency magnetic field can be used to stir the hot metal., which is useful in ensuring that all alloys are fully mixed. Induction melting furnaces are mostly used in foundries as a better method of melting metals. Metals that are melted in the induction melting furnace have no contact with the furnace. Induction heating makes use of the electromagnetic spectrum below infrared and microwave energy. Heat is transferred to the metal through electromagnetic waves, hence, molten metal is not contaminated.
An induction melting system consists of an induction power supply for converting line power into alternating current and delivering it to a workhead and a coil for generating an electromagnetic field within the coil. The workpiece is positioned in the coil such that this field induces a current in the workpiece, which in turn produces heat.
The features of the induction melting furnace are:
An electric induction furnace requires an electric coil to produce the charge.
The crucible is made of material that can resist heat and the electric coil itself is cooled by a water system that prevents overheating.
Energy is efficient and well controlled during the melting process.
The induction melting furnace ranges in size.
Foundries are now replacing other furnaces with the induction furnace.
How to melt different kinds of metals?
Melting metals require a certain degree of heat and the degree of melting varies according to metal types. The easiest and most recent way of melting metal is to apply heat in a small, enclosed vessel that is heated from below.
1. Precious Metals Melting Furnaces
Precious metal mining no doubt requires smelting furnaces for large production. The best melting furnace for precious metals is the precious metals induction melting furnace as against the crucible, cupola and electric arc furnaces. It is capable of melting 1g-100kg of precious metals for mining purpose, jewelry making purpose, and research purpose.
Features of precious metal induction melting furnace includes:
Saves a lot of energy.
Top melting speed: precious metal melting is done in less than 10 minutes.
Has the capacity to melt metals for long hours.
Does not occupy large space.
Low level of pollution and easy to operate.
Melting silver requires a big induction furnace crucible, because when silver starts to melt, it starts boiling. Put the silver into the crucible and put on the melting furnace. Make a mixture of soda and nitrate with equal quantity. Add small amounts of sodium nitrate step by step until you see the silver chloride turns in metal form. When you see all the silver has melted, give it 5 to 10 minutes more then, pour in a mold. When you pour this ingot silver will be settled and a material in glass form be on top.
2. Iron and Steel Melting Furnaces
Induction melting furnaces are the ideal furnaces for melting iron and steel. In a steel induction melting furnace, the steel is placed into a crucible that is surrounded by an electromagnet made of coiled copper. The coil creates a reversing magnetic field that self-stirs the steel. Steel is an important element in construction, weapon, automobile usage, hence, melting is essential. The induction melting furnace lies in the fact the furnace can convert three-phase electric power into one and use it to create electrical energy for melting metals.
Some features of iron and steels melting furnaces include:
Low power consumption.
Less noise pollution and air pollution.
High melting efficiency.
Easy to use and manipulate.
Only takes up a reasonable amount of space.
3. Copper Melting Furnaces
The electric copper melting furnace for melting copper is usually done in two ways:
Double push up melting furnace: The double push up melting furnace is only applicable for melting copper on a small scale. The double push up furnace makes use of a single shot principle where a small amount of copper is melted at once. The melting time is really short and melting of copper can be repeated over and over.
The second copper melting furnace is the tilting furnace, suitable mostly for melting copper on a larger scale. A ceramic or metal cover is used to prevent melted copper from taking in oxygen. The maximum temperature at which the tilting furnace works is 1800 degree celsius, within 5 to 10 minutes.
How many types of induction melting furnaces that SuperbMelt can provide?
At SuperbMelt, we have different types of induction furnaces for small and large kilograms of metal melting.
1. Mini 1-2kg metal induction melting furnace
The mini 1-2kg gold melting furnace is designed to melt precious metals such as gold, copper, silver, brass, etc in 1-2kg quantity. This induction melting furnace has a maximum temperature of 1600 degree celsius which can melt metals in 2 minutes, melting approximately 30kg in an hour. The mini 1-2kg melting furnace is portable and the best choice for small or private melting purposes as it does not take up space. It is easy to use and can operate for very long hours. The use of a mini melting furnace saves a lot of energy and does not have any negative impact on the environment.
2. Integrated 3-10 kg metal induction melting furnace
The integrated 3-10kg melting furnace can melt gold, silver and copper within 2 to 4 minutes for 24 hours. The crucible can be extracted with the use of throng. The design comes in a compact size that does not take work space. The 24 hours working ability is possible due to its cooling system which is absent in other melting furnaces.
3. 1-4kg platinum induction melting furnace
The 1-4kg platinum melting furnace can melt platinum, gold and some other alloys in any form in a temperature of about 2600 degree celsius. This melting furnace is capable of melting 1kg to 4kg of metal in approximately 5 minutes. The strong electromagnetic stirring system that prevents uneven surfaces of metals. It comes with a water pump system that regulates the furnace when melting metals.
An omni-bearing alarm system sends alert signals whenever the furnace is either overheating, has low water in the water pump or is under high current. The compact size of the induction melting furnace allows it to be easy to transport. Platinum melting machine is capable of working for very long hours without generating noise or other environmental pollutants. The platinum scrap melting furnace is the ideal choice for the scrap metal business.
4. Manual tilting 20-30kg metal induction melting furnace
The 20-30kg manual tilting melting furnace melts gold, silver, brass, copper and other nonferrous metals at a maximum of 1800 degree celsius between 6 to 8 minutes. The tilting type metal furnace can be set into any position and this makes it a solid state technology. The new high performance asynchronous generators achieve melting points faster. The manual tilting machine has a power of 25KW to 35KW. Has a water cooling system that supports melting for long hours without having a negative impact on the melting furnace. The manual tilting metal furnace is highly reliable and does not produce harmful gases when in operation.
5. Chain tilting 10-50kg metal induction melting furnace
This metal furnace is designed for melting almost all metal types. It can accommodate three different furnaces at once. The power is between 15KW to 90KW. The IGBT technology present in this melting furnace saves 15-30% of power, thereby, saving energy. The crucible for melting cast iron is easy to change for proper maintenance of the induction melting furnace.
The tilting metal furnace has an omnidirectional warning system that alerts users of over-heating, over-current, over-voltage, short circuit, etc. The chain tilting technology also makes molten metal pouring easy. Capable of working for 24 hours with less noise and pollution.
6. 10-100kg motor tilting induction metal melting furnace
The motor tilting metal melting furnace uses the induction technology to melt 10kg to 80kg of gold, steel, silver, stainless steel, brass, aluminium, lead, zinc, etc. The IGBT technology saves 15-30% energy making it more efficient than other melting methods, with input power of 15KW-160KW. The replacement of crucible for melting cast iron is quite easy for various melting uses. Suitable for all forms of melting purposes as it does not occupy wide space. It is very easy to operate and maintain. The lead melting furnace produces low noise and no harmful gases to the environment. Melting of metals can be done for 24 continuous hours with the tilting metal melting furnace.
7. 50-250kg hydraulic tilting induction melting furnace
The hydraulic tilting metal furnace is designed to melt 50-250kg of gold, gold ores, silver, copper, iron, etc, at once. The power input is between 45KW to 160KW. The IGBT saves 15-30% of power .The tilting function is controlled with a trolley remote panel. Melting is done under a few minutes and the gold melting furnace can melt metals for 24 hours.
The omni-directional warning system helps users to ensure that all required parameters are set and gives signal if there are problems like over-voltage, over-heating, over-current, low water, etc. The magnet yoke of the melting furnace helps the machine to improve its melting efficiency. The crucibles for melting gold mines and other metals present can be easily replaced. The strong steel shell furnace keeps the melting system working for long. The furnace is quite easy to install and use.
How to choose the induction melting furnace you need?
There are certain things to consider before selecting any metal furnace that will meet your melting needs, either for business, laboratory research or mining needs. At the same time considering the induction furnace cost. Below are the things you should have in mind when selecting your metal furnace:
Choose the right capacity
Consider the capacity of the metal furnace. There are different sizes of induction melting furnaces suitable for large and small melting capacity. If you have large tons of metals to melt for your business, it is better to choose a wider capacity induction melting furnace that can melt large kilograms of metals. A mini induction melting furnace is suitable for smaller melting capacity.
Choose the right furnace
There are different types of induction melting furnaces; induction, crucible, cupola and electric arc furnaces. The induction furnace gives only quality metal melting experience. The induction furnace has features like; short melting time, saves energy, can work for 24 hours, has a cooling system, and is environmentally friendly.
How many important factors to consider when choosing the best induction melting furnace?
Here are the important factors of metal induction melting furnaces should have before you buy it.
Efficiency: A good metal furnace should effortlessly melt designated metals within a short time, thereby, improving your company's production time.
Size: Considering the size of the melting furnace is also essential. You only need the size that meets your production output. You do not need a high frequency induction melting furnace for less melting activities and a mini metal furnace will not meet the expectations of an industrial induction furnace.
Safety: Induction melting furnaces should not pose any danger of any kind to its users as well as the environment of use.
Durability: A good metal melting furnace should be able to serve its purpose of melting metals for a good number of years, therefore, you should save money on repairs or a new metal furnace.
Easy installation: A good metal melting furnace should be easy to set up and maintain overtime. Your metal melting furnace should be easy for you or your staff to maintain.
Technology: Induction melting furnaces should be only peculiar to their own design, hence, choose the one that is only for melting metals.
Cost: Consider the induction furnace price before you choose it.
Compatibility: Choose an induction melting furnace that is compatible with other technologies of melting.
Environmental friendly: Choose only a metal melting furnace that releases no negative gases or fumes into the environment. A less noise generating induction melting furnace should also be preferred.
Warranty: A good metal melting furnace should give a maximum of 2 years as warranty for their metal furnace.
How do I smelt gold dust, ores and mines to collect gold?
Smelting basically involves applying heat to ore, usually for a chemical change, in order to extract a base metal. The smelting process requires a lot of energy to extract the metal from other elements. Smelting therefore uses heat and a chemical reducing agent to decompose the ore, leaving other elements as gases or slag and leaving only the metal. Smelting process has two main steps:
Roasting: This involves heating the ore in the presence of excess air or oxygen.
Reduction: A reduction environment removes the oxygen atoms from the raw material. This is done by carbon monoxide which is a product of incomplete combustion of coke.
Here is how to smelt gold dust: Rub borax into the induction furnace crucible before adding gold dust. You can mix flux with gold dust before or during melting. Put on your electric melting furnace and set all necessary parameters. Wait for the gold dust to melt. Get your preheated mold ready and pour in the molten gold.
How do I safely melt metal?
In using an induction melting furnace, safety comes first. Even though electric induction melting does not require an open furnace, ensure you put on all safety materials, such as gloves, goggles and protective apron before you begin melting your metals.
To get iron in the ore, you have to smelt it out. Smelting iron involves heating up ore in a furnace until the metal becomes spongy and the chemical compounds in the ore begin to break down.
How efficient is induction heating?
Induction heating is a highly efficient method of industrial heating. Compared to torch and oven heating, induction offers a number of activities; induction transfers power directly to the part being heated, no ramp up, saves energy, precision, right heating is provided to all parts of the furnace.
Saves Energy: In induction heating, there is minimal wastage of heat, heat is transferred directly to the part being heated. This high efficiency results in significant power saving. Induction heating proves to be a highly efficient method for industrial heating processes.
No ramp up: Ovens need preheating which results in energy and time loss. Ovens are also kept on to prevent waiting due to ramp up, resulting in additional energy expenses. Induction furnace does not waste energy because of absence of preheating.
Work environment: Other heating methods generate unnecessary heat in the working environment, therefore, wasting energy. Induction heating gives a suitable working environment since no heat is wasted.
Precision: Induction delivers power only when it is needed which enhances product quality.
What temperature induction melting furnace could reach?
Induction heating can be as low as 100 degree celsius and can get as high as 3000 degree celsius.
The temperature of an induction melting furnace with graphite crucible is approximately 1600 degree celsius as maximum. That is very suitable for gold and silver smelting. If it is for platinum group metal melting, the required heating temperature reaches up to 2000 Celsius Degrees which could be also realized by superbmelt induction melting furnace easily.
Industrial induction furnaces do not have a limit to the temperature they can melt. However, the materials that contain the heated materials have limitations.
What can I use as a crucible?
The crucibles should essentially be made of materials with a much higher melting point than the material to be melted. Crucibles that can be used for melting differ according to melting temperatures. Furnace crucibles for melting metal come in; quartz crucible and graphite crucible. When melting metal at less than 1600 degrees celsius, a graphite crucible is ideal. Also, when melting metal above 1600 degrees celsius, a quartz crucible should be used. If the melting metal degree is higher than 1600 degrees celsius, the graphite crucible will quickly decompose leading to pollution of metal.
What is the medium frequency of an induction furnace?
The electric induction furnace uses electric current to melt electrically conductive metals. The high frequency used in induction heating applications gives rise to a phenomenon called "skin effect". This skin effect forces the alternating current to flow in a thin layer towards the surface of the skin-effect. The skin effect increases the effective resistance of the metal to the passage of the large current. Thereby increasing the heating effect caused by the current induced in the work-piece. The utility frequency of a metal furnace can be 50 or 60Hz or 400kHz , mostly depending on the metal being melted.
What is the difference between an electric arc furnace and induction furnace?
The electric arc furnace has an electric arc that generates the heat required for melting the metal. In this furnace, carbon electrodes are used. In practice, electric arc furnaces are used primarily to melt steel scrap for manufacturing new products. While an induction melting furnace uses induction technology with alternating electric currents to achieve the required melting temperature of the metal. Induction furnaces are widely used in industrial induction furnaces because they are high quality and easy to operate.
What is the difference between smelting and melting?
The two concepts sound alike but they are different. Melting is the process of applying heat to liquifying a solid substance. It is the process by which a substance changes from a solid state to a liquid state, in this case, metal. Smelting on the other hand is the process by which a metal is obtained at temperatures beyond the melting point from its ore. In simpler words, melting converts solid substance to liquid while smelting converts an ore to its purest form.