A

utomatic Coin Minting Press
One-stop automatic gold coin press solution provider in China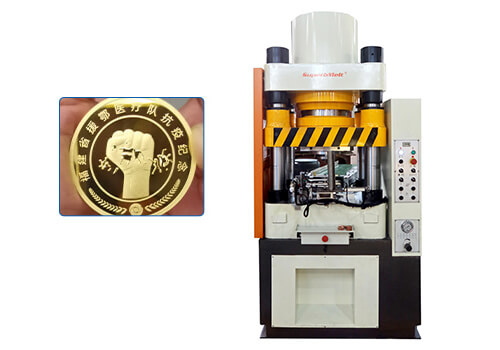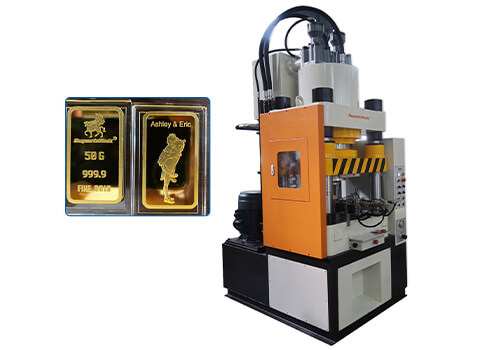 Superbmelt automatic coin minting press is a new coin minting technology that is designed for stamping logos, images and texts on blank metals. The automatic coin pressing machine is equipped with a robotic feature that automatically picks the blank coin or bars and places them in-between the die and the hydraulic press. The hydraulic press automatically stamps your gold and silver coins up to 100-300 tons. 
Superbmelt operator panel has the manual mode, semi-automatic mode and automatic mode that allows users to choose the mode of stamping best suitable for them. This means that irrespective of the level of expertise in coin minting, it can easily be used by anybody. Once the "start" button is pressed, the injector and feeding system picks the coins automatically and stamps them within a seconds. The entire process is fast allowing you to stamp large batches of gold, silver and copper coins and bars within few minutes. Thereby, saving cost and time of production. The automatic coin minting press has an adjustable pressure controller that allows you to control the pressure of stamping easily. Superbmelt automatic hydraulic coin minting press is easy to maintain, therefore, ensure a long service life and a good return on investment. The stamping dies can easily be removed and replaced for proper cleaning after each use. The pressing machine by Superbmelt is made of high-quality materials that also ensures long-lasting use. 
Superbmelt automatic coin minting press is used in ingot production, coin production industries, precious metal foundries, and so on. Contact Superbmelt today for all enquiries and automatic coin minting machine, we will respond within a short time. We also provide technical support and guidance for installing your automatic bar pressing machine when you purchase from Superbmelt. 
Parameters
Item
Unit
SPB-AH200T
SPB-AH300T
SPB-AH500T
Rated capacity
Ton
200
300
500
Max. system pressure
Mpa
24
24
25
Stroke of movable working table
mm
150
150
150
Height of movable working table
mm
940
940
840
Open height
mm
350
400
450
Workbench stroke speed
Approaching
mm/s
190
210
215
Returning
mm/s
180
210
200
Movable working table size
L-R bettween column
mm
520
560
600
F-B Rim
mm
500
560
560
Overall dimension
L-R
mm
1130
1260
1480
F-B
mm
1120
1340
1520
H
mm
2180
2340
2300
Motor power
kw
16
16
23
Weight (Approx.)
kg
2580
3620
6700
Features & Benefits
Application
W

hy SuperbMelt Automatic Coin Minting Press

Professional R&D Team:
Over 15 years R&D experience in gold machinery with a top engineer team supported

High Quality:
Only choose famous brand main electric components for production

ISO CE SGS Approved:
Professional certification bodies certify that the machines are of high quality
Any Question About SuperbMelt Automatic Coin Minting Press
FAQ Guide of Coin Minting Press
1. What is coin press machine?
In general, a coin press machine is a manually operated machine that can mint different types of coins from the planchets. Now, the old machines are getting replaced by the best automatic coin minting press machines offered by SuperbMelt. The machine can create a higher level of pressure using hydraulic technology and press the coins. It can press around 30 coins in just one minute.
2. If materials are finished in the machine, will coin press stop automatically?
SuperbMelt's coin minting press machine comes with all the required security features to make your coin pressing process safe and efficient. The machine also has a sensor that will stop the machine when there is no material. So, there is no need to worry about turning off the machine manually.
3. How do you make a coin?
Mining the required raw materials
The process starts with getting all the required raw materials, such as silver, copper, gold, or other metals that you want to use to make a coin. Sometimes, you can also use recycled metals.
Refining, melting and then casting the metals
Now, the metals are properly refined in order to eliminate the impurities. Once done, they are melted, and some additional metals are combined to give better strength. Then, the melted metal is cast into an ingot or metal bars. The metal is properly checked throughout these processes to ensure quality.
The bars are rolled between durable rollers and converted into a metal strip with the desired level of thickness. Besides, this process also makes the metal a little softer so that it can be struck easily.
The role of metal flattened to remove the curvature. After that, the metal is passed through a machine to create metal discs that will be used to make coins.
In some cases, you may need to use the riddling machine to easily separate accurately sized blanks from the blanks that have any foreign matter. This way, you can make sure that you are creating good quality gold or silver coins.
The mints are moved through an annealing oven, and this process will soften the meal for the striking process. To remove oil as well as dirt, the coin blanks are washed using a chemical. Some foreign materials may get embedded in the coins during the coin pressing process, and they need to be scrapped.
Upsetting is the process where you need to process the coin blanks through a machine where the machine will ensure that every coin blank has a perfect diameter. This way, you can make sure that the blanks can strike perfectly during the coin pressing process. Well, after this, the blanks are generally called planchets.
Once you are done with the planchets, you can now use them to strike the coins. The coins are fed into an automatic coin minting press machine that will press hundreds of coins within a few minutes. In some cases, proof coins that are generally made of collectors are fed manually into the coin die press machines, and two strikes are applied for each coin.
Once manufactured, every coin is inspected properly for any error or cracks. The coins that pass the inspection stage are packed and not ready for mass distribution. In the case of business-struck coins, they are first packed and then shipped to the concerned authority for distribution. On the other hand, collector or fancy coins can be placed in attractive boxes and sold to the customers without any legal issues. 
If you want to make your own fancy coins and sell them to people to earn money, you can always use the best gold press machine or an automatic coin minting press machine of SuperbMelt. It is available at a discounted price and will come under your budget.
4. How many pieces of coins or bars it could mint per minute?
Made of top-quality materials and advanced technologies, SuperbMelt's gold coin minting machine can easily mint around 25 to 30 pcs of bras or coins per minute. So, get the gold press machine now and improve your productivity.
5. What are coin dies made of?
In general, coins are created using alloys or different metals, and sometimes you can use synthetic materials. So, you will need dies that can handle such materials. That's why most of the modern coin dies are made of high-quality hardened steel that can easily produce thousands of coins before the dies are defaced.
6. Could we do manual press if we do not run automatic mode?
Well, coin minting is used to automate the coin stamping or pressing process. However, sometimes the users may want to press the coin manually to attain the desired pressure level. SuperbMelt's gold minting machine can be used for that. The machine comes with three different modes, i.e., manual, full-auto, and semi-auto mode.
7. What machine is used to make coins?
Even though some manufacturers are still using a manual process to make coins, some have started using an automatic coin minting press machine to get the job done. These machines are designed and developed to automate the entire coin pressing method. Once you press the start button, the feeding system and the injector will pick the coins and stamp them all automatically within a few seconds. If you want to buy this machine at the best price, SuperbMelt has brought you the coin minting machine for sale offer.
8. What material machine could mint?
When you have the best automatic coin minting press machine, you will enjoy the freedom to mint different types of materials. With SuperbMelt's coin making press machine, you can mint various materials, such as platinum, silver, copper, gold, alloy, and more.
9. How much pressure does it take to press a coin?
To press the coin properly, you will need to create around 100 to 300 tons of pressure. However, attaining such pressure power is very difficult. But when you have the best coin minting machine of SuperbMelt, you don't have to worry about that. Made of high-quality material and hydraulic press technology, this machine can create around 300 tons of pressure easily. So, check out the silver coin press machine for sale and place your order now to buy it under your budget.
10. How do I make my own minting die for coin?
First of all, you need to understand that you need to understand what types of coins you can create. If you don't have the license, then you can only create fantasy coins. Now, to create high-quality coins, it is important to have the best coin dies. Talking about the die-making process, first, you need to make die blanks, and then you can start producing master die and hub. 
Once done using master dies, you need to make working hubs. Now, you can make final dies that can be used in the coin press. Well, if you don't want to go through all these processes, SuperbMelt's gold coin minting machine can be a great solution for you. Visit the official site now and check out the machines.
11. What is the difference between coin casting and coin minting?
In simple words, coin casting means making coins using molds made of different materials. Here you need to pour melted gold or silver into the molds to create your coins. This method of coin production has been used for smaller-scale coin production. However, this is much different than the modern method of coin making, where the coin manufacturers use a coin press machine.
Speaking about coin minting, under this process of coin making, the producers use a gold coin minting machine or a normal coin minting press machine to press metal-made pieces with various designs. The design shows the coins' denomination. Besides, the design can also come with different security features, like the country where the coins are created. The primary benefit of the coin minting process is you can automate the entire process as you will be using coin minting equipment here. If you want to produce more gold or silver coins, then you can always use the coin minting machine offered by SuperbMelt.
12. What machine stamps coins?
When it comes to stamping your coins, you can always use SuperbMelt's logo stamping machine. These powerful stamping machines can be sued to easily emboss different types of metals coins, for example, brass, copper, silver, or gold. You can also go for the automatic coin minting press machine that can also work great. These machines are so powerful and durable that they can stamp around 20 to 30 coins per minute.