A

utomatic Coin Stamping Machine
One-stop automatic coin stamping solution provider in China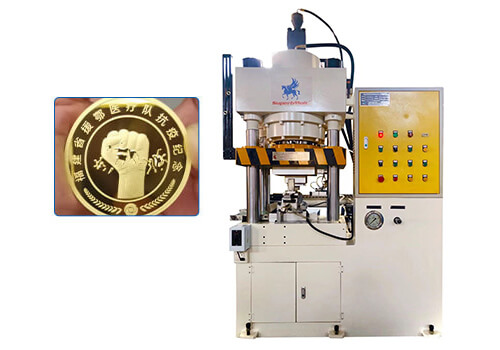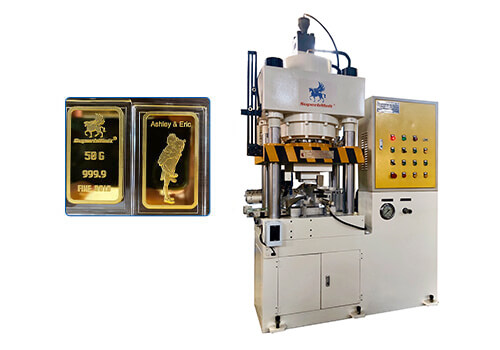 Superbmelt automatic coin stamping machine is used to stamp logo, text, images or a combination of texts and logos on blank coins and ingots. Superbmelt coin press machine for sale is highly automated and completes the stamping process without human intervention. Coin and ingots of gold, silver, copper, platinum, and so on, of 100 to 300 tons can be stamped within a short time.
Superbmelt coin stamper machine is a large capacity automated stamping machine that is convenient to use. Once the main switch is flipped, you can choose from the manual mode, semi-automatic mode or automatic mode. The coin stamping machine has automatic features that pick the blank coins, automatically stamps them and pushes the stamped coin from of the die and the next blank coin follows. This process is repeated for as long as possible without affecting the pressure or standard of stamping. This process is completed within seconds which is very suitable for a fast-moving minting industry. The stamping process is highly efficient and reliable for multiple blank coin stamping as the hydraulics does not deform blank coins or ingots. 
At Superbmelt, we manufacture automatic coin minting machines that meet all stamping needs. Contact us for the best and affordable minting machine. 
W

hy SuperbMelt Automatic Coin Stamping Machine

Professional R&D Team:
Over 15 years R&D experience in gold machinery with a top engineer team supported

High Quality:
Only choose famous brand main electric components for production

ISO CE SGS Approved:
Professional certification bodies certify that the machines are of high quality
Any Question About SuperbMelt Automatic Coin Stamping Machine
FAQ Guide of Coin Stamping Machine
1. What is coin press machine?
A coin press machine, or you can say a coin stamp machine, is designed to mint silver or gold bars or coins. These machines can create a pressing force of up to 150 tons. Besides, it comes with an extra hydraulic cylinder for a perfect return stroke. SuperbMelt's automatic coin stamping machine will allow you to mind gold bars at a faster speed. The machine comes with some amazing features such as an auto ejecting system, colorful menu, pressure system with indicator, faster production, high stroke rate, and more. Get the machine now and enjoy an automatic coin pressing process while avoiding any possible manual errors.
2. If materials are finished in the machine, will coin press stop automatically?
Yes, when there is no material in the machine, it will not work. The machine has a powerful sensor that can detect the presence of material in the machine, and when the machine runs off the material, the sensor will signal the machine to stop the process.
3. How do you make a coin?
The casting of gold sheet
Under this process, you can use a continuous casting machine to cast melted gold into sheets. Just put the gold ores into the machine, and it will use its gas insert melting protection technology, melt the gold and convert that into a sheet at a perfect temperature.
Attaining the desired thickness
Here, you can need to use a powerful rolling mill created to roll the gold or silver sheets or bullion and give them a perfect thickness to make them perfect for coin production.
Blanking
Speaking about blanks, these are flat metal discs that will be used to make coins. For this, you can use a hydraulic punch machine that will cut the sheets into the gold coin shape, and you will get coin blanks. The coil is fed through this machine that will straighten the metal sheet and then stamp them. The machine can stamp thousands of blanks within a minute. Once done, the coin blanks are transported to be processed under the next stage.
Annealing for coin blanks
Under this process, coin blanks are annealed for striking. It will change the metal's physical properties and help in preventing oxidation. Remember that the annealed blanks can keep the design perfectly while striking. 
Washing and drying
Once done with annealing, the coin blanks are properly washed. You can use a combination of cleaning and anti-tarnish agent.
Upsetting
Here, the raised rim is created from the coin edge. You can use an upsetting mill for this. The machine pushes the coin metal up around the edge, and that forms a rim. This rim will keep the coins safe from wear, and you can easily stack them. This process will convert the coin blanks into a planchet.
Striking
Now, the planchets are fed into the coin die press machine for striking the desired design. The automatic coin stamping machine will strike the coins or bars with the designs or logo automatically.  The press forces both the reverse and obverse die against the coin to perfectly strike both sides. The coins can be struck differently based on the finish.
For example, to create uncirculated bullion or circulating coins, you need to strike once.  A good quality silver coin making machine can make this process faster and efficient. You can get in touch with SuperbMelt for a good quality coin casting kit and start your coin making line now.
4. How many pcs of coins or bars it could mint per minute?
SuperbMelt's gold press machine is made using highly durable material. Combining the latest technology and powerful hydraulic press, the machine can easily mint around 25 to 30 pieces of bars or coins within one minute.
5. What are bar dies made of?
Speaking about bar die, this is one of two important metallic pieces that are generally used to properly strike gold or silver bars. There are two dies to strike both the side of the gold bar. They carry an inverse version of the image that you will strike on the bars. Striking a bar means presenting or engraving an image into the gold or silver bars.  In general, the bar dies are made of steel metal as they can last for years and can be used for around 100 stamping before they are replaced.
6. Could we do manual press if we do not run automatic mode?
Don't think that SuperbMelt's automatic coin stamping machine only supports automatic mode. Well, the users can use it in three different modes, such as Full-automatic, Semi-automatic, and Manual mode. So, if you want to press the bars manually, you can do that. Besides, such a machine is very safe to use. So, you don't have to worry about any damage while using this to manually press the coin or bars. However, always prefer to buy the machines made by SuperbMelt to enjoy maximum security features.
7. What machine is used to make coins/bars?
Even though gold coins or bars can be created using the traditional methods, to enjoy a faster production process, you can use a gold coin machine. And for the top-quality coins or bars making machines, SuperbMelt can be your perfect platform. With the company, you can enjoy a complete solution for gold coin production.
It offers continuous casting machines, rolling machines, hydraulic punch machines, annealing furnaces, and hydraulic press machines at the best prices in the market. Get in touch with them now to know more about their machines.
8. What material machine could mint?
While with other stamping machines, you may not get the freedom to choose different materials, when you have the best coin minting press machine of SuperbMelt, you can easily mint platinum, copper, silver, gold, and different alloys without any issue. The machine uses a powerful hydraulic press that can easily process hardened materials.
9. How much pressure does it take to press a bar?
The pressure level will depend on the softness level of the metal. However, you may need to create around 100 to 300 tons of pressure to press a bar properly. Well, manually, it can be very challenging for you to create such a level of pressure power. But SuperbMelt's coin minting press machine can get it done. It can create a powerful hydraulic press for gold bar stamping.
10. How do you make a bar mold?
If you are looking for an easy to make gold bar molds, then you can always trust SuperbMelt's gold bar molds. Even you can create a mold by melting metal and pouring it into a structure; you can save time as well as money by using these molds. Made of superior-quality graphite, you can use then for a vacuum gold bar casting machine.
Available in different forms and sizes, you can choose between two in one, single bar, or four in one bar molds based on your requirements. Using this, you can make a silver or gold bar weighing 100g to 1 kg. Speaking about some impressive features of SuperbMelt's bar molds, they are corrosion resistance, thermal resistance, impact, and acidity resistant. Get them now.
11. How do I make my own minting die for bar?
Nowadays, it is very easy to create your own minting dies for your gold or silver bar. All thanks to modern technology and machines. To create a minting die, first, you need to create the desired design and send that to a powerful CNC machine. Now, the CNC machine will create the design on the end of a steel rod, and this way, you will get the Master hub.
Once done, you need to feed the Master hub into a hydraulic press machine that will press the hub against another metal rod to form the second die that will have the design's negative image. This will be your Master die that you can use to create the Working hubs. Using them, minting dies, also known as Working dies, are created. Now, you can start stamping the bars using the minting dies and a powerful automatic coin stamping machine.
12. What is the difference between bar casting and bar minting?
When it comes to manufacturing gold bars, you can go for two different options; these are gold bar minting and casting. However, both the processes are different. Let's discuss these in detail.
Under this process, the gold bars are created using the traditional manufacturing process. First, a mold is created to make sure that the gold bars can be created in proper shape, weight, and sizes. After that, gold is melted at a high temperature, and the liquid gold is then poured into the mold. For natural-looking gold bars, the bar casting process can work great, but this is a time-consuming method.
The gold bar minting process is widely used by investors and gold bar sellers. Using this process, you can create a gold bar with a perfectly clean finish and a stunning shine. Under this process, the manufacturers generally use automatic coin minting press machines to press gold bars with the desired patterns or design. Just feed the bars into the machine, and the machine will keep pressing the bar automatically. This process is much faster compared to the traditional gold bar casting process.
13. What machine stamps bars?
Even though some coin manufacturers prefer to go for manual stamping of coins to make them look unique and valuable, you can trust an automatic coin stamping machine to get the best results. And for the quality coin minting machine, you can always trust SuperbMelt.  Using this single machine, you can easily stamp text, images, logos or can also stamp a combination of logos and texts on ingots or coin blanks. Such coin making machine for sale can completely automate the process, or you can use them manually based on your requirement.
Speaking about the pressure level, the machine can easily create around 100 to 300 tons of pressure. The company claims that this stamping process is very reliable and efficient for coin stamping as its hydraulic press technology doesn't affect the ingots or coin blanks. So, what are you waiting for? Visit the official site of SuperbMelt and place your order now to get the best quality coin stamp machine.