A

utomatic Coin Stamping Machine
One-stop automatic coin stamping solution provider in China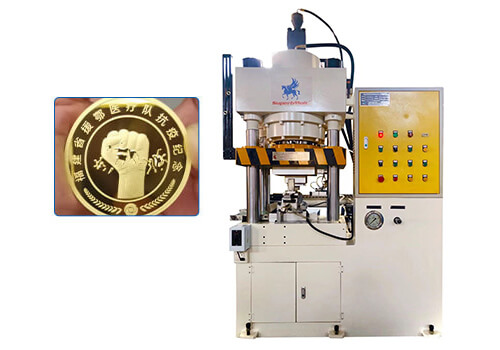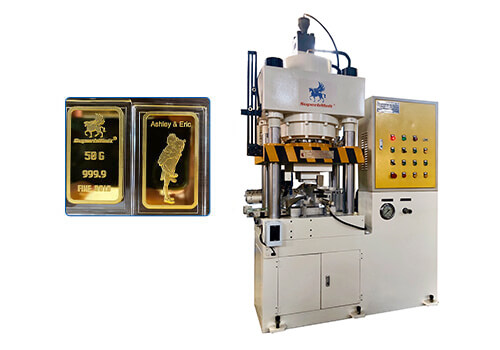 Superbmelt automatic coin stamping machine is used to stamp logo, text, images or a combination of texts and logos on blank coins and ingots. Superbmelt coin press machine for sale is highly automated and completes the stamping process without human intervention. Coin and ingots of gold, silver, copper, platinum, and so on, of 100 to 300 tons can be stamped within a short time.
Superbmelt coin stamper machine is a large capacity automated stamping machine that is convenient to use. Once the main switch is flipped, you can choose from the manual mode, semi-automatic mode or automatic mode. The coin stamping machine has automatic features that pick the blank coins, automatically stamps them and pushes the stamped coin from of the die and the next blank coin follows. This process is repeated for as long as possible without affecting the pressure or standard of stamping. This process is completed within seconds which is very suitable for a fast-moving minting industry. The stamping process is highly efficient and reliable for multiple blank coin stamping as the hydraulics does not deform blank coins or ingots. 
At Superbmelt, we manufacture automatic coin minting machines that meet all stamping needs. Contact us for the best and affordable minting machine. 
W

hy SuperbMelt Automatic Coin Stamping Machine

Professional R&D Team:
Over 15 years R&D experience in gold machinery with a top engineer team supported

High Quality:
Only choose famous brand main electric components for production

ISO CE SGS Approved:
Professional certification bodies certify that the machines are of high quality
Any Question About SuperbMelt Automatic Coin Stamping Machine