As a top graphite molds supplier, Superbmelt provides various molds for gold/silver/copper casting
Superbmelt gold bar molds are made of high quality graphite that are specially made for casting precious metal ingots in a vacuum gold bar casting machine. The gold bar molds come in different sizes and forms. There are four in one bar molds, two in one bar molds and single bar molds that are all accompanied with a lid. The bar molds are suitable for all gold ingot casting capacities; small, medium and large, ranging from 100g to 1kg.
Superbmelt gold bar molds are often made with fine grain graphite that is machined from solid graphite forced out in the form of bars and has a very smooth finish that makes precious metal ingots to have smooth and clean appearance. The graphite mold is used to make ingots of gold, silver, copper, platinum and other metals. 
Gold bar mold's durability makes them highly recommended and usable for casting ingots in precious metal foundries and other mechanical industries. The gold bar molds are highly durable and cost effective for all industries.
Superbmelt gold bar molds have these exceptional properties; excellent thermal resistance, corrosion resistance, good thermal conductivity, resistance to acidity and alkalinity, impact resistant, energy saving and ingots are easily removable after casting. Ingots cast with the gold bar mold are of high quality and long lasting.
Features & Benefits
Superbmelt gold bar mold has a good thermal stability and it is suitable for emergency heat and cold usage conditions.
The mold has a good corrosion resistance, acid and alkaline resistance. This means that the gold bar mold is capable of casting whatever metal irrespective of its chemical properties.
Precious metals are not contaminated when cast with a gold bar mold because all physical and chemical properties of the mold are tightly fused together. 
The smooth cavity finish of the gold bar mold makes it very convenient to remove gold ingots after casting. 
The gold bar mold has a good thermal stability that can withstand high temperature of molten metals that needs to be cas. The mold does not expand or shrink in size when it comes in contact with heat.
 Gold bar molds are widely used in foundries, metallurgy, chemical, mechanical and electrical power industries. It is also applicable in continuous casting mold, pressure foundry mold, glass molding with die, sintering mold, centrifugal casting mold, smelting gold and silver.
Gold bar molds are made from high density fine grain graphite that makes it suitable for multiple casting capacity in one mold. 
The ashes of graphite (i.e. the components of the gold bar mold) is less than 0.1%, which means that your precious metals do not get contaminated during the casting process.
Superbmelt gold bar mold can be used as graphite crucible melting into nonferrous metals, test analysis and as ingot mold.
Our gold bar molds are one of the most heat resistant materials that have a good thermal shock, no cracks will occur on your mold when the temperature is hot or cold. 
Excellent thermal conductivity and conductive properties are topnotch features of the gold bar mold.
The mold good self lubrication that makes the gold bars easily removable after casting and abrasion resistance.
Melting gold dust into molten gold with a propane torch can be done in a gold bar mold. This is a common practice among small makers of jewelries. Melting of gold in a gold bar mold is only possible because the mold is able to withstand high temperature.
Parameters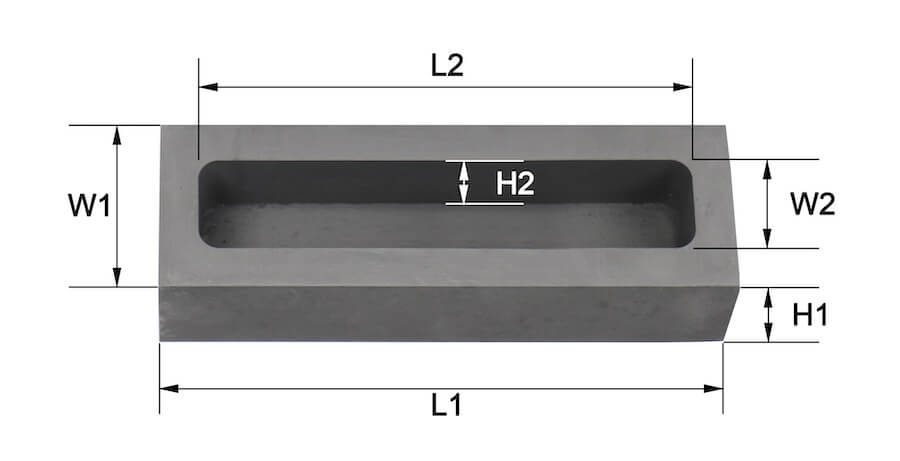 Description

Model

Size

L1

W1

H1

L2

W2
H2
100g graphite ingot mold
G.GI.Y0100
55
40
20
35
20
10
200g graphite ingot mold
G.GI.Y0200
70
45
20
/
/
/
250g graphite ingot mold
G.GI.Y0250
67
50
26
47
25
16
300g graphite ingot mold
G.GI.Y0300
70
57
20
/
/
/
400g graphite ingot mold
G.GI.Y0400
75
67
20
/
/
/
500g graphite ingot mold
G.GI.Y0500
70
67
26
50
47
16
1kg graphite ingot mold
G.GI.Y1000
135
42
32
115
22
22
2kg graphite ingot mold
G.GI.Y2000
160
48
38
140
28
28
3kg graphite ingot mold
G.GI.Y3000
175
52
42
155
32
32
Customize Your Graphite Mold
Why SuperbMelt Graphite Gold Bar Mold
As a professional graphite mold manufacturer, it is our responsibility to provide you with the highest quality graphite mold
High Quality
All graphite is made by processing petroleum forged coke and pitch coke instead of waste graphite
Any Question About SuperbMelt Graphite Gold Bar Mold
Superbmelt's professional technical team and sales team are at your service
(7/24hours service)