SuperbMelt Professional Gold, Silver, Aluminum Metal Tube Making machine
The hollow tube forming machines from SuperbMelt are created to make it simple and effective for you to produce tubes of all different shapes and sizes. SuperbMelt hollow tube forming machines specialize in creating various metal hollow tubes, including hollow gold, silver, copper, and aluminum tubes.
Metal tubing may be produced using SuperbMelt's tubing equipment for a variety of uses, such as manufacturing, construction, and jewelry. Our equipment is made to last, with long-lasting components and meticulous engineering to guarantee reliable results each and every time.
Parameters
| | |
| --- | --- |
| Model number | SPB-DHW-2 |
| Power | 4kw |
| Voltage | 3 phase 220V, 50/60Hz |
| Diameter | 3.2mm (Personalized) |
| Thickness | 0.32 -0.5mm (Personalized) |
| Efficiency | 1000 – 2000mm/min |
| Control method | Switch control |
| Size | 890*1000*1380mm |
| Weight | 520kg |
introduce
Application
Metal Tube Making Machine
A sort of machinery called a metal pipe producing machine is used to create different kinds of metal pipes. Various metals, including gold, silver, steel, copper, aluminum, and brass, can be processed by the equipment. It is employed to create tubing in a range of diameters and forms in a number of sectors, including jewelry, construction, automotive, and HVAC.
Metal tubes are formed using a variety of methods, including welding, rolling, and bending, by metal tube forming machinery. Additionally, it is capable of numerous processing tasks including drilling, punching, and cutting. Metal tube production equipment from SuperbMelt creates hollow metal tubes by welding and extrusion.
A metal pipe producing machine can boost productivity and cut expenses, which is one of its key advantages. It can make a lot of metal tubes more quickly than the old-fashioned ways. Additionally, the machine provides a high degree of precision and accuracy, guaranteeing that every tube produced meets the necessary standards.
Utilizing a metal pipe forming machine also lessens material waste, which is an advantage. By efficiently cutting and shaping metal, the machine maximizes the utilization of raw resources. By doing so, waste is minimized and expenses are kept to a minimum.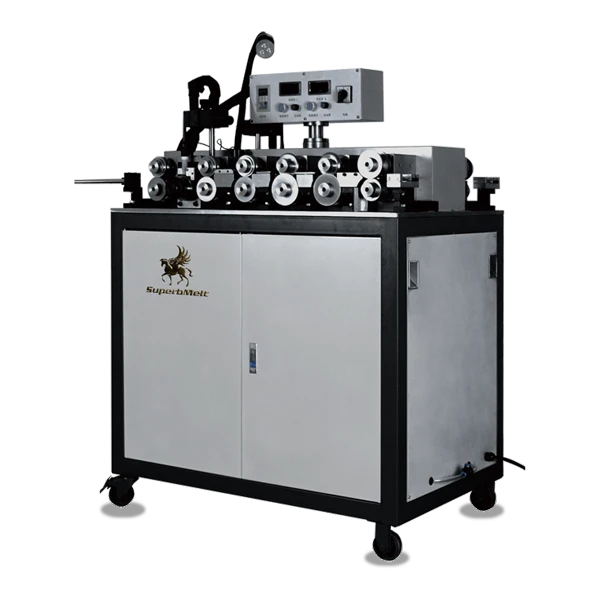 W

hy SuperbMelt Hollow Tube Forming Machine

Professional R&D Team:
Over 15 years R&D experience in gold machinery with a top engineer team supported

High Quality:
Only choose famous brand main electric components for production

ISO CE SGS Approved:
Professional certification bodies certify that the machines are of high quality
H

elpful Resource For Your Reference ( An expert about SuperbMelt hollow tube forming machine )
Wow, this hollow tube forming machine from SuperbMelt is incredible! It's amazing to see how easily it can produce high-quality tubes with precision and efficiency. Definitely a game-changer for anyone in the manufacturing industry.
I'm blown away by the capabilities of this tube forming machine from SuperbMelt. It's impressive to see how it can create tubes with various shapes and sizes to meet different production needs. This is a must-have for any manufacturing operation.
The attention to detail and craftsmanship that goes into each SuperbMelt tube forming machine is truly remarkable. The level of precision and quality is unparalleled, making it the ideal solution for anyone looking to produce high-quality tubes for their business. Highly recommend checking them out!
More Gold Melting and Casting Machinery For Your Choice
Any Question About SuperbMelt Hollow Tube Forming Machine
About Tube Making Machine FAQ