G

old Chain Making Machine
Superbmelt provide a one-stop service to solve any problems with your jewelry chain manufacturing line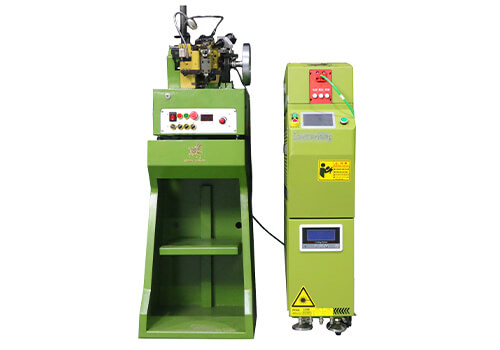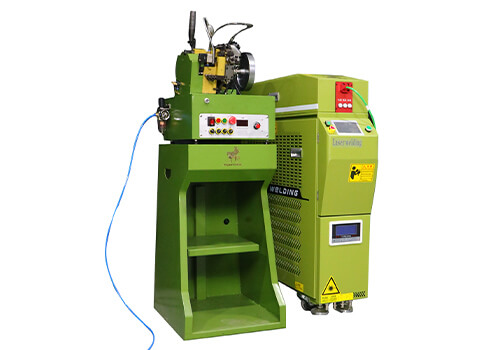 Superbmelt gold chain making machines produces chains with the basic links all same. The metal thread is spiraled before being sectioned during the creation process. One can produce a variety of different styles in certain models with the combination of programmable link torsion allowing for the creation of new chain designs as these are particularly flexible gold chain making machine.
It is an automatic machine that features higher productive capacity for single, double, triple, right and left curb chains and single multiple cable chains. The gold chain making machine has the possibility of changing from curb to cable by means of a simple quick mechanism or from right to left curb thereby facilitating the production of two chains with identical pitch that is suited to the subsequent coupling.
It is quite a versatile machine. The second air blower, the electronic speed regulator with brake, the low voltage lamp, and the chain density sensor is the endowment of this jewelry chain making machine. They are easy to operate and are responsible for the creation of gold, platinum, carat gold, silver, hard alloy chains.
W

hy SuperbMelt Gold Chain Making Machines

Professional R&D Team:
Over 15 years R&D experience in gold machinery with a top engineer team supported

High Quality:
Only choose famous brand main electric components for production

ISO CE SGS Approved:
Professional certification bodies certify that the machines are of high quality
Any Question About SuperbMelt Gold Chain Making Machines
FAQ Guide of Gold Chain Making Machines
1. How do you make a gold chain?
Earlier, gold chains were used to make by hand. As a result, to create one simple gold chain, the jewelers used to take months. However, now things have changed a lot, and thanks to advanced technologies, you can use a gold chain-making machine to create a gold chain with a complex design within a few hours. Now, let's talk about the process of gold chain making in detail.
Before making a chain, you need to get pure gold. How to get pure gold? Well, for that, you need to melt gold ore using a crucible and furnace. The experts of SuperbMelt always advise the users to use SuperbMelt's graphite crucible and induction furnaces. Once melted, you can purify the gold and turn them into bars for making gold chains or other products.
After getting the gold, the next step in the gold chain-making process is to create a gold rod. To make the process easier and faster, you can use the continuous casting tool from SuperbMelt. Developed using the latest technologies, these machines can cast the gold into the desired shape. Besides, you can create different shapes, for example, cylindrical, circular, rectangular, circular shapes, and more.
Creating thin wires from the gold rod
After creating the gold rod, the rod will be processed through the rolling mill. This will transfer the rod into thin wires. The machine produces accurate pressure, and the gold wire will come up with a super smooth surface, and you can see a mirror effect on it.
Reducing the diameter of the wire
Sometimes, you may need to create a thin-sized gold chain, and for that, you will have to convert the thick gold wire into a thin wire. For that, the drawing process is used. After getting the desired diameter, you can now use the wire to create gold jewelry chains.
Not, this is the final process. Here you can use a jewellery chain-making machine to create a gold chain. Such machines are very versatile and can be used to create a different type of gold chain. For example, snake chains, rope chains, box chains, and more. What's more? You can also create anchor chains, double chains, ad more.
Now the final product has been made. In some cases, you may need to use a hammering machine to bind the gold parts and to get a perfect shape. Just configure the machine, and the machine will automatically hammer the gold chain. After that, to enjoy the shininess, use a jewelry faceting machine.
So, using a good-quality gold chain-making machine, you can easily create different types of gold chains within a few hours. However, for better results, prefer to buy the machine from a well-known manufacturer. This is where you can always trust SuperbMelt, one of the most trusted and reliable chain-making machine manufacturers. 
2. How do you make a 14-karat gold chain?
Now, it is very easy to make a 14-k gold chain, and you can even complete the chain within a few hours using a gold chain-making machine. When you have a good quality machine, the entire process can be automated. If you are looking for a perfect platform to buy a machine, then you can always trust SuperbMelt.
3. Is a gold chain a good investment?
Yes, investing in a gold chain can be a good idea as gold is a precious metal, and with time, its value may rise. However, prefer to choose a design that is evergreen so that you can use your gold chain for years without buying a new one. For example, a snake gold chain.
4. How can you tell if a gold chain is real?
There are many simple methods to tell whether the gold chain is real or not. For example, you can use an acid test. If the gold is fake, the gold chain will develop a reaction, and you can see green color on the surface. However, one of the most simple and effective ways to check the purity of the gold chain is by using an XRF gold analyzer. To get the best machine, you can always get in touch with SuperbMelt.
5. What karat gold is best for chains?
You can't make gold chains using 24K pure gold. As per the experts, 14k, 21k, or 16k gold is good for making gold chains.
If you are planning to weld on a gold chain, you can do that by using a welder. For that, you can use a desktop laser welder, split laser welder, or mini laser welder. Such machines are very powerful and can complete the task within a few hours.
7. How can you tell 24-carat gold?
If you are looking for the simplest and most effective way to check the purity level of karat percentage of gold, SuperbMelt would like to suggest you use an XRF gold tester. Utilizing the most advanced XRF technology, the tool can check the purity level within 5 to 10 seconds.
In general, gold is made by melting the gold ore. Gold ore is melted using an induction furnace and then purified utilizing different methods. Once done, the pure gold is poured into molds to create gold jewelry or chains.
9. How do you make gold jewelry shiny?
First of all, you need to create a cleaning solution by adding dish detergent to warm water. Now, combine a few drops of ammonia and then brush the jewelry using a soft brush. Once done, you can clean the jewelry pieces using lukewarm water. After that, properly dry it using a soft towel. In the case of a gold chain, a chain faceting machine can be used to make the chain look shiny.
10. How is gold jewellery made?
Nowadays, gold jewelry pieces are made using the gold casting method, where CAD software is used to make jewelry wax models using a 3D printer. First of all, the jewelry mold is created. After that, hot wax is added to that mold. The liquid eventually cools down and takes a harder shape. Once done, it is separated from the mold, and you will get the wax vision.
After that, the investment casting method is carried out. Under this, the wax jewelry is placed in a furnace with plaster. The heat melts away the wax material, leaving the plaster cavity. Once done, you need to add molten gold inside that to create jewellery.
11. What machines are used to make jewelry chain?
Some of the most common machines that are used to make good quality jewelry chains are a gold continuous casting machine, a rolling mill, a wire drawing machine, a gold chain making machine, a chain hammer machine, and a chain faceting machine. You can easily buy all these machines at SuperbMelt under your budget.
12. How do they make necklace chains?
The process of making neckless chains is quite interesting as well as complex. However, modern technology has made it easier to create necklace chains within a few hours. There are different types of machines, including a necklace-making machine that you can use to create a metal rod, then convert the rod into a wire, and then the gold chain-making machine will turn the wire into the chain.
13. What is used for making necklace?
A gold chain-making machine is used to make a necklace. Such machines are very advanced and can create different types of patterns faster. You can create one necklace within a few hours. So, don't think much and check the gold chain-making machine price now and get your machine. For best deals, you can get in touch with SuperbMelt.
14. How are silver chains made?
If you look at the historical data, jewelers were used to making cast loops and combine them together to create a necklace. However, due to the manual process, they used to take days or months to make a single piece of necklace. On the other hand, with a manual process, it is very challenging to solder multiple loops in one piece. So, they used the smelting process for silver rod creation.
Now, coming to the modern process, this is all about the chain-stitching process. Here, a thin silver wire is carefully processed through an automatic chain-making machine, and the machine creates the design based on the design pattern. As per the experts, one machine, in one minute, can crate silver chains with about 6000 links.  Once the silver chain is made, it is polished by a chain faceting machine
15. What is the best material to make a necklace?
To make a necklace, you can use different types of materials, and the choice of material will be based on your personal choice. Some of the most common materials that you can use are:
Most jewelers prefer to use silver as this material is soft, ductile, and malleable in nature. Besides, silver is highly reflective. On the other hand, silver material can be polished to attain the required Luminous sheen. What's more? Compared to other materials available to make a necklace, silver is quite affordable.
More than 50 percent of gold is used in jewellery making. The 100 percent pure gold is very soft, and on the Mohs Hardness Scale, it is rated 2.5 to 3. As pure gold is very soft and can't be used to make chains or necklaces, jewelers used 21K, 18k, 16k, or 14k gold to make gold jewelry. Different types of alloys are used to make the gold durable. By alloying process, you create rose, yellow or white gold.
Another common material that is used to make the necklace is platinum. The material is silver-white, malleable, and also a highly dense precious metal. The material is super durable and will never tarnish. Besides, it is heat resistant and corrosion-resistant.
16. What are gold chains made of?
As the name suggests, gold chains are made of gold. However, the purity of the gold will vary from one chain to another. Besides, different karats of gold are used to make gold chains. For example, you can go for a 14-k gold chain that is made of 14-part gold and 10 parts of other metals. If you calculate in percentage, a 14k of gold chain can be made of around 58 percent gold, and there can be other alloys, for example, zinc, silver, copper, palladium, or nickel.
17. What is the strongest style of chain for a necklace?
Well, as per the experts, among all the available chains in the market, you will find the rope chains as the heaviest and most durable chains. Besides, they are also very textural. Due to their unique design, you can wear them with a pendant. You can use a thin or thick one based on your style preference. The modern necklace-making machine has made it much easier to produce sturdier rope neckless that can last for years.
18. What are the different types of jewelry chain?
Thanks to the introduction of the advanced gold chain-making machine, you can now buy different types of gold chains in the market that you can use based on your style statements. So, here we will discuss some of the most popular types of gold jewelry chains. Have a look.
Speaking about this, this is a unique chain, and the design of the chain is greatly inspired by the nautical world. Such chains are also called as Anchor chain as it has the similar design to the gold chains that are connected to the anchors. If you are someone who loves the seas, then you can go for it.
In terms of design, it consists of multiple interlocking ovals, and there will be a bar across each oval. So, the chain comes with an intriguing and distinct appearance. These jewelry chains are available in different widths. Earlier, such chains were flat, now there are more new trends, and you can go for the puffed mariner chain. You can use them as stand-alone jewelry, or you can pair them with a beautiful pendant.
The chain is consisting of multiple tiny beads that are interlinked to form a chain. In terms of the design, the balls of the chains can be eighter connected very closely, or there can be small space between the balls. However, it may be noted that such chains don't work well as a stand-alone accessory and will look perfect when you combine it with a pendant. Using a good quality automatic chain-making machine, such a chain can be developed within a few hours.
Such chains are made of quality and unique square links, and there will be no rounds and ovals. The square links are carefully connected to create a smooth chain. Earlier, these chains are used to make by hands, but now, most of the jewelers are using a box chain-making machine for this. Such chains are quite popular among users and can be worn by women and men. You can get them in different widths. For men, wider ones will use match perfectly. In terms of durability, box chains are very strong, and they will not break easily.
On the other hand, if one link breaks, that can be replaced without any issue. Besides, a box chain can be easily reattached without replacing any broken link or compromising the design. Based on your outfit and preference, you can pick a good length.
One of the most basic types of chains is cable chains, and they generally look like a regular iron chain. These chains have been used for years for different purposes, for example, crafting delicate and small pieces of jewelry. This common form of the chain has a series of oval links that are carefully interconnected to create functional as well as beautiful chains.
Even though such chains are not very eye-catching, you can make them look beautiful by combining them with a pendant. Such chains are very durable and sturdy as the cable chains are uncomplicated. A broken link in the cable chain is easy to fix. However, there is one thing that you should always keep in mind. The links can sometimes come part from the joined part if the chain is not perfectly developed.
The chain style is very basic, and the design is timeless. The chains are made of interconnected and uniform links. While perfectly interlocked, the links will remain flat. If you are looking for a neckless chain that looks chunky and heavy, then you can always go for a curb chain. That's why most of the men prefer to wear this chai.
On the other hand, thinner and smaller curb chains are feminine as well as delicate. They will look beautiful when combined with a pendant. Such chains are sturdy and don't need any special maintenance care. If you want to make a good quality curb chain at your jewelry shop faster, then you can use a gold chain-making machine offered by SuperbMelt.
Even though the necklace will look simple, you will find them much fancier than the cable chains. The design is originated in Italy, and the chains include some alternating patterns of flattened links in different sizes. In general, the pattern of the chain is of one long link accompanied by three or, in some cases, two shorter links. The design of such chains has made them perfect to be worn by both women and men.
Such chains are a perfect sturdy choice as they are made of thick wire. Besides, they are super easy to fix. But due to the unique pattern of the chain, without replacing it, you can't remove a broken link. Or else the entire pattern of the chain will be messed up. However, to make a Figaro chain faster, you can always use a bracelet-making machine.
When it comes to buying a beautiful chain for her or him, a rope chain can be a perfect option. Talking about the design, it includes different metal segments with the pattern twisting around to give the look of a real rope. The chai has a solid appearance and can is widely worn across the world. Most jewelers are now using a rope chain-making machine to create durable rope chains.
Rope chains are the heaviest and most durable chain types that you can use. You can wear the chain along with various pendants as they are real strings. You can always go for a thin or thick design as they will don't come apart easily. While the larger rope chains are perfect to be worn on their own, you can use a delicate one with a pendant. As such chains have unique twisting patterns that effectively reflect lights from different angles, they always look shiny and lustrous.
Such chains are very durable and come with a strong design that has multiple interlinked segments. When you stretch it out, it will look like a twisting open chain, and that will give it a beautiful look. That will move with a liquid touch. In general, Singapore chains are best for hold pendants as they are durable, no matter what is the width of the chain. The design is very classic can be used regularly.  
The chain gets its name from the snake design. If you look at the design, you will find it carrying a body of a snake, and it also moves like a snake. The chain is made of multiple small rings; they can be bands or plates and are connected tightly together to create a sleek and smooth chain. The users may not see the snake chain's ring as they are closely knit together. They are not very textual as compared to other types of jewelry chains that you will find in the market.
Speaking more about the chains, they are quite delicate, but you can attain a stunning look by combining them with a beautiful pendant. As they all have a semi-rigid structure, the chains will not tangle easily. The best part is that they are easy to clean and maintain. You can make this your regular accessory. So, go on and get one now.
Such chains are made up of multiple twisted oval links, and they are plaited together in a single direction. As a result, it creates a symmetrical or delicate chain. If you look at it carefully, it will look like many metallic fibers running into each other, producing a unique textural appearance. As the chain looks like the tips of wheat stalks, it is called as wheat or Spiga chain. As the chain is semi-rigid, you will find them very sturdy and durable. The look of such chains is very classic and timeless.
So, these are some of the best types of gold jewelry chains that you can find in the market. However, if you want to create something unique or make the best-quality gold chains, you can use a jewellery chain-making machine. Visit the chain-making machine price at SuperbMelt and place your order now.