As a top coin die manufacturer, Superbmelt provides one stop solution for coin die customization
Coin dies are important stamping tools in the production of gold, silver, copper, zinc or other types of metal coins. Various customized logos, texts and shapes are embossed on coin dies which will in turn appear on both sides of the metal coins. 
A coin die is a steel rod with a face that is the same size as the coins that it will be striking. Two of these coin dies are needed to strike metal coins; one has the obverse (front) design while the other has the reverse (back) design.
The coin dies are set up in the Superbmelt hydraulic logo stamping machine for effective and efficient stamping on coins. Lubricants are not used in coining as they are incompressible.
We manufacture coin dies as well as samples on gold coins for our customers before they are shipped.
We at Superbmelt provide our clients with all coin minting equipment for every gold and silver coin making process, training and guidance to our clients.
As a professional coin minting solution supplier, it is our responsibility to provide you with the highest quality coin die
High Quality
All coin die are processed by high-precision equipment and have a long lifespan
Any Question About SuperbMelt Coin Minting Solution
Superbmelt's professional technical team and sales team are at your service
(7/24hours service)
How to Custom Coin Die for Coin Making?
Are you planning to establish a coin minting line? Starting a coin minting unit is not difficult, but you will need a major tool for this. The first step you will have to take in this process is to get the best custom coin die for producing the coin.
This is where you can get confused, as there are different ways to manufacture coin dies. However, when it comes to saving your time and money, you can always take help from a professional coin die manufacturer who can help you get your custom coin dies ready on time, and you can initiate your production faster.
The coin dies and punches manufacturing process has evolved a lot. The moulding process is not getting outdated with time, and all are now using hydraulic pressing machines for coin manufacturing. For such machines, you will need top-grade coin stamping dies that can last longer. From where can you get those dies?
Well, here you will get the solution for this. If you are new in this industry, go through this article to know everything about customer coin dies, their manufacturing process, and tips. You will also get to know why to choose SuperbMelt, a reliable coin ting die manufacturer, as your custom coin die, manufacturer.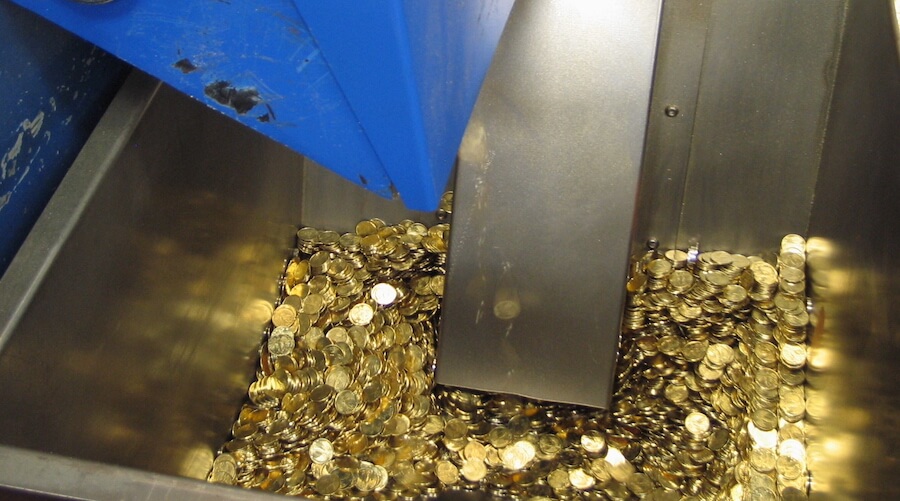 Chapter 1:
Development of Minting Technology
The rapid technological development has greatly affected the process of minting, or you can say minting technology. You all know that every country has its unique coins, and they are made of different materials using a high-quality coin die.
They can be made of zinc, copper, gold, silver, or a combination of different metals. However, the process of minting or coining has changed a lot with time. In this chapter, you will get to know about some major coin minting processes.
Speaking about minting, this is a process of producing coins utilizing a type of stamping called metalworking. This process is quite different from cast coining, and the best coin stamping dies are used for this. If you are looking for good quality custom coin striking dies, you can always get in touch with SuperbMelt. Now, let's have a look at some significant coin making or minting process.
1.1, Make coins by molding
This process is also known as cast coinage. Under this process, coins were made by pouring liquid metal into a mold. As per the study, such a method of coin making was widely used for regular coin in the Far East and other areas like the Mediterranean.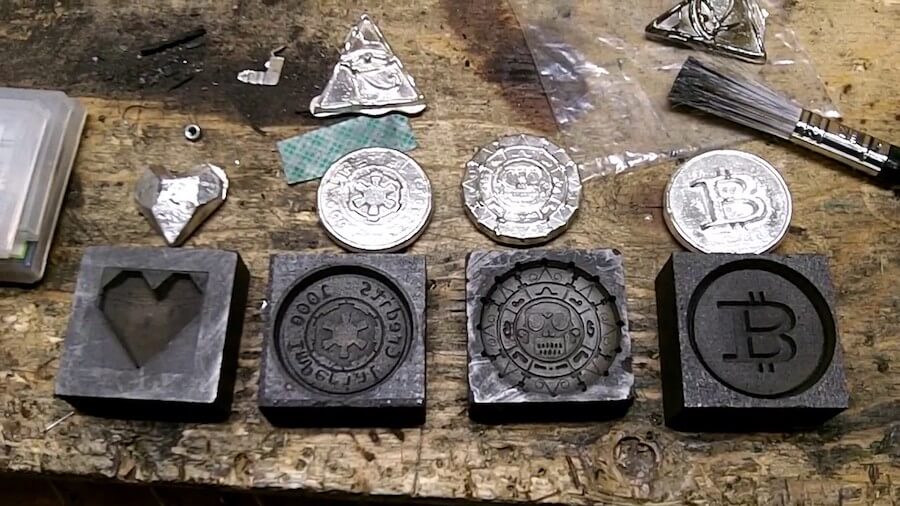 This method is quite different from modern methods of coin making, where striking coin blanks produce coins. Under this process, you need to heat the metal that you want to use for coin making, and once the metal turns into a liquid, you need to pour it into the mods. Once the liquid cools, you can remove the coin from the mold and trim off the excess metal. This method is very time taking.
1.2, Make coins by manually pressed or "struck"
Under this method, a coin press die was used to create coins. Speaking about a coin die, these are used to strike a coin. A die generally comes with the image that needs to be hit on the coin. The image then is pressed on the blank metal disk, or you can say planchet. This is a term descended from when a coin dies were used to struck using a hammer.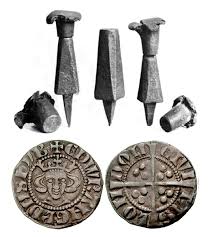 If you look at the modern coin minting dies and punches, they are made of high-quality materials such as hardened stainless-steel a can produce thousands of coins. For striking, the blank coins are placed into the striking chamber. A collar keeps the coin in the right place, and the hammer strikes the coins. The collar stops the coins from expanding. The process repeats multiple times for coin minting.
1.3, Make coins by the hydraulic press: pressed by high-precision coin die
This is the modern method of coin making. A greater number of production facilities across the world are now using a hydraulic press. It functions by utilizing hydraulic pressure and press the metals between plates. Here, a thin strip made of metal is annealed to attain the correct hardness for stamping.
The hydraulic press is then equipped with the coin stamping dies set to a particular diameter based on the coin size. Both the dies are pressed together to punch the coin. Once done, the coins will be inspected and then will be taken for second presses.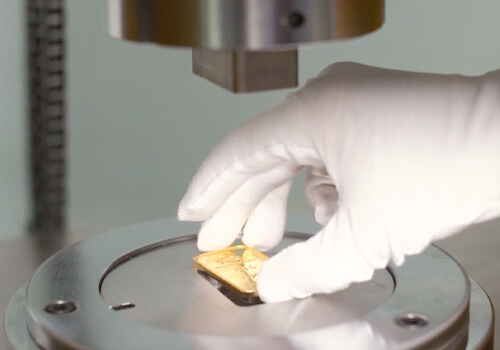 After the coining process begins. The coin is placed on the bottom die and then pressed downward. It makes contact with other coins and dies with a great force, making the coin stamped.
It is a relatively simple process and has been used for several hundred years. One of the leading professional precious metal coin minting solution providers, we have multiple coin-making lines worldwide. One can trust SuperbMelt for bet coin minting equipment and on-site guidance for coin making.
Chapter 2:
How to custom coin die?
When you first look at the coin, what do you usually see? If you look correctly or carefully enough, you will see the combination of state-of-the-art technology and craftsmanship. Some also say that coins are the place where science meets art.
If you plan to start your coin minting service, you will have to get the custom coin dies and punches based on your requirements.
If you think this can be a complicated process and challenging, go through this article to get a clear idea about getting custom coin die. Before going deep into it, let's talk about some basic things about the coin design and dies.
Do you know the most important thing you need to do before getting your coin die? Well, it is the design of your coin. The coin minting dies will carry the design that you will choose. Here you can take the help of experienced artists to come up with a design. The coin design may cover the specifics and detailed elements of the final design of your coin.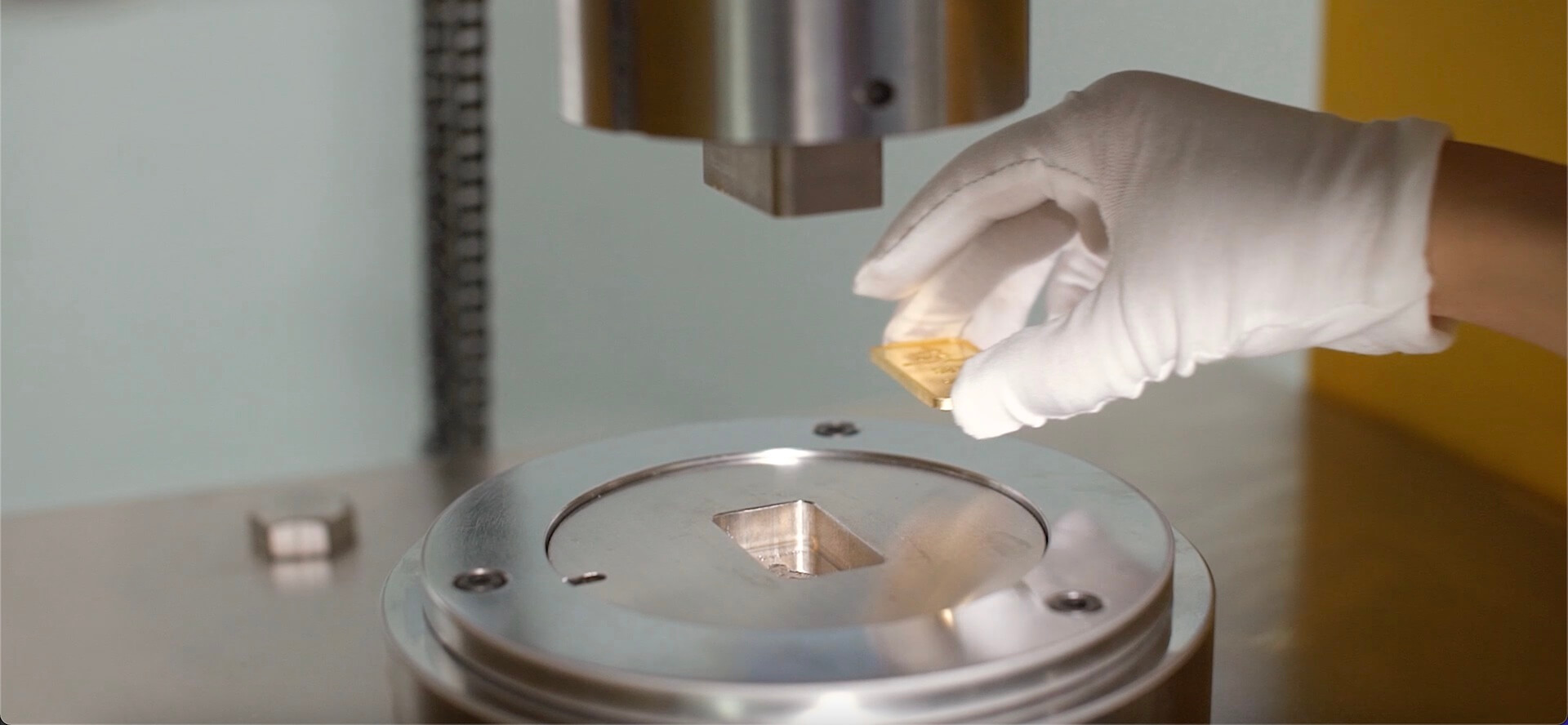 The design can then be handed to the engravers or sculptures, which will create a 3D design using necessary materials. In general, the final sculpture is perfectly coated, utilizing an epoxy resin that hardened the thing. The end product that you get called Galvano. You will have to create two Galvano models.
Once done, the coin design will be cut into steel using powerful engraving machines, and you will get a reduction to die. The die contains the impression of coin design. The reduction die is placed in a hydraulic press machine, and then the system is transferred to a steel block by applying a pressure of 100 to 400 tonnes.
This is called Hobbing. After this process, you will get the master die that contains the coin design's negative impression. This is the way dies are produced. Now let's look at the factors that you should consider to get the best coin stamping dies.
2.1, The size of the gold bar
First of all, you need to choose the best coin die manufacturer to start working with. It will be a lot easier for you to get your design and custom die done under your budget with the best service provider. They can use different techniques to perfectly recreate your coin design in any metals. Besides, the dies can be ordered online.

Besides, with a reliable coin minting die manufacturer, you can get to work with a company with a reputation for coin engraving expertise, faster delivery schedules, and better details. With their contemporary designs, long-lasting finish, and exclusive range, you won't face any issue in your coin manufacturing process. What's more? Top-notch services and well-developed infrastructure facilities generally back Their operations.
A reliable coin die manufacturer comes equipped with specious infrastructure, divided into different sections, for example, warehouse, manufacturing, supply, packaging, export, and more.
They follow a client-oriented and quality-driven approach and use the latest technologies to create custom coin striking dies. However, while choosing a coin die manufacturing company, ensure that the company has all the required permits and certifications to offer its services.
2.2, The quality of the finished
To make quality and beautiful coins, it is crucial to make sure that the coin dies are highest in quality. The dies need to be engraved and appropriately polished. A little bump on the die's surface will severely affect the coin's look.
That's why it is advisable to work with the best coin die maker. Some have combined the art and profession of old engravers and transferred into the modern digital age to offer their client's precise and highly detailed work.
They use advanced tools and equipment, for example, a 3D scanner to adequately capture the 3D surface of molding tools. After that, the machine engraves electrodes with lettering and logos. They use fully automatic and computerized precise CNC engraving machines to produce only top-quality coin dies. What's more?
What's more? With a professional coin die maker, there will be no restriction on which material you will use to die. You can go for all types of materials, for example, brass, aluminium, steel and more. They follow 3D engraving, 2D engraving, die polishing, heat treating, die blanks, and more to make sure the finished die quality is up to the mark. Besides, they understand that your coins will look good when you have the best dies.
2.3, The service life of coin die
Ensure that the life-span of the coin die is good and that you will have to choose the right metal for the coin die. It may be noted that planchet composition and size can be a significant determinant here, but striking pressure can also create a massive difference. It has been seen that many coins die face catastrophic failure developed by improper annealing, extreme stress, and low steel quality.
You need to consider some significant factors: press type (hydraulic or mechanical), planchet hardness, die hardness, die alloy, die alignment, irregular strikes, and more. As per a well-known Benchmark Committee, Peter Huber, a coin die's average lifespan can range from 67,5000 to 1,929,927 coins. Modern coin dies made of hardened steel can be used to produce many hundreds of thousands of coins.
2.4, Technical support of coin die
Don't forget this factor while choosing a coin die manufacturer. Ensure that the company offers a one-stop service to solve the issues with coin dies, including hammered coin dies, masonic coin die, and more. Besides, make sure they can offer solutions for coin minting issues.
Choose a company that can provide you step by step instruction about various metals, how to use dies appropriately to increase their lifespan, and more. Furthermore, make sure that they offer prompt customer service and available 24×7 hours.
You may develop some emergency requirements and want to place your order right now. If the manufacturer provides 24×7 customer support, then it will not be a big problem for you.
These are four critical things that you should keep in your mind to get the best custom coin die. Go for it now.
Chapter 3:
Why choose SuperbMelt coin die?
It is clear that without a fair quality coin minting die, it will be very difficult to make coins with stunning designs and patterns. However, you also have to choose the right coin dies and punches to get the best result. So, from where you can get top-quality and high-grade coin dies for coin manufacturing? Well, this is where you can get in touch with SuperbMelt now.
They are the well-known manufacturer of high-quality coin dies that can stamp hundreds of thousands of coins. SuperbMelt has emerged as a leading coin die manufacturer in this industry, serving this industry for years. If you still think about why to choose SuperbMelt, then here are some factors that you can consider.
3.1, We are the manufacturer of the coin die
All know that SuperbMelt is a leading electro-machinery enterprise that manufactures, sales and distributes melting, forming and casting machines for different materials. But along with this, it also manufactures top-quality, and long-lasting coin dies, or you can say coin stamping dies.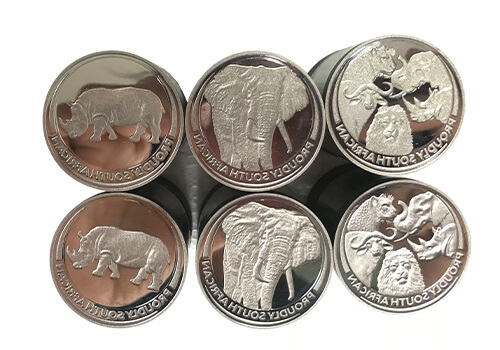 We can be your perfect solution provider for precious metal coin minting. With years of experience, we have established multiple coin manufacturing lines across the globe. As one of the most trusted coin die makers, SuperbMelt specializes in coin die engraving, having a strong reputation for solution expertise, quick delivery schedules, and details.
We can provide you fully-developed dies that are ready to be used for production. We also offer various die services. Don't wait for a long to produce coins, use our dies a start your manufacturing work now.
It's time to kick start your business's delivery schedule with SuperbMelt coin dies solution. We offer faster delivery of products, and the reasons behind this are our master's and trained engravers, expertise, and advanced equipment. Visit our site now to know about the coin die options that we offer.
3.2, Make gold coin sample by custom coin die
Started the journey in the year 2001, SuperbMelt has emerged as a leading and reputed solution provider in this industry. We have established a robust identity around the customers' experience, as well as expectations. If you are looking for a reliable custom coin striking dies manufacturer, you can trust SuperbMelt for that. No matter your requirements related to custom coin dies, we will get the right solutions with us.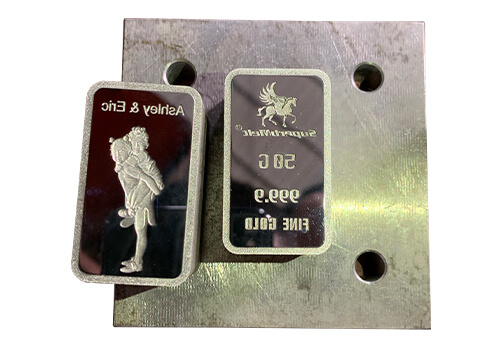 When you place your order, analyze and understand the demands and give our best to develop the products without affecting the core quality. After the development, we carry out stringent quality checks through our excellent and highly experienced inspectors to come over the whole range and ensure that the coin minting die is free from any defects. What's more? We always ensure that the dies are dispatched to you within the given period to create maximum customer satisfaction.
With time, the technical details also have started to evolve. We also keep ourselves updated about the latest technologies used for producing coin dies, including hammered coin dies. Starting from computer-generated graphics to die, we always ensure that custom coin dies all to the given specifications. When you look at the finished products, you can know our quality workmanship.
This is something that we are famous for more. We understand that you need something different to make your coin unique and help you. We, at SuperbMelt, use machines that are approved by ISO CE SGS professional certification bodies. Join us and enjoy one-stop service for your coin die requirements. When you are with us, you will always get the best custom coin dies.
3.3, We provide technical solutions for gold coin minting
When it comes to the growth of a company, especially if it deals with machinery and equipment, technical solutions play a crucial role. We have optimized our technical solutions process so that you can keep your unit running without any stress.
To certify the authenticity, we prefer to work with our in-house R&D team. We have a team of more than 50 highly experienced and skilled technicians who always ensure that the product quality is up to the mark. We use machines to product coin dies spearheaded by modern and advanced innovation, customer requirements, and desires. We can offer on-site guidance, help related to coin minting equipment, and assistance to get the things done.
For more than 10 years, we have to deal with silver and gold coin making machines and solve the issues related to a coin die making machine. Not just technical solutions, we also offer top-notch customer services to our clients in the field of coin minting. Are you looking for some useful instruction for a machine? Please, feel free to call us anytime you want. We will clear all your doubts.
3.4, Our delivery time is fast
One of the major reasons behind choosing us for your customer coin die requirements is our speedier delivery process. We understand your emergency and always try our best to ensure that you are getting your products on time. We use the latest coin die machines to create dies within the stipulated period.
Besides, we keep sufficient stock of materials, including different metals used for die making, so you start the making process as soon as you place your order. There is no need to worry about the delay in your die delivery when you are with us. You can expect your delivery within 7 to 15 working days based on your location.
3.5, You can get coin die at the right price
Some people think that buying high-quality coin dies and punches is very costly. However, with SuperbMelt, you can always get quality products at the best price. You will find the price of our dies is comparatively low.
When you buy dies from SuperbMelt, you are guaranteed international standard quality at a price you can easily afford. This is something that makes a popular among small and medium-sized businesses. We are a government Audited Superb as AAA credit company, so you can always trust us for the best quality.
Are you planning to establish your coin minting line? Need professional advice and technical support for this? We will love to help you with this. SuperbMelt can be your ideal partner in this industry. Get in touch with us now.
Those in this field, i.e., coin minting lines, face challenges as they don't have many ideas. Before starting your unit, you need to know everything about coin minting, starting from the coin stamping dies, pressing machines to the coin minting process. 
This article will help you in getting a clear idea about this. If you still have some doubts, please feel free to contact us anytime you want. As a leading precious metal coin minting solution provider, we have established many coin minting lines worldwide. 
SuperbMelt now and get a one-stop-solution for your coin minting line. You will offer you a comprehensive manufacturing package that will come included with coin mining equipment, a process to make custom coin striking dies, guidance about how to choose the best coin die making machine, on-site guidance, and professional engineers to enhance your process. 
We always aim at solving your coin minting issues and have years of experience in offering easy-to-understand instruction about different precious metals. Choose us now as your technical support partner and keep your coin minting line running smoothly. Want to know how we can help you in building and managing a perfect coin minting line? Call us now. For more information, you can go through our FAQs section.
How do you make a coin die?
All the coins struck through the minting process are struck by a pair of durable dies. Speaking about a coin die, a steel rod has a face that will be the same size as the coins you want to produce. The steel rod will carry the design for just one side of the coin. So, to strike a coin, two such streel rods will be used. One steel rod will carry the obverse design, and another rod will have the reverse design.

Before making dies, the artistic representations are accurately digitized in 3D and then sent to an advanced CNC- Computer, Numeric Control milling machine, replicating the design on the steel rod's end. This is called the Master Hub. This is the first step of the die making process.

The master hub will be then put into a powerful hydraulic press to press it against another steel rod to create the second piece. This will carry the negative or reverse image of the coin design, and this is called the Master Die and the second step of this process.

Now, master dies are placed under hydraulic presses and then forced on more steel pieces to produce the Working Hubs. After getting Working Hubs, these are processed once again to make Working Dies. Generally, working dies are used to manufacture coins. One pair of dies can be utilized to create thousands of coins.
What does a coin die look like?
Speaking about a coin die's physical appearance, a steel rod has a face of the same size as the coins. One die will carry the coin's front design, and another die will have the reverse design.
What does minting coins mean?
In simple words, minting is the process of coin manufacturing. This process includes pressing pieces of metal with designs. These are the designs that you will show the coin's denomination. The image or design may also have some security features and about the country minting the coins. The process is generally carried out by mint, producer of coins, and handling the coins' distribution.
Can I mint my own coins?
Yes, you can. If you want to make your own coins, then you can always take the help of SuperbMelt. We can offer your all types of assistance for dies and coin manufacturing. We will provide different options to make your coins look distinctive and original. You can create your own custom coin striking dies and produce coins using our coin die making machine. So, go on and start your own coin minting line now.
How coins are made step by step?
Here are the steps following which you can create fine gold coins.

Use a powerful casting machine or use a gold ingot machine to create a sheet or bullion. After getting the sheet, you need to put that into a rolling machine. To obtain the desired thickness, roll the sheet multiple times. While doing this, make sure that the metal is soft.

Now, using a powerful tonnage hydraulic press, punch the sheet to get the coin shape. You can go for a round or square shape.

Put the blank coins into your annealing furnace and then re-annealed it. After that, you can put the coin into the acid to remove the dirt. Remove the blank coins from the acid and keep them in a tumbler. Then add soapy water and white glass particles to clean them.

Now, press the coins with a hydraulic coin pressing machines carrying the logo. That's it; now you have your own gold coins.
How do you draw a gold coin?
To draw a gold coin, you can use graphics software to create designs that you want to engrave on your gold coins.
What are coin dies made of?
Coin die is the most crucial part of the coin making process. This is the thing that will be pressed on the blank, and it carries the design of the coin. So, it needs to be very durable. For this, most of the coin manufacturers prefer to produce coin striking dies from hardened steel. Dies made of this material can produce thousands of coins before they are defaced.
How were ancient coin dies made?
There is still no accurate answer about how the ancient made a coin die to struck the coins. You will not find any written record about the process. To give you an idea about this, we have tried our best to reconstruct the process of ancient coin dies making from the pieces of evidence and surviving artifacts that we have.

As per the available pieces of evidence, old coin dies were made of hard iron or bronze. If you consider a bronze coin die, you will find them easy to engrave, and they don't rust. However, the only demerit of this die is it will lose its ability to sustain pressure faster. It is expected that iron dies were used for striking large silver coins, decadrachm, tetradrachms, and more they have traces of die rust. Besides, these ideas had also to be used for large bronze coins.

However, there is no accurate information about how the coin dies were sunk. Based on some archaeological evidence and ancient coins, it is expected that a coining team could manufacturer around 20,000 strikes before wearing out a set of dies.

If you look at the Ancient roman coins, you will see standardized portraits on all the coins. The interesting question here is how the portraits can be so uniform as the coin dies were engraved individually by different artisans. So, here we can consider two replication processes. These are; Hubbing and Casting die. It is a fact that to cast bronze dies for coins, the Greeks used lead or bronze die patterns. They used the lost wax process.

However, as they used the hand-held technique for die and coin making, it often led to off-center and weak strikes. Some ancient coins also have misaligned strikes. So, you will find all the ancient coins will be a little different from each other.
What is a die break on a coin?
Speaking about a die break, it is a form of failure when the coin die falls out or breaks off. Most of the mint workers or coin manufacturers called this a piece-out. A marginal die break happens when the coins are struck from a die that misses a piece adjacent to the rim. When not adequately connected to the rim, the tiny die breaks, called die chips.

The majority of die breaks happens at the margin of the die. There will be a sharp junction between the die face and die neck that is prone to failure. The die breaks that involve the rim and a little portion of the field is called the cuds.

As per the experts, the longer the coin striking dies are in use, the larger the die breaks occur. So, after a specific time, you should replace the dies with new pieces.

The coins' value having a die crack or break will depend on the fracture's severity and size.
How coin dies are made?
Coins dies are made through four critical processes as mentioned above, i.e., creating a master hub, making master die, preparing working hubs, and making working dies from working hubs.
What is a die mark on a coin?
Die marks are like tiny marks and letters that appear on the coins to know about the die used to create the coins.
How gold coins are made?
As discussed above, all the coins are made through the mint. The entire coin manufacturing process is called minting. Silver and gold coins are a small part of a range of different coins a professional mint produces. Nowadays, precious metal coins, for example, Canadian Maple, South African Krugerrand, and American Eagle, are produced as bullion coins that are generally used for investment. In some countries, gold coins are manufactured under license from mints and central banks. National banks and governments usually control such coins. Well, here are the processes of gold coin making.

The first step in gold coin making is to melt the required precious metals in a furnace using a high-quality crucible that you can buy from SuperbMelt. We will suggest you go for graphite crucible for this. Gold metal generally melts at 1064-degree Celsius, and silver melts at 961-degree Celsius. The excess heat then channeled to heat the water utilized in the process.

Coils around 40 to 50 meters long, weighing one tonne, are made from the melted metal. Once done, the coils are then rolled up, applying heavy pressure of around 200 to 300 tonnes. Then, they are cut down into blanks.

Now, it's time to create the design that you need to print on the gold coin. Many companies take the help of professional artists to craft a draft design before developing a plaster model. This is a process that can take around one year to get completed. The model is scanned through digital technology to create coin dies and punches. Powerful and computer-controlled engraving machines will then cut it with maximum accuracy to 0.001mm.

After the completion of coin blanks and dies, the striking process takes place. Under heavy pressure, the coin stamping dies are pressed into gold blanks. Once done, you will get finished gold coins.

The gold coin striking dies are replaced after a specific time when they become worn. So, to keep your gold coin making process running smoothly, make sure that you have a sufficient number of identical hubs to replace the dies.

After this, coins are minted, and before making them available to use, gold coins are meticulously inspected. If they pass the inspection round, they will be sent for circulation. So, this is the detailed process of gold coin making. When producing gold or other precious coins, purity and precision take topmost priority. For this, blanks are manually placed in the coin press and checked individually for quality.