SuperbMelt Professional Jewelry Burnout Oven
SuperbMelt Is A Professional Manufacturer Of Wax Melting Machines, Focusing On Melting Wax Flowing In Plaster Molds. A Hollow Plaster Mold Is Obtained During Jewelry Casting.
Special Design For Secondary Combustion; Re-Collect The Incomplete Combustion During The Dewaxing Process, Let It Burn Again And Fully Burn It, And Reduce The Wax Smell In The Environment As Much As Possible.
Parameters
| | | | | | | | | | |
| --- | --- | --- | --- | --- | --- | --- | --- | --- | --- |
| Model number | SPB- HTF | SPB-WF2 | SPB-WF4 | SPB-WF6 | SPB-WF12 | SPB-WF18 | SPB-WF24 | SPB-WF32 | SPB-WF40 |
| Power source | 3 phase 380V, 50/60Hz | Single phase 220V | Single phase 220V | Single phase 220V | 3 phase 380V, 50/60Hz | 3 phase 380V, 50/60Hz | 3 phase 380V, 50/60Hz | 3 phase 380V, 50/60Hz | 3 phase 380V, 50/60Hz |
| Power | 11.5kw (9kw+2.5kw) | 2.5kw | 3kw | 4kw | 6kw | 9kw | 9kw | 12kw | 12kw |
| Capacity | 24 pcs of 4*9 inch flask | 2 pcs of 4*9 inch flask | 4 pcs of 4*9 inch flask | 6 pcs of 4*9 inch flask | 12 pcs of 4*9 inch flask | 18 pcs of 4*9 inch flask | 24 pcs of 4*9 inch flask | 32 pcs of 4*9 inch flask | 40 pcs of 4*9 inch flask |
| Operation temperature | 850℃ | 850℃ | 850℃ | 850℃ | 850℃ | 850℃ | 850℃ | 850℃ | 850℃ |
| Chamber size | 420* 550* 500 mm | 300* 150* 270 mm | 300* 300* 270 mm | 450* 300* 270 mm | 450* 300* 520 mm | 450* 300* 520mm | 570* 440* 520 mm | 580* 580* 530 mm | 700* 580* 530 mm |
| Dimension | 850* 1200* 1900 mm | 700* 400* 750 mm | 700* 550* 750 mm | 800* 550* 750 mm | 800* 550* 750 mm | 800* 720* 750 mm | 900* 720* 750 mm | 970* 840* 850 mm | 1040* 840* 850 mm |
Features
Jewelry Wax Model Melting Furnace
A specialized piece of machinery known as a jewelry wax model melting furnace is used in the jewelry business to melt wax models that have been made in order to produce metal castings.
To form a mold that will later be filled with metal to produce the finished jewelry piece, the wax models are melted inside a furnace.The furnace is usually constructed of a heat-resistant substance, such steel or ceramic, and is intended to sustain high temperatures.
The wax is heated to the required melting temperature, which is normally between 140-170°F (60-77°C), using electric heating sources.
The furnace also contains temperature controls to guarantee that the wax melts precisely and consistently, and that it does so at the proper temperature.Wax can be poured into a mold after it has melted to produce a negative space for the metal casting.
The mold chamber is then free of the wax model and prepared for the addition of molten metal. The method of metal casting is then used to manufacture the finished jewelry item.Overall, the Jewelry Wax Model Melting Furnace is essential to the jewelry-making process because it makes it possible to melt wax models precisely and consistently to produce molds for metal casting.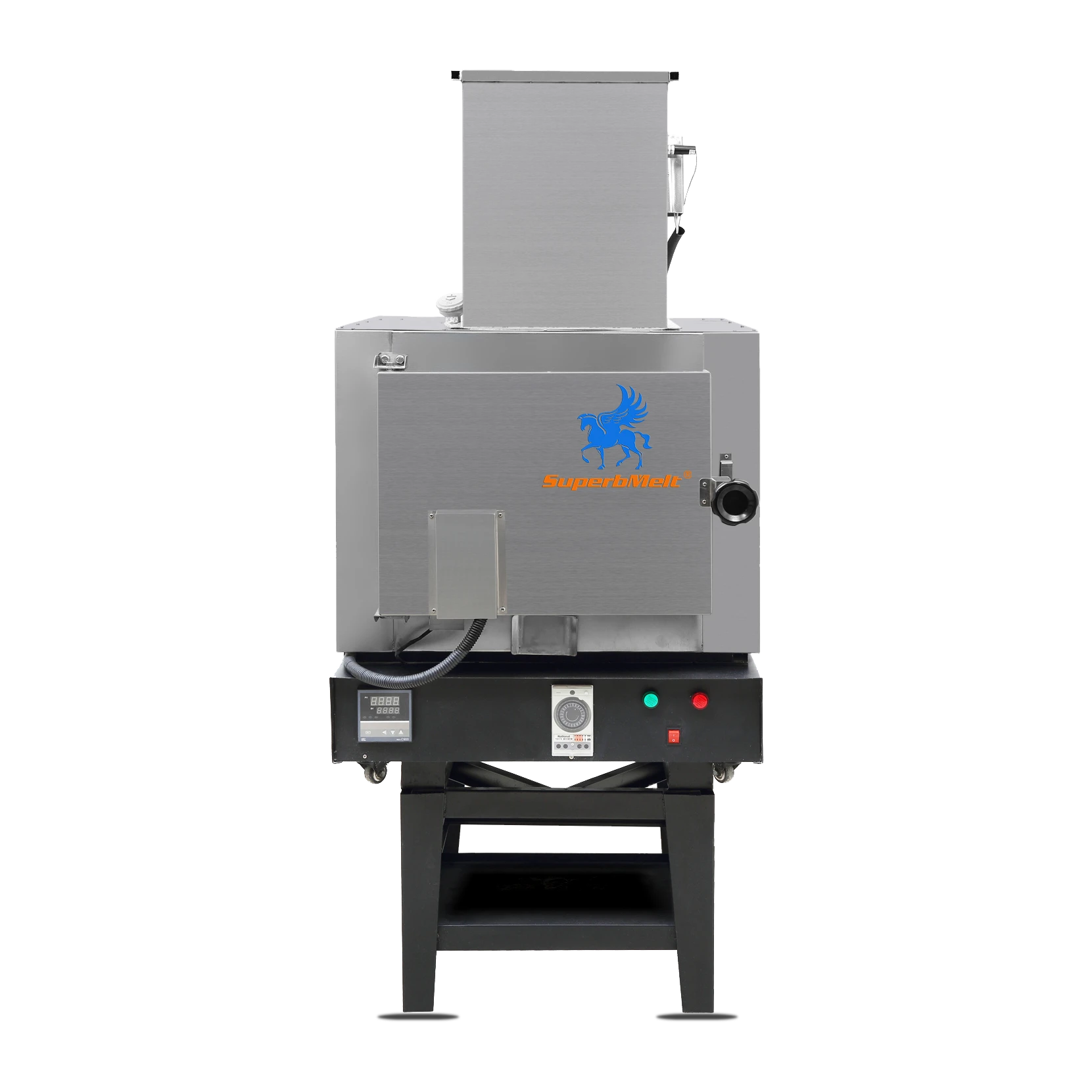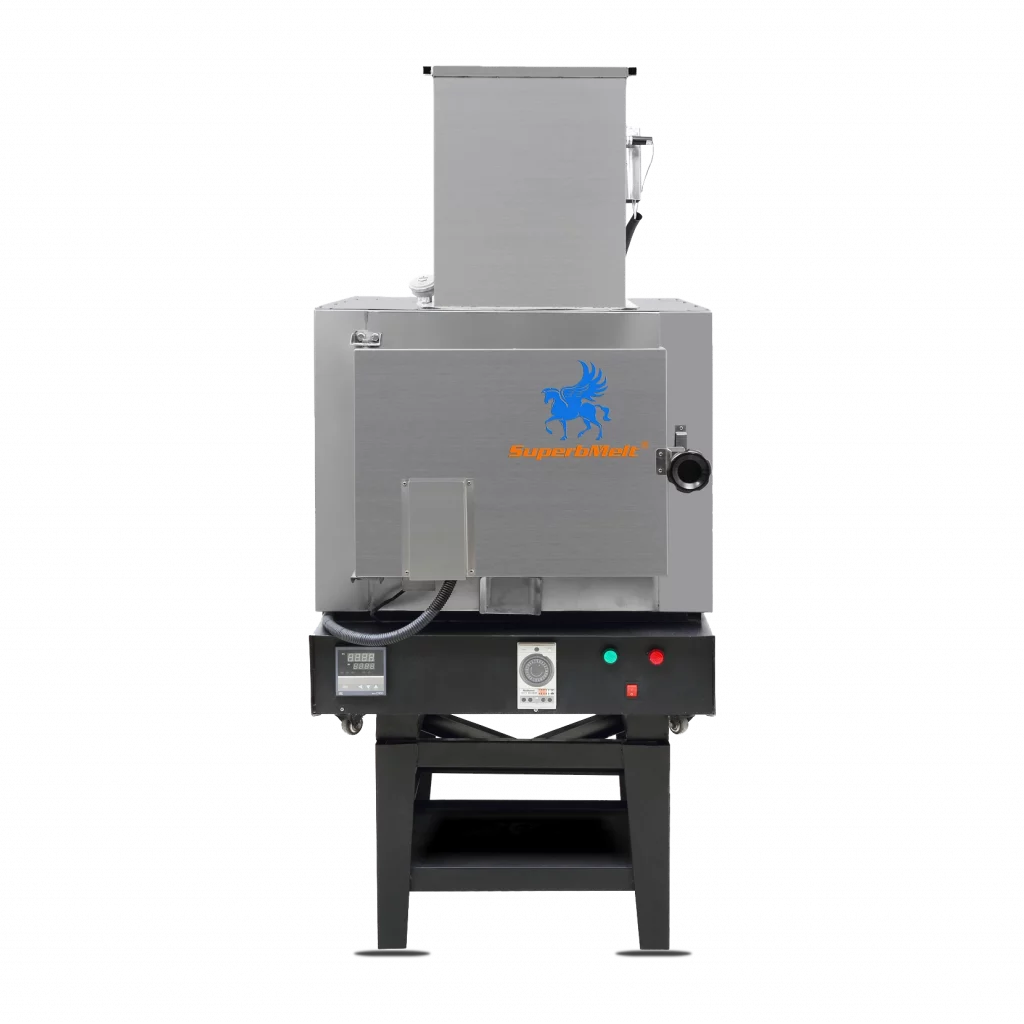 W

hy SuperbMelt Wax Burnout Furnace

Professional R&D Team:
Over 15 years R&D experience in gold machinery with a top engineer team supported

High Quality:
Only choose famous brand main electric components for production

ISO CE SGS Approved:
Professional certification bodies certify that the machines are of high quality
Any Question About SuperbMelt Wax Burnout Furnace
H

elpful Resource For Your Reference (SuperbMelt Burnout oven expert)
Since I've been using the SuperbMelt wax burnout burner, I've been really pleased with the outcomes. Its enormous capacity makes handling big quantities of wax models simple. The digital temperature control on the furnace enables for accurate temperature modulation, and it is also very simple to use. To everybody who works in the jewelry casting sector, I heartily suggest this furnace.
The efficiency of our jewelry production process has been significantly increased by the SuperbMelt wax burnout furnace. We have saved a ton of time and work with the automatic program settings and the furnace's ease of use. As a result of the furnace's superb heat distribution, all of our wax models are burned away uniformly. In conclusion, we are quite happy with this product and would unquestionably suggest it to others.
I recently bought the SuperbMelt wax burnout furnace, and I'm quite pleased with how well it performs. During the burnout process, the furnace heats up fast and maintains a constant temperature. Additionally, it is really simple to maintain and clean, which is a great plus in my book. I admire how this thing was made with excellent craftsmanship and attention to every last detail. To anyone searching for a dependable and effective wax burnout furnace, I would unquestionably suggest it.
More Precious Metal Processing Equipment For Your Choice
Any questions about SuperbMelt Burnout oven
1. What Is The Melting Point Of Wax?
Depending on the kind of wax, different waxes have different melting points. Beeswax has a melting point of around 144-147°F (62-64°C), whereas paraffin wax has a melting point of roughly 120-160°F (49-71°C). The melting point of soy wax is around 120–125°F (49–52°C). It's vital to remember that the wax's melting point can also be influenced by the various chemicals and perfumes put to it.
2. Can wax be melted in the microwave?
Yes, you can melt it with microwave wax. To prevent the wax from overheating and potentially igniting a fire, it is critical to use a microwave-safe container and to melt quickly while stirring. It is also recommended to use a thermometer to keep track of the temperature of the wax and make sure it does not exceed its melting point. However, melting wax in a microwave oven is a very unsafe operation, and it is generally not recommended to use a microwave oven to melt wax.
3. how to clean wax melting pot?
Maintaining the caliber of your wax melts begins with cleaning the wax melting kettle. To clean a wax melting pot, follow these instructions:
Switch off the wax melting pot and let it to finish cooling. By doing this, the wax will solidify and become simpler to remove.
As much of the solidified wax as you can should be removed with a paper towel. Make care to properly dispose of the wax.
Hot water should be added to the melting pot, and it should soak for 10 to 15 minutes. This will aid in removing any leftover wax.
Scrub the pot with a non-abrasive sponge or towel. Be gentle to prevent scratching the pot's surface.
To get rid of any soap residue, give the pot a thorough hot water rinse.
Before using the pot once more, thoroughly dry it.
To avoid a buildup of wax and other debris that might compromise the quality of your wax melts, it is crucial to clean the wax melting pot after each usage.
4. How does a wax melting pot work?
Wax is melted in a wax melting pot for use in manufacturing candles, soap, and wax melts, among other things. The pot normally comprises of an inner container that houses the wax and is heated by an under-the-container heating source.
The user fills the pot with the required amount of wax and adjusts the temperature before using the wax melting pot. The wax is then heated by the heating element, melting and becoming liquid. The user may pour the melted wax into molds or utilize it as they choose after it has melted.
A thermostat to maintain a steady temperature and a pouring funnel to make it simpler to pour the melted wax are additional characteristics that some wax melting pots include. Depending on the model, they may be powered by propane gas or electricity.
5. What is a wax model melting furnace?
A machine made for melting wax models used in jewelry creation is referred to as a wax model melting pot or wax melting furnace. Wax is injected into a mold to generate the wax models, which are then used to create a mold for the finished item of jewelry. The wax model must be melted down after it has fulfilled its function in order to reuse the mold for the subsequent batch of wax models.
The wax model melting pot can melt wax rapidly and effectively since it functions essentially as a miniature furnace. Usually, it comprises of a metal pot or crucible that is heated by a gas burner or electric coil. When the wax models are put in the pot, the wax is heated until it melts and becomes liquid, allowing it to be drained out of the pot.
In order to prevent overheating, which might cause the wax to burn or degrade, the wax melting pot's temperature must be precisely controlled. Modern wax melting pots have temperature control systems integrated into them that allow for exact temperature control, making it simple to melt the wax to the right consistency.
In conclusion, a wax model melting pot is a crucial piece of equipment for jewelry designers that employ wax models in their manufacturing process. It makes it possible for the wax to melt quickly, saving time and ensuring reliable outcomes.
6. What is a burnout oven?
When creating jewelry, a burnout furnace is used to burn out wax or other materials from a mold before casting. Any leftover wax or other materials from the mold are destroyed by the high temperatures in the burnout oven, leaving a clear space for the metal to be poured into. This procedure is crucial for ensuring that the jewelry piece's final proportions and features are precise. In the lost-wax casting procedure, burnout ovens are frequently used in conjunction with wax model melting pots and other tools.
7. What is the burnout process in casting?
In particular in lost-wax casting, the burnout procedure is a vital phase. The wax model is heated to a high temperature in a burnout oven during this procedure, causing the wax to melt and evaporate and leaving behind a hollow in the sculpture's design. The original wax model will then be recreated by pouring molten metal into this hollow. Burnout is crucial because it guarantees that there are no contaminants or moisture in the mold that might degrade the final casting's quality. Additionally, it aids in lowering the possibility of the mold bursting or shattering during the casting process as a result of any trapped moisture or air expanding quickly.