Superbmelt provide a one-stop service to solve any problems with your jewelry chain manufacturing line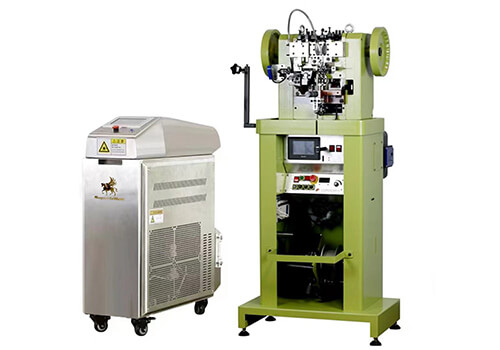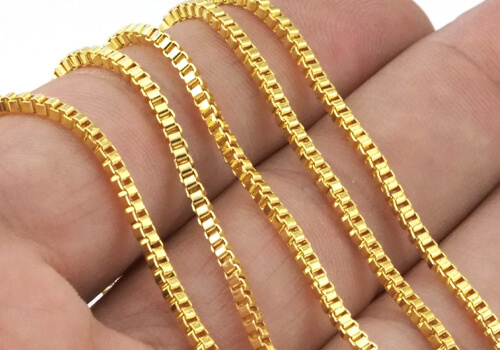 Superbmelt box chain making machine is designed for making box chains from thin precious metal sheets. Materials such as silver, stainless steel, gold, karat gold, platinum and so on are suitable for making jewellery chains. The jewellery chain making machine is able to make box chains with widths ranging from 0.8mm to 2.0mm. 
The gold and silver chain making process is highly automated with the Superbmelt jewellery chain making machine. The process requires feeding the automatic machine with thin square metal sheets and setting the parameters. The maximum production capacity of the Superbmelt box chain making machine is 600rpm/min. The machine produces up to 500 grams of chains within an hour. The power required for operating the automatic jewellery chain machine is about 200W. The PLC control unit is user-friendly and allows users to control the speed and pressure of production. Box chains made with Superbmelt fully automatic gold chain making machine are strong, durable and not easily broken. 
At Superbmelt, we provide you with top quality automatic jewelry chain making machines that are suitable for meeting your production demands. Contact Superbmelt today for all enquiries and the best box chain making machine that meets your needs.
W

hy SuperbMelt Box Chain Making Machine

Professional R&D Team:
Over 15 years R&D experience in gold machinery with a top engineer team supported

High Quality:
Only choose famous brand main electric components for production

ISO CE SGS Approved:
Professional certification bodies certify that the machines are of high quality
Any Question About SuperbMelt Box Chain Making Machine
FAQ Guide of Box Chain Making Machine
1. What does the box chain look like?
Speaking about box chains, these chains are crafted out of wide and square links that will appear like a box. The box links are carefully connected to make a smooth chain. Such chain style is also referred to as the Italian links chain and the square chain. These chains are very strong and don't break easily.
Talking about the size, the widths of the chains can range between 0.8mm to 2mm, and in some cases, the width can be more. While women prefer to go for a thinner chain, main generally choose a box chain at a width of 1.5 mm. Different materials such as silver, gold, and platinum can be used to make a box chain using a jewellery chain making machine.
2. How is the box chain produced?
There are two different methods you can follow to make a box chain. These are handmade and using a chain manufacturing machine. Under the handmade process, the jewelers hammer the desired metal to convert them into strips. Then they process the strip through different dies to give it a perfect shape. After that, they create a box shape design using the wire.
Then the boxes are interlocked using the welding or soldering process. The handmade process is very time-consuming. But now, you can use a box chain making machine to create a box chain faster. All you need to feed the silver or gold pieces into the machine, and the machine will carry out the task automatically. It will cut, bend, buckle and weld the gold or silver sheet to create durable box chains.
3. What karat gold is best for chains?
To make chains, you can use 18K and 24K gold. If you want to make an affordable gold chain, then you can use the 18K gold. Here the gold amount will be a little lower than the 24K gold. 24K gold is 100 percent pure and soft. However, some jewelers have mastered techniques to make 24K gold more rigid and make a box chain from that.
4. How is chain welded in the production process?
You can use laser welding or plasma welding process to weld chains in the production process. The plasma welding process is a little complex, and it uses a plasma arc high energy density beam. The electrodes utilized in plasma welding are tungsten electrodes, and sometimes, you may need to use different gasses during the process.
But the laser welding is much better than the plasma welding process. This modern welding method is quite popular among jewelers. The method is very precise, and it utilizes a high energy density laser beam. You can use our mini laser welding machine to enjoy a smooth jewelry chain welding process. The physical metallurgical process is similar to electron beam welding.
Well, if you want to enjoy faster gold chain production efficiency, then you can always trust a laser welding machine. It welds the material directly through the beam without using any gasses. The machine can produce continuous laser beams to create a good connection of material.
5. What machines are used to process raw materials into box chains?
Continuous casting machine
Using this machine, you can easily cast sheets from different materials, for example, platinum, gold, silver, and more. Our machine has an advanced melting protection technology to melt the desired material at a perfect temperature, and then it casts the metal into sheets with multiple shapes, like circular, rectangular, and more.  
Jewelry roll mill
The machine comes with two polished rollers made of steel. Using this machine, you can easily roll the thick sheet into a thin sheet with different widths and thicknesses. Visit our site now to know our chain making machine price.
Annealing furnace
Using this machine, you can heat metal above its recrystallization temperature. SuperbMelt's annealing furnace is used ion metal tempering, jewelry annealing, welding annealing, and more process.
Box chain making machine
The box chain making machine makes the box chain from silver or gold wire. When you insert the sheet after configuring it to create a box chain, it will cut, weld, and carry out other processes to make a chain.
There is no need to use a jewelry hammering machine and chain faceting machine as it can damage the chain.
So, when it comes to starting your own box chain making business, and if you are looking for a reliable platform to get the machine, SuperbMelt can be your right option. We have a complete solution for your jewellery chain making requirements. Get in touch with us now to know the jewellery chain making machine price and place your order.
6. What are the different types of jewelry chain on the market?
As the name suggests, in the box chains, you will find square links that are connected in such a way that they will look like a box. The connection offers a continuous chain that will look very stylish. Due to the box shape, the chain will look more durable and stable. These chains are quite popular among both women and men. In general, the wider styles are used by men.
These chains are available in different lengths and will match perfectly with your outfit. The chain can also gold a pendant. Even though the box chains are very strong, they can break occasionally. However, they are easy to repair. To make such chains, you can use SuperbMelt's chain making machine.
This is also known as the bead chain. Here, a series of beads make a chain through linked together perfectly. The design may vary, and on some ball chains, every bead will be very close together. But in some cases, you may find space between the beads. To attach the beads to the chain, jewelers use metal bars. Well, as per the experts, ball chains may not look good when you wear them alone. So, for a perfect look, you can pair it with an accessory or pendant.
This is a timeless and classic design. The chains are made from links, and the links are the same in size and carefully connected together to form a chain. Speaking about the design, the links can be round and oval in shape. These chains look chunky and popular among men.  
This chain is very common. The links or metal segments are properly twisted around each other to mimic the rope look. The unique twisting design can reflect the light, making the chain to shine under light.
The anchor chain is fairly heavy and is a good choice for men. In some cases, you can use them as a component in jewelry. Speaking about the design, the chains are linked together to appear like a jump ring along with a bar. In some places, these chains are called mariner chains. The chain links can be rounded or flattened.
These chains are made from a thin wire, and the wire is shaped into uniformed round or oval links. Such chains can be 2mm or less in width and don't weigh much. The thickness will vary. The style of this chain makes it perfect to wear with small, light, and dainty pendants. You can use a silver chain making machine to make good-quality trace chains.
In some places, these chains are called Rolo chains. In general, these are made from D-shaped wires and shaped into round or oval links. Then the inks are locked together and soldered to make a chain.
These chains are created from a series of elongated looped bars that are properly interlocked together to attain the desired beauty as well as strength.
With a sleek and smooth look, snake chains are perfect for different occasions. The beautiful lay and the unique semi-rigid design offer a stunning backdrop for any pendants. The plates are tightly interlocked and comfortable to wear.
These chains are made of hollow metal spheres, and they are connected by small metal links. The design looks very modern and quite popular among women.
The design of the chain is based on the chains that are connected to the anchors. Well, if you love beaches and the sea, then a marine chain can be the best option for you. In this chain, the ovals are carefully interlocked with a bar. The width of the links can vary.
This is a basic chain style, and the design will look like iron chains. The chains are created using oval links that are connected together. The links can be flattened to create a flat chain.
Such chains appear like a curb chain but with a twisted shape. The design includes a series of segments braided, twisted, and linked together to form a chain. These chains are also durable, and you can wear them regularly.
This is also called can the Spiga chains. The chains come with oval links that are twisted together, and the design will look like braided rope. Its unique design forms a symmetrical chain, and the links go in the same direction. These chains have a good amount of texture. The chains will look durable and sturdy. You can wear it alone or with a pendant.
7. What is the capacity of SuperbMelt's box chain making machine?
We manufacture the best quality jewellery chain making machine in the industry that can work faster, and the output limit is also good. The maximum production capacity of our machine is around 600rpm/min. Speaking about the per hour output level, our machine produces 200 to 500g.
8. What is the best material for a box chain?
In general, 14K, 18K, 21Kand 16K gold is used to make a box chain. On the other hand, in the alloying process, rose, green, white, and yellow gold can be created. This material is less allergenic compared to other metals.
This material is a perfect option for a box chain. As pure silver is soft, it is generally alloyed with copper. For box chains, jewelers use sterling silver that has 7.5 percent copper and 92.5 percent silver.
The copper alloys that are widely used for making box chains include brass and bronze. Due to their durability, copper is a perfect material to create long-lasting box chains.
This is a malleable, dense, and silver-white precious metal. On the Mohs Hardness Scale, it is rated 4 to 4.5. This metal is around four times stronger than gold.
One of the cost-effective materials that you can use to make a box chain is iron. However, iron-made chains need extra care.
Stainless steel is non-corrosive, rust-resistant, and durable. Different jewellery making tools, such as saw blades, hammers, files, and more, are also made of stainless steel.
This material is very rare and very durable. Palladium is a little white in appearance compared to platinum.
No matter what types of materials you want to use to make a box chain, you can use a gold chain manufacturing machine to create box chains faster.
9. What are the safety features of a box chain making machine?
When buying a box gold chain making machine, you should make sure that the machine has some good security features, for example, auto-function, cooling system, robust outer structure, and more. Besides, there should be a uniform temperature controlling unit to prevent overheating issues.
10. Does operating a SuperbMelt box chain making machine require special training?
Well, SuperbMelt gold chain making machine is very easy to use, and you don't have to develop a strong technical skill to utilize the machine. If you are a professional box chain production engineer, then you can learn how to use the machine just by going through the instructions and videos that we offer.
If you are using the machine for the first time, then don't worry at all. Remember that there is no need to hire a senior engineer to use it. We will provide you with detailed instruction manual and operation videos. If you want, our experts can also offer you on-site training. So, check the chain making machine price, place your order and start making durable and beautiful chains.
11. How to choose the best jewelry chain making machine manufacturer?
Understand the scale of the factory and what certificates are available
Before choosing a jewelry chain making machine manufacturer to buy the machines, you need to check the types of certificates they have. Besides, understand the scale of the factory. Make sure that the reputed professional certification bodies have certified the company's products. For example, SuperbMelt's automatic chain making machine is ISO CE SGS approved. That means the machine is developed based on industry standards.
Does the factory have mature solutions and cases?
For better performance and comfort-ability, you should choose a manufacturer who offers a complete solution for making gold or silver chains. For example, instead of buying different machines from different manufacturers, buying all the machines from one place will be a good option. This is where you can trust SuperbMelt. We offer different types of machines that will help you to set up your chain-making business. And we are not a new player in this industry and have 15 years of R&D experience.
Has the factory delivered enough success stories?
Don't forget to check the success stories of the manufacturer. This will prove the quality of the machines offered by the manufacturer. Besides, you can also know the technical support facility offered by the company. SuperbMelt has helped thousands of its clients to make their business successful by offering a one-stop service for their metal casting line.
Go to the factory for an on-site inspection
If possible, you can carry out an on-site inspection to know more about the manufacturer. It is always better to personally meet the manufacturer and see how they produce their machines. You will also be able to use the machines before buying them.
Apart from these things, you should check their official websites and social media platforms to acquire more information about the company, like their brand reputation, popularity in the industry, and more.
12. How to repair a box chain?
The introduction of modern technology and different tools have made the box chain repairing process easier and faster. To repair a box chain, you can now use a mini laser welding machine. With laser welding, powerful light energy is used for welding the gold metal to themselves. The process welds the gold on a molecular level.
The amplified beam of light produces a robust weld, and the weld will be almost invisible. The heat generated in the laser welding process is so localized that the process results in an undetectable work zone. You can use SuperbMelt's mini jewelry laser welding machine for this process. All you need to place the box chain inside the machine to start welding.
The machine will produce a light beam that can be adjusted, controlled, and concentrated by the user of the machine. Once done, you can use our chain faceting machine to polish the surface to give your box chain a shiny look. The entire box chain repairing process will take less time. As one of the trusted gold chain making machine manufacturers, we offer the industry's best laser welding machines and along with gold chain making machines.
13. How long does a gold chain last?
Well, the lifespan of a gold chain will depend on the type of chain you are using and how frequently you wear them. For example, a gold chain that is worn on a regular basis will tend to wear out faster as it comes into contact with outside elements that can damage the chain. If you are using a gold-plated chain, then that can last for around two to three years.
If you are looking for a gold chain that can last for years, then buying a box gold chain can be the best option. Most of the jewelry manufacturers are using a jewellery chain making machine to make durable chains. However, don't forget to take good care of your gold chains as certain chemicals and environmental factors can damage the natural characteristics of gold.
14. Which gold chains are the strongest?
As per the experts, one should always check the strength of a gold chain as this is the factor that will decide longevity. Besides, it will also determine whether the chain can carry the pendants or not. Well, the strongest types of gold chains are those that have interconnected links and that also enhance the flexibility of the chain. Some rigid chains, for example, snake chains, can easily break.
In some cases, independently soldered links can also affect the durability of the gold chains as it will be an easy task to replace a broken link. Considering all these things, it can be said that the strongest types of gold chains are rope chains, cable chains, Figaro, mariner, and curb chains. These gold chains can easily gold the pendants. For making durable gold chains, you can always use SuperbMelt's chain making machine that can create different types of gold chains faster.
15. Is a box chain a good investment?
Yes, box chains are a perfect investment. The unique structure of the chain makes it durable, and when used properly, a box chain will last for years. Besides, a box chain is easy to repair. Most people are now using box chains as these chains are very stylish. Bot mane and women like to wear box chains but their demand among men are quite huge.
As long as the design of the chain in trend and people are using it, you can make quality box chains and make some money. If you want to make a good quality box chain from different materials, then it is the right time to use a box chain making machine. And for that, you can always trust SuperbMelt, one of the most popular and trusted chain making machine manufacturers.