Gold Smelting Equipment
The Most Popular SuperbMelt 12kg gold (Pt, Ag, Cu, Al etc) smelting equipment on the market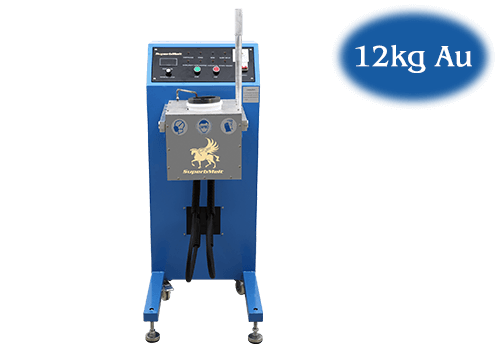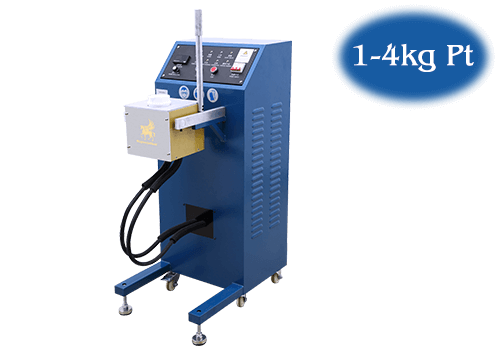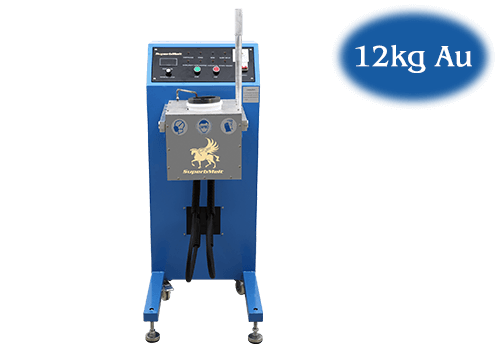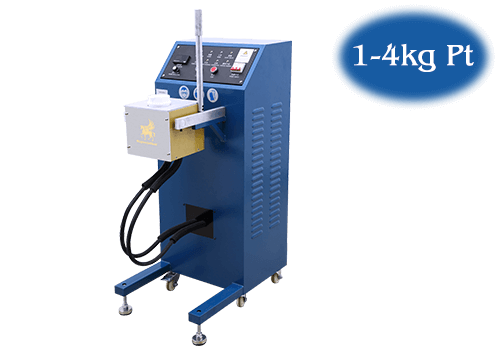 SuperbMelt gold melting equipment (SPB-TB) can reach a maximum temperature of 1800℃ (the max temperature of tilting platinum smelter is 2600℃) with a power rating of 15kw. This provides an ultra-high heating effect capable of melting either 4kg of platinum or 12kg of gold or 6kg of silver (and similarly commensurate weights of other metals) within a period of 2-5 minutes.
SuperbMelt platinum and gold smelting equipment can heat your raw metals very fast. It speeds up your operations with the ultimate effect of increasing the profit margin. The gold melting machine is suitable for jewelry foundry and old jewelry refining plants.
Clere here to see more gold melting furnaces with different capacity
Based on advanced IGBT induction technology, the gold smelting equipment is highly effective gold smelting solution. It has come to be trusted by operators and business owners alike over time due to its superior action which is.
Designed with convenience and efficiency as the core targets.
The tilting furnace design ensures that melted metals can easily be poured into the mold. This prevents spillage or splashing which reduces the risk of operator injuries from hot liquid metal splashes.
Another proof of the commitment to operator convenience is the use of a replaceable crucible for easy maintenance.
Also, a strong electromagnetic stirring system ensures homogeneity of the liquefied metal. This comes handy especially for alloys.
The gold smelting furnace is also equipped with an omni-directional warning system. This alerts the operator when potentially harmful operating conditions are being approached.
Induction gold smelting kit is manufactured with the capability of operating at full capacity for 24 hours. This considerably lowers downtime except for scheduled maintenance.
The use of induction technology presents an advantage. Owing to the absence of electrodes and electric arcs which can form deposits of impurities.
Finally, no combustion takes place thereby preventing the production of unsafe gases like oxides of carbon and nitrogen. The induction gold melting equipment has an edge over other forms of furnace. Resistance and gas furnace often gives off some gases that are unsafe for the environment.
Model number

SPB-TB2

SPB-TB4

SPB-TB5

Power source
Three phase 380V, 50/60Hz
Three phase 380V, 50/60Hz
Three phase 380V, 50/60Hz
Power
15 kw
15 kw
15 kw
Applicable metal
Platinum, palladium, gold, silver, steel, copper
and their alloys
Platinum, palladium, gold, silver, steel, copper
and their alloys
Gold, silver, steel, copper and their alloys
Max capacity
2kg platinum
4kg platinum
12kg gold / 6kg silver
Melting time
2 minutes
3 minutes
5 minutes
Max temperature
2800℃
2800℃
1800℃
Dimension
740*500*1360mm
740*500*1360mm
740*500*1360mm
Weight
95 kg
100 kg
95 kg
Heating technology
IGBT Induction heating
IGBT Induction heating
IGBT Induction heating
Water pump
Equipped
Equipped
Equipped
Cooling way
Water cooling
Water cooling
Water cooling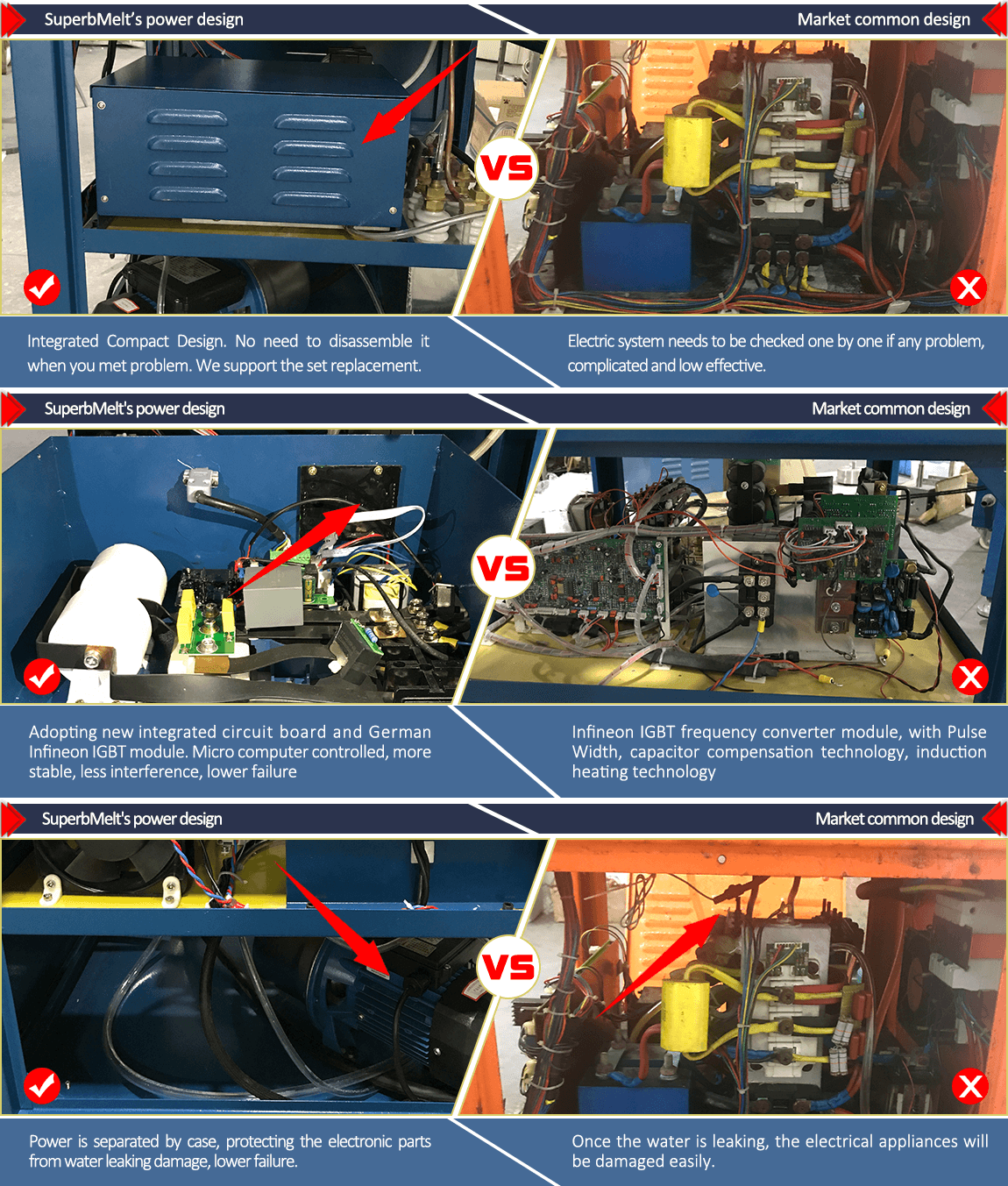 Compared with the common type, Our Superbmelt latest design power:
1,Save time and power
2,More Stable
3,Less Interference
4,Speedy melting, High efficient
5,Lower failure
6,Convenient repairing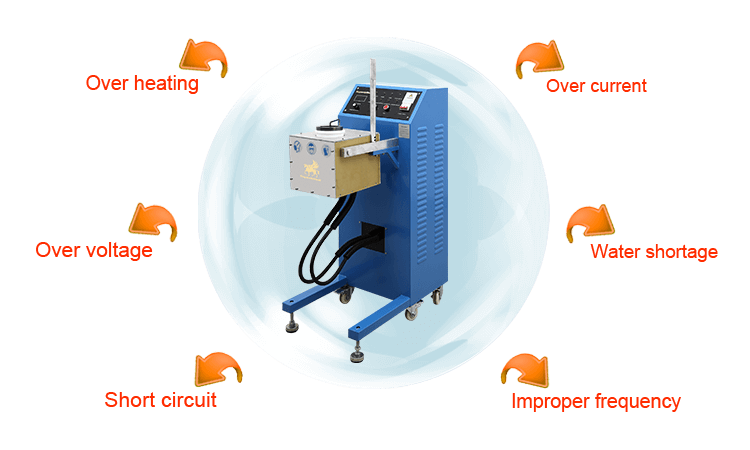 Induction melting equipment is equipped with a full range protection to ensure the safety of the machine and the operator.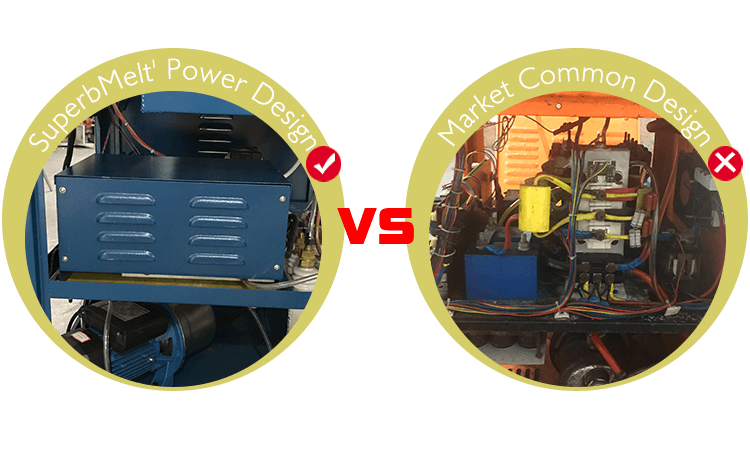 Comparing with market messy circuit design, adopts advanced micro computer controlled power save over 30% consumption. More durable and stable.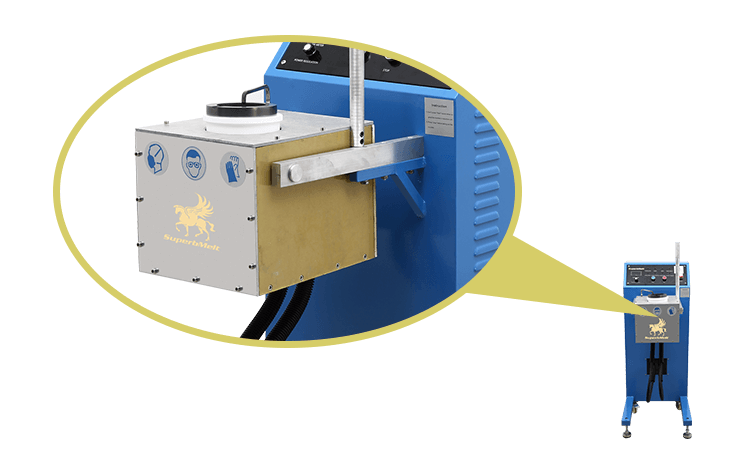 With tilting furnace design to prevents spillage which reduces the risk of operator damage from hot liquid metal splashes.
Why SuperbMelt Gold Smelting Equipment
2 Years Warranty:

One year longer than the warranty provided by other factories

High Quality:

Only choose famous brand main electric components for production

Strong Service Team:

We will give response within 24 hours against your problem by our professional engineer
Helpful Resource For Your Reference
( An expert about induction gold melting equipment )
More SuperbMelt Gold Melting and Casting Equipment For Your Choice
Any Question About Induction Gold Melting Furnace