A

utomatic Jewelry Stone/Diamond Setting Machine
Professional Manufacturer in China
The automatic diamond setting machine is a fully automatic jewelry machine based on intelligent vision, which can set stones on jewelry such as rings, necklaces and earrings. The automatic stone setting machine integrates gluing and stone setting. The machine can set 7 diamonds in one second. The spray gun is above the stonehole. After the crystal nozzle takes the stone from the glue hole, it is quickly set on the wax mold.
This machine helps customers to realize the technology of setting diamonds in different shapes of molds, such as single channel, double channel, plate, tube, etc., and can also synthesize gemstones.
Parameters
| | |
| --- | --- |
| Equipment nam | Flexible-Five-axis automatic spot drilling machine |
| Equipment Model | SPB-5DZ1000 |
| Table structure | flat table & double rotary axis table structure |
| Drilling speed | 6000-10000 drills / hour |
| Number of suction drill head | 4 suction nozzles |
| Drill plate fixing method | movable force magnet on the upper side of the platform |
| Spot drilling accuracy | ±0.02mm |
| Control system | industrial grade five-axis motion controller |
| Main operating system | SuperbMelt self-developed system |
| Drive system | High-end servo |
| Transmission method | high precision screw guide |
| Z*Y*Z/A/C effective stroke | 300*250*120mm/180 degrees/360 degrees |
| Working power | AC220V/50Hz |
| Rated voltage | 1.5kw |
| Working air pressure | 80psi(0.5Mpa |
| Equipment size | length 1150 * width 800 * height 1530mm |
| Equipment weight | about 500KG |
Advantages & Benefits
Application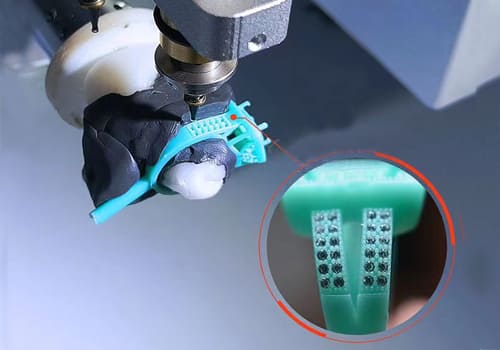 100% Restoration of The Handmade Wax Setting Process:
Flexible point drill head, imitating hand pressed point drill, manual effect, but faster than manual.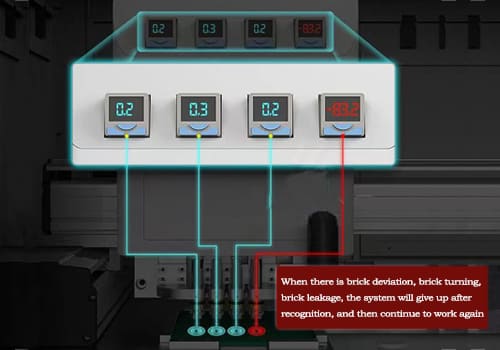 High Precision, Super Stable:
Selfdeveloped highly intelligent spot drilling system, intelligent identification ofempty and missing drills during process, to achieve high intelligence, high speed, high finished products, and high automatic processing.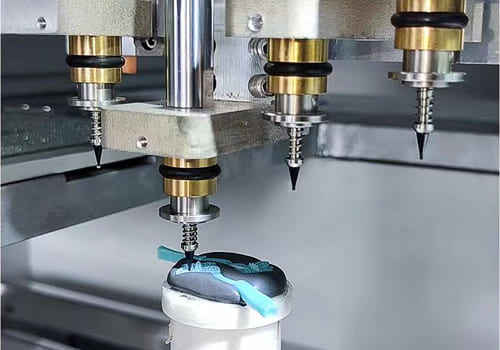 6000~10000 Drills Per Hour:
Easy and fast operation, fast drill pointing speed, up to 10,000 drill points hourly, increase productivity.
W

hy SuperbMelt Automatic Jewelry Stone/Diamond Setting Machine

Professional R&D Team:
Over 15 years R&D experience in gold machinery with a top engineer team supported

High Quality:
Only choose famous brand main electric components for production

ISO CE SGS Approved:
Professional certification bodies certify that the machines are of high quality
Any Question About SuperbMelt Automatic Jewelry Stone/Diamond Setting Machine
Guide of SuperbMelt Automatic Jewelry Stone/Diamond Setting Machine
Chapter 1:
What is the SuperbMelt Automatic Jewelry Stone Setting Machine Comprising
The diamond setting machine adopts AC servo drive system plus a precision guide rail and a precision planetary reducer to ensure the accuracy of spot drilling.
It is driven by high-precision servo motor, and the spot drilling speed is up to 10000CPH, the dispensing speed is up to 20000CPH, and the machining accuracy is ±0.05mm.
The integrated upper and lower frame welding high-precision alloy processing table is used to ensure long-term stability of processing accuracy, and precision guide rail + TBI lead screw is used to ensure high-speed movement accuracy and reduce equipment operating noise.
ey specifications of the SuperbMelt Automatic Stone Setting Machine for Jewelry:
High precision and multiple types
The fully automatic diamond setting machine can manufacture and set all types of diamond jewelry with 100% precision
Highly restored manual craftsmanship
Not only does it operate 24 hours a day, but it is also 100% handcrafted and 20 times faster than an experienced diamond setter.
Super fast and increases productivity
An experienced diamond setter can achieve 90,000 to 120,000 diamonds per year, whereas our automatic diamond setting machines can accomplish 1.5 million diamonds per year.
Save costs and gain profits
The diamond setting price in the market is US$0.068 per piece, and our diamond setting machine can set 10,000 diamonds in one hour, resulting in a monthly income of US$489,600.
Very intelligent and high quality
It can also be used for multiple diamonds of different sizes, and its work quality and efficiency are much better than manual work.
Therefore, this is undoubtedly a product that can bring great benefits to leading jewelry manufacturers worldwide.
Chapter 3:
Technology and Software of the SuperbMelt Automatic Stone Setting Machine for Jewelry
Software System:
User-friendly operating interface, easy to operate and navigate.
Supports Chinese/English language switch to meet different user language requirements.
Equipped with an in-house developed industrial-grade motion control system, which is feature-rich and enables precise monitoring of various process parameters.
Artificial Vision Motion Control Platform:
The software's visual recognition positioning and stone hole processing can effectively reduce processing errors and achieve high-precision spot drilling.
Visual System:
Supports CCD programming, saving the cost of manual teaching time.
Automatic needle alignment system, effectively improving the positioning accuracy of the machine head.
Chapter 4:
How Does SuperbMelt Automatic Jewelry Stone Setting Machine Work
The Superbmelt diamond setting machine has very simple operation steps:
Step 1: Set the stone setting programming on the touch screen in advance.
Step 2: Put the wax mold on the platform, the mold can be placed at will.
Step 3: Press the start button on the right side of the machine to start working.
FAQ Guide of SuperbMelt Automatic Jewelry Stone/Diamond Setting Machine
1. Can Any Shape Of Diamond Be Used On This Machine?
Currently only round drills are accepted, if you have other shape requirements, please tell us in detail, we will recommend a more suitable machine for you.
2. What Material Of Drill is This Machine Suitable For?
Rhinestones, glass drills, acrylic drills, plastic drills, small beads, etc.
3. Can Diamonds of Different Sizes and Colors Be Set in the Same Mold?
Yes, diamonds of size #0.9-3.0mm and various colors are supported.
4. Can a Mold and Programming Only Be Used On One Machine?
Our machines support file copying and multi-machine sharing to achieve rapid mass production.
5. How many Colors Can be Set at One Time
Max 6 colors or sizes can be set at one time. And the specific number of colors depends on the style.
6. How Long Does It Take to Program a Mold Style?
Depending on the number and size of diamonds, the time varies from 10 minutes to 2 hours, depending on the complexity of the design.
7. If I Need to Switch Wax Styles on the Same Machine, How Long Does It Take to Set Up?
It only takes a few seconds to switch the program, and you need to change the position of the inlay head and wax tool to be consistent with the inlay program.
8. Will Your Company Provide Technical Guidance?
Every machine we sell will provide detailed technical guidance to each customer according to the needs of customers, and this diamond setting machine is easy to operate, and it only takes less than an hour to fully grasp the operation method.
9. How to do the setting program of Designs?
There are two ways, the first is to manually find the point and program, align each point and program one by one. The second is to scan the wax model and the chassis together with a 3D scanner, and then match the whole to the conformal model for overall auxiliary adjustment. When the machine receives the scanned file, it only needs to manually confirm each point and make fine adjustments. Normal production can be achieved, which can save a lot of time and cost.
10. How many Suction Heads are Equipped?
 8 suction heads are standard, 4 pcs of No.502 nozzles which suck 0.9 to 1.3 stone, 4 pcs of No. 503 nozzles which can suck 1.4   to 1.7 stones.
11. What is The Consumable Parts Need to Prepare?
Suction heads, Molding rubbers, Stone plates
12. What Is the Max Wax Size could Set in the Machine?
13. How Many pcs of Stones could Set in one Hour in SuperbMelt Auto Stone Setting Machine?
It could set 6000-10000 pcs of stones per hour.
14. How Many pcs of Stones could Set in One Plate?
One plate size is 44*85mm. It could set 11220pcs of stones. Machine could place 3 plates or 6 small plates which are half size of big plate.
15. How Does the Machine Make Sure the Diamond is Face-up and Won't Go Wrong?
First of all, before the diamonds are put into the tray, a Sieve diamond machine will be used. This step can ensure that each diamond is face-up. Secondly, our stone setting machine is also equipped with an automatic identification function. The suction nozzle can identify whether there are errors or missing diamonds through suction.
16. How Efficient are Machines Compared to Humans?
It could do setting job instead of 10-15 workers.