Jewelry Laser Welding Machine
Top Manufacturer in China
Jewelry Repair and Joining Professional Solution Supplier
With the advancement of technology, laser welding has emerged as a remarkable solution for not only recycling but also repairing old or damaged jewelry in the jewelry industry. SuperbMelt offers a wide range of Jewelry Laser Welding Machines, available in handheld, benchtop, tabletop, and portable designs. These machines are specifically designed to cater to the production of unique jewelry styles for retail and manufacturing jewelers. Whether it's rings, delicate necklaces, or complex workpieces, our Jewelry Laser Welding Machines ensure a flawless restoration with their exceptional jewelry repair capabilities.
Our fiber laser welding machines are powerful, ranging from 80W to 200W, and provide the versatility to work with metals of different purity levels, such as karat gold, pure gold, 925 silver, pure silver, and various metal types including gold, stainless steel, platinum, aluminum, high-strength steel, titanium, and more. We offer different output options to accommodate the diverse needs of our customers.
Equipped with cutting-edge welding technology, our machines are particularly well-suited for welding thin-walled materials and precision parts, delivering outstanding precision and quality in every weld.
Designed for continuous operation, our jewelry spot welder is ergonomically crafted to provide comfort during usage while minimizing employee fatigue.
Moreover, our Jewelry Laser Welding Machines support multiple languages and feature a user-friendly touchable CCD screen, simplifying operation and enhancing convenience.
Choose SuperbMelt's Jewelry Laser Welding Machine to unlock seamless jewelry repairs and manufacturing processes. Experience the power of laser welding technology in preserving the beauty of jewelry craftsmanship.
Jewelry Laser Welding Machine List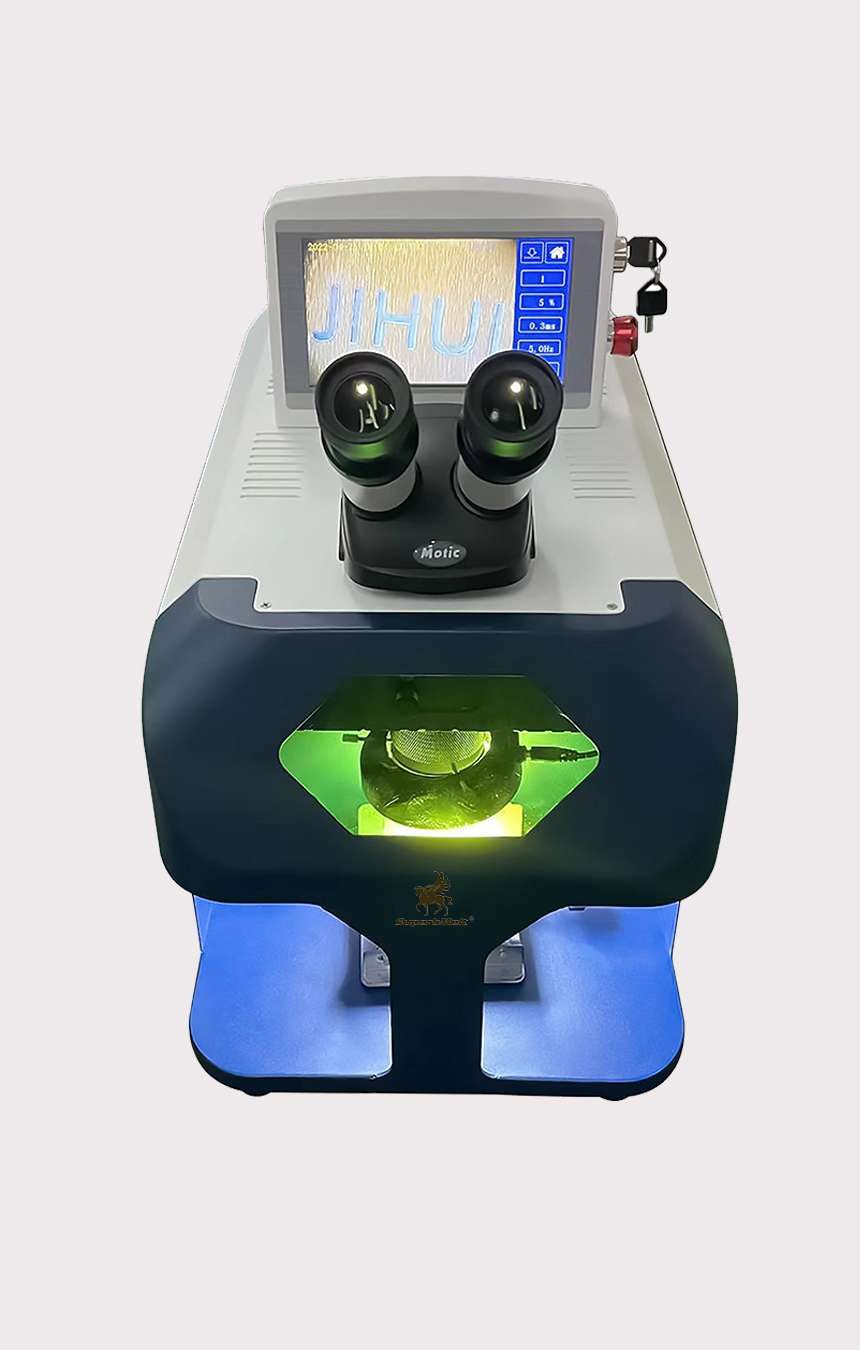 80W Mini Laser Welding Machine
The 80w welding machine has a small and compact design, making it ideal for small jewelers, whether you want to get started in the jewelry business or want to increase your repair business in your jewelry store, you can choose this model.
This is definitely the best choice for first-time users, smaller jewelry studios and repair shops.
It is very budget-friendly, and the mini model can also save a fortune in transportation. At the same time, it is convenient to use and does not occupy space cost.
The air cooling system is adopted, when the temperature rises, it will automatically turn on, which ensures the efficiency of the jewelry welding machine.The machine is very small, easy to use, and does not take up space.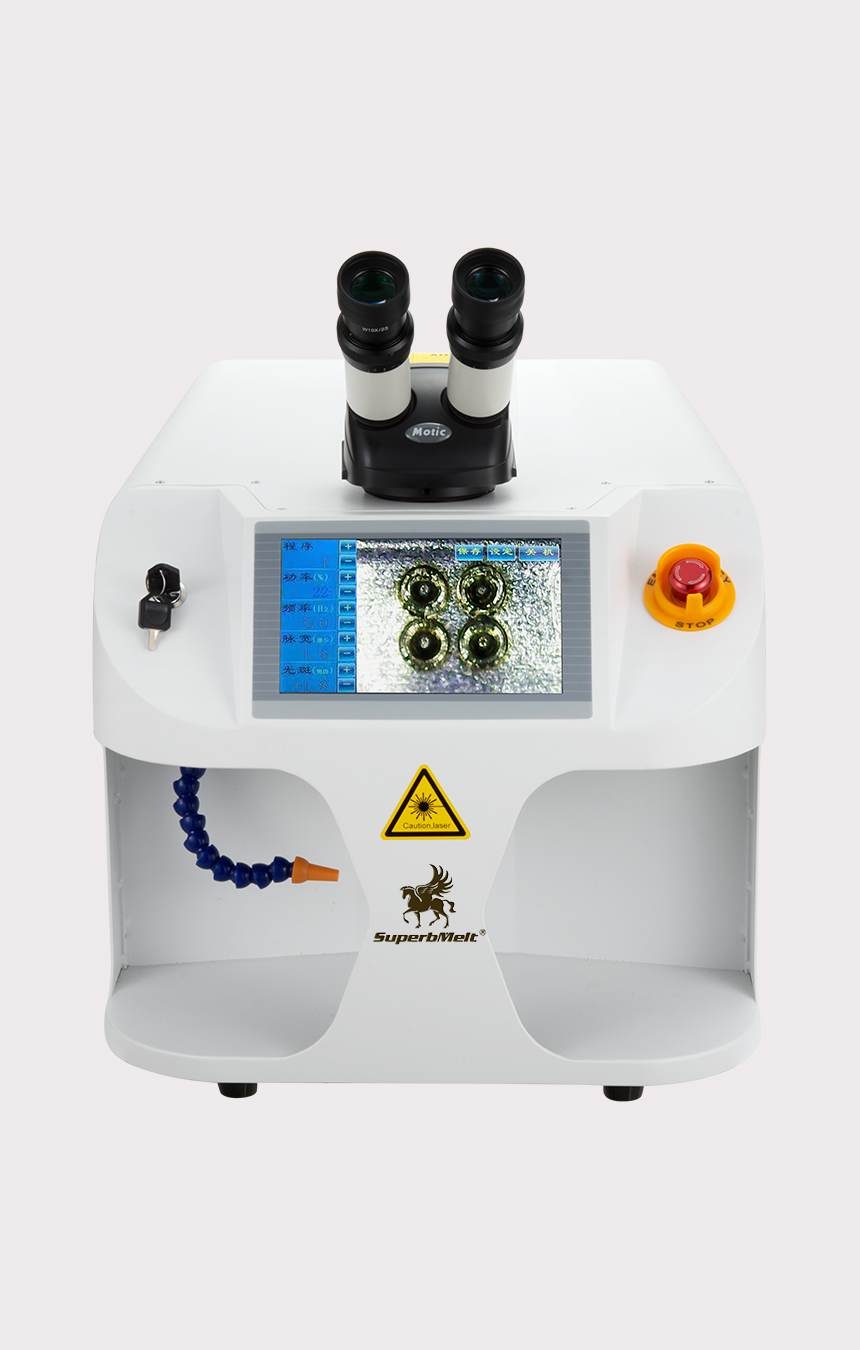 150W Mini Laser Welding Machine
SuperbMelt 150W welding machine is a desktop design, suitable for high-quality jewelry factory, small jewelry factories, and precision hardware laboratories.
Small in size and does not take up work space. The machine can customize the language to make it easier for customers everywhere to operate.
Air cooling and water cooling are integrated, using high-speed rotating fans and stainless steel water tanks to effectively prevent water leakage.
Such a cooling system provides conditions for continuous work and increases productivity.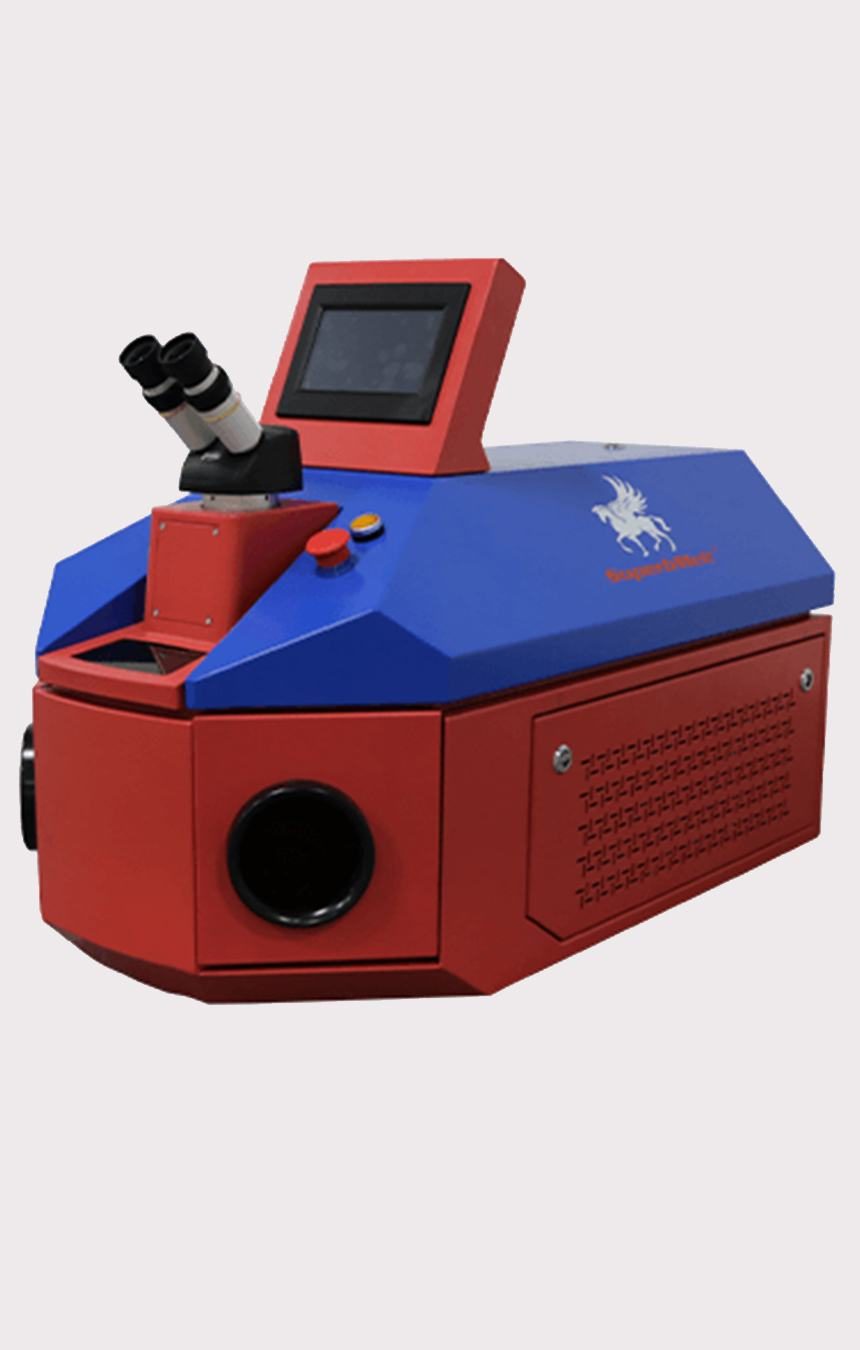 150W Jewelry Laser Welding Machine
The desktop jewelry welding machine is the best choice for jewelry industry applications with a high-quality laser source. It can be used to join and repair various metals.
At the same time, it is also widely used in denture processing, welding of battery covers, sensors, keyboards, etc.
It adopts non-contact welding method, because it is not directly exposed to the air like traditional welding machines, so there is no need to purchase additional safety glasses.
While meeting the requirements of cleanliness and environmental protection, the degree of automation is also very high.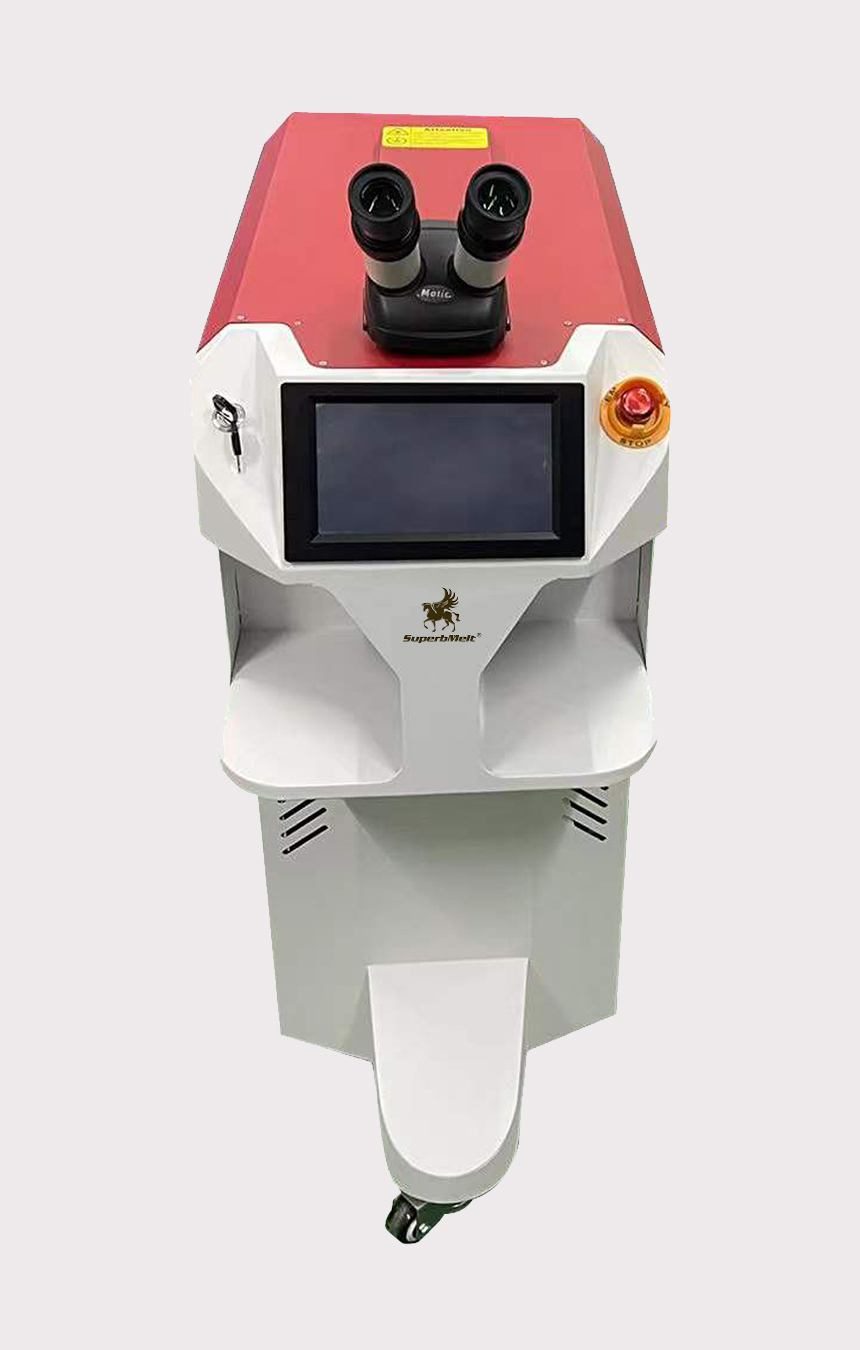 150W Vertical Jewelry Laser Welding Machine
This machine is equivalent to adding the support part below on the basis of the desktop design. This vertical design can satisfy some jewelry manufacturers with larger space.
The built-in oversize stainless steel water tank can work continuously for a long time.
Equipped with a camera system and a microscope for two-way observation, and an advanced automatic shading system is used to eliminate eye irritation during work.
Therefore, this one is more relatively price-quality ratio for a large number of customers who want to buy a vertical welding machine.
The bottom support makes the machine more stable when working, and also adds wheels, so that customers can flexibility change the working area according to the working environment.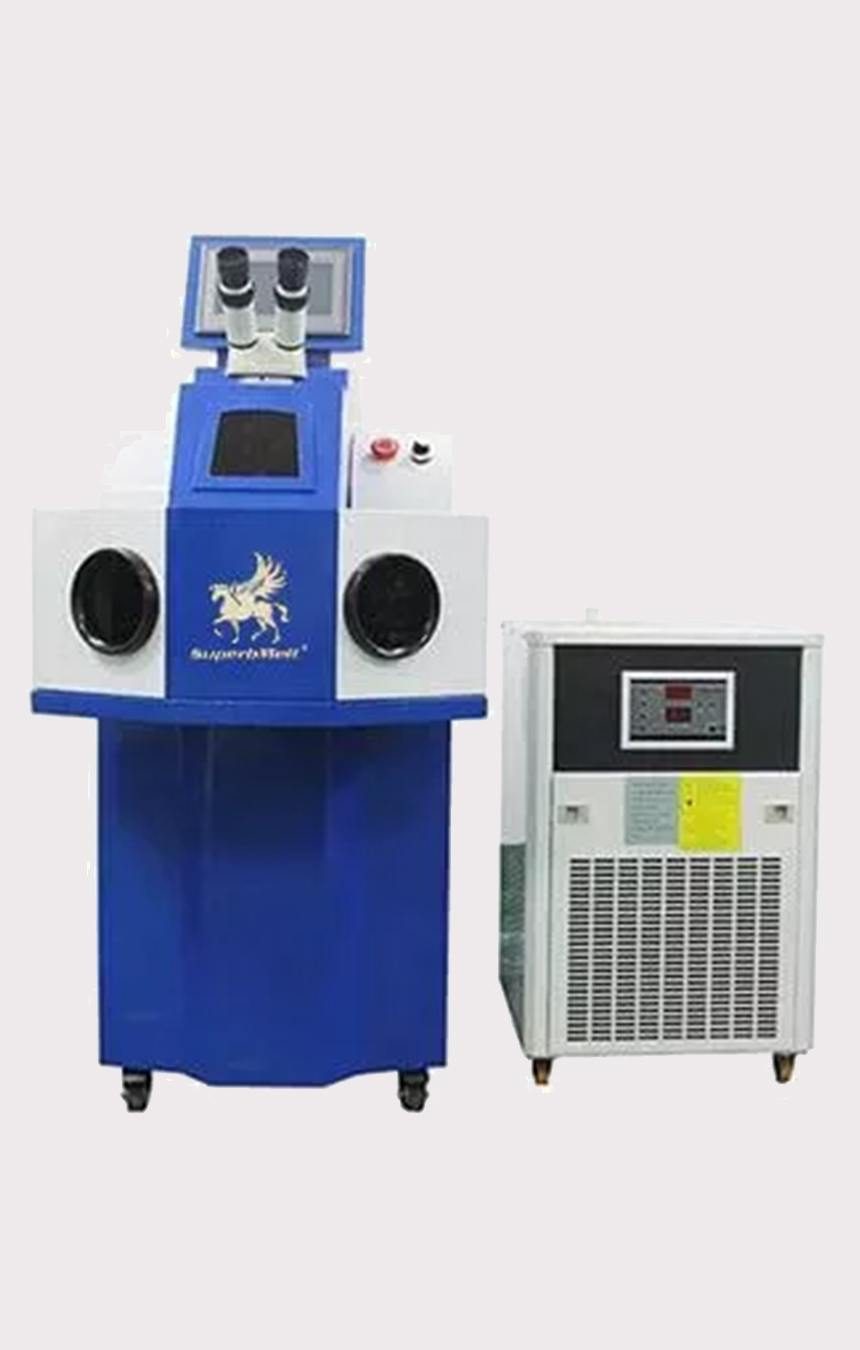 200W Automatic Laser Welding Machine
SuperbMelt automatic laser welder is a vertical design with an external water tank, which is suitable for large jewelry manufacturers. You could choose this model if you want to introduce an efficient jewelry repair machine for your jewelry factory, like bracelets, bangles, etc.
The machine works without noise and is environmentally friendly. High level of automation, simple buttons, use the LCD display, set the parameters, you can start working.
Equipped with a CCD monitorable system, which can make the welding effect more clear and intuitive.
This machine can be customized in wattage, 150 joules can reach a maximum pulse of 25ms and duration, and the spot diameter can reach the size of 0.3-1.5mm.
The size of the precision gets finer as the intensity increases. So it is well suited to serve more demanding jewelers, offering longer working hours and more power.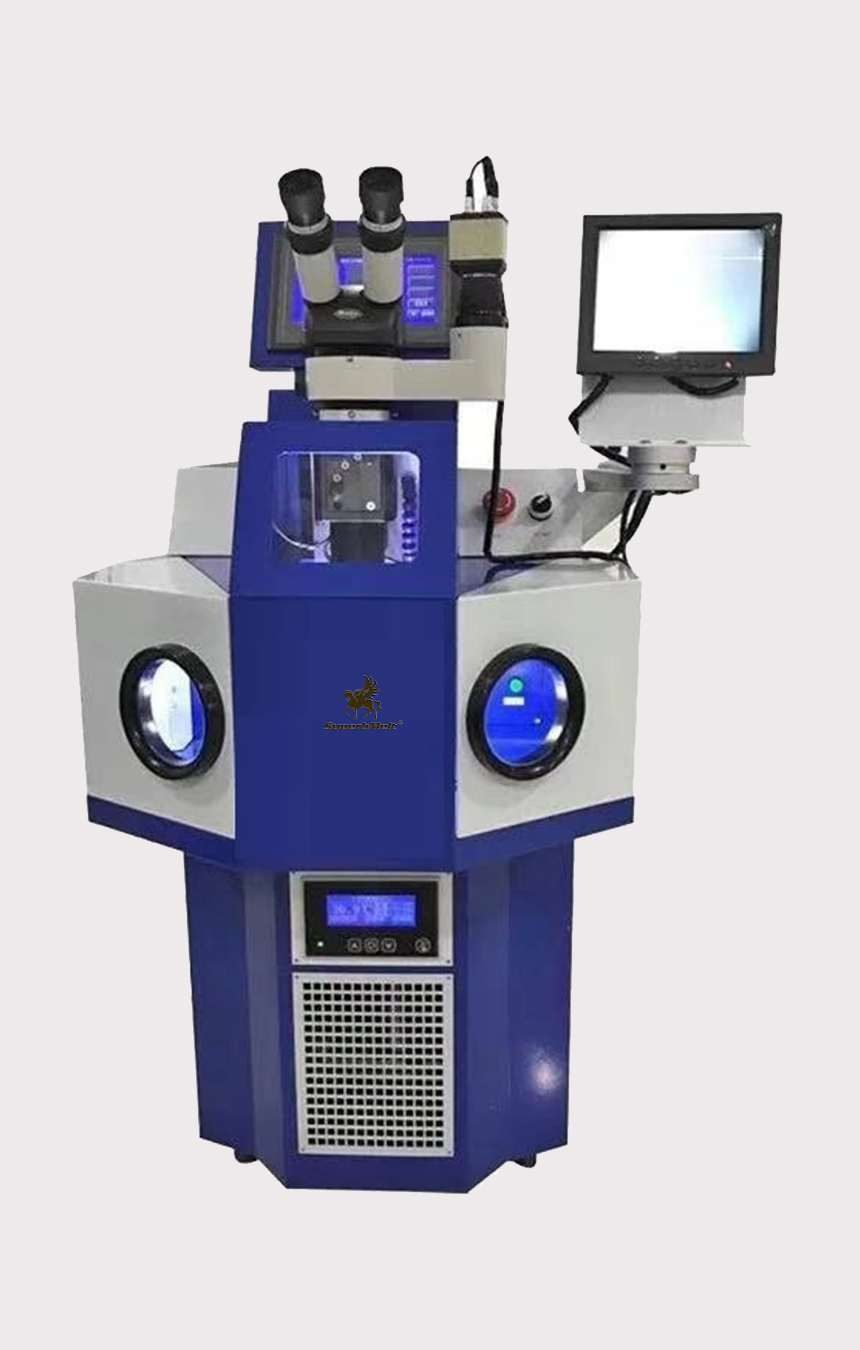 200W Laser Welding Machine with Internal Water Tank
This welding machine has an upgraded one-piece design with a built-in water tank.
Suitable for damaged jewelry of the same and different metal types, especially for welding small parts, so that it can provide perfect welding results in both the dental and jewelry industries.
With the use of the built-in microscope and camera system of the machine, precise aiming and positioning can be performed, so that the operator can see the status of the jewelry more clearly during welding, thereby reducing errors.
Models with internal and external water tanks like this are relatively large in size and are not suitable for small studios.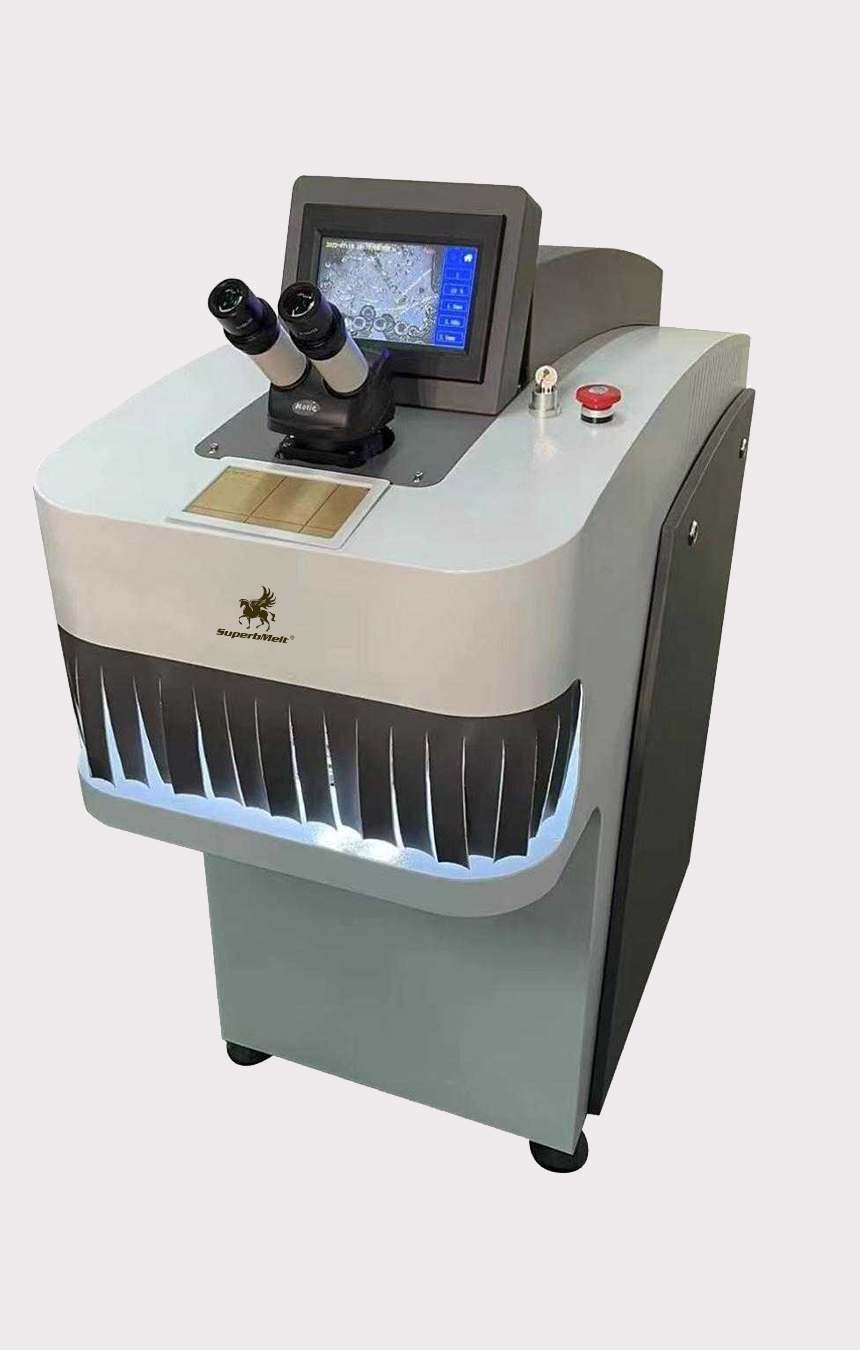 200W Laser Welding Machine with Internal Microscope&CCD
This machine has been upgraded on the basis of the 200-watt external ccd.
Compared with the external ccd, the built-in ccd of this machine will not have wires tangled on the outside, which is more concise and beautiful.
And the work area has also been improved, the operation box is more spacious, and the form of curtains is used on the periphery to avoid dust entering, so this is very suitable for customers who need to weld larger workpieces.
It is more suitable for customers who pursue high precision and need to weld larger jewelry.
At the same time, greater improvements have been made in ergonomics, so that workers can work more comfortably, reduce fatigue and improve work efficiency.
How Does SuperbMelt Laser Welder Repair Jewellery?
Laser welding is the local heating of tiny areas of material under the action of high-energy laser pulses, so that the material diffuses into the interior under the condition of laser radiation heat conduction.
And there will be no gaps in the finished product, which shows the exquisiteness of the SuperbMelt jewelry welding machine, and the exquisite jewelry is produced and restored.
Here are the general steps to operate our welding machine.
Inspection Before Work
Check the power supply of the laser welding machine and whether the water circulation is normal
Check whether the air supply connection inside the machine is normal
Start the Machine
Press the power button
Set parameters such as pulse width, energy, spot size, etc.to weld
Put the jewelry into the work area, you can decide whether to use the lifting platform according to the convenience of the workpiece
Adjust the focal length and focus through the magnifying glass
The pedal starts to weld, and the corresponding parameters can be adjusted according to the effect
Welding Follow-up Work
Press the power button when finished
Turn off the main power of the machine
Polish or clean the welded workpiece
How To Choose a Jewelry Laser Welder
Power Capacity
When choosing a suitable laser welding machine, machine power is the first consideration, so you need to know what metal you need to weld jewelry.
If you run a silver jewelry store, then the 80w 45 joules mini welding machine can meet your needs.
But if you need to weld pure gold or 5G gold with high frequency for a long time, you need to customize a 300w machine.
Ergonomics
Although the jewelry laser welding machine has reached a high level of automation, it still requires the cooperation of the staff, so the structure of the machine will greatly affect the work efficiency.
SuperbMelt jewelry welding machine is designed according to ergonomics, and the shape is humanized. Even if you work for a long time, it is not easy to get tired, so the work efficiency is also guaranteed.
Optics
The quality of the microscope and light source will also directly affect the progress of the work.
SuperbMelt welding machine uses a high-quality microscope and a high-definition camera system for dual observation, which makes the welding work more accurate and ensures the accuracy of the finished product.
The light source adopts imported ceramic concentrating cavity, which is resistant to corrosion, high temperature, and high photoelectric conversion efficiency.
The life of the concentrating cavity is 8-10 years, and the life of the xenon lamp is more than 10 million times.
What are SuperbMelt Jewelry Laser Welder Application
Widely used in mobile communication, jewelry, accessories, golf heads and aluminum alloy dentures, etc.,and other precision metalworking industries.Especially suitable for repairing broken rings, damaged jewelry, etc.
Jewelry:
Necklaces, bracelets, rings, earrings, pendants, brooches, and so on.
Electronic Communication Equipment:
Mobile phone accessories, battery covers, sensors, and keyboards.
Watch & Glasses Accessories:
Frames, watch straps, and internal parts of mechanical watches
Metal:
Pure Gold, Sterling Silver,K Gold, Platinum, Titanium, Stainless Steel, Aluminum Alloy and so on.
FAQ Guide of SuperbMelt Jewelry Laser Welding Machine
1. Why 150W machine can weld gold, but it is difficult to weld silver?
Fine silver is a highly reflective material, so it is not easy to solder
2. Do You Offer Remote Technical Support for Laser Welding Machine?
We will send you guiding video, no worries the operation is very simple, of course we will also provide video support if you need.
3. 150w Machine can Weld 925 Silver?
4. Can Platinum Be Welded?
5. I Mainly Use It for Repairing 925 Silver, 333 Gold, 585 Gold and 750 Gold, Occasionally Welding Stainless Steel and IP Mesh Steel, 12 hours of Work Every day, if 150W Machine Suitable?
6. How Is the Long-Lived Of the Laser?
Generally speaking, according to the times of light output, the lifespan is more than 10 million times. After replacing the xenon lamp, it can still be used. Except for the consumables, other main accessories will not be damaged so easily.
7. What Is the Energy Consumption of 150w Machine?
8. Is That with Xenon Lamp ?
10. How Many Joules Is the Energy Consumption of a 60W Machine?
11. Does Your Machines Have a Fan?
12. It has a Built in Chiller, Does it Still Need to Be Connected To the Tank and How Often Does the Water Need to Be Changed?
The water machine is inside, just add water directly. The water inlet and outlet pipes are reserved at the bottom at the back. We recommend that you replace the water once a month.
13. What Is the Lifespan of a Xenon Bulb?
More than 10 million times.
14. Can You Provide Us the Parameters for Welding Platinum, Gold and Silver for Our Reference?
For 18K gold, current 15%, pulse width 1.8ms, light spot 0.3mm;
For gold, current 46%, pulse width 5.2, light spot 0.5, please paint black before weld, because it is a highly reflective material.
15. How Should We Adjust the Power?
The parameters are determined according to the different materials and thickness, you can be flexibly adjust the machine according to the material and process requirements.
16. Are Accessories Easily Damaged? How Often Does It Need to Be Replaced?
Around two years, we recommend you to take 1 set spare.
Laser Welding Machine Buying Guide
The most common assumption regarding jewelry is that these are crafted as a single ornament. However, many people are slowly catching up to the concept of custom design jewelry. Previously, people thought that custom jewelry is expensive. Now, laser welding equipment can help in producing cost-effective and fine pieces of jewelry. Superbmelt is your one-stop shop to find the best laser welding machine to help you capitalize on the new trends in jewelry.
Contact us to find out the different options you can avail of for helping your jewelry sale or repair business to explore new opportunities for growth. Take a detailed look at the following guide to find out the different factors that can help you in buying jewelry laser welder and discovering its significance.
Chapter 1:
Why is laser welding necessary for jewelry?
In gold and silver jewellery, laser welding is used to solder claws, fill holes, mend seams, and spot weld sand holes. The weld seams produced by jewellery laser welding machines are aesthetically pleasing and may match the strength of the materials, like as wood, being welded. They also provide high-quality welding outcomes. Laser welding eliminates the need for further processing, enhancing the rate of product certification.
1.1,Which precious metal jewelry can be welded using a laser welding machine?
Gold, silver, platinum, stainless steel, titanium, and various metal alloys.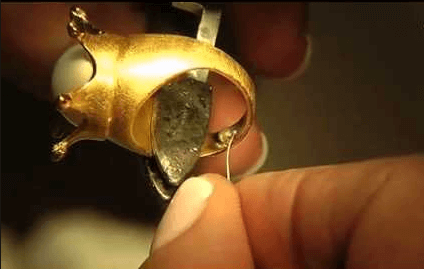 1.2, The benefits of jewelry welding
1.Metal components may be connected precisely and securely using jewellery welding.
2.Greater design freedom offered by welding makes it possible to create intricate jewellery designs that would not be possible with other connecting techniques.
3.Jewellery with welded connections has stronger and more durable joints.
4.Welding enables flawless connections, producing smooth, shining surfaces that improve the jewelry's overall appearance.
5.Jewellery welding makes it simple to repair and alter jewellery pieces.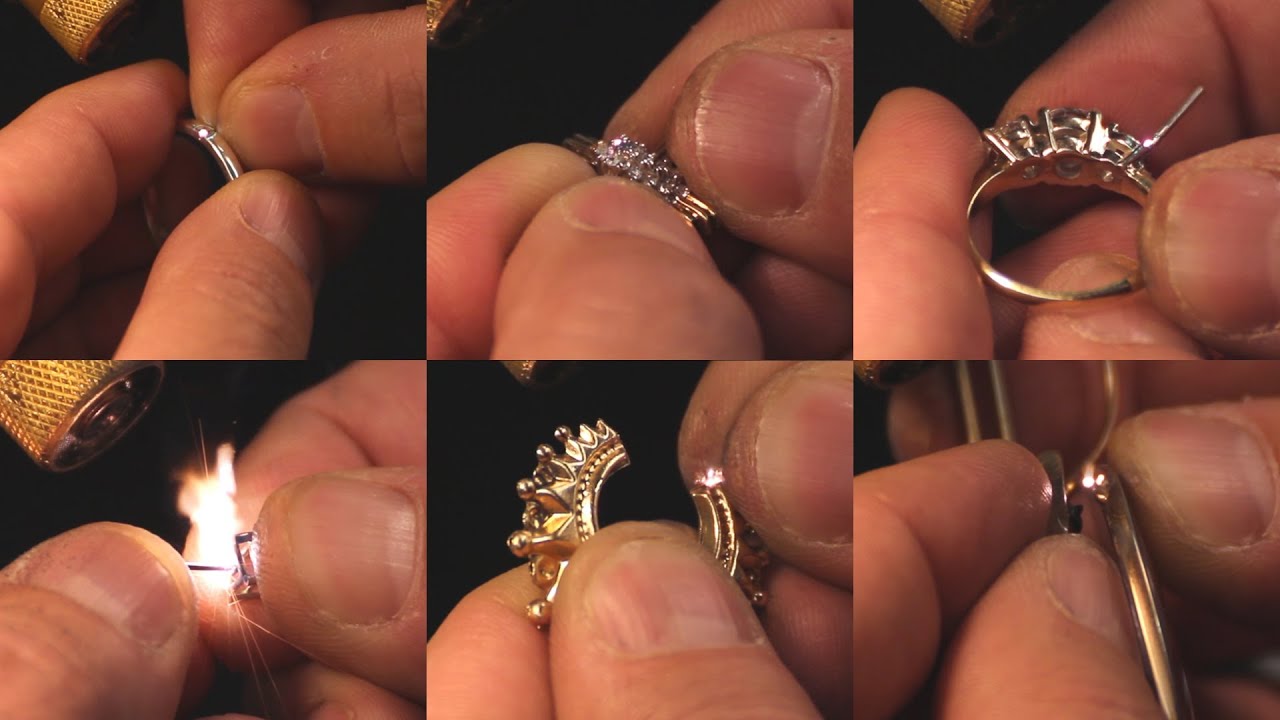 1.3, What should be noted when it comes to jewelry soldering?
Before welding, it is important to clean the metal materials thoroughly. Then, select the appropriate welding tools and become proficient in welding techniques. During the welding process, heat the welding material to its melting point and apply it to the surfaces of the two metals being joined. Once the welding is completed, the welded area should be polished to achieve a smooth and seamless appearance, ensuring the jewelry's aesthetic appeal.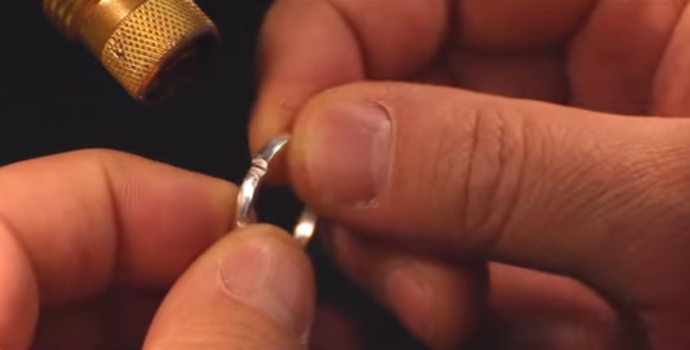 Chapter 2:
Tools on the Market for Welding Precious Metals
What do you want for jewelry laser welding? You can choose a gold laser welding machine or any other type on the basis of precious metals that should be welded into valuable pieces of jewelry. The variations in physical properties of different precious metals require the selection of different laser welding machines accordingly. Superbmelt can help you find out the most reasonable alternative to help you in welding precious metals.
2.1, What To Prepare Before Welding Jewelry
The laser basically stands for Light Amplification by Stimulated Emission of Radiation. A laser welding machine employs a non-contact process that helps in using light energy for welding precious metals. Manufacturers must notice that the laser welding process uses localized heat that helps in bringing a seamless and perfect quality work without any discoloration.
The metal nearby the welding point does not metal, and the precision in the heat source of a regular or mini laser welder ensures that users could weld the nearby metal stones without any impact on the stone or other materials in the jewelry.
Although the process of welding jewelry seems very easygoing and straightforward, users have to be careful in their preparations for welding jewelry. You need to have a clear idea of the preparatory stages in welding jewelry before you go looking for the best jewelry laser welding machine suppliers. So, let us find out some helpful tips to prepare before welding jewelry.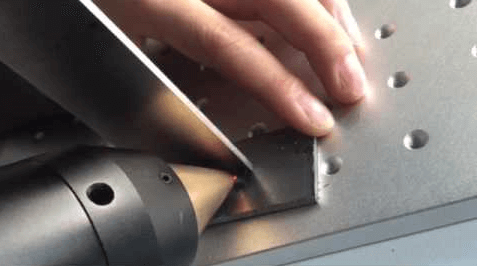 The first and foremost pointer in preparing for jewelry welding is to clean the laser welder. You should try to clean the protective lens that is found in the laser chamber from where the beam comes out.
It is also important to check the cross-hair alignment on a regular basis before laser welding. In addition, users should avoid programming their settings with the laser in a multi-purpose mode. Furthermore, welders must also keep in mind to wipe off the soot from the jewelry they are welding.
You can be easily drawn to the proposition of using a laser beam welding machine due to its various benefits. However, it is important for you to practice laser welding properly, especially on a scrap item, before trying it out on jewelry.
The next important pointer to prepare for welding jewelry refers to keeping a clean background. You should not have any form of objects in the vicinity of the platform where you are welding the jewelry.
Make sure you have some floss bobbins at hand for easier wire storage and flexible access.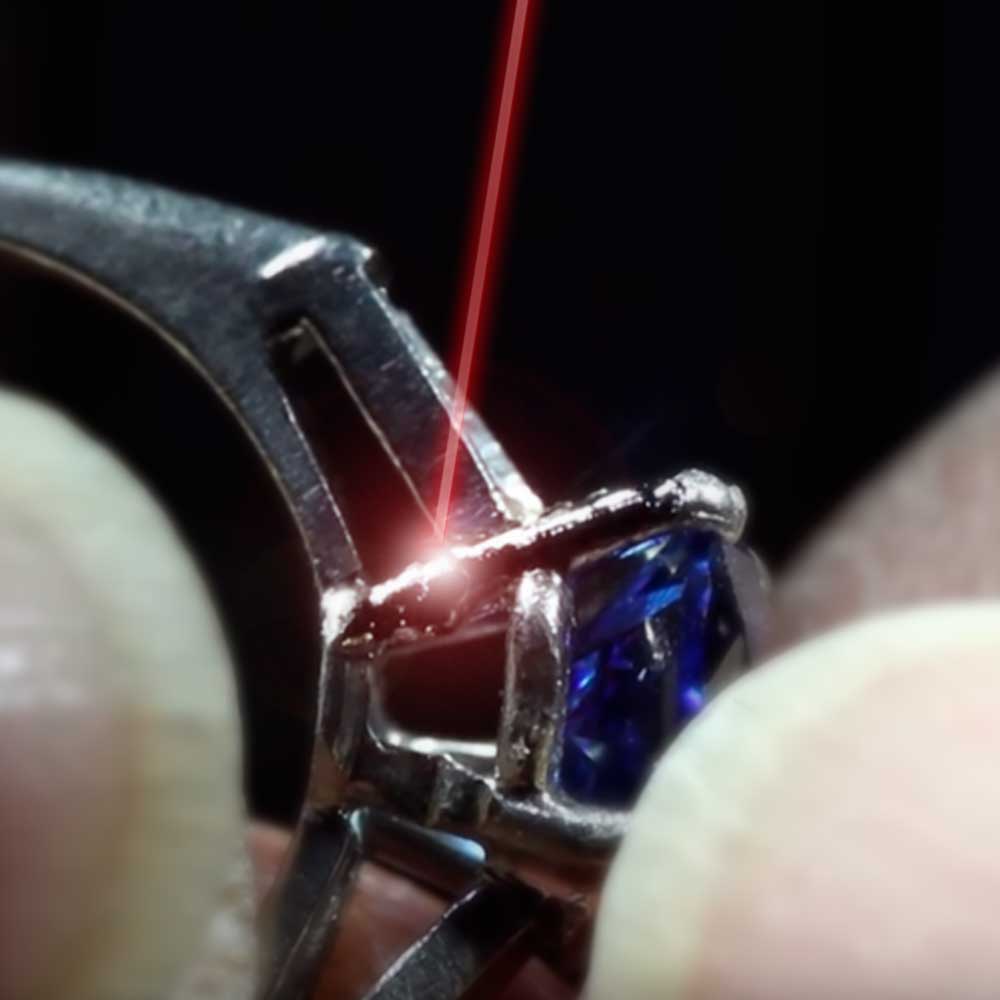 Some experts also recommend that designers should remove stones from jewelry while using a laser spot welding machine. Although laser beam precision does not present any risks for damaging stones in jewelry, manufacturers can use Plasti-Tak as an alternative for safeguarding stones during the welding process. Similarly, experts also suggest the use of a highly polished sterling silver template during jewelry welding to safeguard the sensitive areas.
With the help of regular practice and experience, you can master the art of preparing for welding jewelry easily. Furthermore, your practical trysts with jewelry welding can open you up to completely new methods to prepare for jewelry welding.
2.2, Different Industries Apply Different Methods
The primary applications of laser welding machines in different aspects of the jewelry industry reflect the diversity of the instrument. Laser welders can find prominent applications in the case of jewelry retail stores with distinct functionalities.
With the jewelry industry under concern for this discussion, it is important to find out how retail stores use different methods of jewelry welding for various applications. If you are looking for a portable laser welding machine price, then you must also know about the breadth of its applications.
The foremost reason to find a jewelry laser welder for sale is the application in the restoration and repair of antique jewelry. In most the cases, antique jewelry demand many hours of preparation, and complications are evident in the removal of stones along with heat-sensitive materials.
A jewelry laser welder can help in creating a small heat zone and help with the majority of applications, including filigree repair and sizing without the removal of heat-sensitive stones. Therefore, retail antique jewelry stores could save a considerable amount of time for setup and reassembly time for the intricate pieces in antique jewelry.
The next important application of welding in the jewelry industry also refers to the repairs in spring mechanisms. A laser spot welding machine helps in getting a very small heat zone and a very precise beam from the welder. As a result, the laser welder does not have any negative impact on the spring mechanism.
Therefore, it can be helpful for welding spring rings, euro-wires, and lobster clasps easily while saving a considerable amount of time. At the same time, you can also find the applications of laser welding machines in watch repairs for their capabilities in repairing spring mechanisms.
Laser welding methods also have applications in the jewelry industry for eyeglass repairs. Laser welders can help in faster and easier completion of eyeglass repairs, alongside offering the chance for repairing metals such as titanium. Therefore, you can clearly make the most of another promising income stream for your jewelry business with the help of laser welders.
Another prominent application which you can find out among different methods of using automated laser welding machine refers to common jewelry repairs. It is easier to repair damaged chains with laser welding, and basic training of new personnel in retail jewelry stores can get the job done. Now, laser welding methods can help experienced jewelers in taking care of other difficult tasks with better concentration.
2.3, Different Methods Are Needed For Different Metal Jewelry
The type of jewelry metal is undoubtedly one of the biggest concerns in selecting a laser beam welding machine. The type of jewelry metal has a considerable role in selecting the type of laser welding machinery. Laser welding is suitable in the case of jewelry crafted from hard metals, and in some cases, you need a portable laser welding machine for ease of movement.
Furthermore, malleable metals such as gold will not present any difficulties as manufacturers don't have to invest additional efforts. Although different types of metal jewelry require different welding methods, you can go for a single piece of equipment if they have the necessary features to achieve your desired goals in welding.
It is easier to understand how different metal jewelry requires different methods by taking the two types of lasers into account. It is possible to operate laser welding equipment with pulsed or continuous laser, which varies in terms of thickness. So, the distinct functionalities of each type of laser are tailored for different metals used in fabricating jewelry.
A pulsed laser is a suitable choice for welding titanium pacemakers, sheet metals, razor blades, and chain links in gold jewelry. In addition, the pulsed laser can also prevent the melting or deforming of the metal. Most important of all, a pulsed laser is ideal for thin and light metal jewelry.
On the contrary, the continuous laser method is suitable for metal jewelry, which includes highly refractory metals. In comparison to pulsed laser, continuous laser welding presents higher costs alongside reducing the operating costs. However, the continuous laser method in jewelry laser welder is suitable for welding thick parts in metal jewelry.
It is important to note that using the continuous laser method of laser welding on thin metal jewelry can lead to damage or deformation of the jewelry.
2.4, Comparison of Jewelry Welding Methods
One of the most common jewelry welding methods is the stick welding approach. It is basically a type of manual arc welding that can help with welding many metals. The ease of stick welding and the possibility of making it work with various metals ensure that stick welding is suitable for jewelry welding.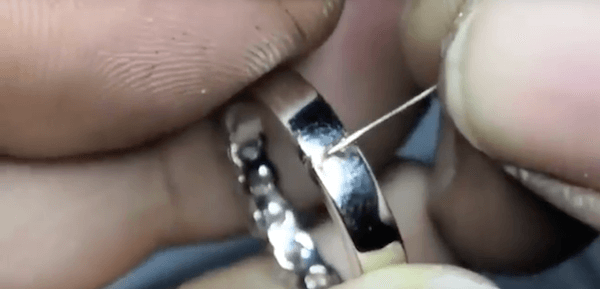 The next important type of jewelry welding method refers to plasma arc welding. You can find a laser welding machine with a plasma arc offering you a method like tungsten arc welding. Plasma arc welding can help in welding projects at higher temperatures with finer and tighter welds. The arc welding method is the most commonly preferred method that you can find in the case of the majority of welders. The electric arc helps in creating fusion among the electrode and base material with the metal that is involved in the welding process.
Another common type of jewelry welding method you may come across while thinking of laser welding machine cost refers to resistance welding. Resistance welding might seem too expensive and relies largely on the use of costly, delicate devices. So, welders are less likely to use the resistance welding method frequently. The method of resistance welding focuses on using sheets of extra metal for covering the parts that require welding.
The importance of gas welding is also one of the prominent mentions among the discussions on jewelry laser welding machine as one of the methods for jewelry welding. The gas welding method is suitable for welding metal jewelry that cannot withstand the pressure of excessively high temperatures. Therefore, the gas welding method is preferred as the common choice for making or repairing jewelry. However, the gas welding method finds applications commonly in the case of repairing plastics and pipes.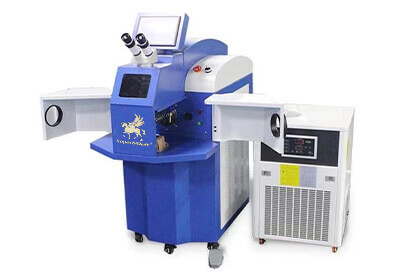 However, the lion's share of the pie among methods used for welding jewelry goes to laser welding equipment. Laser welding has found recognition recently and is largely known for the speed of welding. So, it is a preferred choice for scenarios in which you want to achieve your work on time. Laser welding, also known as energy beam welding, can present higher accuracy in comparison to other techniques. On the other hand, certain laser welding machines can be very expensive for certain jewelry manufacturers and welders.
A detailed overview of the various welding methods shows that jewellery laser welding machine price could depend considerably on the choice of welding method by manufacturers. However, a reflection on the different welding methods indicates that a particular method is not suitable for all metal jewelry. So, if you know your requirements carefully, then you can choose the ideal method that fits your case.
Chapter 3:
Why Do You Need a Laser Welder to Weld Your Jewelry?
Have you rounded up on a final choice to weld your jewelry? If you are still confused about laser welding equipment, then you should try exploring laser jewelry welding machines. Laser welding machines are presently one of the most effective and promising choices for equipment to weld jewelry.
Readers could explore the different reasons to use regular or automatic laser welding machine for identifying whether laser welding machines are indeed better than other welding methods for jewelry.
3.1, Advantages of Laser Welding Method for Jewelry Compare to Other Methods
Jewelry laser welding machine is a suitable choice for all types of traditional metals used in jewelry. It is possible to weld all the base metals, sterling silver, karat gold, palladium, titanium, and even platinum. Laser welding offers flexibility for welding platinum that was once a very difficult metal to work with within jewelry. In addition, laser welding can also help you weld different metals such as gold to platinum or sterling silver to gold. Laser welding machines can help mainly in welding metals alongside refractory metals.
Furthermore, laser welding also helps in welding non-metallic parts such as glass and porcelain with metals. Most important of all, a regular or portable laser welding machine could help in welding jewelry parts with considerably distinct shapes.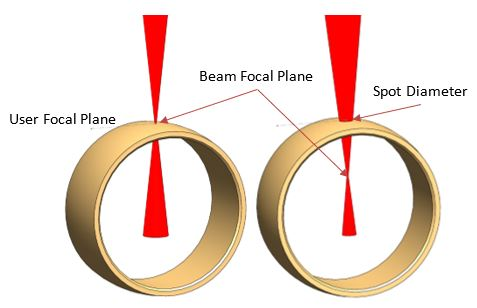 Therefore, you can use laser technology for creating complicated welds by joining dissimilar materials as well as areas that would have been difficult to reach by using conventional welding techniques.
The most important reason to focus on the laser welding method above other methods refers to laser welding machine cost. Although you will put in a hefty investment with laser jewelry welding equipment, they can provide exceptional results in terms of speed. With the reduced costs of preparations for welding jewelry, laser welding also enables faster jewelry welding by heating the metal to higher temperatures with higher speed.
At the same time, the laser welding method also avoids the risks evident in deformation. The laser welding technology is specifically effective for achieving porosity in the finished metal jewelry products.
The next prominent reason for choosing a gold laser welding machine points out to the high accuracy. The higher accuracy in laser welding has been possible due to localized application of heat, thereby leading to exceptionally finer and cleaner welding that is almost invisible. As a result, they are ideally fit for projects that involve welding small jewelry parts.
Laser welding also enables possibilities for better aesthetic appeal in jewelry welding due to the higher precision and accuracy. Furthermore, the facility for splitting up the laser beam into different beams can help in laser welding with better accuracy.
Since jewelry laser welder for sale operates on a non-contact basis, without any contact, laser welding machines can take away the risks of wear and tear on the welding machine. In addition, welders don't have to change the electrodes or tools in laser welding machines. As a result, you can save a considerable amount of money as well as contribute promisingly in terms of waste reduction.
Modern jewelry laser welding machine suppliers are also looking into possibilities for providing orders to the machine through digital channels. Now, you could easily control the quality of the welding process directly through a computer.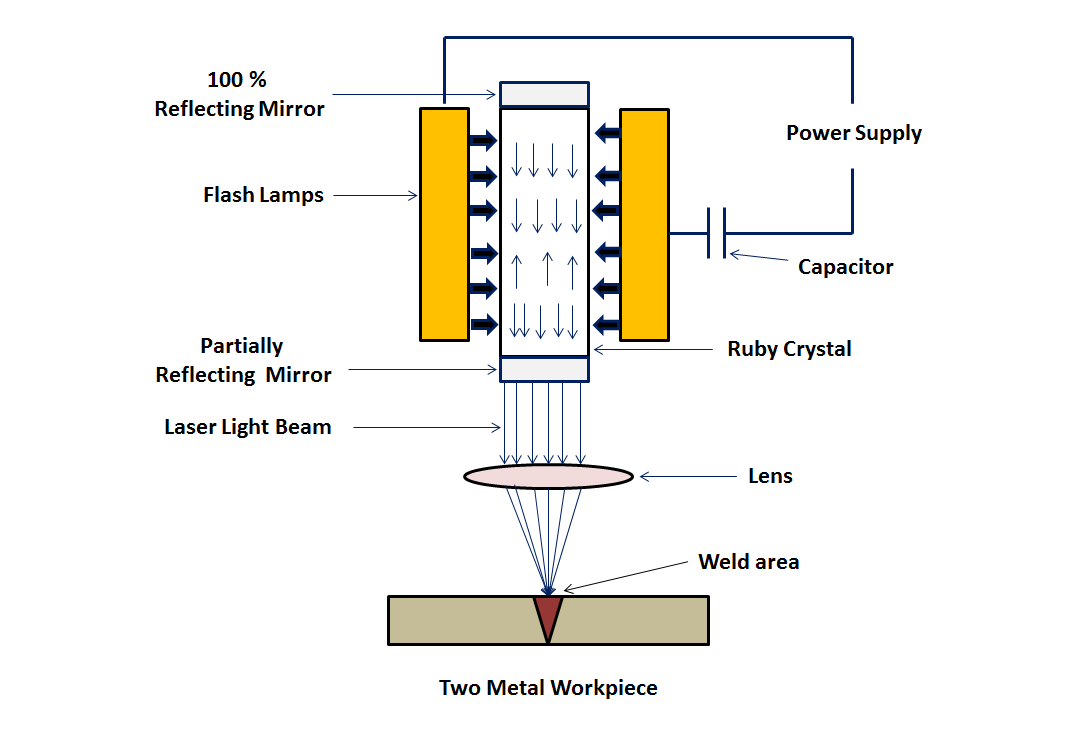 Most important of all, the higher level of automation allowed in digital laser welding processes could help in better detection and resolution of any issues with quality in the jewelry.
A laser spot welding machine is also helpful for achieving improved strength in welds. Laser welding does not require the use of filler material and can ensure a perfect weld quality alongside clean processing. In addition, laser welding also offers flexibility for achieving consistent and repeatable welds. The versatility in laser welding can support the use of the same laser for cutting and drilling, thereby ensuring promising unit cost reductions.
3.2, With Laser Welding, You Don't Need to Spend Extra Time Preparing For Work in Advance
When you are looking at the possibilities of portable laser welding machine price, you might have uncovered many details about their advantages. Laser welding machines help in welding jewelry faster than conventional welding techniques. At the same time, the precision advantages in laser welding capture the attention of many jewelers towards it.
However, the most prominent advantage with a laser welding machine comes as a result of the time factor. Welders don't have to invest additional time in preparing for the jewelry welding work before the process.
Just a few simple precautions are enough to get started with laser jewelry welding. For example, cleaning up the background and the laser welder alongside using the shielding equipment for stones and other sensitive areas in the piece of jewelry is enough to start with laser welding.
In comparison to other methods of jewelry welding, you can begin laser welding by adjusting the settings of the laser weld according to your requirements.
Furthermore, the precision of laser beams allows welders to avoid any concerns of stabilizing the jewelry piece being welded. In addition, laser welding also relieves many other concerns such as color matching or karat comparison before welding.
You don't have to worry about the placement of jewelry pieces in an accurate fashion to obtain the desired product with laser welding. The highly localized beam and heat direction can help you achieve better accuracy, quality, and perfection of laser welds in jewelry.
Chapter 4:
How to Choose a Laser Welding Machine?
4.1, What should be Paid Attention to When Purchasing Jewelry by Welding Machine?
While buying a jewelry laser welder may seem to be an easy task, it can actually be tricky at times. With a wide range of options available, choosing the right one can be confusing and time-consuming. If you want to save your time and energy while enhancing the productivity of your business, considering the vital aspects can help you make the right choice. To make your task simple and easy, here are some of the most significant aspects that you need to take into account when purchasing the jewelry welding machine.
Consider the Size of Production
Different businesses have different scales of production. While some businesses may be involved in large scale production, others have a relatively small scale production. The size of production plays a vital role in deciding the machine you will purchase. In case you have a lot of production, make sure to choose a machine that can handle the tasks efficiently. If you have a small scale production, look for one that suits your need. Irrespective of your production size, Superbmelt is the right place to shop your welding machine.
Consider the Features
It is a common practice that most people look for the essential features when buying a machine. The same goes for laser beam welding machine. Purchasing a machine that has the latest features can provide you with the best returns on investment. Look for features such as pump source, pulse width, wavelength, output power, cooling system, power consumption, and applications. Also, consider choosing between manual and automatic machines as per your budget and requirements.
Consider the Price
Price is one of the most significant aspects that cannot be overlooked. While considering the laser welding machine cost, remember that the machine available at a lower price is not always the best option. The welding machines that come with advanced features and technologies usually cost a bit more. Though it may cost you some extra, it is worth the investment as it can offer you ample benefits in the long run. Deciding on a budget can help you find the right machine for your company.
The Reputation of the Manufacturing Company
With the increasing demand for welding machines, several jewelry laser welding machine suppliers have entered the market. Choosing the right company can be quite challenging in the competitive market setting. However, investing some time in researching about the companies can help in shortlisting them and finally selecting the best one. Make sure to look for the reputation of the company. For this, you can check the client and customer reviews and get valuable insights. Superbmelt has earned a distinguished reputation for delivering the best welding machines to clients.
Durability
Purchasing a welding machine is a big investment. You would definitely want to ensure that the machine lasts for long years. Make sure to consider the durability of the machine and choose one that can easily stand the test of time. Superbmelt offers high-quality products that are manufactured using premium-grade materials to ensure that they keep functioning for long years without getting damaged.
Environment Friendliness
Businesses are currently looking for eco-friendly products and technologies to reduce the adverse impacts on the environment and ensure sustainability. At Superbmelt, we are well aware of this fact and place environmental friendliness as a top priority. Our products are designed to deliver optimum outputs without affecting the environment.
Maintenance Cost
Buying a gold laser welding machine that requires maintenance frequently can add up your expenses and increase the overall cost. If you want to save more, it is important to look for machines that have a lower maintenance cost. The machines at Superbmelt have less maintenance requires and higher durability, thereby allowing you to save more.
4.2, What Kind of Jewelry Laser Welding Machine is Suitable for your Needs?
Every business has its unique requirements. It is important to understand the core needs of your company to select the most appropriate automated laser welding machine. While there a wide variety of options available in the market, a handheld fiber laser welding machine is the best option to go with. Superbmelt can provide you with high-quality handheld welding machines. Take a look at the prominent benefits of choosing the handled laser welding machines over the other available options.
The handheld fiber laser welding machine is built with modern technology and a user-friendly design to provide you with optimum convenience. Being easy to use, it can help in significantly lowering your labor cost. The easy application also enables novice users to easily use it without any difficulty.
Moreover, the small body shape and compact design ensure that it will occupy less space, thereby increasing the functionality of your working area. The machine also comes with a continuous laser mode that helps in enabling smooth welding transition without leaving any fish scales on your precious jewelry. In addition, the handheld laser welding machine requires very little maintenance and allows you to save more.
4.3, What Parts are the Core of Laser Welding and How to Maintain Them?
The laser welding machine is made up of various important parts that are essential for its functioning. Here are some of the most important parts of a laser welding machine that demand proper maintenance. The fiber optic cable serves as a key element that enables the laser to reach the welding area. The fiber comes in various diameters that depend on the laser technology or model you choose.
Focus optic is another significant part of the jewelry laser welding machine. It is responsible for perfect imaging of the fiber's end section. Adjusting and perfecting the spot size for different applications is also possible with the help of focus optics.
Pulse Width and Pulse Power are other vital aspects of the laser machine. The density of peak power helps in regulating the weld penetration, and the peak power is measured in terms of a watt.
Jewelry laser welders developed by SuperbMelt are water-cooled integrated laser welding systems designed to meet the needs of the jewelry industry. These machines are suitable for precision welding of high-quality jewelry made of gold, silver, K gold, platinum, titanium, and other materials. They offer numerous benefits, including precise and secure connections, design flexibility for complex jewelry designs, stronger and more durable joints, seamless connections for a smooth and shining appearance, and easy repair and alteration of jewelry pieces. When it comes to jewelry soldering, it is important to clean the metal materials, choose the appropriate welding tools, master welding techniques, heat the welding material to its melting point, and polish the welded area for a flawless finish. When selecting jewelry laser welders, consider your budget and the type of metal you need to weld. SuperbMelt offers various models such as the 80W Mini Laser Welding Machine, 150W Jewelry Laser Welding Machine, and 200W Laser Welding Machine With Internal Microscope&CCD. Regular maintenance of laser welding machines involves cleaning, inspecting the protective cover, replacing consumables, and performing equipment calibration.