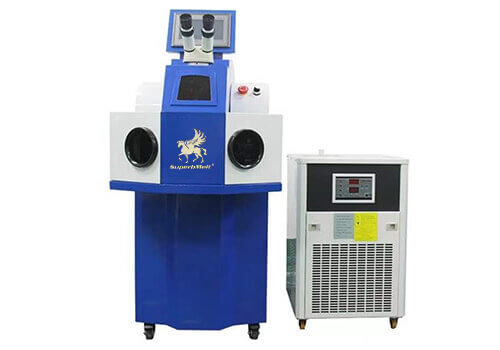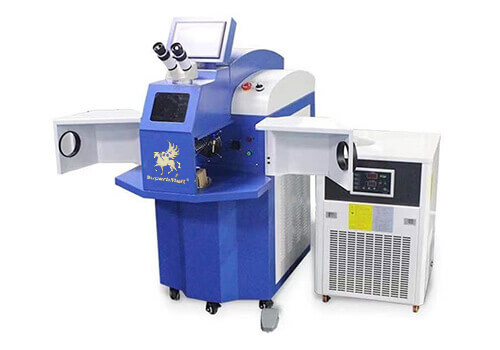 Laser welding is a non-contact process in which light energy is used to weld precious metals to themselves. After welding, it results in a seamless, undetectable work zone that is not discoloured in any way. 
The spot welding process is a thermal conduction, that is, the laser radiation heats the surface of the metal and the surface heat diffuses to the interior through thermal conduction and melts the metal by controlling the width, energy, peak power, etc. Therefore, giving a high level automation and simple welding process.
The desktop laser welding machine is used for repairing damaged or broken jewelry in the jewelry making industry. It is not only used for repairing broken jewelry, it is also used for recreating unique jewelry designs.
Metals that can be welded using the jewelry laser welder are gold, stainless steel, platinum, aluminium, high strength steel, titanium, etc.
At Superbmelt, we are a desktop laser welding machine manufacturer that provides the highest quality of jewelry laser welders of excellent values to our clients. 
Parameters
| | |
| --- | --- |
| Model | SPB-200WB |
| Wavelength | 1064nm |
| Maximum output power | 200W |
| Maximum pulse energy | 80J |
| Pump source | Single lamp |
| Pulse width | 0.1-20ms |
| Pulse frequency | ≤50Hz |
| Aiming and positioning | Microscope + camera system |
| Application | Welding and repairing various precious metal trinkets |
| Host power consumption | ≤7KW |
| Electricity demand | AC220V±5%/50Hz |
| Cooling system | Water cooling |
| Host size | L: 1050mm, W: 620mm, H: 1250mm |
| Chiller size | L: 620mm, W: 480mm, H: 710mm |
| Total weight | 193kg |
Features & Benefits
The jewelry laser welder has the perfect ergonomic design that is suitable for use in the jewelry industry, that includes stability.
Superbmelt's jewelry laser welder is able to weld continuously for 24 hours and maintenance-free within 10,000 hours.
The high definition optical microscope allows users to observe the welding process. The aiming and positioning is through a microscope and camera system.
The laser welding equipment has a water cooling unit that contributes to its effective welding process by reducing heat and maintenance costs. 
The maximum output power is 200W while the host power usage is ≤7KW. The general electricity demand is AC220V±5%/50Hz.
The pulse frequency that controls the depth of welding is ≤50Hz.
The maximum pulse energy of the laser welding machine is about 80J.
The ceramic condenser cavity responsible for corrosion resistance, high temperature resistance and high photoelectric conversion efficiency is imported from the United Kingdom.
Parameters such as energy, pulse, frequency and spot size can easily be adjusted on the LCD screen for a larger range metal to achieve as many effects as possible.  
It is not used only for jewelry repairs, the laser welding machine can also be used for processing dental dentures, sensor welding, battery seal cap welding,etc. 
The laser welder microscope does not irritate the eyes when observing the welding process. 
The welding speed is fast, producing a far better jewelry welding output than two skilled welders put together, therefore providing increase in quality, productivity and profitability when you invest in Superbmelt desktop laser welding machine.  
W

hy SuperbMelt Jewelry Laser Welder

Professional R&D Team:
Over 15 years R&D experience in gold machinery with a top engineer team supported

High Quality:
Only choose famous brand main electric components for production

ISO CE SGS Approved:
Professional certification bodies certify that the machines are of high quality
Any Question About SuperbMelt Jewelry Laser Welder