Superbmelt provides various graphite ingot molds for gold/silver/copper casting
The graphite ingot mold receives liquid metal of precious metals and other types of metals; and conserves them until they are solidified, they are later used as an investment or stored for jewelry use. Graphite ingot molds are made from high density fine grain graphite that comes in various sizes and shapes of square, rectangle and cylindrical. The smooth cavity finish of the graphite gold ingot mold makes the ingot very easy to remove without sticking to the mold itself. The custom ingot gold mold has an excellent thermal conductivity and corrosion resistance. 
The graphite copper ingot mold comes as better for refining than the silicone carbide graphite crucibles. The thermal stability is excellent for fast heat and cooling. The mold has a good corrosion resistance to strong acid and alkali. The good thermal conductivity of the gold ingot mold is that it shortens casting time and makes casting efficient and of high quality.
Parameters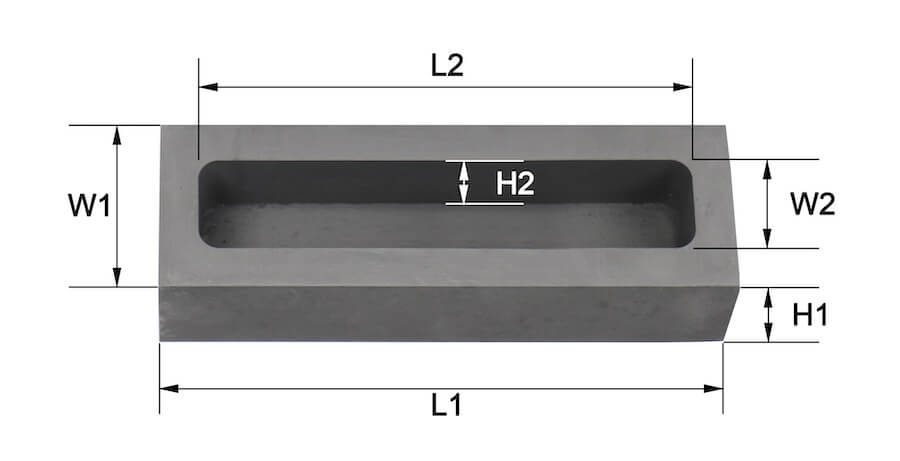 Description

Model

Size

L1

W1

H1

L2

W2
H2
100g graphite ingot mold
G.GI.Y0100
55
40
20
35
20
10
200g graphite ingot mold
G.GI.Y0200
70
45
20
/
/
/
250g graphite ingot mold
G.GI.Y0250
67
50
26
47
25
16
300g graphite ingot mold
G.GI.Y0300
70
57
20
/
/
/
400g graphite ingot mold
G.GI.Y0400
75
67
20
/
/
/
500g graphite ingot mold
G.GI.Y0500
70
67
26
50
47
16
1kg graphite ingot mold
G.GI.Y1000
135
42
32
115
22
22
2kg graphite ingot mold
G.GI.Y2000
160
48
38
140
28
28
3kg graphite ingot mold
G.GI.Y3000
175
52
42
155
32
32
Features & Benefits
Superbmelt custom gold ingot mold for sale is made with a high grade graphite that is self releasing and produces smooth, clean and bright ingots of gold, silver, copper and so on. 
The mold has good thermal stability. According to the using conditions of the graphite ingot mold, both hot and cold temperatures are adequately handled by the mold. 
The graphite ingot mold ability to resist corrosion, strong acid and strong alkali contributes to its long lasting capacity despite the frequent use of the mold.
Superbmelt graphite ingot mold is made up of 99.9% of fine high quality graphite and 0.1% of ash, which implies that there is no loose material on the graphite ingot mold that can impact the ingots with impurities, therefore, your cast metals come out pure.
The custom ingot mold is highly resistant to shock, this prevents the mold from cracking due to its constant use for hot and cold temperatures.
The graphite mold has a high density and high mechanical strength that is able to withstand over 1600 degree celsius of temperature.
The graphite ingot molds come in varieties of shapes as well as sizes, from mini jewelry businesses to large ingot production, there is a wide range of sizes (250 gram and above) that can meet all casting needs.
The graphite ingot mold can also be used as graphite crucible melting into nonferrous metals (using propane torch), test analysis, precious metal ingot mold and other purposes.
There are custom graphite ingot molds that can be used specially for ingot producing companies. This makes their product distinct from others as they have the brand name and the ingots cast are of high quality
Graphite gold ingot molds always have a smooth finish that prevents metals from sticking to the surface of the mold rather, the gold and silver ingots come off easily after casting.
The dense component of our graphite ingot mold for all precious metals makes the mold to be less porous and holds together molten metal when casting. 
Our graphite ingot mold has an excellent thermal shock resistance, which means that there are no cracks or breakage of the mold even though the mold experiences frequent change in temperature.  
Customize Your Graphite Mold
Why SuperbMelt Graphite Ingot Mold
As a professional graphite mold manufacturer, it is our responsibility to provide you with the highest quality graphite mold
High Quality
All graphite is made by processing petroleum forged coke and pitch coke instead of waste graphite
Any Question About SuperbMelt Graphite Ingot Molds
Superbmelt's professional technical team and sales team are at your service
(7/24hours service)