SuperbMelt induction furnace (SPB-HMF) for 50-250kg metal melting
The SuperbMelt Induction Furnace is an electric furnace that melts metal using induction heating. It works by creating a magnetic field that induces eddy currents in the metal, causing it to heat up and melt.
SuperbMelt This type of furnace (50-250kg) is commonly used in the jewelry foundry industry for melting and casting all types of metals, including precious metals such as gold, silver and platinum, and other non-ferrous metals such as copper, brass and aluminium.
SuperbMelt is an induction furnace manufacturer offering a range of models to meet different melting needs from small scale to large scale production.
Parameters
Power Supply Parameter of Induction Metal Melting Furnace
Model
HMF-15
HMF-25
HMF-35
HMF-45
HMF-70
HMF-90
HMF-110
HMF-160
MAX input power
15KW
25KW
35KW
45KW
70KW
90KW
110KW
160KW
MAX input current
23A
36A
51A
68A
105A
135A
168A
240A
Input voltage
Three-phase 340V ~420V 50/60Hz
Oscillation frequency
1K~20KHz
Requirement of cooling water
Hydraulic pressure
≥0.2Mpa
≥0.3Mpa
Flow rate
≥6L/Min
≥20L/Min
Temperature of water
≤45℃
Melting Capacity Parameter of Tilting Metal Melting Furnace
Model
Fe, ss
Cu, Au, Ag
Al, Al-alloy
Model
Fe, ss
Cu, Au, Ag
Al, Al-alloy
HMF-15
3kg
10kg
3kg
HMF-70
25kg
80kg
25kg
HMF-25
5kg
20kg
5kg
HMF-90
40kg
120kg
40kg
HMF-35
10kg
30kg
10kg
HMF-110
50kg
150kg
50kg
HMF-45
18kg
50kg
18kg
HMF-160
100kg
250kg
100kg
Remark: Above melting capacity sheet for general reference; Melting duration: When the crucible is hot,20~30min./workload; When the crucible is cold(first melt),40~50min./ workload.
Benefits
Features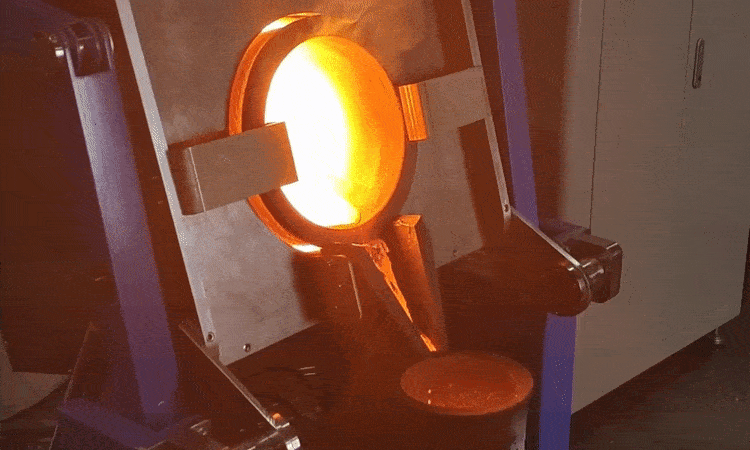 Adopt hydraulic tilting type furnace to realize the pouring of metal liquid, stability and safety.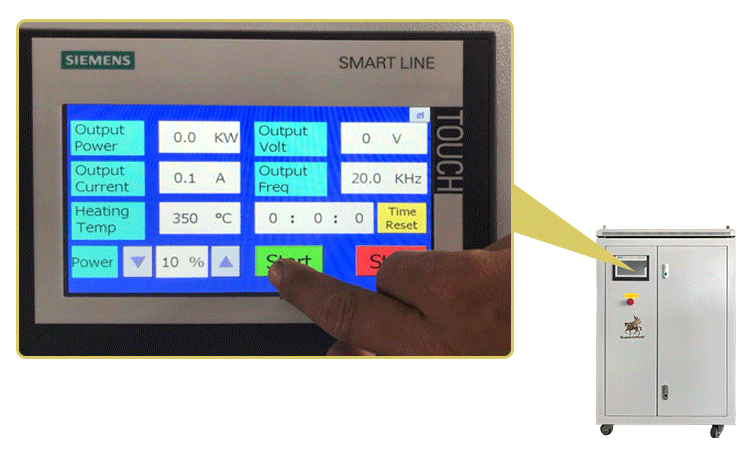 The power supply with SIEMENS's PLC control system is more intelligent for the whole melting process.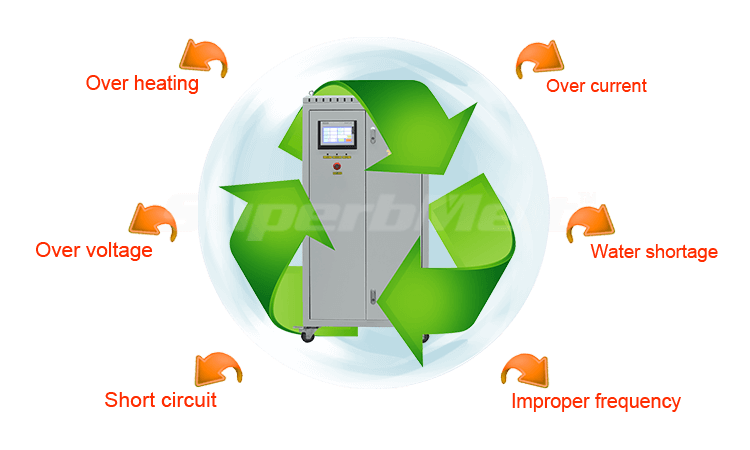 The power supply has an omni-directional protection to ensure the safety of the machine and operator.
what is Induction Melting?
Using an induction furnace with a non-contact heating technique, induction melting is the process of melting metal.
The method relies on the electromagnetic induction principle, in which a coil of copper wires is subjected to an alternating current (AC), which induces a magnetic field.
The metal then experiences eddy currents due to the magnetic field, which causes heat to be produced and causes the metal to melt.
Metals such as iron, steel, copper, brass, and aluminum among others are melted using this method.
It is frequently employed in commercial settings including foundries, steel mills, and metal fabrication plants.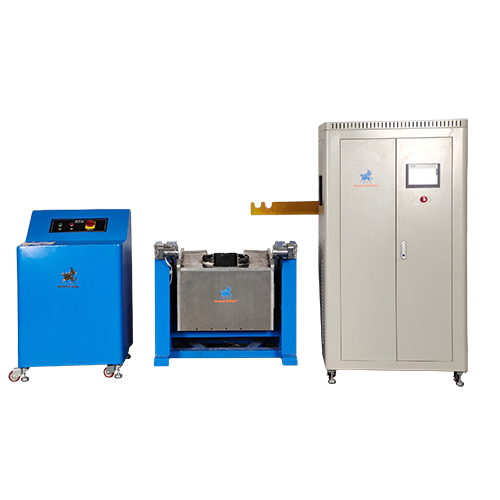 W

hySuperbMelt Induction Furnace

2 Years Warranty:
One year longer than the warranty provided by other factories

High Quality:
Only choose famous brand main electric components for production

ISO CE SGS Approved:
Professional certification bodies certify that the machines are of high quality
H

elpful Resource For Your Reference ( induction melting furnace)
More SuperbMelt Electric Induction Melting Furnaces For Your Choice
Any Question About Electric Induction Melting and Smelting Equipment
This vacuum induction melting furnace looks like a game changer for the foundry industry. SuperbMelt has really outdone themselves with this impressive machine!
I've been in the foundry business for over 20 years, and I have to say, I've never seen a vacuum induction melting furnace quite like this. The technology and design are top-notch, and I can't wait to try it out.
The vacuum induction melting furnace from SuperbMelt is definitely a game-changer for the metalworking industry. The precision and efficiency of this machine are impressive, and I have no doubt that it will be in high demand.
The melting point of precious metals in induction casting furnace
About induction furnace FAQ