The Most Popular SuperbMelt 1-2kg gold and silver smelting kit on the market
Superbmelt gold smelting kit is used for melting up to 2kg of precious metals, base metals and their alloys. The gold smelting equipment by Superbmelt has a melting temperature of 1600 degrees celsius that melts metals within 2 minutes. 
The IGBT induction heating technology makes the melting process highly efficient, cost-saving and energy-saving. Supermelt mini gold smelting equipment is compact in size and easy to use. The gold melting kit can melt continuously for 24 hours. 
Supermelt gold smelting furnace is applicable for use in jewellery making, personalized melting, research, etc. Contact Superbmelt now for the best gold smelting furnace.
If you wanna check gold melting furnaces with bigger capacity, Please click here.
Features & Benefits
Superbmelt gold smelting kit is suitable for melting metals such as gold, silver, copper, brass, bronze and their alloys.
The mini gold smelting equipment by Superbmelt can melt up to 2kg of metals within 2 minutes. This makes it possible to melt up to 30kg of metals in approximately one hour.
The small melting furnace has the latest IGBT induction heating technology that increases the melting efficiency. This results in the high-quality casting of metals.
The IGBT induction technology present in Supermelt gold smelting equipment helps to conserve energy use and reduce power consumption. The maximum power required is about 3.5kw to 3.8kw. 
The induction heating technology also helps to save the cost of melting with the gold smelting kit. The maximum temperature of 1600 degrees celsius can be reached within 2 minutes.
Superbmelt gold smelting equipment for sale has a water cooling unit that prevents overheating of the furnace. This allows you to melt continuously for long hours.
Superbmelt gold smelting furnace uses a graphite crucible or silicon carbide crucible. Both of which prevents precious metal loss.
The gold smelting equipment is environmental-friendly and user-friendly. The gold smelting furnace does not emit smoke or toxic gases. Charging and removal of molten metal are simple and easy.
The metal melting furnace has a PLC control unit that makes it easy to use and control.
Superbmelt gold smelting kit for sale is compact in size, with a dimension of 520*400*330mm and a weight of 21kg. This makes it applicable for use in jewellery making, personalized melting, laboratory research, gold recovery plant, etc. 
When compared to other methods of melting, Superbmelt mini induction melting furnace is fast, clean, efficient, energy-saving and cost-saving. 
The gold smelting furnace is easy to clean and maintain, which provides a long service life. 
Parameters
Crucible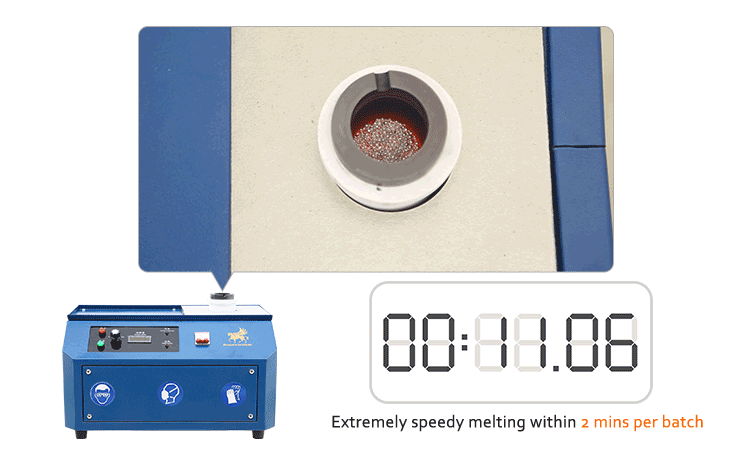 Extremely speedy melting within 2 mins per batch and 24h continuous working greatly improve the efficiency of production.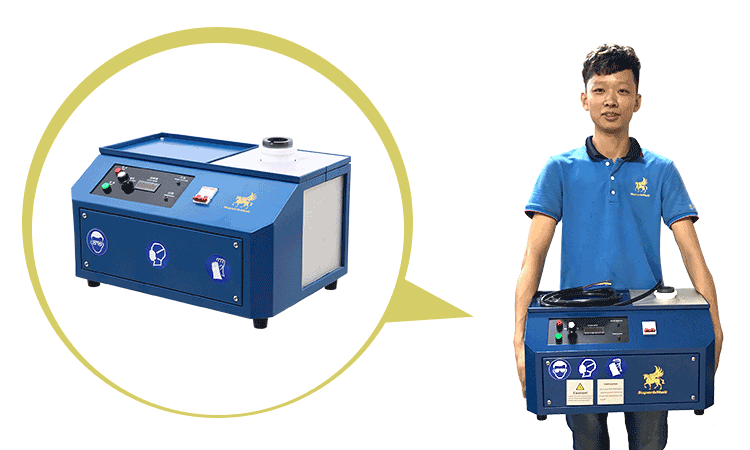 Small 1-2kg gold smelting kit is portable size design, light weight, easy to carry and fix.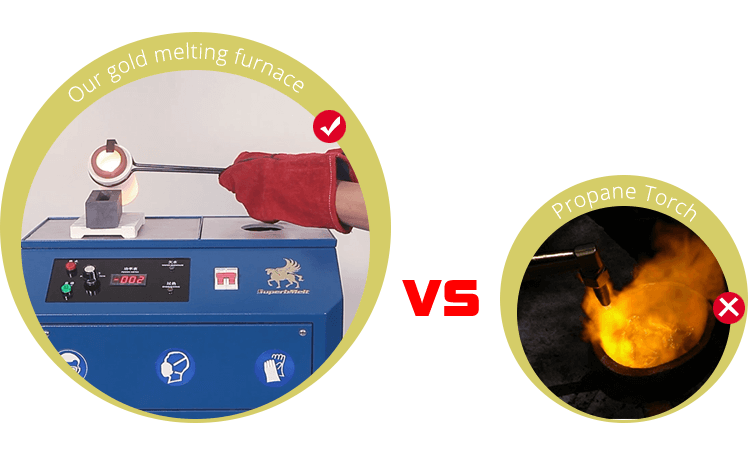 Comparing with traditional melting, SPB-DH reduces the loss of precious metal, safe work, save operation cost.
W

hy SuperbMelt Gold Smelting Kit

Professional R&D Team:
Over 15 years R&D experience in gold machinery with a top engineer team supported

High Quality:
Only choose famous brand main electric components for production

ISO CE SGS Approved:
Professional certification bodies certify that the machines are of high quality
Any Question About SuperbMelt Gold Smelting Kit
FAQ Guide of Gold Smelting Kit
1. How hot can induction heating get?
The maximum temperature the machine can attain is 3000-degree C. Well; it will vary based on the type of induction melting machine you are using. For example, an induction melting furnace with a high-quality graphite crucible can reach around 1600-degree C of maximum temperature. That's why SuperbMelt's gold smelting kit is perfect for smelting gold, silver, and other precious metals. You can even melt platinum using these machines. These machines are designed and developed in such a way that they can attain the maximum temperature within a few minutes.
2. What are the advantages of electric heating over other types of heating?
It has been proved that the electric heating method that an induction gold melting furnace uses is very economical as the machines are very cheap. On the other hand, ash and dust are eliminated in the electric heating system. So, you will enjoy a clean metal melting process. This method doesn't produce any flue gas. As a result, it doesn't affect the environment and will heat up the temperature of the working place. The best part is that when you use an electric gold melting furnace, you don't have to worry about the maximum temperature you can reach. These machines can melt any metal.
3. Can I get 9999 gold from your gold smelting kit?
Well, SuperbMelt's gold smelting kit is not designed to purify gold. The machine is generally used in smelting gold ore to remove impurities so that the users can extract gold. You can also use this to melt gold and create gold bars.  You can melt gold within just 10 to 15 minutes using this powerful induction furnace. But you can purify your gold using a refining system.
4. How does an induction gold smelting kit work?
The induction gold smelting kit comes with the coil heating element that heats the crucible located inside the machines using a high-voltage electrical source. This method directly transfers heat into the metal. So, the melting process is quite faster compared to the other machines.
During the melting process, the machine uses a high-frequency magnetic field to stir the melted metal. This will make sure that the alloys are properly mixed. Such melting machines are widely used in foundries and an effective method to melt metals. The system has an induction power supply that converts electric power into the alternating current and a coil that generates a powerful electromagnetic field. In general, the metal is placed in the coil, and the field applies current directly into the workpiece. If you are looking for the best induction gold smelting machine, you can always trust SuperbMelt. Some of the impressive features of SuperbMelt's induction furnace are:
The machines are quite efficient and consume less power to heat up.
When you have this, you don't need to buy a separate machine to melt different metals. This one machine is enough.
The crucible you will get with the machine can easily resist higher temperatures, and there is a water-cooling system that prevents the machines from overheating.
The advanced IGBT induction technology used in the machines helps the users to attain better control over the operating parameters.
Our induction melting furnaces are available in different sizes. So, you can pick one based on your requirements.
They come with the Omni-direction warning system to prevent possible issues.
Now, almost all the foundries have started using induction melting furnaces considering all these benefits.
5. How to melt different kinds of metals?
Remember that to melt metals; you need to produce a certain level of heat. The melting temperature will vary based on the types of metals you want to melt. However, the most effective way to melt is to apply heat to the metal by placing it into a crucible. Some methods are:
Precious metal melting furnaces
Instead of using an electric arc furnace, cupola, or propane torch, you can use a silver melting furnace to melt different precious metals faster.  The machines are designed to melt 10 to 100 kg of metals for jewelry making, research, and mining purposes.
When it comes to melting silver or other metals, the process will need a large induction furnace crucible. Why? When silver melts, it will boil. Use the required flux during the melting process. Once melted, leave it for around 5 to 10 minutes and then transfer the melted silver into a mold.
Iron and Steel Melting Furnaces
You can also use an induction melting furnace to melt steel and iron. Under this process, the metal is placed into a quality crucible surrounded by a copper-made electromagnet. When current is applied, the coil produces the reversing magnetic field that can self-stir the steel. As steel is a crucial element in a weapon, automobile, construction, and more, melting is important.  Using the induction machine, you can melt iron and steel within a few minutes. Some major features of such furnaces are: less noise, less air pollution, better melting efficiency, low power consumption, ease to use, continuous melting process, and more.  
Copper Melting Furnaces
Using the electric copper melting furnace to melt copper, you can perform the melting process in two different ways.
Double push up melting furnace
This machine is only applicable to melt copper when you need to melt a small quantity. The machines are developed to utilize a single shot principle where you can melt a tiny amount of copper at a single time.
When it comes to melting copper on a large scale, this machine will work great. The copper is placed into the machine and then covered by a ceramic or metal cover to prevent the copper from absorbing oxygen. Such machines can attain a maximum temperature of 1800-degree C quite faster. You can melt 2 to 10 kg of gold within 5 to 10 minutes.
6. How efficient is induction heating?
Multiple studies have provided that small gold melting machine is quite effective than other types of metal melting machines. As per the experts, induction heating is a very efficient method in the industrial heating process. Compared to oven heating and torch heating, the induction melting process offers a lot of advantages.
Induction heating is a highly efficient method of industrial heating. Compared to torch and oven heating, induction offers a number of activities; induction transfers power directly to the part being heated, no ramp up, saves energy, precision, right heating is provided to all parts of the furnace.
There will be no ramp-up issue- When you use an oven heating system, you need to preheat the system. As a result, there will be a wastage of time and energy. Besides, you need to keep them on for hours to prevent ramp-up. However, in the case of an induction machine, you don't need to preheat the machine. So, it does not waste energy.
Safer working environment- Other heating methods produce unnecessary heats that can heat up the working environment. You will suffer from loss. In the case of induction heating, it will facilitate a suitable and safer working environment. It will not heat up space.
A higher level of precision- It can produce a constant level of heat to keep the melting process smooth. Besides, an electric silver melting furnace produces power only when you need it. This will greatly enhance the product quality.
7. What can I use as a crucible?
Well, crucibles need to withstand the melting temperature of different materials. Crucibles that you can use to melt metal will vary based on the metal's melting temperature. You can use a graphite or quartz crucible.  If the melting point of the metal is below 1600-degrees C, you can use a graphite crucible. A quartz crucible will be the best option if the melting point of the metal that you want to melt is more than 1600-degree C.
8. What is the difference between an electric arc furnace and an induction furnace?
In the electric arc furnaces, the electric arc generates the required heat to melt the metal. Here, carbon electrodes are utilized. In general, such furnaces are widely used to melt steel scrap. On the other hand, induction furnaces combine alternating electric currents and induction technology to create heat. These machines are very powerful and safe to use. Besides, using this, you can enjoy a faster melting process.
9. What is the difference between smelting and melting?
Speaking about melting is a process where heat is applied to melt solid metals. Here the substances change their state. On the other hand, smelting is a process where metal is heated at a higher temperate to remove impurities and get pure metal. In simple words, smelting converts the ores to the purest form.
10. Can you melt gold off electronics?
Yes, gold can be melted off electronic, for example, circuit boards of motherboards of laptops or smartphones. The process is very easy. Put the pieces of the gold-plated board into a jar and apply a mixture of hydrogen peroxide and hydrogen oxide. This will remove the gold flakes from the scrap. After that, wash them using methanol. Now, you need to melt the gold using a small gold melting furnace by adding borax. Melt the gold at around 1064-degree C to melt flakes, and you will get the gold.
11. How fast can gold melt?
You will need an induction furnace that can reach up to 2000-degree F to melt gold. Remember that the melting point of the gold is around 1945 degrees Fahrenheit. As you will need a higher intensity of heat, using an induction gold smelting kit will be the best option for you. Using such a machine, you can save time as well as money.
You can go for a resistance furnace or propane torch melting method to melt gold faster, but you may not get the desired result. Besides, you may not estimate the amount of heat. As a result, the outcome will be very poor. However, using SuperbMelt's portable gold smelting equipment, you can easily melt gold faster. In fact, to melt up to 250 kg of gold, you will only need 15 to 20 minutes. Get in touch with us now to explore more about our induction melting furnaces.
12. How many types of induction melting furnaces can Superbmelt provide?
When it comes to buying a good-quality gold smelting kit, you may not find a better option than SuperbMelt. As one of the most trusted gold melting furnace manufacturers and suppliers, we offer different types of machines to meet your different requirements. We offer:
Mini 1- 2 kg melting furnace
SuperbMelt's min 1-2 kg melting furnace is a perfect machine to melt different precious metals, such as gold, silver, platinum, brass, copper, and more. The machine's capacity is up to 2kg and can easily attain 1600-degree C. What's more? It can melt 2kgs of gold within 5 minutes. So, to melt 30 kg, it will take one and half hours.
If you are running a small or private melting business, then this machine will be the best option for you. As the machine is small in size, it doesn't take much space and can offer continuous operation for hours. The power consumption level is 2.5kw to 3.8kw.
The integrated induction melting furnace has a melting capacity of 3 to 5kg. The power requirement is between 15kw to 25kw. It is able to melt both ferrous and nonferrous metals. The melting time is usually 2 to 4 minutes and is able to melt continuously for 24 hours. The portable size makes it easy to transport.
Integrate 3 to 10 kg melting furnace
If you are looking for a compact and affordable induction gold melting machine for sale, then this can be a good option for you. This integrated induction melting furnace can easily melt copper, silver, and gold up to 10 kg within 2 to 5 minutes.  
It can function continuously for 24 hours. You can also separate the crucible from the machine using a throng. The size of the machine is very compact.  One of the best things about the machine is it comes with a water-cooling system that keeps it running for hours without developing any over-heat issue.
1 to 4kg platinum melting furnace
This powerful induction-based gold melting furnace is designed to melt gold, platinum, and other alloys faster by producing more than 2500-degree C of temperature. Our machine can melt 1 to 4kg of gold or other metals in just 5 minutes, offering you a chance to increase your productivity. The machine has a robust electromagnetic stirring system that can easily eliminate the issue of uneven surfaces.
On the other hand, this mini platinum melting furnace comes equipped with a water pump system that can help you in regulating the temperature of the furnace. What's more? It has an Omni-bearing alarm system that can notify the users when there is lower water in the pump or about overheating.  This can be a perfect machine for the scrap metal business.
20 to 30kg manual tilting melting furnace
While producing a maximum temperature of 1800-degree C, this high-quality manual tilting induction melting furnace can easily melt copper, brass, gold, and different nonferrous metal. To melt around 20 to 30 kg of metals, the machine will take around 6 to 8 minutes. Due to its uniquely tilting system, it can be positioned in different ways and can be used as a perfect solid-state technology.
The machine comes equipped with advanced asynchronous generators that help in achieving a faster melting process. Its power consumption capacity is 25kw to 35kw. As it has a modern water-cooling system, it can keep the machine running for hours.  The machine is very reliable and doesn't emit any harmful gases while functioning.
10 to 50kg chain tilting induction metal melting furnace
This can melt different metals. The machines can easily accommodate three furnaces at the same time. It consumes around 15 to 90kw of power. As it has advanced IGBT technology, you will save around 15 to 30 percent of power. Its Omni-direction warning system can alert about over-current, short circuit, over-voltage, over-heating, and more. It can work for 24 hours without developing any issues or pollution. Get it now.
10 to 100kg motor tilting induction furnace
While consuming 15kw to 160wk of power, this machine can produce more than 1800-degree C of temperature. It can easily melt 10 to 100 kg of steel, stainless steel, aluminum, zinc, gold, silver, brass, and more. Just like other models, it has IGBT technology. The crucible attached to it is removable so that you can clean the machine comfortably. Our motor tilting induction melting machine is perfect for almost all types of melting purposes.  You can use it continuously without worrying about over-heating issues.
50 to 250kg hydraulic tilting induction furnace
This is a perfect furnace for gold melting and can be used to melt other metals like iron, silver, gold ores, and more. As the name suggests, it is perfect for the large-scale metal melting process and can melt non-precious as well as precious metals. The tilting system makes it comfortable to remove melted metals. You can control the tilting system using the remote trolly panel.  Using this, you can melt up to 250 kg of metals within just 10 to 20 minutes.
Vacuum induction melting machine
This machine is suitable to melt alloys and metal that have a close affinity with nitrogen as well as oxygen. The metal melting capacity of this machine is around 1 to 3 kg, and it consumes 15kw power.
13. How do you smelt gold with borax?
To effectively smelt gold using borax, you need to create a mixture of sodium carbonate and disodium tetraborate. Well, this mixture is called a flux. You need to apply the flux on the gold before heating the crucible, and that would make the impure elements rise to the top. The pure gold will remain unaffected. Borax is quite cheaper than other fluxes and is used widely in mining operations.
14. How do you melt gold jewelry?
To melt your gold jewelry, you need to buy all the appropriate tools or equipment, for example, gold smelting equipment, the crucible, flux, protective gear, and more. The melting point of gold is 1064-degree C. So, you need to buy a machine that can reach more than 1064-degree C.
During the melting process, flux is added to the gold. It combines sodium carbonate and borax. It helps in purifying the gold. Well, based on your requirements, you can use different types of flux.  Per ounce of jewelry scrap, you can use two pinches of flux. It will combine the pure gold particles by removing the impure elements.
If you are looking for a suitable machine to melt gold jewelry, then SuperbMelt has the best solution for you. Our mini gold melting machine that functions based on the induction heating method can get the job done faster.
15. How do you get impurities out of gold?
After the extraction process, the gold needs to be properly purified. For this, you can use the following methods.
Miller process- This method can remove around 99.95 percent of impurities from the gold. Under this process, chlorine has is applied to the melted gold to turn solid, and it removes the impurities from the top layer. As a result, you will get 98 percent pure gold.
Wohlwill process- Here, 24karate small gold sheets are used as the cathode and a 95 percent pure gold bar as an anode. Under this electromagnetic process, the current is moved through the machine that utilizes chloroauric acid. The pure gold is collected on the cathode.
Cupellation- Under this process, the gold ores are treated at a high temperature to separate the metal. At that temperature, the base metals, for example, lead, zinc, copper, and more, will oxidize, and the noble metals will remain unaffected.
Another method is using flux. You can melt the gold and flux together using an induction furnace to remove the impurities.
16. What flux do you use to smelt gold?
You can use different types of flux like silica, borax, hydrochloride acid, sodium nitrate, zinc chloride, ammonium chloride, and more during the gold smelting process. Using flux, you can enjoy some benefits like a pure impurity separation process, lower energy cost, better profit margin, removal of harmful mercury, and more.