Continuous Casting Machine
Billet Continuous Casting Machine
The billet continuous casting machine can be designed as curved and vertical-bend according to the users requirements. It can cast carbon steel, alloy steel and special steel, such as stainless steel. Automatic hydraulic control, automatic secondary cooling water distribution, compressed air-water cooling system. Technical support, design, feasibility report, manufacturing, erection and commissioning, cooperate with special institution, and our own engineer team, we do not only export the machinery, but also run the factory.
CCM radius: from R2m to R12m
Rounds diameter: 80-320sq.mm
Strand No.: from 1 to 8
Billet length: 3-12m
Billet continuous casting machine layout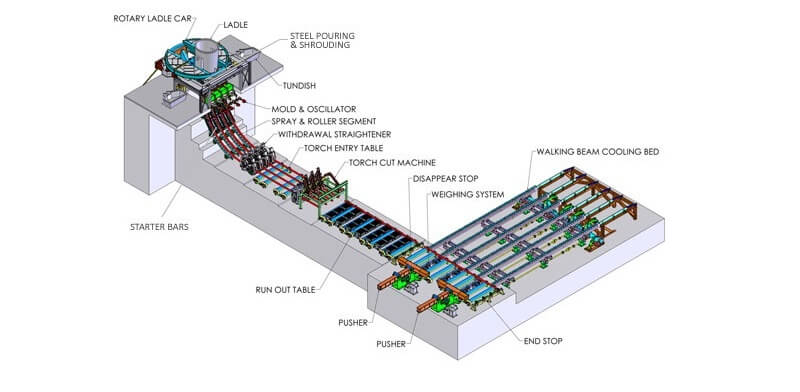 1. Equipment foundation and civil works
2. Steel structure platform
3. Casting radius
4. Strand number
5. Ladle support: There is three types ladle supports, including turret, ladle transfer car and fixed support.
6. Tundish
7. Tundish car
8. Mould
9. Oscillation device
10. Secondary cooling system
11. Dummy bar
12. Dummy bar storage device
13. Withdrawal straightening machine
14. Approach roller table
15. Automatic cutting machine: flame cutting machine or hydraulic shearing
16. Transmit roller table
17. Cooling bed
18. Pusher
19. Hydraulic system
20. Computer and PLC system
21. Tundish roaster

First Floor
Hydraulic Shearing

Tundish Car
Step-by-step Cooling Bed

Ladle Turret
Temperature Measurement and Operation Platform

Dummy Bar Storage
Secondary Cooling System
Billet continuous casting machine features
1. Strip plate mould of the entirety copper-tube mode which is simple and low cost.
2. High-frequency and small-swing plate spring vibration, the depth of vibration mark is under 0.2mm.
3. The simplified billet guiding device is low cost and easy maintenance.
4. Five-roller and four-drive straightening machine is of the large straightening.
5. Auxiliary straightening machine can re-straighten the billet in emergency.
6. Stainless steel cutting machine can cut-to-length accurately.
7. The coping rate in the surface is less than 5%.

One-strand CCM
Two-strands CCM

Three-strands CCM
Four-strands CCM

Six-strands CCM
Eight-strands CCM