The most popular SuperbMelt XRF gold testing machine on the market
Superbmelt XRF gold tester is used for the analysis and detection of precious metals, such as the purity test of gold, silver, copper, platinum, palladium, iridium and other elements. Usually gold is the most commonly measured metal, so it has quite a wide range of applications in jewelry, precious metal recycling and pawn industry.
Superbmelt XRF gold tester performs a non-destructive and accurate analysis of precious metals in order to determine their authenticity. The process is testing takes between 5 to 60 seconds.
SuperbMelt XRF testing machine adopts xrf spectrum technology, and the accuracy can reach 0.05%-0.1%. The analytical results can be read quickly without touching or damaging the raw metal. In addition to realizing the measurement of metal solid state, it can also realize the detection and analysis of powder and liquid samples, which is more convenient to use.
Parameters
| | |
| --- | --- |
| Model | SPB-XR 2800 |
| Accuracy | 0.05% ~ 0.1% |
| Sample Form | Solid, powder, liquid |
| Tube Voltage | 5KV ~ 50KV |
| Detector | Proportional counter tube |
| Software | Keyray qualitative and quantitative analysis software |
| Analysis Time | 5-60 second |
| Camera | HD camera |
| Detection Elements Range | Au, Ag, Pt, Pd, Cu, Ir. |
| Sample Chamber Size | 310 * 270 * 90 (mm) |
| Dimensions | 51*40*42 cm |
| Weight | 36Kg |
Advantages&Benefits
Application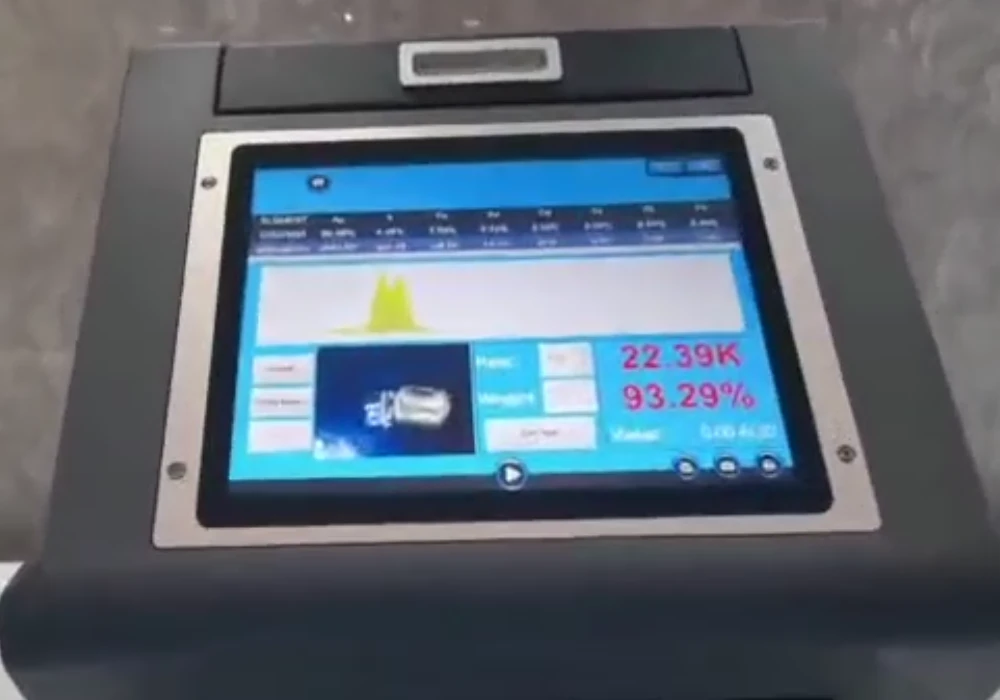 High Precision
XRF gold tester measurement results are accurate, the accuracy can reach 0.05-0.1%.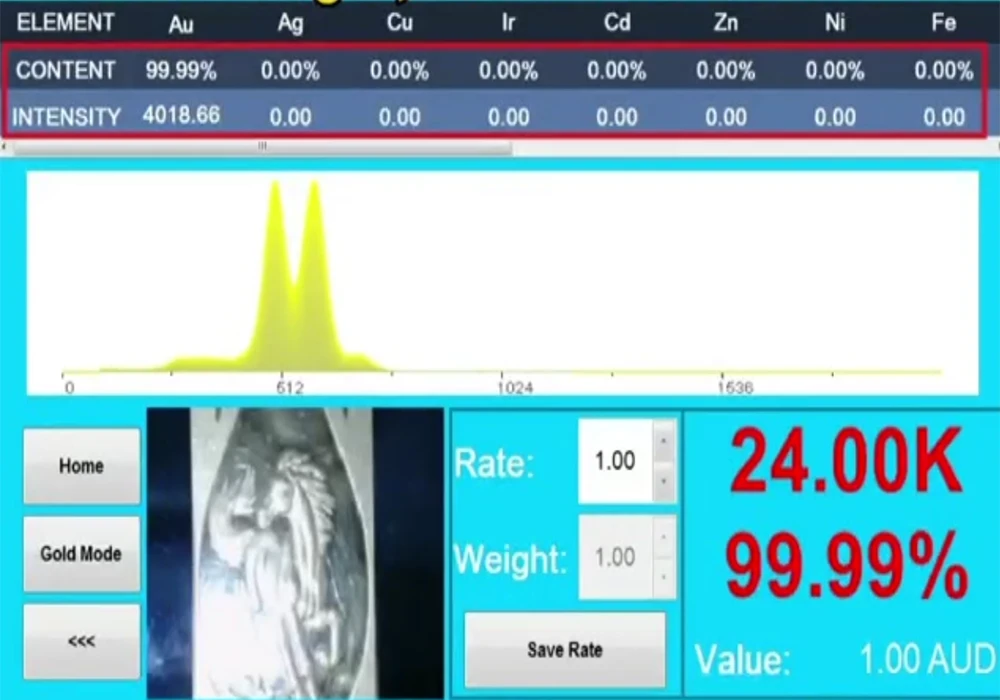 Fast Measurement
According to the analysis requirements of gold samples, the XRF testing machine can realize the rapid measurement of 5-60 seconds.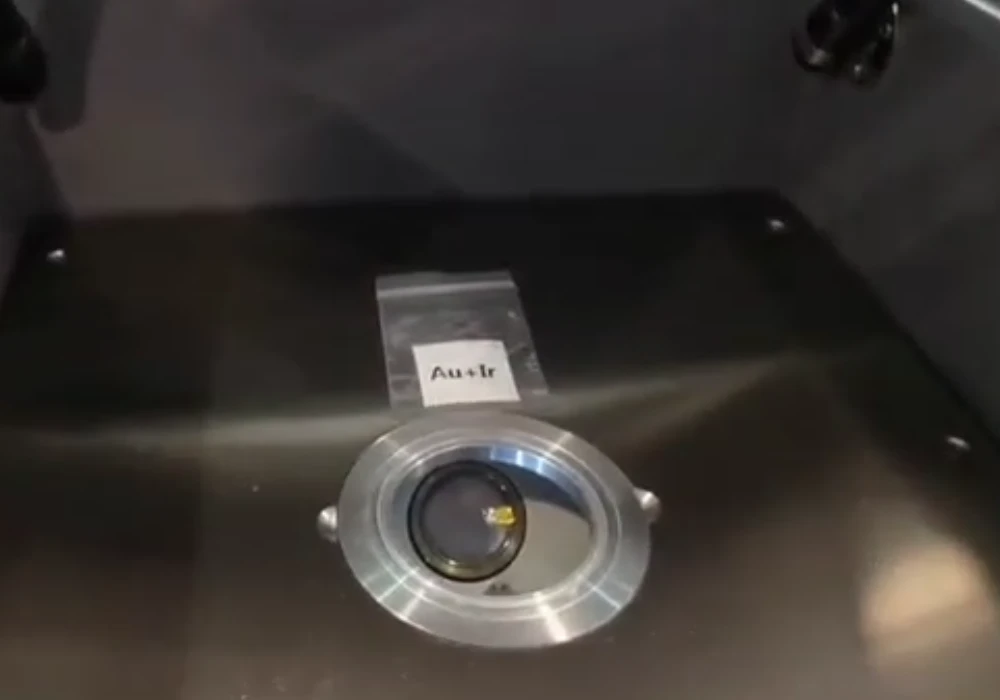 Contactless & Lossless
The spectroscopic test method can avoid contact with the metal sample, and the analysis result can be easily obtained without damaging the gold samples.
W

hy SuperbMelt XRF Gold Tester

Professional R&D Team:
Over 15 years R&D experience in gold machinery with a top engineer team supported

High Quality:
Only choose famous brand main electric components for production

ISO CE SGS Approved:
Professional certification bodies certify that the machines are of high quality
Any Question About SuperbMelt Gold Tester
FAQ Guide of XRF Gold Tester
1. Can simple methods identify the types of impure gold?
Precious metals are really valuable things, and to get them, people are ready to spend a lot of money. However, some jewelers are now taking advantage of it. They are making jewelry pieces by combining different materials to fake gold, palladium, platinum, or silver.
Gold counterfeit or plated items are some of the major challenges that most pawnshop owners, jewelers, and gold traders are facing. It is not always possible to identify fake gold using a simple method. Well, tungsten-made jewelry is a little brighter than gold jewelry pieces, but when you test that using any simple methods, you may find it challenging to say if it is pure gold or not.
On the other hand, copper is widely used in fake gold. Besides, some jewelers also used zinc, platinum, and palladium to fake gold. Jewelry pieces made of copper, as well as tungsten, can be very confusing for people. So, to avoid fake gold, it is advisable to use the best XRF gold testing machine. It can easily detect the metals or elements used to create the product. For more details, you can always get in touch with SuperbMelt.
2. What are the XRF gold testers on the market?
XRF has emerged as an effective metal purity detection technique that offers quantitative as well as qualitative data on the element's composition of a sample. Well, when it comes to buying an XRF gold tester gun, you will get multiple options. However, you can choose the right one based on your requirements and budget. These options are:
Desktop XRF gold testing machine
This is also called the benchtop XRF gold tester and is widely used for simple element qualification and identification. These machines are designed to provide the users with more sophisticated metal analyses. Made of advanced technology, they can offer a better resolution, higher sensitivity, and wide metal range as they can use powerful x-ray sources.
The machines provide a better level of efficiency to the companies as the operator can set the samples and check the result later. Other major benefits of using the desktop XRF machine by SuperbMelt include effected mapping function, multiple collimators, and a greater level of versatility. The machine comes with the latest software, is easy to use, fast, and has power efficiency.
If you are looking for something portable and fast, then buying SuperbMelt's handheld XRF gold tester will be a perfect option for you. Without sending samples to the labs, you can now conduct the material test in the field, enjoy a fast on-site metal analysis. The device comes with a powerful battery that can last for hours.
For example, SuperbMelt's XRF gun can run up to 12 hours. The machine doesn't require that the metal sample should fit into the testing chamber. So, this machine is ideal for testing large sample pieces. So, you can use this for analysis in aerospace, jewelry making, scrap recycling, and more.
No matter what types of samples you want to test, minerals, powder, plastic, liquid, or rocks, it can be your perfect companion. Don't think much. Check the gold tester gun price at our official site and place your order now.
3. How does the SuperbMelt XRF gold tester work?
In general, the XRF gold tester by SuperbMelt is designed to offer a non-destructive method to determine the materials' elemental composition. The device functions by measuring the secondary x-rays or fluorescent x-rays produced by the samples when triggered by the primary x-rays from the XRF gun.
First, the XRF device produces x-rays when you press the trigger. After that, the energy makes the electrons located in the inner shell to be ejected. Now, the electrons from the outer shell will fill the vacancies created by the removed electrons. During this process, they produce strong fluorescent x-rays. After that, the detector located in the machine studies the x-rays. The x-rays transmit the electronic pulses to the preamp.
Then the preamp amplifies those signals, and it moves to the DSP- Digital Signal Processor. It digitizes the process and then sends the data to the CPU. The CPU, after receiving the spectral data, would produce a detailed analysis of composition. In the end, you will see the result on the PC panel.
4. How do you really know that gold is real?
Testing the purity level of the gold is very important if you are running a jewelry shop. When it comes to developing a good image in the market, you need to offer the best products to the customers. But for that, you need to make sure that you have the best quality gold. So, how to check if the gold that you have is real or fake? Well, here are some simple methods that you can try.
You all know that the gold, which is 100 percent pure, is non-magnetic. But other metals have magnetic properties. That means using a strong magnet; you can verify if the gold is real or fake. Under this method, you need to place the magnet near the gold and see if gold gets attracted towards the magnet.
In general, when you put a magnet near the fake gold, it will attract it. Magnets are available everywhere, so carrying out a magnet test will not be a difficult task for you. But remember that you should trust this method 100 percent as some have found a way to use non-magnetic metals to fake the real gold.
To know if the gold is fake or real, you check the product's hallmark certification. If the gold jewelry pieces don't have a hallmark, then you can consider them as fake. A hallmark on the jewelry demonstrates that the jewelry piece is of the standards. However, some jewelry manufacturers use fake hallmarks to convince the customers that the gold product is real. So, this method of checking the gold is not 100 percent reliable.
Well, this can be the easiest way to check if the gold is real or not. If you have some jewelry pieces made of fake gold, then they will shine more than real gold. So, if the piece is shining more, then be careful while buying as it can be a fake product. A close inspection can help you in this.
As per the experts, pure gold has a continuous characteristic.  So, no matter what is the skill level of the jewelers, they only use fake gold color on the surface. That means, by cutting or drilling the fold on different sections, you can verify the gold's originality. If you detect any irregularities, consider the gold as fake. Observing different colors or layers after cutting your gold into different pieces is a sign of fake gold.
For naked eye testing, you need to take the help of an experienced person who can check the originality of the jewelry. During the process, they will use a magnification glass. However, the experts have suggested that one should not consider this method as a reliable one. With time, the quality of the fake gold has improved surprisingly, and you can't even detect that with a naked eye.
Gold is a thick and hard metal. That means, sometimes, you can test the gold by checking its heaviness and density. To conduct the test, place the gold into a glass of water. If it is pure gold, your gold will sink.  However, it is suggested to buy gold jewelry pieces only from a reliable and licensed jeweler.
In some cases, this can be a very effective method. In general, genuine gold will never react when you apply nitric acid to it. However, if it is a fake gold product and carries other alloys, then those alloys will react with other metals, such as copper, sterling silver, zinc, and more. But while conducting the test, you need to be very careful as you are using acids. You should wear a mask and gloves. To test, first, you need to scratch on the surface and then apply a few drops of acid. If you see green color on the surface, then you have fake gold. Even though the testing method is effective, it can damage the gold, and your gold jewelry pieces can get stained due to this.
Now you might be thinking that is there any other way to test the gold for purity? Is there any non-destructive way? Well, the answer is yes, and for this, you can always use the XRF gold tester manufactured and offered by SuperbMelt. This machine, equipped with advanced XRF technology, can easily detect the purity level of different metals and elements within a few seconds.
5. What are the applications of the SuperbMelt XRF gold tester?
We would like to tell you that we have incorporated different technologies and innovative ideas into our XRF gold testing machine's software and hardware. As a result, our machine can match different unique requirements of the customers. However, some of the major applications of our XRF gold tester are:
To analyze metal purity percentage
XRF is a perfect method to test different materials. Our machine uses x-ray fluorescence to offer accurate, efficient, and fast elemental analysis. By studying the energy of the radiation produced by the metal, you are testing can help you know the purity percentage of the metal.  
To test the purity value of copper, palladium, silver, platinum, and more.
Our machine uses an effective non-invasive analytical method that can easily detect different types of elements present in the sample. The produced secondary x-rays are utilized to evaluate the chemical makeup of the sample. It is designed and developed to test the purity of different metals, such as palladium, silver, platinum, zinc, and more. It can test more than 50 elements.  
The thickness of the metal coating
SuperbMelt's XRF tester is quite efficient in spotting metal coating analysis. The machine uses x-ray fluorescence to evaluate to test the thickness and metal coating's composition. When the atoms are excited by the x-ray source, the machine evaluates the signal strength to test the coating's thickness. Besides, it can also test the substrate's thickness. Our machine can easily measure multilayer coatings and metallic coatings, for example, copper, nickel, zinc, and more. So, what are you waiting for? Check out the XRF gold testing machine price and choose the best machine based on your requirements.
6. How to choose the right XRF gold tester?
If you are looking for an XRF gold tester to analyze different metals, then you may find it challenging to get the best one. However, by considering different factors, you can make it possible. Let's discuss about those factors in detail.
Understand the materials you want to test
First, you need to know what allow groups or grades you want to test. You need to make sure that the machine support settings to test multiple metals or elements.
Well, you can choose between SDD or PIN.  However, for a faster and accurate result, you should always go for an XRF analyzer with an SDD detector. In fact, SDD can easily detect almost all the alloys within a few seconds, but a PIN detector type will take around 10 to 15 seconds.
You need to check the elemental range, sensitivity, and throughput of the SDD. Remember that the large is SDD can offer you better analytical sensitivity.
When it comes to choosing the anode material for the XRF tester, you will get three options, i.e., silver, tungsten, and rhodium. You can consult our experts for more details.
These are some of the major factors that you can consider while buying an XRF gold tester. However, if you are still facing any confusion, then feel free to contact us for help.
7. Can XRF detect aluminum?
Our XRF gold tester can measure more than 90 percent of the elements, from light metals to heavier metals. It can also test the elements that are widely used as commercial alloys. So, it can easily detect aluminum as well as other metals, such as superalloys, titanium alloys, copper alloys, and more.
8. Can XRF gold tester detect gold?
Yes, the XRF gold tester can test the gold. Well, you can use this machine in two different ways, for example, by melting down the fold and then using the machine to test the purity level. Another method is by drilling different parts of the gold jewelry. This will increase the effectiveness of testing. Check out the XRF gold testing machine for sale section at SuperbMelt and get your favorite machine now.
9. What are the purity ranges of platinum jewelry?
Speaking about platinum, it is the purest metal in the list of precious metals available on the earth. This is generally used in the fabrication process of premium jewelry pieces. Its purity level is marked in thousands, and on the Mohs hardness scale, it has a 4 to 4.5 hardness level. Pure platinum is 1000 pure. In some cases, the purity level can be 585/1000, 900/1000, and more.
10. What are the purity ranges of palladium jewelry?
Palladium is a precious and pure metal, and it is part of the platinum metals group. So, they share the same qualities.  In different cases, palladium is used as an alloy of 950 purity. It is generally combined with gold to produce white gold. In the United States of America, there are no such hallmarking laws regarding this metal. But in some cases, the metal may come with a Pd or pall mark.
11. What are the characteristics of X-ray fluorescence spectroscopy?
Are you looking for the best XRF gold tester that can offer you 100 percent accurate results? Well, you can always trust SuperbMelt. We produce a machine that comes with some impressive characteristics, such as accurate analysis of metals, precise testing, faster analysis, and more. Besides, it uses a non-destructive way to test different metals, such as liquid, solid, and powder materials.
12. What is the working principle of the XRF gold tester?
Earlier, the XRF technology was only used in the geological survey. However, with time and technological advancement, the applications of XRF expanded, and it can now cover the analysis of liquid as well as powder samples. Speaking about the working principle of the XRF tester, a primary X-ray hits an inner shell electron of the atom.
The x-ray is produced by the device. It triggers the atoms located in the sample to eject an electron. After that, the open position is filled by the electrons, and while doing this, they emit powerful x-rays. The X-rays create the signals in the detector. After that, those signals are studied by the multi-channel analyzer.
The entire process only takes a few seconds, offering you faster and accurate results. If you are looking for the best spectrometer for gold testing, then SuperbMelt has some great options for you.
13. Does the use of the instrument require any special maintenance?
Well, while using our handheld XRF machine to test metals, you don't need to worry about any special maintenance. However, after the task, you need to store the machine properly. Well, every machine will come with a storage case, and you can keep the machine in that while not using it. SuperbMelt brings you an XRF gold testing machine for sale offer so that you can get one under your budget.
14. What is the precision and accuracy of your instrument?
We have designed this machine and used advanced technologies to make it a device that can offer 100 percent accurate results. However, we would like to tell you that the machine's accuracy level will also depend on the types of materials you want to test. For example, heavier elements will be a little more accurate than lighter elements.  
Besides, the deviation is between 10 ppm to 30 ppm. If you want to increase the accuracy level of the machine, you can do that by adjusting the response time of the machine for different metals. So, when it comes to getting accurate results, you can always go for our XRF gold tester. Get in touch with us now for a free quote.
15. What is the time setting for analysis?
As per the experts, if you choose more time for analysis, you can get accurate results. In general, for a better analysis, the time set can be around 60 seconds.
16. What is the solution if the results are not satisfactory?
The machine uses XRF technology, and the test error can be less than ±0.3%. However, if you think the results are not up to the mark, then you can check the Au's peak. Besides, you should also check the sample's placement. The distance between the sample and your XRF testers should be correct. Another thing that you can do is checking the jewelry samples. Our machines can analyze well-sampled things. If it is uneven, then polish the surface of the sample and test it again.
17. Is XRF gold tester safe?
Yes, different studies have proved that an XRF gold tester is safe to use and offers accurate results. The devices are designed in such a way that they will not let you expose your body parts to radiation. However, prefer to follow the instructions mentioned in the box.
Yes, our XRF analysis can detect gold as well as other metals, for example, chromium, niobium, manganese, and more. To know the XRF gold tester price, you can get in touch with us through our official website.
19. How does an XRF gold testing machine work?
As discussed above, the machine's detector analyzes the secondary x-ray emitted by the sample and evaluates the energy level to detect the elements. The process is very fast, and within 1 seconds, you can get the result.
20. Will your X-Ray analyzer harm body health?
No, our x-ray gold analyzer is very safe to use. Instead of using any chemicals or gases, it uses x-rays under a controlled environment. The method is non-destructive. It's time to explore the XRF gold tester for sale and get this machine under your budget.
21. How do you use XRF gold testing equipment?
The machine is super easy to use. All you need is to point the XRF analyzer towards the metal you want to analyze and then press the trigger. After a few seconds, the machine will display the result. So, forget about the traditional methods of metal analysis and go for this machine now.  The XRF gold testing machine for sale is a perfect way to get an XRF gold tester at the best prices.
Guide of SuperbMelt XRF Gold Tester
Chapter 1:
How to Choose XRF gold Tester?
Accuracy
Look for an XRF gold tester that has a high level of accuracy in measuring gold content. The device should be able to measure the concentration of gold in the sample with precision.
SuperbMelt XRF gold tester can meet the accuracy of 0.05-0.1%, and is suitable for different products and industry needs.
Easy of Use
Choose a device that is user-friendly and easy to operate. A simple interface and intuitive controls can save time and make testing more efficient. Our desktop gold tester is an integrated design, equipped with a touch screen, which is more convenient to operate.
Speed
The XRF gold tester should be able to provide fast results, which is especially important if you need to test a large number of samples. We can meet the rapid measurement of 5-60 seconds, and for simple verification requirements, it can be completed in a short time.
Durability
Select a equipment that is built to last and can withstand regular use in a laboratory or field setting. Look for a model that is made of high-quality materials and has a sturdy design.
Price
The determinants of equipment price are the brand of accessories, the number of measuring elements, and accuracy requirements.
SuperbMelt gold measuring equipment adopts imported accessories and has a variety of measurement elements and precision options.
Consider the cost of the device, including any ongoing maintenance or calibration expenses. While more expensive models may offer greater accuracy and durability. We will give you the most suitable recommendation according to your application needs.
Application 
Before choosing a gold detector, you should clarify your industry application. If it is a jewelry pawn and needs to be used for verification, basic gold tester is enough. If it needs to be used for gold refining, raw material detection, etc., higher precision functions are required to adapt.
For applications requiring the detection of other precious metals in addition to gold, a multi-element unit should be purchased. If you use it indoors for a long time, you need a desktop one. If you need to use it outdoors frequently, then the portable model will be more convenient.
After-sales Service 
When purchasing a testing equipment, it is also necessary to consider whether the after-sales service is perfect.
SuperbMelt has a professional after-sales service system. We will have specialists to provide timely answers to product use training and usage questions. You can refer to our after-sales service page.
Chapter 2:
Superbmelt XR2800 Suitable for Which Metal ?
Many industries need to accurately measure the purity and content of precious metals when they are used. For example, aviation manufacturing, electronics industry, etc., all need to use xrf gold tester as early detection tools.
In addition, gold and silver rings, necklaces, bracelets, etc. in some jewelry stores, bank investment products, such as gold bars, gold coins, etc. also need it to evaluate and confirm the value.
SuperbMelt xrf gold analyzer suitable for gold, silver, copper, platinum, palladium, and iridium, the following are their applications in various industries:
Gold&Silver:
Jewelry: The most common and popular jewelry on the market is gold and silver with luster and durability
Investment: Gold is often bought by people as a store of value or investment product, usually in the form of gold coins and gold bars.
Electronics: The electronic devices we use, such as mobile phones and computers, are inseparable from gold and silver, which are used as electrical conductors.
Copper:
Electrical wiring: Copper is an important conductive metal in electrical equipment, so it is most commonly used in circuits and electrical wiring.
Pipeline: Copper has high corrosion resistance, so the transmission pipeline will also use it as a material.
Platinum&Palladium:
Jewelry: Platinum and palladium are among the rarer precious metals because of their luster and are often used in high-end jewelry designs.
Automotive industry: Platinum is used in catalytic converters to reduce vehicle emissions. Palladium is often used as a substitute for platinum due to its lower cost.
Electronics: Palladium is used in multilayer ceramic capacitors, which are used in electronic devices such as smartphones and computers.
Iridium:
Aviation industry: Iridium is used in spark plugs for aircraft engines due to its high melting point and resistance to wear and tear.
Electronics: Iridium is also used in electrical contacts and switches, as well as in thin-film resistors and temperature sensors.
Medical industry: Iridium is used in brachytherapy, a form of radiation therapy used to treat cancer.
Chapter 3:
What are The Advantages of SuperbMelt XRF Technology?
X-ray fluorescence (XRF) technology is a widely used analytical technique for the elemental analysis of materials. Some of the key advantages of XRF technology include:
Non-destructive
XRF analysis is a non-destructive technique, which means that the sample being analyzed is not destroyed or altered during the analysis. This is particularly important for the analysis of valuable or rare materials.
Rapid Analysis
XRF technology can analyze samples rapidly, often in a matter of seconds. This makes it a highly efficient technique for quality control, process control, and environmental monitoring applications.
High Sensitivity
XRF testing machine are highly sensitive and can detect even trace amounts of elements in samples. This is important for detecting impurities and contaminants in materials.
Portable
XRF analyzers are available in portable versions, which can be used in the field for on-site analysis. This is particularly useful in mining and exploration, environmental monitoring, and recycling applications.
Wide Range of Applications
XRF technology can be used for the analysis of a wide range of materials, including metals, minerals, plastics, ceramics, and glass.
Low Cost
XRF analysis are generally less expensive than other analytical techniques, such as inductively coupled plasma (ICP) analysis. This makes them a cost-effective option for many applications.