As a top coin minting die manufacturer, Superbmelt provides one stop solution for minting die customization
A minting die is a stamping tool used for stamping logo, texts, shapes, etc, on gold, silver, copper, zinc, brass and other types of metal coins in a coin minting line. A minting die is an extremely hardened metal stamping tool that is able to withstand the high pressures that are needed to stamp plain coins. 
A mint's coin press takes both the attached front and back dies, waits for a mint coin to cycle through, and then strikes and pounds the blank coin or planchet under enormous pressure. 
Superbmelt minting dies are made out of hardened steel and they are capable of producing hundreds of thousands of coins before they are retired and defaced. Two minting dies are needed to strike metal coins, one on the obverse (front), and the other on the reverse (back).  At Superbmelt, we produce minting dies as well as their samples on coins for our clients. This simply makes the operations in the coin minting line to be efficient.
Why SuperbMelt Minting Die
As a professional coin minting solution supplier, it is our responsibility to provide you with the highest quality coin minting die
High Quality
All coin die are processed by high-precision equipment and have a long lifespan
Any Question About SuperbMelt Coin Minting Solution
Superbmelt's professional technical team and sales team are at your service
(7/24hours service)
How to Custom Minting Die for Coin Making?
Speaking about the mints, these are the workshops where different types of coins are crafted. Even though the equipment and tools these facilities use have gone through a massive revolution, their work for minting die has been on the cutting edge of technological innovation. As per the historical data, minting technology witnessed a major revolution when Aubin Olivier, an engineer, introduced the screw press method of making coins.
Such machines were quite effective in developing perfectly round coins. However, during the initial stage of the twentieth century, most of the mints were electrified, making the coin die and coin making process cooler and quieter. Combined with electric feeding belts, the presses effectively automated the minting process.
Speaking about the modern gold coin die making or minting process, it begins with a development of a relief model using an engraver. After that, the model is reduced to steel to create a hub. The hubs are generally used to create coin stamping dies carrying the negative pattern. This method creates the master dies and hubs, and then the process is repeated to develop the working dies.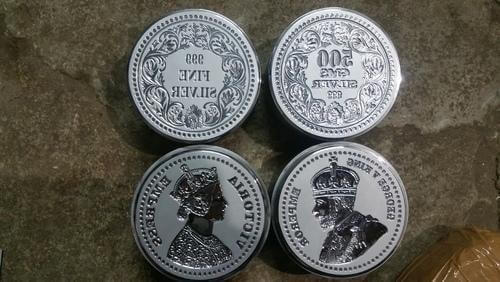 Want to Start Your Won Coin Minting Business?
Well, thanks to rapid advancement in the process of coin minting, now, anyone can start their own coin minting business after getting the required approvals. Well, if you are planning to make fantasy coins or custom coins, then you can go for it without obtaining any permission. However, for the best result and for a smoother process, you need to get the right tool for this.
Starting a coin mining line is not a big task. In fact, obtaining the best minting die or custom coin die for coin production can be difficult. And you can't take this lightly as this is what you will need to make coins.
With time the manufacturing process of coin die is evolving rapidly. While the molding process may not get outdated in the near future, most coin manufacturers have started using hydraulic pressing machines for coin manufacturing. If you are on your way to starting your own coin minting line, you will require the highest-quality coin dies.
So, is there anyone who can offer you the best quality minting die? Keep reading to explore the answer. If you don't know much about minting and coin die, then this article will be beneficial to you. Besides, you will also explore the manufacturing process of gold coin and coin die and some tips to get started with this.
What's more? The article will explain why you should partner with SuperbMelt, the best coin die manufacturer and a leading coin die making machine producer. So, let's get started with this.
Chapter 1:
Development of Minting Technology
There is no doubt that coin production has been a crucial part of societies for centuries. However, what was once archaic has now turned into vibrant with some unique as well as innovative technologies. Besides, it has added a special factor to the coin minting process. Coin production and manufacturing have been witnessed some massive changes from the beginning of time. It has been proved that utilizing the innovative features of coin minting can help with three major areas. These are:
It prevents counterfeiting
Let's you trace the coins back to their original sources
It adds a perfect definition to the coins
With time, technology changes, and you can expect to witness different new technological standards added to the numismatics field. Now, you might be thinking that the new technology can affect the quality of the coins. Well, instead of changing the value or quality of the coins, the new technologies have greatly enhanced the value of the coins. With the advancement in technology, coin manufactures are now adding a more advanced feature to the bullion and coins. Before going deep into the development of minting technology, let's talk about the minting process.
Blanking
The process begins with a huge metal strip of around 13 inches by 1200 feet. The strip is then fed into the blanking press.
Washing and drying
Under this process, the blanks are perfectly heated after being properly washed.
Upsetting
In the next step, the rim is applied to the coin's edge. Well, the rim can be slight, but it will offer the coin the edge that you generally see on the coins. Besides, it keeps the coin in a proper shape.
Striking
Here, the blanks are processed through the press. The coins get stamped with the inscription and the design. This is where coin dies are used. The dies should be durable enough to sustain high pressure.
Inspecting
This is one of the most important stages of the process. Here, the experts use powerful magnifying glasses to check all the new coins for cracks, die breaks, or errors.
Counting and packaging
There will be an automatic counting machine that will count the coins precisely. After done with the counting, the machine will drop the coins into bags.
It may be noted that coin-making technologies worldwide have gone through a significant revolution to meet the rising demands of production. In this age, where there is a rapid technological advancement, it has been seen that minted coins are produced quite faster. The coin minting method is unique and offers a complete insight into the history as well as the science of minting technologies. Now, let's discuss different methods of making coins.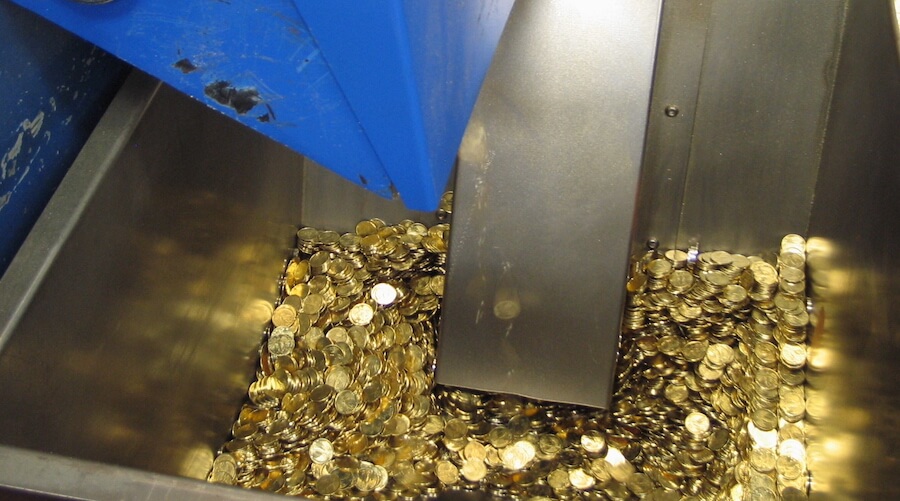 1.1, Make coins by molding
Making coins by molding is also called cast coinage. Speaking more about this process, under coins were produced by pouring melted metal in a mold. The metal can be gold, silver, or bronze. As per the historical data, this method was utilized for making coins in Far East areas and in the Mediterranean.
If you compare this method with the modern coining method, you will find a huge difference. In the case of the modern method, the coin is created by striking the design on the coin blanks.
However, in molding, you need to melt the metal at a specific temperature and then put that melted metal in the molds. The molds come engraved with the design that will be printed on the coins. Once it cools, removes the coins from the mold and trims off the excess metal. Well, it can be said that this method of making a coin is very time taking.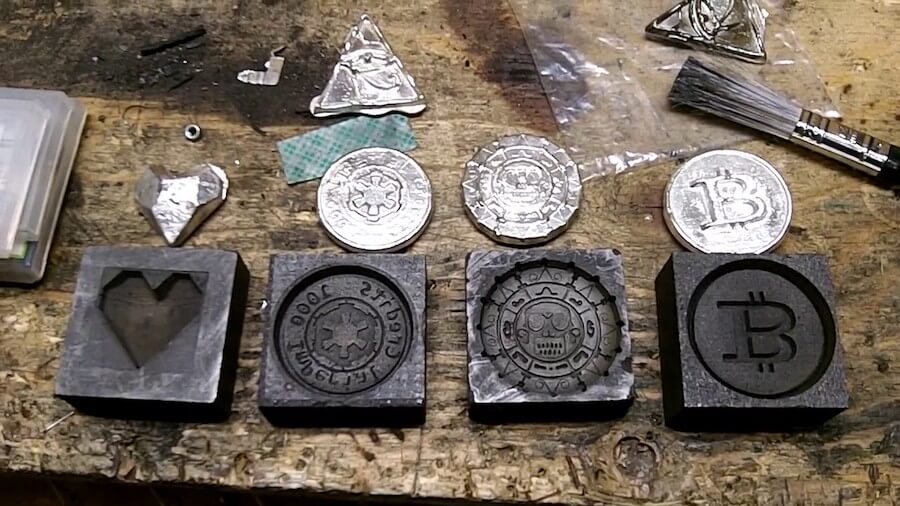 1.2, Make coins by manually pressed or "struck"
Under this method, the coin is made using coin dies. Speaking more about this, around 1550, a new method of coin making appeared in Europe. Under that, roller mills produced metal strips or sheets of the necessary thickness. Then durable metal punches cut the sheets into perfect blanks. Once done, a scree-press applied the required design on the coin blanks. The process is very laborious. However, after a few years, the resistance from the coin makers was overcome, and the coin-making practice became common.
You can also consider the coin press method. Rapid industrialization introduced different techniques; however, the most useful one was the Uhlhorn coin press introduced in 1830. Under this method, a lever, instead of a screw press, is used to strike the coin at the necessary pressure.
There was also the Thonnelier press, similar but was operated by steam, and later electricity was used. Using this, hundreds of coins are produced in a minute. However, with time the methods for producing coins evolved, leading to hydraulic press machines. Let's talk about this modern technique in detail.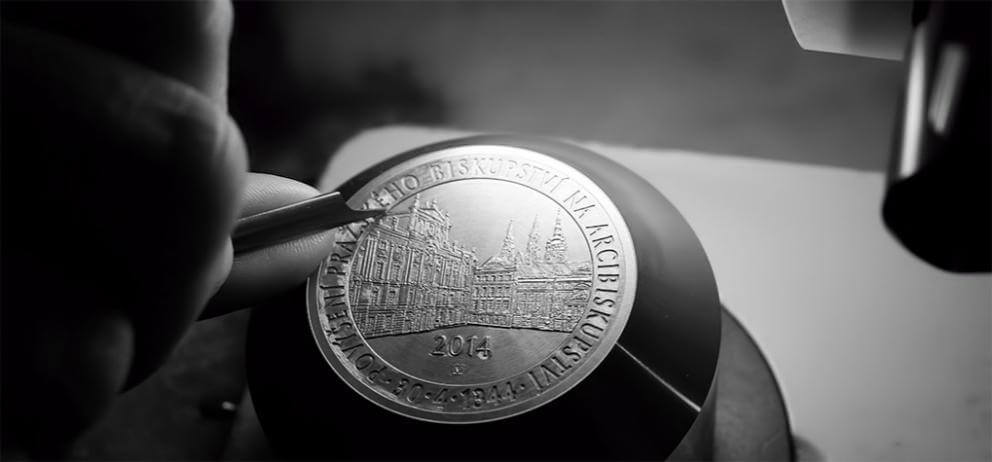 1.3, Make coins by the hydraulic press: pressed by high-precision coin minting die
Most of the mint lines use coin minting die and powerful hydraulic press machines to manufacture coins. The method is all about using hydraulic pressure and the press the coin blanks using the coin die. A thin metal strip is properly annealed to get the right amount of hardness for stamping.
After that, hydraulic press machines are equipped with minting dies. Both the dies are pressed at the same time to punch the coins. While punching, a collar is used to prevent the metal from spreading, and it also adds decoration to the edge.
Chapter 2:
How to Custom Minting Die?
If you are planning to start your own mint line for custom minting, then first, you need to know everything about this. One of the most crucial decisions you will make for creating the custom minted coins is to decide on the awesome options or features added to the coin design. This is where you need to use the best machines.
Remember that mining is completely different from die striking or casting as a powerful hydraulic press is utilized to obtain the glass-like and luxurious finish. To choose which style will be perfect for you, understanding how the entire process works can be significant. As high pressure is used to press the logo, the material is durable and dense. Here is how you can create them using a hydraulic press:
The process starts with the base material or metal. Some of the popular types of metals are silver, copper, bronze, and gold.
The metal's surface part is heated and then hardened properly so that it can be used for the hydraulic press.
Now, the material is added into the press; the blank round-shaped metal is pressed through an extreme level of force.
After that, the metal is pressed again, and each side is imprinted with the design.
What type of custom coins can you make?
Award or incentive coins
Such coins will be perfect for encouraging or motivating your employees or staff to give their best. Besides, you can use these coins to award them for their exceptional performances, job well done, perfect attendance, etc. What's more? Such coins can also be used to cash in for different incentive prizes.
Commemorative coins
If your event is worth being commemorated, you can always go for the custom coins as ideal memorabilia are depicting the gravity and emotion of the events. Galas, fundraisers, graduations, grand opening events, and more can be remembered in the best ways when you commemorate the events with the best quality custom-minted coins.
Membership custom-minted coins
Such coins will be the best option for celebrating the new members within a company, department, or group. On the other hand, these are perfect for encouraging camaraderie. Perfectly designed with logos and some marks, such a piece can be utilized to demonstrate affiliation pride and to recognize other members.
Milestone custom-minted coins
You can make some events a grand success, such as promotions, tenure or anniversaries, and other significant milestones using custom minted coins. You can use them as a trophy. Remember that dedications of time, energy, and years are well recognized with something thoughtful and unique. In that case, you may not find a better option than a custom-minted coin.
Whenever you look at such coins, you will witness a perfect amalgamation of creative craftsmanship and state-of-art technology. Some experts have also said that custom minted coins are the place where art meets science.
So, if you are planning to start your own custom coin minting line, first, you need to get the best quality minting die or custom coin die. Without this, it will be impossible for you to start the production.
If you are new in this field, then getting the best quality dies can be a difficult thing for you. But don't worry about it as we have mentioned down some tips that can help you in this. Let' have a look at those tips.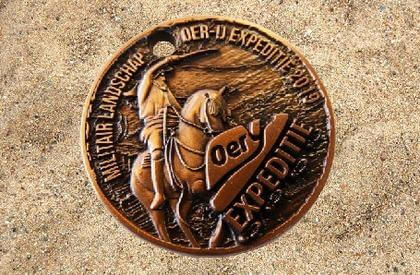 2.1, Choose a reliable coin minting die manufacturer
When it comes to getting the best quality minting die, you should always go for the best coin die manufacturers, like SuperbMelt. Why? With them, only you can get the custom die production done under the budget without affecting the product quality.
Besides, they come equipped with the latest technology, and the best coin die making machine to create top-quality dies that will meet excess international standards. Just order your custom die online, and they will deliver it to your doorstep.
What's more? When you are with a reputed coin die manufacturer, you will get a chance to witness their fantastic expertise, better details, faster product delivery, and more. No matter what your requirements are, you will get perfect solutions from one place. You will not face a single issue in the custom minted coin manufacturing process.
Besides, well-developed production facilities and top-quality services back their production process. Well, we would like to suggest you choose a company that has all the necessary permits to offer you die-making services.
If you are searching for such a company, then choosing SuperbMelt will be a perfect option for you. SuperbMelt is highly dedicated to offering you the highest quality custom minted die possible to perfectly fit your budget.
Whether you have all the details predetermined or you only have a simple idea, the company has experts who can assist you through the entire process. You will be able to get a finished coined product that will definitely meet the highest standards and will fall within your budget.
2.2, The quality of the finished
You can only produce beautiful and quality coins when you have the best quality coin dies. You need to make sure that the dies are properly engraved and polished appropriately. Remember that a tiny bump can severely affect the appearance of your coin. So, it is suggested that you should only work with the top-rated and reputed die makers. They know how to perfectly combine the art and profession of engravers and then transferred them into the modern digital age.
On the other hand, professional manufacturers, like SuperbMelt, use modern and advanced equipment and tools.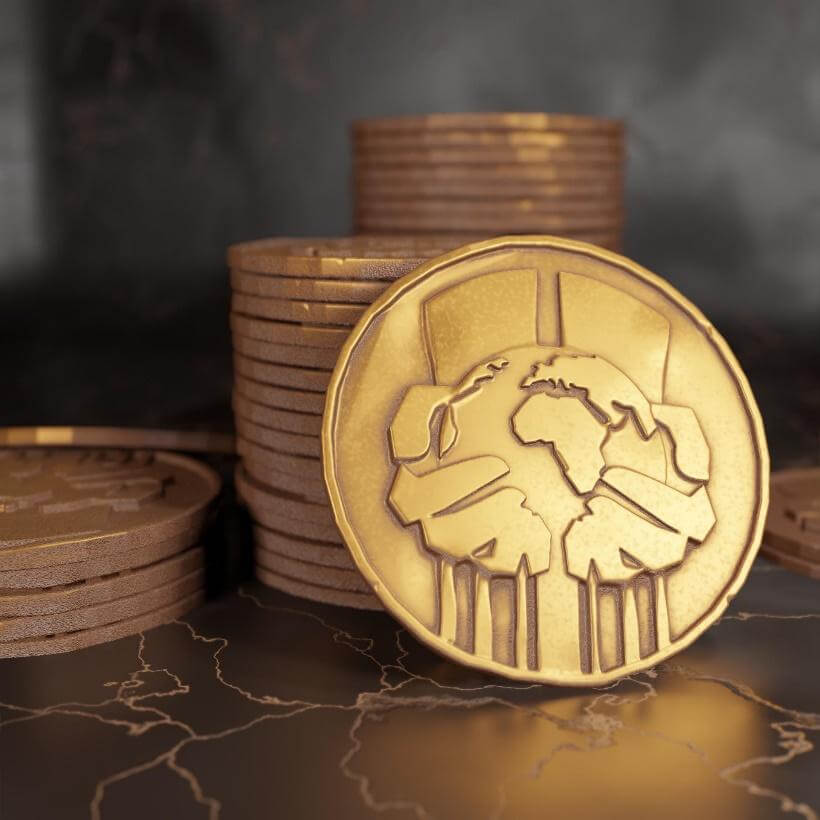 For instance, a powerful 3D scanner to get the design and a powerful hydraulic press machine to engrave electrodes with lettering and logos. What's more? Instead of going manual, they have adopted automatic coin die manufacturing using powerful CNC engraving machines.
To check the quality of the dies, they also create sample gold coins, and you can also view that before placing your order. You can also choose different surface finishing options, such as antiquing, colorizing, enameling, select gold plating, enameling, proof coating, and more. When you are with a professional die maker, you will not face any restriction about which material you can utilize to die. For example, you can go for anything, steel, gold, brass, aluminum, and more. They follow proper heat treating, die blanks making methods, die polishing, and more.
2.3, The service life of coin minting die
Well, as you will be investing a lot of money to start your minting line, you can't take the risk of getting dies that won't last long. So, while buying, you need to make sure that the coin dies lifespan of the coin die is perfect.
Remember that planchet size or composition can be a major determinate. But don't forget to consider the striking press. This can create a huge difference. In some cases, you can face some catastrophic failures due to extreme stress, usage of low-quality steel, and improper annealing.
To get the best coin dies, you need to consider some crucial factors, for example, irregular strikes, die alignment, die hardness, mechanical or hydraulic press, and more. As per the experts, the average lifespan of a coin die can range up to 1,00,000 coins. However, for a mirror finish, dies can stamp around 10,000 to 30,000 pieces based on your design.
2.4, Technical support of coin minting die
Why is this an important factor? Well, technical issues or other requirements can arise anytime, but you need to keep your minting line running smoothly. Working with a company that can offer a one-stop solution for all your requirements and coin dies can be very helpful for you. For example, SuperbMelt.
The company offers all types of solutions for your coin minting problems. On the other hand, they also offer guidance and crucial instructions about different materials that can be used for die and coin making. With their professional tips, you can also increase the lifespan of the coin dies.
So, when it comes to choosing the right manufacturers to get the best quality coin dies, you should consider these tips. By selecting the right company, you can quickly start your custom coin minting business. However, if you are finding it a little challenging to choose the right company, you can always trust SuperbMelt. But why? Well, keep reading to explore the reasons.
Chapter 3:
Why Choose SuperbMelt Minting Die?
Well, you can't create high-quality gold or silver coins without a top-quality coin die. So, from where can you get those dies? This is where you can trust SuperbMelt. If you want to make your own coin, then you don't have to worry about it as long as you are with SuperbMelt. You can consider us as your one-stop solution for all your coin minting and coin dies requirements. As one of the leading coin die makers, we are here to support the coin minting businesses.
You are not limited to a single coin style as we bring you various options to make your coins made of precious metals as original and distinctive as your organization. What's more? We bring you the best quality and high-performance coin die making machine. SuperbMelt manufacture coin dies that will run for a long time, letting you stamp thousands of coins. Are you still wondering why you should choose SuperbMelt? Well, have a look at the below-given points to get your answer.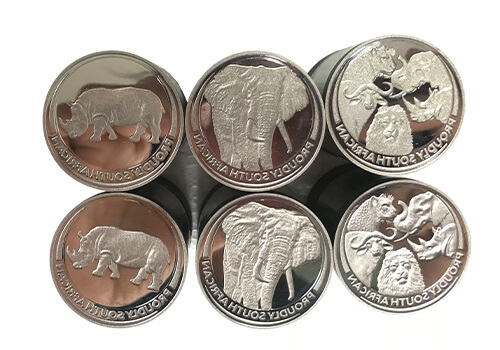 3.1, We are the manufacturer of the minting die
Yes, you heard it right. We will export coin dies for you and sell them. In fact, we have our own minting die manufacturing unit and manufacturer the best die for you. Even though the company is famous for manufacturing, selling, and distributing casting, melting, and forming machines for materials, SuperbMelt has now emerged as a leading coin die manufacturer.
When it comes to getting professional help for the gold or precious metals-made coin minting, you can always trust SuperbMelt. With our years of experience and expertise in this field, we have helped many minting units throughout the world. We have specialized in coin die manufacturing and engraving.
When you are with us, you can expect to get fully-developed dies which you can use as soon as you receive them. Besides, SuperbMelt also offers different die services at the most affordable prices. Why wait for years to start minting when you can start it now by buying top-quality coin dies from us. What's more? We also offer a quick delivery facility. For more details, please feel free to visit our site or give us a call now.
3.2, Make gold coin sample by custom minting die
We began our business in 2001, and now we have emerged as a leading gold minting solution provider. Without our top-quality products and services, we have built a strong identity, offering a unique experience to our customers and fulfilling their unique expectations. So, if you are in search of a reliable company to buy coin dies and punches, then don't look here and there and get in touch with SuperbMelt now.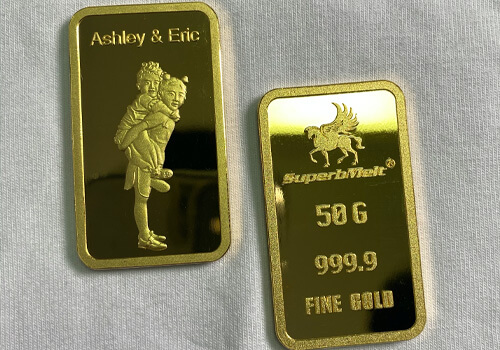 Sometimes, before initiating your final production process, you may need to make gold coin samples for testing purposes. For that, you will need a high-quality custom coin die. We can offer you that. No matter what is your design, we can make dies with that particular design so that you can produce custom coins.
After getting your order, we start manufacturing the dies without affecting the quality. Once the dies are made, our highly experienced inspectors check the dies properly for any defect. Well, you always want to provide our customers with 100 percent customer satisfaction.
We know that technologies are evolving at a higher rate and with that we have also introduced the latest technologies in our production line. We make sure that your custom dies have all the required details and specifications. Just looking at the products, you will witness our craftsmanship as well as workmanship. When it comes to buying 100 percent tested and efficient coin dies, you will not find a better option than SuperbMelt.
3.3, We provide technical solutions for gold coin minting
It's time to witness the most advanced and all-around excellence minting technology from SuperbMelt. We are here to bring a revolution in the process of coin minting by offering the business the most advanced technical solutions.
We have some high-performance systems and developed quality dies that can improve the production process. In fact, you can quickly achieve the outputs of around 800 to 900 quality gold coins per minute. While optimizing your productivity, you can achieve the quality that you are accustomed to getting from SuperbMelt.
What's more? We have enhanced our technical solution methods to offer you the best services, helping your minting unit running smoothly without any issue. For a maximum level of authenticity, we have our own in-house Research and Development team. Our team consists of more than 50 technicians.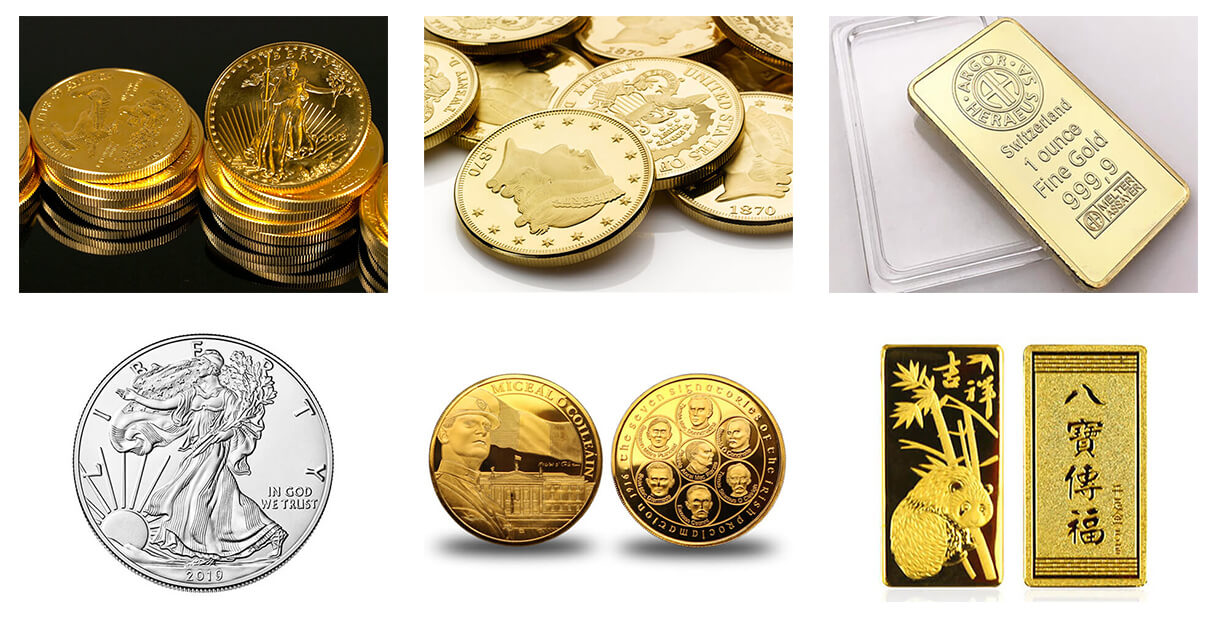 We at SuperbMelt utilize advanced machines to create stunning quality coin dies baked by advanced innovations. Need something more? How about a professional who can offer you on-site guidance? Just call us and get ready to start and keep your minting line operating without any error.
We have powerful hydraulic coin press machines that come with a robust steel fabricated body. The machine is specifically designed and developed to mint silver and gold coins. Besides, you can use this for minting bars and medals. It can create a strong force to press around 150 tons of metal. This advanced machine allows you to mint silver and gold at a perfect speed to meet the current market demand.
3.4, Our delivery time is fast
When you are with SuperbMelt, you can always expect to enjoy a faster delivery process. Once you placed the order, we try our best to deliver the product to you on time. But how? Well, we use powerful hydraulic machines that can produce dies fast.
On the other hand, we always keep enough stock of machines and materials, for example, metals used to make coin dies. We will make sure that you are getting the products within 15 days after placing your orders.
3.5, You can get minting die at the right price
Do you think buying the highest quality coin dies can be very expensive? If yes, then it's time to change your thinking as SuperbMelt is well-known for offering superior-quality dies at affordable prices. All our products are designed and developed to effectively meet the international standard quality. Are you looking for the trust factors? SuperbMelt is a government Audited AA credit company.
As a leading coin minting solution supplier, SuperbMelt is responsible for offering you the highest quality coin dies. We understand that a die's quality can severely affect the quality of your gold coins or silver coins. To make sure you are no getting poor quality or defective dies, we carry our gold coin sampling tests and ensure that it is perfect for use.
Besides, before delivering the dies to you, we make gold coin samples to make sure that the dies are perfect. Our dies can be processed by high-precision equipment and can work perfectly for years. On the other hand, our coin stamping dies are ISO CE SGS Approved, and the professional certification bodies have tested our products' quality.
So, so kick start your minting business; you can make SuperbMelt your partner and forget about all your coin die requirements.
Chapter 4:
Frequently Asked Questions about Coin Minting Solution and Minting Die
How do you make a coin die?
First of all, the artistic representations are developed in 3D and then sent to the CNC machine. The machine will replicate the design on the end of a steel rod. The product that you will get is called the Master Hub. After that, the Master Hub will be put into a hydraulic press, and it will be pressed against another steel rod to create the second die. This die will have a negative image of the design that you want to print on the coin. This is the Master die. Once done, the master die will be placed under the powerful hydraulic presses and will be pressed on more pieces made of steel t created the Working Hubs. From the Working Hubs, the Working Dies are created. This is the die that you will use to manufacture coins. One die can be used to manufacture thousands of gold coins.
Why is it called minting?
As per the historical data, the origin of this word is related to the manufacturer of coin at Rome's temple of Juno Moneta in 269 BC. The person became the money's personification, and the name was applied to the money.
What is a gold mint?
Talking about a gold mint, it is an industrial unit that manufactures gold coins that can be used as currency or for investment purposes. In the modern-age mints, gold coins, as well as silver coins, are produced in large numbers, and coin blanks are made into milled coins. Now, you can also start your own mint by getting all the required equipment and licenses.
Can I mint my own coins?
Well, you can mint coins, but that will depend on what type of coins you want to create. For example, if you want to make fantasy coins for advertisement purposes, then you can make it without any legal formalities. But remember that you need to get the best coin dies for this. This is where you can trust SuperbMelt. As a leading company in this field, we are here to offer all the required help for coin minting. When you are with us, getting a custom minting die will not be a significant problem for you. Get in touch with now and get ready to produce quality coins using ISO CE SGS approved coin dies.
What does a coin die look like?
Speaking about the coin die, it is also called a minting die. The dies are highly hardened and metal stamping tools that can easily withstand a higher level of pressure that is required to strike on the coin blanks. You may use two different dies for coin making, where one die will carry the front design for the coin, and another die will have the reversed design. While buying these dies, you should choose the best coin die makers so that you can get dies that can be used to stamp hundreds of thousands of coins before you need to replace them.
What does minting coins mean?
In general, minting is all about the manufacturing process of the coin. The minting process includes pressing metal pieces with different designs. The design will show the denomination of the coins. On the other hand, the design can have some kind of security features or information about the country where the coins are minted. The entire process is carried out by the coin's producers and by a mint. If you want, you can start your own minting line by getting durable and high-quality dies from SuperbMelt.
How coins are made step by step?
First, you need to heat the metal at the required temperature to melt it. If you are using gold, then you need to heat it at 1064-degree C, and in the case of silver, the melting temperature is around 960-degree. After that, you need to create a sheet or bullion. Now, using the blanking press method, you need to create circular blanks. Now, you need to clean the blanks by putting them in an annealing furnace and adding acid to remove the stain. Once cleaned perfectly, press the dies on the blanks. That's it. The coin is now ready.
How do you draw a gold coin?
Compared to the traditional method, now it is quite easy to draw a gold coin. All you need to use any graphics designing software, and you can easily create the designs that you want to print on the coin. Besides, you can also download the design online.
How gold coins are made?
It is the mints that produced gold coins, and the process of manufacturing gold coins is known as minting. You can get in touch with any professional mint owners to get quality gold and silver coins. There are different types of precious metal coins, for example, South African Krugerrand, American Eagle, and Canadian Maple, which are produced as bullion products, and you can use them for investment purposes.
Such coins come with a legal tender face value. Remember that gold circulated currency and bullion coins are developed after getting a bank's license and are generally controlled by the required authorities. Now, let's discuss the gold coin-making process.
The coin-making process starts with melting gold. Using a furnace and high-quality crucible, you can melt the gold. For the best quality crucible, you can get in touch with SuperbMelt. The precious metal is melted at around 1065-degree C. Once done with the melting process, long strips are created using the melted gold. After that, applying more than 200 tonnes of pressure, the coils are carefully rolled up. After that, the coils are cut down into blanks.
Using the blanking press method, circular blanks are punched out from the metal strips. Now, the process of annealing and pickling will be carried out. Under this stage, the circular blanks are heated at a higher temperature and then allowed to cool down. Once done, they are perfectly dried and ashed. In some cases, blanks are tossed into pickling agent-filled barrels to remove the sure stains. After that, the blanks are processed through a machine to remove all the defective or imperfect blanks.
Now, you need to create a design that you want to print on the coin. For this, you can take the help of a professional. The design will be engraved into the coin die, and the die will be used to print the design on the coin. The dies are pressed under heavy pressure into the blanks, and in the end, you will get gold coins. Before using the coins, experts check for the quality and priority of the coin.
What are coin dies made of?
As discussed above, the most crucial element in the process of coin making is the coin die and is used to strike the coins. They come with the image's inverse version, and that image is pressed into the blank metal disc. As they are pressed at a high-pressure level, the dies need to be durable. So, all most all the coin producers use hardened steel for coin dies production. Before they are worn out or retired, you can use them to create hundreds of thousands of coins. However, talking about ancient times, bronze material was used to make coin press die.
How were ancient coin dies made?
Well, you will not find any accurate information about this as there are no approved or legit written records about the ancient coin dies-making process. However, before the modern era, the ancient coin dies were produced individually using hands by the engravers. In the 3rdcentury and during the crisis of the Roman Empire, dies were used even though they cracked. The die was on the hammer, generally the back, and tended to crack first. They wear using planchets that were generally hot before striking. As per the experimental archaeology, depending on the level of usage, the lower die could be expected to work perfectly for around 10,000 strikes.
Now, let's talk about another thing. To get a better idea about the dies-making process during ancient times, we reconstructed the making process from the artifacts and evidence. The data we got was very interesting. The coin dies were developed using bronze and hard iron. Why did they consider bronze? Well, such material is very easy to engrave, and with time it will not rust. But bronze-made dies can't sustain heavy pressure, leading to dies break. So, for striking large gold or silver coins, iron dies were used. So, tetradrachms, decadrachm, and some silver coins were found with die rust. These were also used for bronze coins.
Speaking more about it, as per the experts before wearing out dies, they could be manufactured about 25,000 strikes.
Do you know what the most exciting thing is? IF you see the old roman coins, you will find the same and accurate portraits on the coins. The coin dies were engraved by different artisans. So, how can this be possible? Well, for this, you can take into account two major replication processes. One is casting die, and another one is Hubbing. The Greeks used the lost wax process.
Well, some coins have the marks of weak and off-centered strikes as they wear hand-made coins.
What is a die break on a coin?
Talking about the term die break, this is a form of failure where a piece of the coin die face breaks during the coin-making process and falls out. In the field of coin minting, this is also called a piece-out. Small die breaks generally form within the design's narrow interstices. When the die breaks are not connected to the trim, the die beaks can be referred to as the Die Chips. In general, significant die breaks happen at the die's margin. The junction between the die face and die neck is generally prone to failure. In minting, a die break that includes a rim and a little bit of the field is known as the Cud. Remember that the longer you use the coin die or silver coin die, the more the die breaks will occur. So, after using for a specific time, you should start using new coin dies. In fact, now it is not difficult to get a new die as SuperbMelt is there for you.
How coin dies are made?
Well, we have mentioned the entire process in the above sections. However, it can be said that the coin dies-making process involves some critical steps, for example, developing the master hub, creating the master die, developing working hubs, and then crafting working dies using the working hubs.
What is a die mark on a coin?
Speaking about the die marks, these are like the small marks or letters that can be seen on the coins. These marks are generally used to detect the die using which the coins are made. As per the data, these were introduced in Isle of Man coins in the year 1978. They can be in different forms, such as two capital letters. You can see marks like AA, AB, AC, and more. Talking about them, the first letter is used for marking the coining year, and the second letter depicts the die used. It may be noted that SuperbMelt's die marks have been used on the coins to let the users know about the variation in the coining mintage.
It has been witnessed that some coin minting units face a lot of issues to keep their business running, as they don't know the best ways to handle the business. Before you can start the unit, you need to know all the things about the minting process, and the most important thing is you need to good quality coin dies or the minting die.
Well, from this useful article, you can know everything about coin die and how to buy the good one. However, if you still have some problems, then don't feel hesitant to get in touch with us anytime you want. As a well-known minting solution provider, SuperbMelt offers a one-stop solution for the coin minting requirements.
Coin dies and punches are the most crucial stamping tools when it comes to producing coins made of copper, zinc, silver, gold, and other metals. Different unique and customized texts, shapes, and logos are engraved on the coin die, gold bar die, and silver bar die, which will appear on the sides of the coins. Two dies are required to strike a metal coin. One will have the front design, and another will have the reverse design. So, getting a quality die with a clear image is essential to make high-quality coins.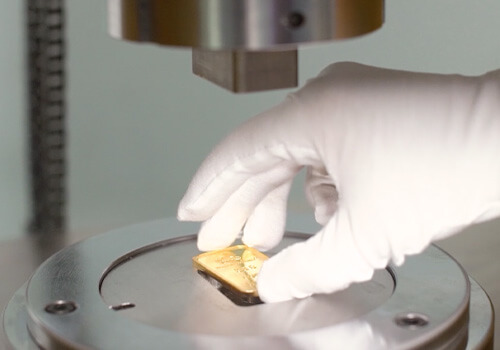 This is where you can trust SuperbMelt. At SuperbMelt, we use a powerful hydraulic logo stamping machine to effectively stamp the images on the coins. You should not use any lubricants during coining. We can produce top-quality coin dies and samples on the coins for the customers before the shipping.
When you are with us, you can get all types of coin minting equipment and tools at the most reasonable price. Besides, we also offer simple to understand instructions about different metals and how to use them properly. So, get in touch with us now and get ready to build and manage an efficient coin minting business. If you are looking for more information about coin minting and dies, please have a look at the FAQs section.