C

urb Chain Making Machine
Superbmelt provide a one-stop service to solve any problems with your jewelry chain manufacturing line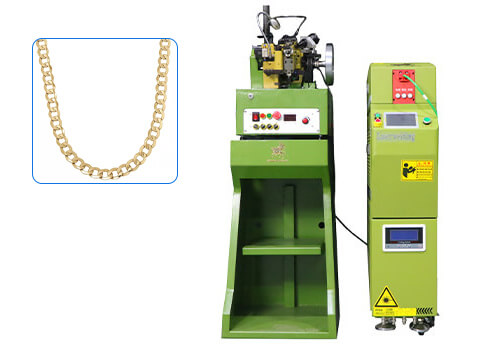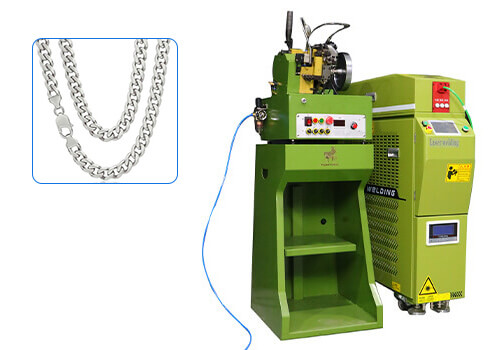 Superbmelt curb chain making machine is suitable for making curb chains from thin metal wires. The chain making machine for sale by Superbmelt uses materials like gold, karat gold, silver, copper and other soft metals to produce high-quality and high precision jewellery chains. Superbmelt automatic curb chain making machine performs an automatic chain making operation by flattening, twisting and interlocking the wire material. Curb chains are made from 0.19 to 0.45mm precious metal wires. 
Superbmelt gold curb chain making machine works at a speed of 100 to 150mm/s. The speed, as well as the pressure of production, is easily adjustable. The maximum power required for working the fully automatic gold chain making machine is about 20W. The single voltage phase is about 200v. The chain making industry requires a chain making machine with excellent speed due to the high demands for chains across many sectors. All curb chains produced by Superbmelt jewellery chain making machine have a shiny appearance and lasts a long time without breaking. 
Superbmelt is a leading electromechanical company with over 15 years of experience. We provide our customers all over the world with the best of machines and the curb chain making machine is no different. Contact Superbmelt today the best and most affordable jewelry chain making machine for sale. 
W

hy SuperbMelt Curb Chain Making Machine

Professional R&D Team:
Over 15 years R&D experience in gold machinery with a top engineer team supported

High Quality:
Only choose famous brand main electric components for production

ISO CE SGS Approved:
Professional certification bodies certify that the machines are of high quality
Any Question About SuperbMelt Curb Chain Making Machine
FAQ Guide of Curb Chain Making Machine
1. What does the curb chain look like?
Speaking more about it, the curb is a classic and simple design of identical, interlocking, and flat links. If you look at the traditional design, you will find the links were large in size as there was no machine. But nowadays, you can easily more feminine and smaller curb chains. All thanks to a curb chain making machine of SuperbMelt. In terms of design, this chain can be categorized into:
Based on link finishing- Milled curb, diamond cut the curb, and paved curb chains.
Based on link shape- Open curb, closed curb and rounded curb chains.
Based on the link formation- double curb and single curb.
Consider link structure- Hallow curb and solid curb chains.
The Curb chain links are generally crafted from a round wire that was cut to size and then twisted carefully to create a link shape with distinctive grooves. The grooves let other curb link of the same length and depth to fit snuggly in the pocket. In simple, the structure includes distinct link shape with two grooves on each side of the chain, and the formation of one link paired with another.
The length of these chains may vary between 25 to 40 inches. For the choker-style chains, 14 to 20 inches curb chains will be a good option.
2. How is the curb chain produced?
Like other classic styles of chain links, which have created hundreds of years before the introduction of any gold chain production technology, the curb chains were used to crafted by hand. The jewelers process round wires that are cut and twisted using manual tools to form a link shape with grooves.
After that, these grooves allow other curb links with the same depth, length, and width to sit perfectly in the pocket. The pairing process is repeated until the desired length is achieved. This process takes more time and also requires a higher level of skills as well as creativity.
However, the modern method, i.e., the use of a curb chain making machine, has made the curb chain making the process faster and much easier. You don't have to develop good technical skills to use the machine. Just feed a thin thread into the automatic chain making machine, and the machine will create the chain by bending, buckling, and welding the thin thread carefully as per the instructions. The machine enables you to enjoy an automated curb chain production process.
3. Which gold chains are the strongest?
Well, as per the experts, the durability or strength of the curb chains will greatly depend on the design and built quality.  Rope, box, and wheat chains are thin, but they are durable. You can use them with a pendant without any issue. Wheat chains are made of intertwined twisted and untwisted oval-shaped links and formed a textured and durable design.
Made of interconnected square links, box chains are durable and sturdy. If you are looking for a heavy chain, then rope chains are there for you. You can use these chains for your weighty pendants. A rope chain is generally created by weaving metal links together into twisted spiraled chains. Curb chains are also durable, but you should buy a curb chain with a decent thickness to use for years.
4. What karat gold is best for chains?
Are you feeling confused between 18k gold or 24k gold? Jewelers use both 24k and 18k gold to make gold chains. But the most common gold is 18k gold. Speaking about the 24k gold, this gold is 100 percent pure. Such gold is easy to work with and highly malleable. As 24k gold is very soft, to use for making gold chains, you may need to combine it with other alloys such as copper. Well, you may find 24k gold-made curb chains, but they will be very costly and may require regular maintenance.
Now, talking about 18k gold, in this gold, there is 75 percent gold and 25 percent of alloyed metal. You can easily identify 18k gold by looking at its appearance, i.e., bright yellow color. 18K gold is perfect for necklaces, rings, and other jewelry pieces. If you are looking for something pure, then 18K gold is a good option.
While some alloying metals used in producing gold chains may develop allergic reactions, 18K gold-made chains will have a minimal or no effect. The reason is there will be a lower number of alloying metals, such as copper or nickel. Well, if you want to use both types of gold, don't worry at all and use the gold chain making machine available at SuperbMelt.  Check the chain making machine price by getting in touch with us and place your order now.
5. How is chain welded in the production process?
It has been seen that most of the jewelers use two major methods to weld the curb chains or other gold chains. These are the plasma welding method and laser welding method. But which one should you use? Talking about plasma welding, this method strikes a plasma arc between the base material and electrode for welding. For plasma welding, you will have to use shielding gas as well as ion gas. For some jewelers, this method of welding can be very complex and time-consuming.
On the other hand, the laser welding process is very simple, precise, and fast. Here, the machine uses a powerful laser beam as a source of energy and joints the links without damaging the metal. Using a laser welding machine offered by SuperbMelt, you can enjoy a non-contact welding process. These machines are quite popular in high-precision manufacturing fields. So, to enjoy faster and quality curb chain welding, you can use SuperbMelt mini or desktop laser welding machines available at affordable prices.
6. What machines are used to process raw materials into curb chains?
If you are in search of a faster solution to make good quality curb chains under your budget, then it's time to use SuperbMelt's machines. Not just a curb chain, our machines can be used to make other chains such as bead chains, rope chains, Figaro chains, snake chains, and more. Now, let's have a look at different machines that can use to process raw materials to make chains.
This machine is ideal for casting high-density metals, including silver, platinum, or gold. Using this, you can easily cast the metals into your desired shape. The machine features stirring and automated temperature control so that you can cast wire for your curb chains.
If you want to attain a perfect width and thickness while producing gold or silver wires, then you can use a jewelry roll mill machine.  
In the curb chain making process, an annealing furnace is used to heat the materials to reverse the work hardening effect that generally happens during drawing, bending or cold forming processes. For a good quality annealing furnace, you can contact SuperbMelt. Our machine comes with an advance PID intelligent temperature control unit, water timer switch, and alarm feature.
To make the thick wire into a thin one to produce curb chains, a wire drawing machine can be used.  This machine will help you to attain perfect wire roundness, diameter, surface roughness, internal microstructure, and the desired straightening degree.
Curb chain making machine
SuperbMelt offers the best-in-class jewelry chain making machine or curb chain making machine that can automate the curb chain production process. You can use this to make a triple, single, or double curb chain. It comes with a low voltage lamp, an advanced chain density sensor, an electronic speed regulator, and more. This single machine can process wire made of gold, platinum, silver, copper, and more.  
After making the curb chains, you will have to make sure that the chains are in perfect shape, and this is where you can use SuperbMelt's jewelry hammering machine.
This machine is generally used to make a mirror and shiny finish lapping, bevels cut, plain lines, chamfers step cut, and more. Get in touch with us now and buy a superior quality chain faceting machine under your budget.
As the demand for stylish and durable curb chains is increasing rapidly around the world, jewelers are now looking for different ways to increase their production capacity. And for them, a curb chain making machine will definitely be a good solution. And SuperbMelt, one of the most reputed gold chain making machine manufacturers, is the place where you will get be best deals on these machines. Visit the official site and explore the deals now.
7. What are the different types of jewelry chain on the market?
There is no doubt that jewelry chains or gold chains are a major staple in the jewelry collection of every woman. The chains are a costly investment that will never go out of trend, and you can use them with anything. However, while buying a chain, you need to consider what type of chain you should buy, as not all the chain designs will complement your look. So, here are some popular types of jewelry chains you can buy.
Box chain
As the name suggests, these chains are made of links that are shaped like squares.  Box chains are quite strong, and you can easily wear your favorite pendant with them. Well, such chains are quite popular among men.
Ball chain,
These chains are not sturdy and can easily break when you apply a little amount of pressure. The bead-shaped links or spheres are connected using equally sized spacers to form a chai. Well, you can use them for your pendant.
Curb chain
Curb chains are thick and can be heavy enough to easily carry a weighty pendant. In terms of design, the chain may include a flatter surface and beveled or squared links. Curb chains are extremely durable, sturdy, and easy to use. These chains will look great when used as a standalone chain.  You can make such chains faster using SuperbMelt's gold chain manufacturing machine.
Rope chain
The fun fact is that a rope chain is an OG gold chain type and is also considered a hip-hop chain. These chains became popular due to some well-known rappers, such as Run-DMC, Biz Markie, LL Cool J, and more. The design will look similar to the heavy-duty ropes and features multiple woven links supporting the chain.
Anchor chain,
Anchor chains come with interlocking oval-shaped links along with a bar that moves through the center. These are very durable and ideal chains for pendants and charms. When these chains were first introduced, they came with a flat appearance. But now, you can find puffed or rounded style anchor chains.
Trace chain
Trace chains are considered the simplest chains and come with uniform and fine links. They have a delicate appearance. A trace chain is generally made using tiny oval-shaped links. If you have a simple pendant and looking for a perfect chain for that, then go for a trace chain.  
Belcher chain
Another great choice among modern jewelers is the stylish belcher chain. This chain can be made of different alloys and sizes. Also popularly known as the Rolo chains, the design includes broad D-shaped links.
Hayseed chain
These are perfect for making your casual outfit more interesting. Here, parallel and short links are properly interconnected together to form a chain.
Snake chain
The design composes tightly interconnected links. The pattern can be square or round cross-sections, and the links are fasted in a diagonal direction to produce a stunning zigzag projection. It will look like a snake.
Bead chain
Made of hollow spheres or balls of silver, gold, platinum, and more, the beads are interlocked using a metal link. Most of the women prefer to wear this chain.
Mariner chain
In terms of the pattern and shape of the links, the chains will look like a curb or Cuban chain style. You can go for a flat link or rounded edge design as per your preference.
Cable chain
This strong gold chain comes with a cable chain. It will look like a standard iron chain. As these are durable, you can use your pendant with these chains.
Singapore chain
Due to a remarkably robust structure, a Singapore chain is considered a durable chain, and it will look similar to the twisted Cuban chains. Made of interlocked and hammered oval links, the design of such chains sometimes is compared to liquid gold.
Wheat chain or Spiga chain
No matter what you call them, whether a Spiga chain or a wheat chain, these are some of the sturdy gold jewelry chains for both men and women. The talking about the design features eight shaped links that move in the same direction. These popular gold chains are resistant to kinks. There is a negative factor about the chains you should always keep in your mind, i.e., such chains don't have a decent level of flexibility.
Whether you want to make a curb chain or a rope chai, a chain manufacturing machine can be a perfect tool for you, as one of the top-rated chain making machine manufacturers in the industry, SuperbMelt manufacturers and supplies machines that meet the industry's standards. All the machines are ISO CE SGS approved.
8. What is the capacity of SuperbMelt's curb chain making machine?
Our automatic chain making machine is made of high-quality material and electrical components to offer you a nonstop curb chain production process. They are powerful and efficient enough to attain a maximum production capacity of 600 rpm per minute.  In terms of output, the per hour output level is 200 to 500g.
9. What is the best material for a curb chain?
Gold-14K, 18K, and 22K gold is perfect for making curb chains. However, using a chain making machine, you can also use 24K gold.
Silver-To use silver for making chains, you need to combine it with copper. Sterling silver is used to make curb chains.
Copper-Copper is actually a base metal and is very soft and can be stretched very easily.
Iron-One of the common metals for curb chains is iron. This material is very durable and cost-effective.
Stainless steel-This metal is lightweight, durable, and resistant to corrosion. It generally comes in a silver-colored appearance but can be coated with gold or silver.
Platinum-The metal is very durable and will never tarnish. Besides, it is heat as well as corrosion-resistant. Due to its hypo-allergic properties, it can be the best option for curb chain.
Palladium-This material is very uncommon and hard.  A palladium-made curb chain is easy to maintain and hypoallergenic.
10. What are safety features of curb chain making machine?
A major safety feature that you should always check while buying a curb chain making machine is its structure. Make sure high-quality metal is used for it. Besides, some other safety features to consider are temperature control system, welding technology, automatic or semi-automatic, cooling system integrated into the machine, and more.  Most of the jewelers prefer to use SuperbMelt's silver chain making machine as our machines are equipped with all the safety features.
11. Do operating SuperbMelt curb chain making machine require special training?
The best part is that the SuperbMelt curb chain making machine is an automated machine that doesn't require any specific technical skills. The machine has all the latest features and censors to lower the risk of damage.
Well, you have hired a chain production engineer, then you can easily learn how to operate it just by looking at the instructions and videos offered by us. Those who are using our machine for the first time can also learn the operational methods by going through the instruction manual and videos. The machine will be shipped after debugging to make sure it works perfectly.  
12. How to choose the best jewelry chain making machine manufacturer?
While choosing a jewelry chain making machine manufacturer, first of all, you need to check the certification that that company has received. For better performance, we will suggest you to by an ISO CE SGS approved machine. Besides, make sure that the manufacturer is capable of offering a complete solution.
If you have time, then don't hesitate to visit the factory to know how they produce their machine and whether they are following the required production standards or not. We will also suggest you have a look at the manufacture's official website and social media pages to know what people are saying about them. If the company has received a lot of positive feedback, then you can trust it.
13. How to repair a curb chain?
One of the most common methods to repair a broken curb chain is by soldering it. For this, you can use the mini laser welding machine offered by SuperbMelt. To use it, first, hold the discounted links together and then apply the laser beam to create a joint. Once done, you can polish the section to get back the natural look. If you are using a gold-plated curb chain, then you need to apply the plating after the welding.
14. How long does a gold chain last?
Well, it will depend on the design and quality of gold used for the chain. For example, an 18K gold chain will last much longer than a 24k gold chain. For maximum durability and long-lasting effect, use a solid gold chain.
15. Is a curb chain a good investment?
It is a fact that the curb chain still remains a fashionable choice. Besides, they are quite durable compared to ball chains. Some of the most common curb chains are thick as well as heavy so that these chains will last for years. On the other hand, if it breaks, you can easily repair it using a mini laser welding machine, or you can just take it to an experienced jeweler. Thick gold chains have been quite popular among men for years.
Now, thanks to the advent of a gold chain making machine, you can easily produce delicate and thinner curb chains, which are quite popular among women. The curb chains that have the latest designs look amazing with a pendant. So, these are a good investment, and you can earn money by selling such chains. To start producing quality chains, you can use our curb chain making machine.