A

nchor Chain Making Machine
Superbmelt provide a one-stop service to solve any problems with your jewelry chain manufacturing line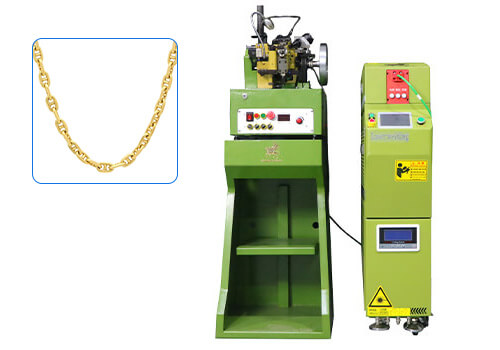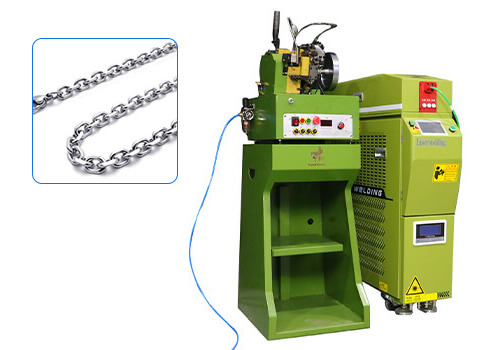 Superbmelt anchor chain making machine is used for making anchor chains with precious metal wires measuring 0.20mm to 1.00mm. The anchor chain makes use of materials such as gold, silver, karat gold, stainless steel, etc, to make chains.  
Superbmelt anchor chain making machine is a high capacity and highly automated chain making machine that is fast, gives high precision, high detail, smooth surface finish and long-lasting chains. The automated process also increases production capacity especially for a fast-paced industry like the jewellery making industry. The rope chain making machine is efficient and is able to make up to 400 to 450 links in one minute. The automatic chain making machine is also equipped with a second air blower, electronic speed regulator with brake, low voltage lamp and a chain density sensor, all of which contributes to the effective production of the chain making machine. The chain making machine is made with excellent steel material that is easy to maintain and ensure long service life. 
We at Superbmelt are focused on giving our customers optimum quality from every machine bought from us. Contact Superbmelt today for your affordable and quality automatic anchor chain making machine.
W

hy SuperbMelt Anchor Chain Making Machine

Professional R&D Team:
Over 15 years R&D experience in gold machinery with a top engineer team supported

High Quality:
Only choose famous brand main electric components for production

ISO CE SGS Approved:
Professional certification bodies certify that the machines are of high quality
Any Question About SuperbMelt Anchor Chain Making Machine
FAQ Guide of Anchor Chain Making Machine
1. What does the anchor chain look like?
An anchor chain has the look of a jump ring. It has a bar running through it. Smaller versions of gold anchor chains serve as jewelry for both men and women. The primary materials for making an anchor chain are gold and silver. It closely imitates the chains used to hold ship anchors for securing the water vessels while docked at the port.
You can quickly get several variants of anchor chains depending on the machine you choose for the chaining process. For example, anchor chains might have smooth rounded surfaces or flat outer surfaces. They are popularly used to make necklaces, even though some people may make anchor chain bracelets.
2. How is the anchor chain produced?
The process of producing the anchor chain starts with creating a gold rod either manually or using a machine. Of course, the manual process of making the gold rod is slow and tedious. It requires patience and long years of experience working with gold. After making the gold rod, the jewelry maker must manually fold, cut, and solder the anchor chain links.
It is much easier to create anchor chains using a SuperbMelt machine. The machine can do everything from purifying the gold, creating gold rods, and creating jewelry chains. Using the device to develop gold rods means you can produce circular, cylindrical, or rectangular shapes faster than manually. Besides, the anchor chain-making machine can further reduce the gold rods into thin wires depending on the type of anchor chain for wish to create.
Once the gold wire is ready, a jeweler passes it through the machine, forming an anchor chain through buckling, bending, and welding. The process is entirely automatic and doesn't require any manual work from the jeweler. Since there is no manual process involved, the machine makes high-quality, perfectly shaped anchor chains.
3. What karat gold is best for chains?
When made of pure gold, a gold chain would have 24 karats of gold. However, the chain doesn't have to be composed of 100 percent pure gold. Thus, it can be ten karats, 14 karats, 18 karats, or 22 karats, which isn't composed of pure gold. However, the karat gold best for chains is 14 and 18 karats, which have a perfect combination of strength and beauty. A higher karat gold may result in weak chains, while a lower karat gold doesn't produce the best color of gold.
4. How is chain welded in the production process?
During the production process, welding depends on the type of jewelry chain-making machine you choose. For example, an anchor chain-making machine may utilize plasma or laser welding. Between the two, laser welding is the fastest method of joining two jewelry pieces. Now, plasma welding is a precision method for making gold chains. The chain manufacturing machine automatically welds the gold wire as it passes through it, creating a beautiful chain in the end. Either argon or helium acts as the plasma gas. The machine relies on the plasma gas to 5 percent of hydrogen for shielding.
The gold chain manufacturing machine may also rely on the laser welding method. This works by focusing laser beams on the parts that require welding. Given the minute nature of the gold chain, laser welding is more accurate than plasma welding due to the precision with which the machine targets the critical area. An anchor chain-making machine that utilizes laser welding is automatic, indicating that the welding happens without the intervention of a welder.
5. What machines are used to process materials into anchor chains?
You can process materials for anchor gold chains using various types of machines from SuperbMelt. Each gold chain manufacturing device has its advantages and disadvantages, which are to consider when choosing a suitable machine. The following are some of the most common machines used to process materials into gold anchor chains.
Continuous Casting Machine: An anchor chain-making machine of this type mainly works by casting precious metals such as gold and silver. Instead of welding gold wire, it casts it into the desired shape. Regardless of the gold chain-making machine manufacturers, they casts the metal into any desired shape. It utilizes the gas melting protection technology that helps you to enjoy accurate, automated temperature control. Ask for the chain-making machine priceto get a quotation from your favorite manufacturer.
Jewelry Roll Mill: The jewelry roll mill machine has two smooth, hardened, and highly polished electric steel rollers that remove the need for manual rolling. Besides, electric mills are great when it comes to making many gold chains at a go. Similarly, different chain-making machine manufacturers may produce machines with varied capabilities, including thickness requirements. However, devices of this kind are great for semi-finished gold jewelry.
Wire Drawing Machine: A wire drawing chain-making machine takes a thick gold wire and turns it into a thin wire for forming the chain links. Thus, the device makes it possible for you to attain the correct wire diameter, straightening degree, roundness, internal construction, and roughness before turning the wire into a chain. The machine utilizes motor technology with step-less speed modulation. The anchor chain-making machine has an automatic rewind feature and cooling system that automatically stops it once it finishes.
Anchor Chain Making Machine: The anchor chain-making machine is a must-have for anyone wishing to make attractive jewelry. It can produce anchor chains as well as those with other types of chain links. The chain-making process involves the spiraling of the wire followed by sectioning. The chain manufacturing machine is versatile and capable of producing different chain styles. Besides, it can handle different metals, including silver, copper, and other precious metals. SuperbMelt is one of the leading gold chain-making machine manufacturers. To get the chain-making machine price, ask your favorite manufacturer for a quotation.
Jewelry Hammering Machine: As one of the leading jewelry chain-making machine manufacturers, SuperbMelt has some of the best products on the market. Its jewelry hammering machine comes with all the necessary accessories and is low maintenance, corrosion resistant, has robust build quality, and is sturdy. It helps you avoid hammering your gold chains manually.
Anchor Chain Faceting Machine: The primary purpose of a chain faceting machine is to decorate gold or silver chains. Thus, gold chains produced using this machine have extra decorations that others might be lacking. The device has high strength, reliable performance, longer service life, smooth finish, and requiring little or no maintenance.
Annealing Furnace: An annealing furnace heats the metal and alters its physical or chemical properties, reducing its hardness and making it more malleable. It heats a metal above the recrystallization temperature and cools it after maintaining the temperature for a while. As the machine heats the metal, it provides enough energy to break bonds for the eventual recrystallization of the metal.
6. What are the different types of jewelry chain on the market?
There are various types of jewelry chains on the market, including box chain, ball chain, curb chain, rope chain, anchor chain, trace chain, belcher chain, hayseed chain, snake chain, bead chain, mariner chain, and cable chain. The details of each of these chain types appear below:
The box chain features unique square links that connect carefully, creating a smooth chain. Even though they were initially handmade, modern box chains are products of machines. The unisex chain is excellent for both men and women.
Thanks to the tiny balls that make up this particular chain, it looks more elegant than most other chain types. Anyone can make it using an automatic chain-making machine designed to create this specific design and others.
The curb chain has links that appear more flattened out than other chains. It is heavier and features twisted links with an interlocking design. Both men and women love this type of chain in equal measure.
A typical rope chain has different metal segments with twisted patterns that look like a rope. It is easy to make using a gold chain-making machine. The rope chain is the heaviest and most durable of all gold chains and is worn with various pendants.
A popular type of chain, this jewelry comes with a variety of oval-shaped links. Even though it has a minimalistic look, the chain is one of the finest in the market. It is a simple design that any jewelry maker can pull through with a suitable chain-making machine.
The name for the belcher chain is the Rolo chain. Even though almost similar to the trace chain, its links are a little wider. Due to its sturdiness, the chain is popular among men even though women can still wear it and look great.
The hayseed chain is lightweight, beautiful, and looks fantastic. It features delicate detailing thanks to its intricate linking. Therefore, you can always expect it to sparkle against the light whenever you step out of your house wearing it.
Also known as the Brazilian chain, the snake chain has a different look than other chain types. Instead of creating links, a chain manufacturing machine tightly weaves metal plates to produce a flexible, durable chain.
The bead chain has small meta spheres or tiny balls on almost all its links. It is a fantastic jewelry design for those looking to create much more than a gold chain. Each of the bead-containing links joins together with connector bars.
Inspiration for the manufacturing of the mariner chain is from the nautical world. It resembles the anchor chain often used to hold a ship's anchor and hold a water vessel while docking. Consequently, it is also known as the anchor chain. It consists of multiple interlocking ovals with bars welded in the middle.
The cable chain also comes with oval links to create a beautiful, functional chain. It can either be worn on its own or together with an attractive pendant. Apart from its beauty, the chain is uncomplicated, sturdy, and durable.
Singapore chains are durable, featuring multiple interlinked segments. Upon stretching it out, you will get a twisting open chain with an exquisite look. Thanks to its durability, a Singapore chain can hold a pendant without breaking down. Thus, it is more attractive to wear compared to other chains that cannot have a pendant.
A Spiga or wheat chain is a beautiful piece of jewelry composed of several twisted oval links. It looks like it is composed of numerous metallic fibers running against each other, creating a unique textural look. It is one of the sturdiest and most durable gold chains on the market.
7. What is the capacity of the SuperbMelt anchor chain-making machine?
The capacity of the SuperbMelt anchor chain-making machine is 600 rpm per minute, which is fast enough to produce jewelry weighing 200 to 500 grams per hour. That's faster than products from other gold chain-making machine manufacturers. With that kind of capacity, why would you want to go back to making anchor gold chains manually?
8. What is the best material for an anchor chain-making machine?
The best material for an anchor chain-making machine is any soft metal, including gold, silver, and platinum. Gold is smooth when 100 percent pure (24 karats) with a 2.5 to 3 rating on the Mohs hardness scale. Therefore, 24 karat gold isn't the best for making anchor chains. The best material is 14 karat, 16 karats, or 18 karat gold, which are tough and feature a distinctive gold color.
On the other hand, silver is ductile, soft, and malleable, making it one of the best materials for making anchor chains. It is also highly reflective and easy to polish to give it a unique luminous sheen. Compared to gold, silver is more affordable, falling within the average person's budget. Using this material may require you to have a specialized silver chain-making machine.
The last type of material for making anchor chains is platinum, which has a silver-white appearance. It is malleable, super dense, durable, and tarnish-proof. Its malleability means that platinum is the best in making anchor chains of any size.
9. What are the safety features of an anchor chain-making machine?
The anchor chain-making machine has several safety features, including automatic rewinding and automatic cooling. That ensures that the device can stop working as soon as it finishes producing the last chain. Even if you weren't focusing on it, it will stop and prevent an accident from occurring.
10. Does operating a SuperbMelt anchor chain-making machine require special training?
No. Operating the SuperbMelt anchor chain-making machine does not require special training. However, the chain-making machine manufacturers have availed easy-to-follow videos and instructional materials by highly trained engineers and laypeople. Once you have gone through the materials, you can start using the machine without debugging (that's done before shipment) it. If you ask for it, the manufacturer can provide on-site guidance and training for your staff members.
11. How to choose the best anchor, chain-making machine manufacturer?
You can choose the best anchor, jewelry chain making machine manufacturer by checking out for any available certificates and the scale of the factory. While the certificates indicate the manufacturer's ability to make the best machines, the scale of the factory suggests how long you might have to wait to receive your device.
Also, you should check whether the factory provides adequate solutions to your needs as a jewelry manufacturer. Checking online reviews from past customers can also show you whether or not the factory can deliver on its promise. Besides, you can visit the manufacturer's website, social media platforms, videos, or carry out in-depth investigations. Visiting the factory can also help you make an informed decision on whether or not you should choose it.
12. How do you repair an anchor chain?
It would be best if you had the SuperbMelt
mini jewelry laser welding machine
with an amplified laser beam for split-second invisible spot welding to repair an anchor chain. The laser welder produces a concentrated, adjustable laser beam for targeting the precise spot that requires repair. It can repair anchor chains made from gold, silver, and platinum. You can hold the jewelry in your hands and weld continuously without dropping the machine, even for a second.
13. How long does a gold chain last?
A gold chain can last for a long time, especially if made from 14 karats, 16 karats, or 18 karat gold. Unlike gold-plated jewelry, which fades with time, the solid gold chain retains its color for a long time. The only problem with that type of chain is that it may tarnish, requiring you to polish or wash it from time to time.
In the case of a gold-plated chain, it can last for only two years before the layer of gold starts wearing off. Gold chains can get ruined when they contact chlorine, dirt, and small abrasive rocks. When you notice the build-up of dirt, make sure you clean the chain before it becomes permanently ruined.
14. Which gold chains are the strongest?
Experts recommend rope chains as the most robust and durable, thanks to the tight way the links hold together. Rope chains also have a unique texture that makes them look more elegant than most other chain types. Besides, their textual look and unique design put them in a pole position when holding pendants.
Whether you choose a thin or thick rope chain, you will still get the very best in terms of strength and durability. You can use a state-of-the-art gold chain-making machine to create a sturdy rope chain that lasts for a long time. Apart from the necklace type, the 14 karat, 16 karat, and 18 karat gold chains are stronger and more durable than those made from pure gold.
15. Is a jewelry chain a good investment?
Yes. A jewelry chain is a good investment, especially if made from solid gold, which appreciates with time. However, it is made from gold shouldn't be the only consideration when choosing a gold chain. Choosing an enduring design is an excellent way of ensuring that your jewelry maintains or appreciates with time. When the time comes to sell it, you can be sure of fetching a lot of money from it.
16. How do you make gold jewelry shiny?
You can make gold jewelry shiny using a solution of dishwashing detergent. After making the dishwasher solution, add several drops of ammonia, dip the jewelry in it for a few minutes, and brush with a soft brush. When you are through, clean the jewelry piece using lukewarm water. Alternatively, you may use a chain faceting machine to make a gold chain shiny.