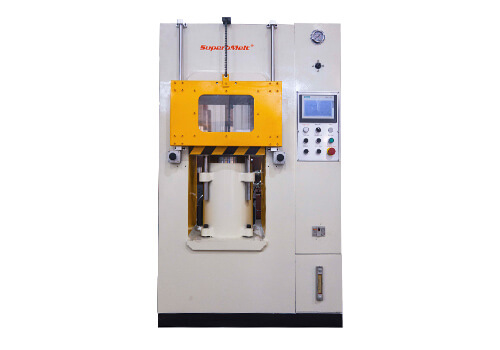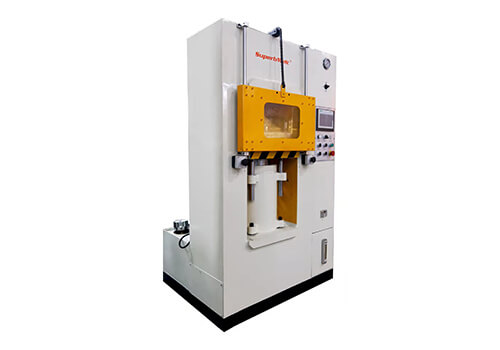 Superbmelt 100 ton hydraulic press is used for  a wide range of applications apart from embossing marks on precious metal in the coin minting. The 100 ton hydraulic press is also used for shaping metals, clinching, moulding, blanking, punching, deep drawing and other metal forming operations. The hydraulic press works by exerting compression force against metals placed between dies. The 100 ton hydraulic has a pressing capacity of 100 tons, this means that Superbmelt machine press is not only suitable for heavy industrial uses but also for small-scale applications. 
Superbmelt hydraulic press machine has a simple construction but works effectively for several metal applications. It is suitable for use in industries such as aerospace, automotive, thermoplastic, etc. Superbmelt hydraulic press machine saves up to 40% of energy, which means that operating cost is low.
Our stamping machines guarantee accuracy and efficiency in every production, contact us today to get the press machine that meets your needs.  
Features & Benefits
Superbmelt hydraulic press machine presses metals through the hydraulic pressure. It can also perform processes like cutting, moulding, clinching, piercing and forming in different metal forming operations. 
Superbmelt 100 ton hydraulic pressing machine allows users to stamp logos, texts and other symbols on precious metal coins and bars. With the hydraulic press machine, branding your products becomes easy for different industries. 
With the Superbmelt hydraulic press machine, industries such as automotive and aerospace can press tracking numbers which helps them in proper record keeping, quality control and compliance with production standards. 
The hydraulic press is able to press up to 100 ton of precious metal, this is suitable for use in small and medium scale productions.
The maximum system pressure is 25mpa, this means that you can easily adjust the stamping pressure to determine the depth and the speed of pressing.
Superbmelt 100-ton servo motor driven system also allows you to adjust the speed and pressure of pressing. This feature allows the machine to move stably and reduce noise. This noise reduction feature prevents noise pollution in the working area.
The metal pressing machine has a motor power of 4 to 11kw. The 4kw of power helps you to save cost on energy use. It also means that there is no fuel whose end product can release toxic gases. 
The speed of the 100 ton hydraulic pressing machine enhances high productivity. Productivity increases by at least 40% which allows demands to be met on time. 
Parameter
W

hy SuperbMelt 100 ton Hydraulic Press

Professional R&D Team:
Over 15 years R&D experience in gold machinery with a top engineer team supported

High Quality:
Only choose famous brand main electric components for production

ISO CE SGS Approved:
Professional certification bodies certify that the machines are of high quality
Any Question About SuperbMelt 100 ton Hydraulic Press
FAQ Guide of Hydraulic Press
1. How should I determine what type of hydraulic press I need for my application?
Before choosing a hydraulic press for sale, or a 100 ton hydraulic press machine, it is important to know about different types of hydraulic press that can be used for different applications. For example, for simple applications or smaller objects, one can opt for a manual press. On the other hand, for heavy and large objects, you can go for a movable or automatic hydraulic press machine.
Such machines have different applications in different industries, for example, punching, straightening, deep drawing, blanking, bending, and more. Well, you should keep in mind that it is impossible for a particular hydraulic press to perform all the tasks. So, based on your requirements or applications, you can choose the different types of hydraulic presses mentioned here.
Speaking about the C frame press machine, this is designed and developed to take less floor space than other types of presses. Besides, such a machine can offer minimal stroke deflection. As the machines offer better control as well as precision, these presses are extensively used for diverse applications, such as coining, blanking, punching, drawing, forming, and more.  There is a lot of design that comes under the C frame press, but the most basic press includes a ram, a die, and a press bed.
An H frame press is a large floor unit that is made of a powerful press cylinder, steel frame, a bolster, and a pump, and they form an H shape. You can use such presses for multiple applications, like for your production lines, for repair and maintenance facilities, and more. In some cases, such machines can be combined with hand pumps to carry out low-volume tasks. Well, the cylinder size can also vary based on the required force power and the application.
Four-column hydraulic press
When it comes to buying a hydraulic press for your precision tooling applications, you can trust a four-column hydraulic press. Under this, you can also choose from a two-beam hydraulic press, four-beam, and three-beam hydraulic press. The applications that require powerful pressure, these presses can be an ideal option for them. With some useful features such as smooth transitions, versatility, ease of use, easy maintenance, flexibility, and faster setup, this press is quite famous among users.
Air-operated hydraulic press
If your production facility lacks power, but there is an air hook-up, and you don't want to press manually, you can go for an air-operated hydraulic press. With such machines, you will witness the same pressing power, just like the electric press. It can create around 25 to 200-ton pressing capacity.
Horizontal hydraulic press
Plate straightening, punching, contouring, rail straightening are some of the major applications where a horizontal hydraulic press can be used. As per the experts, this is a multi-purpose and versatile machine, and parts can be easily punched, compressed, disassembled, etc. In general, such presses, including a vertical hydraulic press, come with a powerful hydraulic system to prevent overloading.
Hydraulic coin press machine
This is also known as an automatic hydraulic press machine that comes with a robust steel-made body and is widely used for minting silver and gold coins. Besides, you can also use these machines for bars and medals minting or pressing. The machine can create around 150 tons of press and also comes with an extra hydraulic cylinder to support return stroke.
Even though there are a lot of options, when it comes to buying the best 100 ton hydraulic press machines, you can always trust SuperbMelt. You can also use them to automate your production process.
2. How does a hydraulic press machine function?
All types of hydraulic presses are based on Pascal's Principle. The major components of a 100 ton press machine are pistons, hydraulic pipes, and cylinders. The working process is very simple to understand. The two cylinders are filled with oil or fluid. The fluid is filled into the slave cylinder. After that, a piston is inserted into the smaller cylinder, and the required pressure is then applied. This makes the oil move into a large cylinder through a pipe.
Then, the pressure is applied to the master cylinder that makes the piston located in the cylinder push the oil back to the smaller cylinder. This process creates a huge force, and that force is applied to the press plates. The press plates then punch the object.  A 100 ton hydraulic press machine can be used for blanking, clinching, punching, forging, metal forming operations, coin pressing, and more. For best solutions, get in touch with SuperbMelt now.
3. Do you provide customized solutions?
When it comes to achieving automation, or if you want to automate the process, you can always choose SuperbMelt. We are well-known for offering the best and cost-effective solutions for that. When you are with SuperbMelt, you can go for the following options.
Coin press machine or stamping machine
Our coin pressing machine can press around 150 tons of metal. We also call it a durable upstroke coining press that can offer the right RAM travel speed and comes with an extra hydraulic cylinder. Our machine has an advanced relief valve, piston pump, hydraulic accessories, and an electric control panel. Besides, using the machine, you can automate the process of stamping images, text, logo, or a combination of logo and text, you can opt for SuperbMelt's automatic coin stamping machine. SuperbMelt's 100 ton hydraulic press for sale is completely automated and can successfully complete the process within a few minutes. The users can use it for copper, silver, gold, platinum, and other coins. It can produce around 100 to 300 tons of press. The users are free to choose from the automatic, manual, and semi-automatic modes.
Automatic metal processing system
SuperbMelt also offers solutions to automate the metal process. Using that, you can automate the process of gold bar making, metal melting, chain making, coin making, and more. Just program the system, and they will carry out the task automatically.
Besides, you can also use SuperbMelt's machines for forging, an effective metal fabrication technique. You can use micro-alloy, stainless steel, alloy steel, titanium and more materials for forging. What's more? Our hydraulic machine can also be used for clinching process. When it comes to joining of sheet metal components, you can trust this machine. On the other hand, the machine is so versatile that you can use it for metal forming operations to create robust structural parts as well as components from the metal sheets.  All the machines can be used in coin production industries, ingot production, precious metal foundries, and more. 
4. How much pressure should a hydraulic press have?
The required pressure amount may vary based on your application type. However, it is advisable to buy a hydraulic press that can produce around 100 tons to 300 tons of pressure. Well, you can easily find a good-quality 100 ton hydraulic press machine at SuperbMelt, and they will come under your budget.
5. How many types of hydraulic press machines are there?
Four-post hydraulic press- These machines are widely used in precision tooling.
Assembly presses- The machine can produce a sufficient level of pressure to secure or assemble parts.
Arbor presses- You can use these machines for assembly, seating stamping, bearings removal, and more.
Single column hydraulic press- As the name suggests, this machine comes with one column, and it has a type C frame.
Vertical hydraulic press- The machine has two columns, and there will be an overarm that comes connected with the columns.
Horizontal hydraulic press- While using the machine, the workpiece will remain between the plate arranged vertically, and then the pressure is applied.
These are some of the common hydraulic press machines that you can find in the market. But for the best 100 ton press, SuperbMelt can be a perfect platform for you. Check out our hydraulic press of sale and place your order now.
6. What makes hydraulic presses popular in industrial production?
Hydraulic presses are quite popular in the manufacturing industry across the world for their reliability as well as versatility. Some other reasons that make the machines popular are:
Available in a wide range of designs
Based on your applications, you can choose a hydraulic press. You can go for C-frame, Horizontal, H-frame, automatic, manual hydraulic presses, and more.
The machines are designed to offer even and smooth pressure by producing constant ram strokes. As a result, you can attain the tonnage at any point of the stroke.
The Hydraulic RAM can be controlled, and that means you can also lower the noise levels. As these machines come with fewer moving parts, they don't produce much noise.
A greater level of versatility
With hydraulic presses, you will enjoy endless possibilities. You can easily perform different tasks, such as straightening, bonding, stamping, transfer molding, minting, and more.
There are more such benefits that have made the machines quite popular in the process of industrial production.
7. Between the hydraulic press machine and the mechanical press machine: which is better?
As per some studies, a mechanical press machine can offer a higher production speed. But this can only be achieved if the parts require shallow and simple forming. On the other hand, an automatic hydraulic press machine can be more versatile in terms of working power and tonnage. As a result, it can be used for more complex forming and processes. So, if you have a complex task to do, or for coins or metal bars stamping, you can go for a 100 ton hydraulic press machine. However, find reliable hydraulic press suppliers to get the best machine.
8. Is the hydraulic press machine more energy efficient?
Yes, if you compare a hydraulic machine with a traditional mechanical press machine, you will find the hydraulic press a better option in terms of energy efficiency. The pressure level can be adjusted based on the requirements, and this way, you can also lower the power consumption level. As per some studies, one can save up to 60 percent power by using an automatic hydraulic press machine. So, what are you waiting for? Get in touch with SuperbMelt, check out the 100 ton hydraulic press for sale, and place your order now. For more detail, you can call the experts.
9. What kind of experience does SuperbMelt have building hydraulic press solutions?
SuperbMelt has years of experience in building high-quality hydraulic presses. Besides, before manufacturing any machine, we conduct detailed research and use robust material along with advanced technologies. All our machines are ISO CE SGS approved, and they last for years.
10. What type of controls come with SuperbMelt hydraulic press?
The machine comes with a servo motor-driven system. As a result, the users can set different pressure levels and speeds to effectively press silver and gold coins or bars. Besides, this ensures that the machine offers stable movements while producing less noise. On the other hand, our hydraulic press has a PLC control system.
This controlling feature makes the machine stable, and you will enjoy a convenient operation. You will not get such features in a traditional hydraulic press machine. Thanks to the Servo-driven pump technology, using our powerful hydraulic machine, you can save around 40 to 60 percent energy. What's more? One can choose between manual, automatic, and semi-automatic modes based on the requirements.
11. What type of power will the SuperbMelt machine require?
Hydraulic machines of SuperbMelt utilize kinetic or liquid fluid power to carry out the task. During the process, the hydraulic fluid is properly pumped to the hydraulic cylinders and motors throughout the machine and creates pressure. It also requires electricity to operate the powerful motors.
12. What types of applications have been achieved with SuperbMelt machines?
Well, SuperbMelt offers different types of machines that can be used for different purposes. If you want to make jewelry chains, then SuperbMelt can offer you the best jewelry chain-making machine. Besides, for metalwork, the company has solutions like furnaces, metal purity analyzers, casting solutions, and more.
For coins and bar making, it also offers machines like coin pressing, coin minting, logo stamping machines, and more. SuperbMelt offers the right solutions to effectively automate some of your production processes. Prefer to get in touch with them for more detail about their machine.
13. What are the different types of hydraulic presses offered by SuperbMelt?
SuperbMelt is quite popular for manufacturing and supplying high-quality and industry-standard hydraulic presses. With SuperbMelt, you will get options like:
Frame Type Hydraulic Press
Our frame-type hydraulic press is versatile and takes less space. It can be used in different types of industries. Our machine can produce  100 to 300 tons of pressure to press any types of metal. It comes with a heavy-duty steel body, and the powerful hydraulic cylinders are designed to deal with more than 2000 psi. Besides, it also has required safety features to keep the RAM stable.
frame type servo hydraulic press
Our servo hydraulic press has become quite popular in a traditional hydraulic press as well as high-precision applications. The machine can be programmed to offer a maximum level of accuracy, and the users can enjoy positional repeatability. It can produce 100 to 300 tons of pressure.
Four-column hydraulic press
SuperbMelt's powerful and modern four-column hydraulic press can be used for various precision tooling applications. If pressure is a major consideration factor for you, you can trust our four-column hydraulic press. It offers smooth transitions, a faster setup, and better flexibility.
This hydraulic press's components include electric pump control, compensated axial piston, servo-controlled valves, and extreme high-pressure pistons. It can offer high-press force allowing you to witness greater output.
14. How safe is the hydraulic press in industrial production?
Well, some of the common hazards related to a hydraulic press are flying debris, damaged parts, and overheating. Besides, sometimes oil leaks can also happen. However, when you have a SuperbMelt 100 ton hydraulic press, you don't have to worry about anything as our machines have all the required safety features. For example, adjustable pressure, power consumption, speed settings, and more. Besides, the Servo-motor driven system is there to offer better speed and pressure. The design is also very compact and can be used in both large and small workspaces.
15. How durable is the hydraulic press?
SuperbMelt's hydraulic presses are very durable. In fact, they can press a metal by applying around 100 to 300 pressure. Besides, the metal-made body structure makes the machine last for years. Our 100 ton hydraulic press can last more than the traditional hydraulic machine. The machine is so durable that you can use it for gold coins or bar pressing or stamping. Besides, it can be used for coins made of other metals like silver, titanium, and more.
16. What are some advantages and application examples of the hydraulic press?
Speaking about the advantage of hydraulic presses, it may include unlimited customization, complete tonnage during the stroke, compact footprints, flexibility, lower service and maintenance cost, and more. Now, talking about the application, you can use them for coin stamping, logo stamping, minting, and coin pressing.
In the Automobile industry, it can be used to create brake pads, floor mats, insert molding, vibration control, sealing components, and more. The machines can also be used for building aircraft. The manufactures use this for machinery fabricating or metal forming, gear assemblies, airplane body panels, and more. So, an automatic hydraulic press machine can be used in different industries. Check the hydraulic press machine price and place your order now.
17. What is the difference between hydraulic press and power press?
Talking about the hydraulic presses, they function by utilizing liquid or oil and move when pressure is applied. However, the power press uses gas or air to create pressure. And it can be pneumatic, hydraulic, or mechanical. As per the experts, the hydraulic press is strong as well as dependable. And they can be a perfect option for specific type of tasks, especially when large amounts of products or tough materials need to be pressed. When it comes to enjoying best and accurate metal pressing results, the users should use a hydraulic press.
18. How do I choose a hydraulic press?
Proper selection of an automatic hydraulic press machine for your application has major importance. You will find different options out there in the market. But which one to buy? We have listed down some tips for you that can help you in choosing the right machine.
Understand the right amount of pressure
Every application includes some metals, and the operators need to apply the right level of pressure to stamp or press the metal. Buying a hydraulic press that can't generate the required amount of press can lead to a huge loss. So, if you want to press, mint, or stamp coins, then choose a machine that can create 100 to 300 tons of pressure, such as a 100 ton hydraulic press.
There are some applications, for example, deep drawing and more, where a powerful stroke from a hydraulic press can lower the tonnage. But there are no such examples or cases where utilizing a hydraulic press needs more tonnage. However, choose a machine where tonnage can be tuned and adjusted quickly for an accurate job.
Consider the materials that you want to use
The type of materials used in the manufacturing process can be a crucial consideration while choosing a hydraulic press for sale. For example, softer material will not require powerful pressure, but gold and silver may need a pressure of 100 to 200 tons.
Mechanical presses and drop hammers can perform well on soft jewelry. But a full power stroke of such a machine can create better results in actions like minting or stamping.
19. What if we face a problem in the workmanship after installation?
If the users face any types of technical issues after the installation of our hydraulic presses, they can get in touch with us any time they want to resolve the issue. Besides, you can fill up and submit the online form, and one of our customer support executives will call you as soon as possible with the necessary solution. You don't have to worry about the charges as all our machines are backed by a 2-year warranty policy.
20. What does SuperbMelt engineers offer?
We have highly trained and experienced engineers who can guide you in the installation of our machines. Besides, they can give you the necessary training to operate the machines without any issues. On the other hand, our engineers can analyze your business and the requirements to suggest you the necessary automatic, automated solutions to enhance your production. If you have any doubt related to the configuration of our machines, you can always get in touch with our engineers.