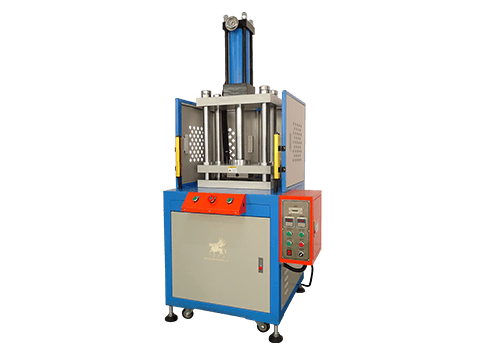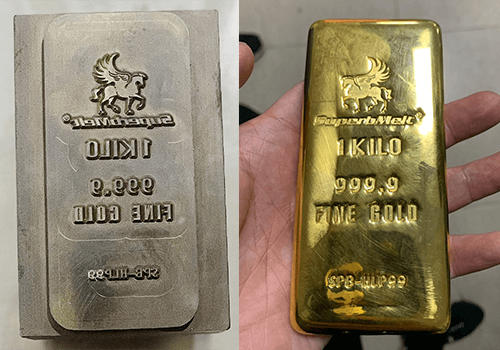 Superbmelt 20 ton hydraulic press is specially designed for embossing marks and logos on precious metal bars and other metals. The 20 ton hydraulic pressing machine makes use of hydraulic pressure that generates compressive force with the use of a hydraulic cylinder. The hydraulic press automatically stamps metals at controlled pressure and speed. The stamping machine is capable of embossing different sizes and widths of ingots of up to 20 tons. 
Superbmelt stamping machine works by applying hydraulic pressure to a cylinder that is pressed against the ingot. This leaves texts and logos on the surface of the ingot. The rising and descending speed is about 68mm this makes the stamping process fast and efficient. 
At Superbmelt, our machines are designed to be highly automated and easy to use. With the push of a button, the hydraulic press automatically stamps the ingot with the programmed die. The pressure and speed of the hydraulic press can easily be adjusted to improve production speed. The total motor power is 3.75kw helps to save greatly on production costs. Superbmelt hydraulic press machine is available from 10 tons to 50 tons, this helps you to select an hydraulic press that meets different pressing capacities. 
Features & Benefits
Superbmelt 20 ton hydraulic press is used for embossing details such as logos, texts, serial numbers and metal purity on gold and silver bars. This is largely beneficial for gold bar making industries, financial institutions and other industries that aim to prevent the circulation of counterfeit items in the market.
Superbmelt hydraulic press machine makes use of the hydraulic system that performs an automatic stamping process. This hydraulic system is able to stamp between 10 to 50 tons of precious metal bars.
The table height and the working area measuring 850mm and 500*400mm respectively makes the embossing machine convenient to use for the operator. 
The four column and the three plate structure makes the embossing process highly accurate.
The compact design of the hydraulic press machine means it requires minimal space. Also, the hydraulic stamping machine is equipped with wheels that makes the process of transporting the machine easy.
The control buttons are largely displayed on the main machine, which makes it easy to operate the hydraulic press machine without expert knowledge.
The four axis self linear lubricating guide sleeve, press height and work size table can easily be adjusted based on user requirement.
Superbmelt 20 ton hydraulic press has a cooling system that regulates the hydraulic temperature for a continuous pressing operation. 
Superbmelt hydraulic press is suitable for use in the precious metal industry, aerospace, manufacturing and automotive industries. 
The power consumption required by the hydraulic press is low, it requires only 3.75kw; low noise level; and it requires minimal maintenance. 
Parameters
W

hy SuperbMelt 20 ton Hydraulic Press

Professional R&D Team:
Over 15 years R&D experience in gold machinery with a top engineer team supported

High Quality:
Only choose famous brand main electric components for production

ISO CE SGS Approved:
Professional certification bodies certify that the machines are of high quality
Any Question About SuperbMelt 20 ton Hydraulic Press