Rectifier Transformer
Rectifier Transformer Description
Furnace rectifier transformer which is used on industry furnace smelting,it's a special transformer which is designed according to work principle
Including load ratio voltage regulator type, no-load voltage regulator type, and built-in reactor type.
Furnace transformers cooling modes are self-cooling mode, forced water cooling mode.
The operation environment and condition.
Low power consumption: The transformers have passed national energy saving certification and have remarkable energy saving effects.
Zero purchase risk: Our products all have a 3-year warranty which is 3 times that of the common warranty period of the industry. For faults caused by quality defects of our products, we provide thorough after-sales services as described on the warranty card under the premise of normal service.
Rectifier Transformer Parameter
Rated capacity (KVA)
Voltage combination and tapping range
Connection symbol
Short-circuit impedance (%)
Standard vlue
Gauge (crosswise×lengthwise) mm
High Voltage (KV)
High voltage tap range (%)
Low voltage KV
No-load Loss (W)
Load loss (W)
No-load Current (%)
30

6

6.3

10

1.5

11

±5

±2×2.5

0.4

Dyn11

Yyn0

4.0
33
600
1.0
400×400
50
46
870
0.9
400×400
63
55
1040
0.9
400×400
80
66
1250
0.8
400×400
100
78
1500
0.8
400×400
125
92
1800
0.65
550×550
160
110
2200
0.65
550×550
200
130
2600
0.5
550×550
250
160
3050
0.5
550×550
315
190
3650
0.45
660×660
400
220
4300
0.45
660×660
500
250
5150
0.45
660×660
630
4.5
300
6200
0.4
820×820
800
360
7500
0.4
820×820
1000
430
10300
0.35
820×820
1250
500
12400
0.35
820×820
1600
600
14500
0.35
820×820
2000
750
18000
0.3
1070×1070
2500
980
21000
0.3
1070×1070
Rectifier Transformer Details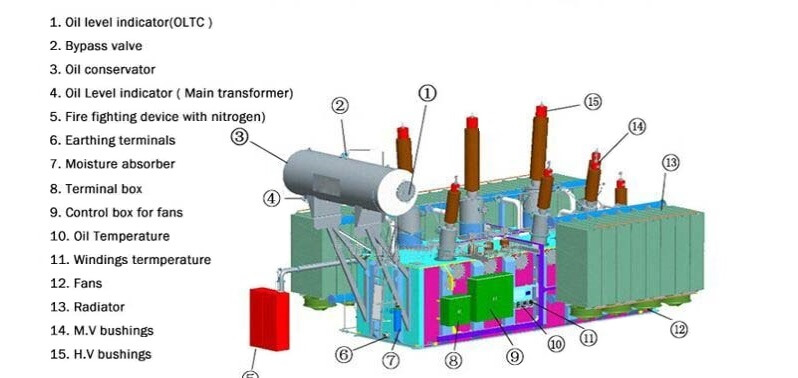 Rectifier Transformer Working Condition
Altitude ≤1600m"
The maximum temperature :+ 50 °C, the lowest temperature: -25 °C, the maximum daily temperature 30 °C, relative humidity : 90%."
The maximum wind speed 35 m / sec"
The earthquake intensity: seismic acceleration (horizontal component 0.1g, 0.2g same time the role of the vertical component) transformer can withstand earthquake intensity of 8 degrees seismic force safety factor ≥1.67."