P

recious Metal Analyzer for Sale
The most popular SuperbMelt precious metal analyzer for sale
Superbmelt precious metal analyzer for sale is used for testing and analyzing metal elements, purity and authenticity. The XRF precious metal analyzer accurately analyzes metals such as gold, silver, platinum, palladium, copper, etc.
Superbmelt precious metal analyzer for sale performs a non-destructive, fast and accurate analysis of precious and base metals. The total analysis time is between 1 to 120 seconds. The precious metal analyzer is simple to operate and maintain for long-lasting use. 
The XRF precious metal analyzer is used in precious metal mining, jewellery production and recycling, jewellery stores, etc. Contact Superbmelt for the best precious metal tester for sale.
Parameters
| | |
| --- | --- |
| Model | SPB-XRA2000 |
| Excited Source | Ultra low power X-ray tube, air cooling |
| Collimator | 1-2mm or according to the customer's requirement |
| X-ray Generator | 50kV 1mA |
| Detector | High resolution detector |
| Processing Electronics | 1.2GB CPU with integrated FPU with 2GB RAM; DPP and MCA |
| Data Display | High resolution Color QVGA resolution with touch screen; 7 Inch |
| Data Storage | 32GB SDD |
| Data Transfer | USB interface with many equipment; WIFI |
| Software | Based on Microsoft Windows system (Win7 and Win8), easy operating, only to press "Start" button, then results will be shown on screen. No need more standard samples for calibration. |
| Analysis Time | 5s to 120s |
| Analytical Tolerance | 0.01% ~ 0.3% (average) |
| Detection Elements Range | Au, Ag, Pt, Pd, Cu. (Zn and Ni will be calculated in Cu; Cd will be calculated in Ag) |
| Power Supply Mode | AC100V〜240V,DC12V(vehicle power supply or Li-ion battery) |
| Dimensions | 40*30*27cm (floor space <2 pieces of A4 paper) |
| Weight | 17Kg |
| Standard Accessory | Polish kits; Operating pen; DC12V power supply; Manual; CD; Jewelry holder |
| Optional Accessory | Reference calibration samples; USB micro-printer; Micro-wireless keyboard and mouse; Vehicle power supply DC converter |
Advantages and Benefits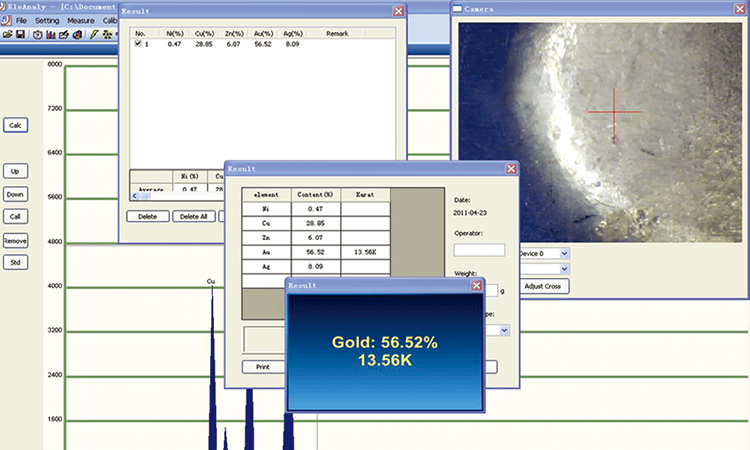 Analyze the percentage of all metal purity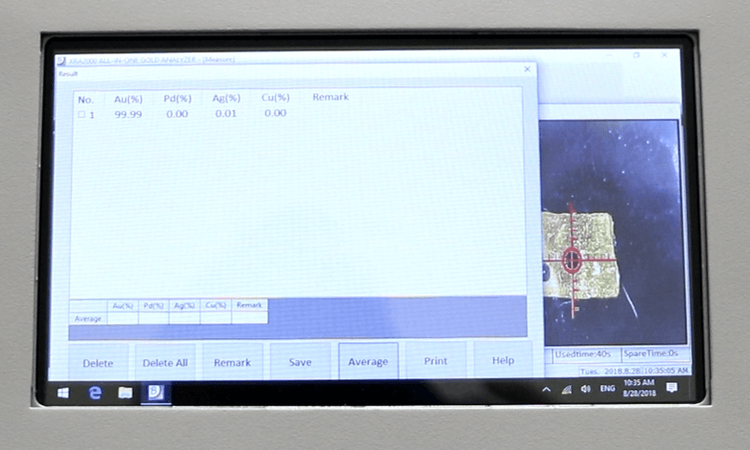 Analysis of gold, silver, platinum, palladium purity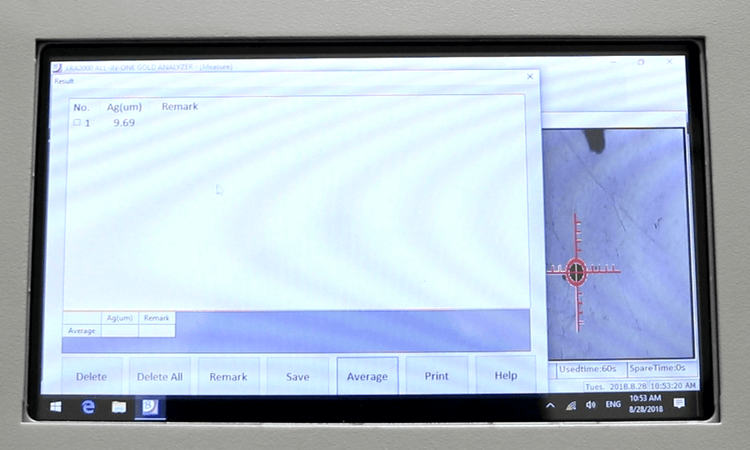 Testing the thickness of metal coating
W

hy SuperbMelt XRF Precious Metal Analyzer

Professional R&D Team:
Over 15 years R&D experience in gold machinery with a top engineer team supported

High Quality:
Only choose famous brand main electric components for production

ISO CE SGS Approved:
Professional certification bodies certify that the machines are of high quality
Any Question About SuperbMelt Precious Metal Analyzer
FAQ Guide of Precious Metal Analyzer
1. How do you really know that gold is real?
There are many gold testing methods you can use at home. And the most preliminary test is the float test, where you gently drop the gold item in the water. Since real gold is a heavy metal, it would sink right away to the bottom. But if it floats, you would know it's not genuine gold. In the bite gold test, you gently bit into the metal; the real gold metal would form small dents in the metal in the shape of your teeth.
There is also a flame test, where you hold the flame on the metal for about sixty seconds. If the color changes to a darker shade, it's not gold since the pure gold would turn brighter if the flame is applied. Commercial operators use precious metal analyzer for sale to analyze their originality. All the aforementioned methods can damage the jewelry itself. Thus, if you have a jewelry business, it's wise to use a metal analyzer machine to detect their purity.
2. Can simple methods identify the types of impure gold?
Gold jewelry can have various impurity types since it's extracted via diverse processes. Gold can have impurities such as zinc,copper, silver, and iron when extracted by amalgamation or cyanidation process. Since those precious metals are used as the base materials, their properties can match gold, making it confusing for the gold shop owners and pawnshop owners to identify pure gold.
Elements like Tungsten and copper can be brighter than gold when polished, so using a simple method, it wouldn't be easy to say confidently if a piece of jewelry is pure gold. If precious metals such as palladium platinum impurity are in the gold jewelry, they can be cut in cross-sections to detect their colors. Thus, professionals use an XRF gold testing machine to identify the percentages of impurity present in gold effortlessly.
3. What are the precious metal analyzers on the market?
You can find various types of precious metal analyzers on the market ranging from acid metal testing kits to portable metal analyzing testers. Some even use various other equipment as a precious metal analyzer for sale that involves traditional techniques such as metallographic analysis, smelting identification, fire assay, and atomic absorption spectroscopy, etc.
However, for industrial and commercial level metal purity analysis, especially for gold testing, professionals use equipment such as spectrometer and XRF gold testing machine for sale to identify the impurities in the metal.
4. How does the SuperbMelt precious metal analyzer work?
SuperbMelt precious metal analyzers can analyze metals like gold, silver, palladium, and platinum. It can make detection of metal impurities such as zinc, copper, nickel, cadmium, Tungsten, radium, etc. The device can analyze the thickness of metal coating or plating on the jewelry as well as to measure the concentrations of metal solutions. This precious metal analyzer for sale uses x-ray technology to offer quick and accurate metal testing results.
Since no damage to the jewelry or loss of precious metals could occur, it's the most non-destructive precious metal testing professionals use. This device can analyze all states of precious metals, i.e., powder, liquid, and solid forms. Elements such as gold, cobalt, germanium, rhodium, magnesium, titanium, palladium, and all the elements from sodium to uranium can be quickly detected with SuperbMelt precious metal analyzers.
5. Are XRF precious metal analyzer safe to use?
Using XRF precious metal analyzer is completely safe since it uses the X-Ray Fluorescence technique. This technique work by emitting a beam of X-ray Photons that hit the atoms present in the sample. Once the electron of the sample start emitting different amount of energy, the device you measure the energy and detect all the elements present in the sample accurately. The entire process is harmless as the device uses a weak X-ray and is designed with safety functionality.
If somehow the operator opens the chamber cover without realizing, when the testing is going on, the machine would turn off the X-ray emission automatically. To not have any negative impact on the environment, the user should purchase an XRF device that is environmentally friendly. The professionals invest in XRF precious metal analyzer for sale that does not produce unnecessary noise, heat, and smokes. It should produce weak X-rays that would not damage the skin, eyes, and other human body parts.
6. What is the applications of the SuperbMelt XRF precious metal analyzer?
SuperbMelt XRF precious metal analyzer works on X-RAY Fluorescence technology. Due to its user-friendliness and reliability, the machine has many applications for testing precious metals. This device is capable of detecting marginal impurities in precious metals such as gold, silver, platinum, and palladium, etc.
The SuperbMelt XRF gold testing machine can determine the thickness of the metal coating and the percentage of metal solutions concentrations. Two testing methods, i.e., melting gold or four cross-sectional testings, is utilized in testing gold purity in this device. Apart from metal analysis, SuperbMelt XRF precious metal analyzer can be used for alloy analysis, scrap metal testing, positive material identification.
7. How to choose the right gold testing equipment?
Gold testing equipment is not just used for evaluating the gold but also to determine its purity and impurity percentages. Some testers also provide more features with better accuracy. You have to decide if you only want to test gold content or want a device that is capable of testing all metals. While a small yet lightweight device can offer you one feature, for more features, you can look for a larger device for professional service.
As a first-time user, you should use a precious metal analyzer for sale, i.e., user-friendly, and utilize uncomplicated techniques. Make sure the testing equipment uses long-lasting probes for a cost-efficient solution. XRF gold tester has great demand in the commercial as well as industrial sector. Thus, determine if your budget suits the XRF gold tester price before buying one.
8. How many elements can the XRA3200 analyzer analysis?
XRF metal analyzers are used to detect not only precious metals but also Alloys. XRA2000 and XRA3200 are two types of metal analyzers that are abundantly used due to their accuracy. XRA1000 can major elements like Au, Ag, Pt, Pd, Cu, Zn, Ni, and Cr, etc. The XRA3200 precious metal analyzer can analyze over twenty-five elements at the same time. Some of them are Au, Ag, Pt, Pd, Cu, Ni, Zn, Mo, Ir, Rh, Os, Ru, Cr, Fe, etc.
9. What is the initialization used for?
Initialization in a precious metal analyzer is used for adjusting the peak value to zero, just like you start measuring from zero on a scale to measure the weight of any product. As every metal element has its own signature, each of their spectra would show at various positions on the X-axis of the software.
Thus, the initialization process is applied to automatically adjust the peak value of testing precious metal elements to zero, so the reference spectrum would be fixed to zero, and all other elements' spectral position would be fixed accordingly. Otherwise, the XRF gold testing machine would produce an incorrect report.
10. What jewelries could do the initialization?
The initialization process depends on which type of software is used in the metal analyzer machine. You would require using different software to use different metals for initialization. Typically jewelry made of gold, silver, and platinum is used for the initialization process. But those metals should be pure in order to show accurate reports.
The initialization process is utilized to set the peak value to zero. Since every element would emit different spectral energy, their position on the X-axis on the software would also differ; if the peak value or reference spectrum is fixed at zero. But if the initialization of the element is not fixed, it would make an inaccurate measurement.
11. How often do we do calibration?
The calibration process is performed when a test shows inaccurate results. But since we use an XRF gold testing machine, calibration is not required. In case you are using our machine for gold, silver, or platinum testing, the result would show accurately, so there is no need for calibration. However, if you think the machine is showing inaccurate results, you can calibrate the machine.
Although as a commercial operator, you must conduct re-calibration at least once a year to ensure the measurements show accurately. But if you need to do critical measurements most often, then doing calibrations within a shorter time span, as in monthly, quarterly, or semi-annually to make the test results less questionable. Thus, your device should be calibrated according to your specific application and usages.  
12. Are XRF precious metal analyzer safe?
The XRF precious metal analyzers are best considered safe for application. However, during the testing process, the XRF metal analyzer can produce a directed radiation beam via the tube. Thus, to minimize exposure to radiation, you must put rational efforts. The user has to follow the 'as low as reasonably achievable' principle to avoid potential health hazards. You have to consider three factors, i.e., shielding, distance, and time as to reduce radiation exposure.
So, use safety gears, maintain distance, and use quick yet effective techniques while utilizing XRF precious metal analyzer. But since the X-Ray radiation XRF, machine use is weak and designed with protecting functions, so the device wouldn't affect your health. Some jewelry materials can contain alloying metals, contaminants that can cause an allergic reaction in certain people. You can avoid such hazardous materials from buying by using an XRF metal analyzer.
13. Can XRF detect aluminum?
XRF analyzer is ideal for faster and qualitative elemental analysis. Generally, the XRF gold testing machine for sale is capable of analyzing light elements with low concentrations. Although, the portable XRF analyzer can provide an inaccurate result, as the energy level of these light elements is low enough to get absorbed in the sample instead of radiating.
But with technological advancement, the modern XRF analyzers now come with innovative features that can easily detect many light elements. Almost all elements from sodium to uranium can be detected in an XRF analyzer with good quality spectra at the same time in seconds. Thus, the device can positively detect a myriad of aluminum alloys and make a fast analysis of their chemical composition.
14. How does an XRF precious metal analyzer work?
XRF precious metal analyzers are some Spectro analytical equipment that use the technique of X-ray fluorescence spectrometer to measure the elemental composition of any precious metal. The device uses a sample that is excited by a primary high-energy X-ray source, i.e., generated into an X-ray tube.
Once the sample is activated, all the elements present in the sample each produce a set of characteristic fluorescent X-rays, and in a few seconds, you can see the testing result on the machine. Most importantly, the operator must identify the material they want to analyze. Gold can come in many forms, such as solid, liquid, or powder form. Thus, in order to get an accurate result, choose an XRF machine as per the requirement.  
15. What is the principle of XRF?
XRF stands for X-ray fluorescence, which is a non-destructive analytical technique that is utilized to determine the elemental composition of various metals. When the XRF device releases the X-ray beams, it excites the electrons of the sample's atoms that results in the displacement of the atom's electrons.
Once the atoms become unstable, their open position gets filled by an electron from the outer shell, and fluorescence radiation is emitted to maintain stability. The XRF device reads these emitted radiation energies to detect the sample's purity level. Professionals use XRF precious metal analyzer for sale not only for evaluating the purity of the metal; they also use this device to measure the thickness of the metal coating.
Since jewelry can have other metal plantings and coatings on them, this feature is absolutely necessary for commercial jewelry business operators.The energy emitted from the sample can also determine the thickness of the coating. If a second reading is used, it can measure the thickness of the substrate.
16. Can XRF precious metal analyzer detect gold?
Most commercial sectors use XRF precious metal analyzer since it's a non-destructive method that leaves the jewelry completely intact and undamaged after the testing. The XRF metal analyzer can easily detect gold items and accurately detect their metal composition in a jiffy. Not just gold jewelry and scrap gold but all kinds of gold coins, gold bars can be tested with XRF machines.
Jewelry shop and pawnshop owners invest in XRF gold testing machines for sale to make an effortless and non-destructive analysis of gold, silver, and platinum group metals. By verifying the jewelry material composition, you can identify genuine items as well as avoid fraudulence.
17. How does an XRF gun work?
XRF gun is otherwise known as a handheld XRF device that is portable. Just like other XRF metal analyzers, the XRF gun works by the principle of X-ray fluorescence spectroscopy technique. For one point, elemental composition analysis, XRF guns are ideal. First, the gun is pointed at the sample surface. These XRF guns work on measuring the fluorescent X-rays emitted from the sample as the atom of the sample is excited by a primary X-ray source.
The entireelement present in the sample is then measured by their emitted energy and forms a set of characteristic fluorescent X-rays, i.e., different for every element. The digital signal processors collect all these spectral data and send it to the CPU for analyzing the data and display the detailed composition analysis of the sample.  This qualitative and quantitative measurement makes the XRF gun an ideal tool for various industrial uses.
18. What elements can XRF detect?
The easy detection of elements In the XRF analyzer depends on the ability of fluorescent X-rays' penetration and escaping from the sample. And that again relies on the ray's energy and which type of element is being detected. While heavier elements such as Cu, Au, Ag, etc., can emit higher-energy X-rays to pass through within the sample, lighter elements, e.g., Na, Mg, Al, Si, would emit low-energy X-rays.
As it would be difficult for the X-rays to penetrate through the samples, it would be difficult for the machine to detect those elements. You can increase the XRF gold tester price to purchase an advanced XRF analyzer, so it can detect the lighter elements too. Apart from the heaviness, the sample composition can also be an essential factor. If the heavier elements concentration gets higher, it will decrease the chance of X-ray emission.
19. How do you use the XRF precious metal analyzer?
XRF precious metal analyzer can conduct an elemental composition analysis by two methods, i.e., single-point analysis and multi-point analysis. These methods involve highly précised sample staging that enables the sample to be accurately placed under the X-ray beam.
The software present in the machine can seamlessly align the sample, so it's every specific feature can get appropriately analyzed. Once the sample is appropriately placed, the measurement conditions are chosen before conducting the analysis. The spectrum would be acquired at each point to derive the result, and the sample can be automatically analyzed.
While in the single-point analysis, you will get a single result, for multi-point analysis, you would get different results as you have done the analysis on different curves. The jewelers and pawnshop owners use XRF precious metal analyzer for sale that has no restriction for sample size and shape, so they can test any kind of jewelry, and their customers can get analysis reports for big samples.
20. Is XRF a surface technique?
Out of all the various metal analyzer techniques, XRF that stands for X-ray Fluorescence is the most complicated technique. However, operating an XRF analyzer is the easiest. The working principle of an XRF analyzer is emitting an X-ray photon beam that hits the atom of the sample in order to analyze it.
Once the X-ray photon has collided with the atom, the electron of each metal present in the sample would release a varied amount of energy. You can easily detect any counterfeit materials as they would release a different amount of energy if the material is not in its purest form. Thus, XRF is an elemental analysis technique.
21. How accurate is an XRF gold analyzer?
The accuracy rate of a heavier element can be more accurate than the lighter elements in the case of an XRF precious metal analyzer. These machines can get better accuracy if the sample is a powder with small particle size or in case the sample is massive yet flat. The accuracy value of the gold jewelry can differ by 0.2 to 0.5%  when analyzed by the XRF technique and fire assay.
The accuracy can also be improved by making some adjustments in the analyzer's response if a reference sample is used with known concentrations, along with type standardization application. All the jewelry stores, pawnshops, and cash-for-gold operators utilize XRF precious metals analyzers to measure the content of all gold or other precious metals.
XRF can determine the presence and concentration of other elements' trace, alloys, contaminants and evaluate the jewelry piece altogether. But most essentially, since the XRF machine uses a non-destructive technology, sellers and customers alike prefer using this metal analyzer in order to not lose any value of the jewelry piece during the testing.
22. How accurate is an XRF precious metal analyzer?
Traditional metal testing techniques would not produce an accurate and reliable result and surely can damage the products. Therefore, industrial and commercial operators pay a high XRF gold tester price to get advanced features along with an accurate result. The XRF machines can do the testing directly on the metal itself, so there would be no need for the operator to make sample preparation.
There would not be any hazardous chemical use, making the testing an entirely non-destructive process. The implementation of advanced technology in the device makes it possible for the accurate result to be displayed within seconds. Since these machines are designed to operate with high precision, they can accurately analyze precious metals such as gold, silver, platinum, palladium, copper, etc.