P

ortable Induction Furnace
The most popular SuperbMelt 1-2kg portable induction furnace on the market
Superbmelt portable induction furnace is designed to melt up to 2kg of metals in 2 minutes. Metals such as gold, silver, aluminium, copper, brass, bronze and their alloys can be melted 
with a Superbmelt portable induction heating machine. 
The portable induction heater by Superbmelt has an IGBT induction heating technology that makes the melting process fast and highly efficient. The melting temperature of the portable induction machine is 1600 degrees celsius.
Superbmelt portable electric furnace is suitable for use in jewellery making, precious metal mining, laboratory research, precious metal recycling, etc. Contact Supermelt now for the best and affordable induction heating machine.
If you wanna check induction melting furnaces with bigger capacity, Please click here.
Features & Benefits
Superbmelt portable induction furnace is suitable for melting metals such as gold, silver, aluminium, copper, brass, bronze and their alloys efficiently on a small scale.
Superbmelt portable induction heating machine melts up to 2kg of the above metals within 2 minutes. This allows you to melt up to 30kg of metals in approximately one hour.
 The maximum melting temperature required for melting is 1600 degrees celsius.
Superbmelt induction heating machine has an IGBT induction heating technology that helps to save energy use, increase melting time, at the same time, improving melting efficiency.
The IGBT induction heating technology present within Superbmelt portable electric furnace saves between 15% to 30% of energy use. This means that about 3.5kw to 3.8kw is the maximum power required.
The induction heating technology ensures molten metal has a uniform consistency. This contributes to high-quality casting with no porosity, oxidation, shrinkage or contamination of precious metals.
Superbmelt portable induction heating machine requires a silicon carbide crucible or a graphite crucible for effective melting. Both of which prevents the loss of precious metals.
The water cooling unit prevents the portable induction machine from overheating. This ensures continuous melting for long hours.
Superbmelt portable electric machine occupies small space as a result of its 520*400*330mm dimension. The weight of 21kg makes it easy to transport.
The process of charging and molten metal removal from the crucible is easy and safe.
The mini electric furnace by Superbmelt is safe for the environment and the user. The small electric furnace does not release harmful gases or smoke into the environment. The operator is safe from harm that comes from exposed molten metal which is common in the traditional melting process. 
The PLC control unit makes the induction heating furnace easy to use and maintain, this results in long service life. 
Parameters
Crucible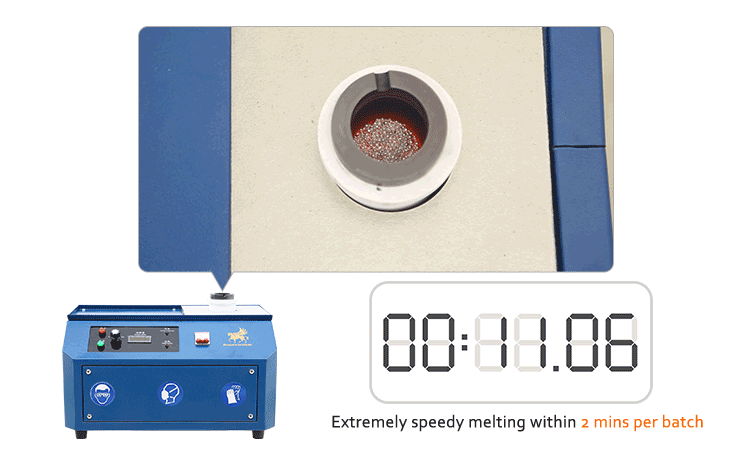 Extremely speedy melting within 2 mins per batch and 24h continuous working greatly improve the efficiency of production.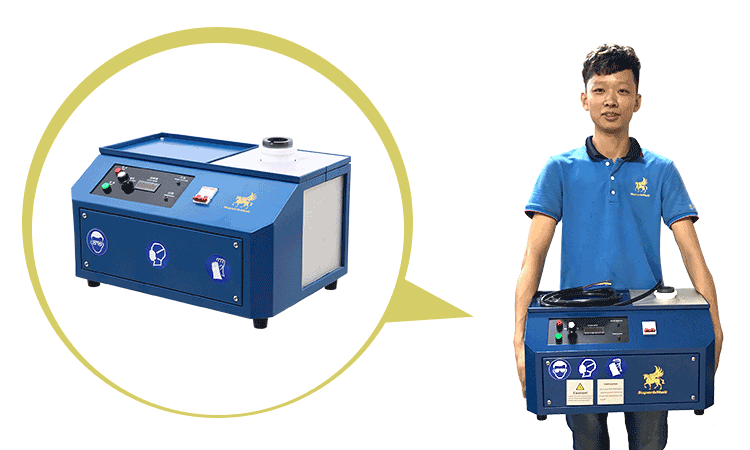 Small 1-2kg portable gold and silver melting machine is portable size design, light weight, easy to carry and fix.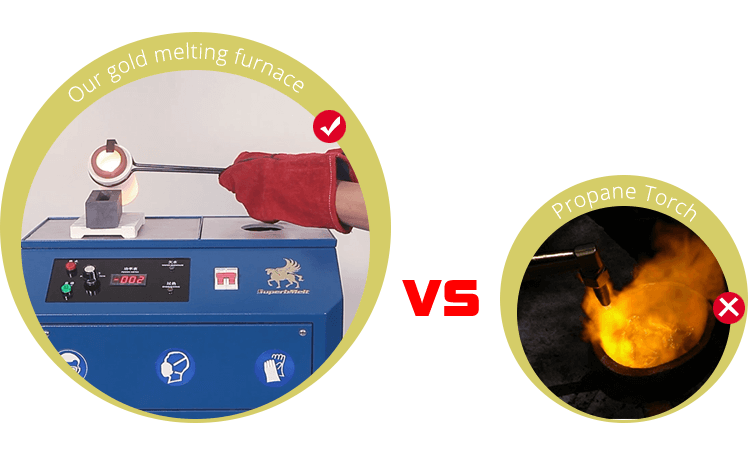 Comparing with traditional melting, SPB-DH reduces the loss of precious metal, safe work, save operation cost.
W

hy SuperbMelt Gold and Silver Protable Induction Furnace

Professional R&D Team:
Over 15 years R&D experience in gold machinery with a top engineer team supported

High Quality:
Only choose famous brand main electric components for production

ISO CE SGS Approved:
Professional certification bodies certify that the machines are of high quality
Any Question About SuperbMelt Gold and Silver Protable Induction Furnace
FAQ Guide of Portable Induction Furnace
1. How do you get gold from gold ore?
The process of separating the gold from the ore is called cupellation. Under this process, the gold ore is treated at a higher temperature in order to separate the gold from the ore. This method is also used to treat silver ore.
All the base metals, for example, lead, copper, and zinc, will oxidize during the heating process, and the noble metals will remain unaffected. Under the cupellation, gold ore is treated at a temperate of more than 960-degree C.
In general, the melting point of the gold is 1064-degree C. At such a higher temperature, all the base metals will get oxidized while the melted gold will remain at the upper section. In some cases, borax can be used to remove the impurities from the gold.
2. At what temperature does pure gold melt?
In general, gold melts at 1064-degree C. On the other hand, the gold's boiling point is 2845-degree C. Even though the gold melts at 1064-degree C, if there are some alloys in the ore, the temperature will vary. Due to the softness of the gold, this precious metal is alloyed with different based metals while being used for jewelry production. Such a combination will alter the melting point, flexibility, color, and properties of the gold. Some alloys with lower purity ratings, such as 10k, 14k, 18k, and 22k, comes with a higher copper percentage. You can use a portable induction furnace to attain the right temperature to melt gold.
3. How many ways does gold smelt?
Well, melting gold is not a complex task. Whether you want to transform the jewelry into gold bars or want to convert your old scrap gold, all you need is the right equipment like an electric gold melting furnace to get the job done.
As discussed above, gold melts at around 1960-degree, so you need something that can produce intense heat. Besides, you also have to remove the impurities. However, to melt gold, here are some methods that you can follow.
Using propane
Under this method, you need to put the gold inside a graphite crucible. After that, direct the torch towards the gold. When the torch transfers the heat, the gold will start to spread. If you want to lower the melting speed, you can add borax. This is an effective method to melt a sizable amount of gold.  Don't try to melt too much of gold, as it can create cracks in the crucible. Besides, while melting, properly apply the propane torch all over the crucible so that the gold can melt evenly. Once done, you can transfer the gold into a mold. If you want to create more heat, you can use the oxy-acetylene torch.
Using a microwave
A microwave can be an ideal option for you if you want to melt a very small amount of gold. But this will consume a lot of power. For this, you need to use a microwave with having 1200-watt power capacity. You shouldn't place the gold in the microwave directly. Put the metal in a crucible and place that in a kiln. Then you need to set the thermostat at 1200 watts. The heat will begin to melt the gold. Once melted, transfer the melted gold into a mold.
Using a resistance furnace
Well, the resistance furnace system is designed and developed for mining operations. Even though it can produce a higher level of heat that can melt gold and other precious metals, but the system consumes a lot of time. A resistant furnace can create more than 1600-degree C of temperature. The machines come with some useful features, such as a temperature controlling unit. Besides, all the resistance furnaces have a gaseous medium to prevent oxidization.
Using an induction furnace
The best part about the best portable induction furnace is that it comes in handy to melt a large amount of gold and doesn't affect the environment. For their effectiveness, such furnaces are now widely used in different industries, like mining facilities, refining plants, jewelry making, and more. A silver melting furnace uses magnetic currents to melt metals. One of the major benefits of using an induction furnace is it melts gold evenly. The machine doesn't produce any harmful gases and prevents oxidation during the melting process. So, if you are looking for an effective and safest way to melt gold, then buying an induction gold melting furnace will be the best option for you.
4. Can you melt down different karats of gold together?
Yes, you can melt various karats of gold together using a portable induction furnace offered by SuperbMelt. But before that, there are certain things that you need to know. If you melt one gram of 22K gold and one gram of 28K gold, then your final output will be 2 grams of 25 K gold.
Besides, mixing different karats of gold can affect the purity level of gold, and it can lower the value of the gold. For example, by combing equal weights of 18k gold and 9 k gold, you will get 13.5 karats. To get nine karats from the combination, you may need to add some copper and silver. To melt gold faster and efficiently, you can always use SuperbMelt's silver melting furnace.
5. Can you melt down gold to make jewelry?
Yes, you can easily melt gold to make jewelry using an induction furnace. The furnace is powerful and can melt 2 to 10 kg of gold within just 5 to 10 minutes. However, before using the melted gold to make jewelry, you need to purify the gold, and for that, you can use borax and a purifier system.
6. How hot can induction heating get?
These advanced melting machines are quite powerful and efficient. For example, a portable induction furnace can easily reach around 3000-degree C of temperature within a few minutes. The heating level of the smelting machine with a good-quality graphite crucible can cross 1600-degree C. So, these machines are good to melt copper, stainless steel, silver, and gold. You can also melt platinum that melts at 2000-degree C.
7. How is melt rate calculated in an induction furnace?
In general, melting rate means the amount of liquid metal that can be molted by the advanced melting furnace within a certain time period. The melt rate in the induction furnace is calculated in kg/hour or tons/hour. The melting rate will greatly depend on the crucible type and the blast rate.
8. What are the advantages of electric heating over other forms of heating?
The electric gold melting furnace has a lot of advantages that make the furnaces a perfect choice over different types of melting furnaces. Some of the major advantages of using such a system are:
The machines produce a constant stirring of charge. As a result, you can enjoy the homogenous melted metal composition.
You can save around 15 to 30 percent of energy using the electric melting furnace.
The best part is that without opening the furnace, you can control the heating temperature.
You can enjoy better productivity as the melting process will be very fast.
Besides, the machines don't produce any noise as well as harmful gases.  
When you need to attain a clean melting operation, you can use this machine.
All the machines come with an advanced cooling system that can keep the machine running for hours smoothly.
These machines are easy to charge and simple to use.
9. How do you remove impurities from gold?
During the melting process, most of the impurities will be burned off.  When gold ores are extracted from the mines, they come with a huge number of impurities. To separate gold from those metals, you can use different chemicals, for example, mercury or cyanide solutions. This process will make the gold metal coagulate and will form gold clumps.
Another effective process of eliminating the impurities is to put the gold ore into a crucible. Now, place the crucible into an induction melting furnace. After that, you need to heat it at around 1200-degree C. During the process, dross will appear on the surface. Then periodically remove the impurities layer from the crucible. Keep repeating the step until the dross stop coming to the surface.
10. How long does gold take to melt?
Well, most of the metals need a high temperature to melt, and the same applies to gold. To melt the gold, you need to attain a temperature of around 1200-degree C. As this is a very high temperature, you need to be careful while melting the metal. But you don't have to worry about it as SuperbMelt brings you the best quality induction gold melting furnace. These machines can melt gold faster. In fact, you can melt around 20 kg of gold in less than 5 minutes. Besides, the melting process will be very efficient. SuperbMelt always suggests using an induction furnace for all your melting requirements. Well, if you want to know more about the machines and want to choose the right one based on your requirements, you can always get in touch with our experts. Visit our official website now to explore the types of machines that you can offer.  
11. What can you use as a crucible for gold melting?
There are different types of alloys that can be used to make crucibles. However, some of the widely used alloys are Quartz, steel, and graphite. In general, graphite-made crucibles are ranked at the top. Graphite is a durable metal and can offer you a fast as well as efficient melting process and better product finishing.
Speaking about Quartz, it is one type of mineral that is a part of the silica crucibles. This metal is used to create transparent crucibles that are good for non-ferrous and ferrous crucibles. When it comes to enjoying a corrosion-free metal casting process, you can always trust a quartz crucible. On the other hand, steel, as it is a long-lasting material, is also used to make crucibles. However, for a better melting result, using a graphite crucible will be the best option.  
There are different types of crucibles that can be designed to perfectly fit your industrial requirements. Always remember that the crucible's efficiency will greatly depend on the metal used. Besides, make sure that the crucible can sustain a higher level of temperature. For example, as you will be using a crucible to melt gold, the crucible should withstand a temperature of 1100-degree C.
12. How can I melt silver at home?
Speaking about silver, this is a common precious metal that is widely used in medical supplies, electronics, and jewelry. Even though it is smelted and mined on an industrial scale, you can also melt silver at home. To melt silver at home, you need to access a piece of equipment that can produce higher temperatures. Besides, understand the amount of silver that you need to smelt. This way, you can choose the size of the induction melting furnace. For DIY smelting, a portable induction furnace will be a perfect option for you.
While melting, you can use some elements that can bond with oxygen to remove the impurities from the silver. This is called the oxidation process that will bring lead oxide, zinc oxide, and copper oxide to the top, and you need to remove the slag to get pure silver.  Silica, sulphuric, and sodium nitrate lead to this reaction.
All you need to do is to place the silver ore into a graphite crucible and then put that into an induction furnace. Then, set the temperature at around 1000-degree C as the melting point of the silver is 962-degree C. This process is very simple and fast.
13. How do you melt gold dust?
You can use multiple methods to melt the gold dust. For example, you can utilize a coal furnace, gas furnace, propane torch, electric furnace, or induction furnace. However, you should remember that when you use a gas torch to melt gold dust, you may lose a tiny portion of the gold dust.
Is there any cost-effective and efficient solution for this? Well, you can always use a portable induction furnace for this. It involves the application of a sufficient amount of heat to the metal through the induction heating method. These machines come in different sizes and capacities. You can melt one kilo to hundreds of kilos of metal within a few minutes.  
What's more? You can use an induction melting furnace to melt copper, gold, steel, platinum, iron, and other precious metals. The best thing is that the machine will come under your budget.
To melt gold dust, put the gold dust in a high-quality crucible and then place the crucible inside the induction furnace. After that, power up the device. It is quite crucial that you should heat at the right temperature so that the dust can covert into liquid. Besides, you need to keep checking the metal to remove the impurities.
Always use protective gear to keep yourself protected from possible accidents. To remove impurities, you can use borax. However, put the borax into the crucible before placing the gold dust.  Once melted, simply transfer the liquid gold into a mold.
14. How do you melt gold rings?
If you have some old gold rings and want to melt those rings, you can do it quite easily by using an electric gold melting furnace. These machines are available in different sizes, and you can also buy a small one to melt the rings at your home. The process of gold ring melting is quite simple. Just put the rings into the crucible located in the induction crucible. Once done, heat it up. The machine will automatically melt the gold rings within a few hours.
15. How efficient is induction heating?
Well, it has been proved that induction heating is very efficient and widely used in industrial heating. Compared to other types of heating systems, such as over or propane torches, the induction heating method can offer a lot of advantages.
This heating method can transfer more power to the metal. The machine directly transfers the heat to the part that you want to heat. It doesn't heat the surrounding chamber or the environment that is quite common in the open flame melting process. What's more? There will be no issue of ramp-up.
If you are using an oven heating system, you need to pre-heat it. This will result in time as well as energy loss. But in the case of an induction furnace, you don't need to pre-heat the chamber. Heat up the workspace, wasting a lot of energy. However, induction heating transfers the heat directly to the load. So, you will save around 155 to 30 percent of energy. On the other hand, the machine offers power only to where it is required. So, it can be said that induction heating is very efficient.
Remember that the efficiency level of the machine will also depend on some factors. For example:
Coil design- A perfectly designed coil can produce the required heating pattern during the melting process. As a result, this increases the efficiency of the system.
Part's characteristics- In general, magnetic materials heat efficiently with an induction comparatively the non-magnetic materials. The primary reason behind this is the hysteresis effect. On the other hand, different conductive materials, such as metals, can work best even though the susceptors can be combined with non-conductive materials.
16. What are the advantages of electric heating?
Even though you will find multiple heating solutions, not all the methods are equal. Based on the layout of the space and location, a few melting methods may work better than others. But no matter what is your daily metal melting requirements, an electric induction heating machine will be an ideal machine for you.
If you are looking for top-class induction gold melting furnace under your budget, you can always trust SuperbMelt. As a leading induction furnace manufacturer, we have some best options for you. Besides, our machines are here to offer you multiple benefits.  Some of the major advantages are:
With no noxious fumes, combustible gases, and burning materials, the electric melting furnace is the safest metal heating solution for all. The machine doesn't come with many moving parts. So, there will be a fewer chance of the system breaking down. As a result, the machine will last for years, offering you a smooth metal melting process.
The machines are efficient and affordable.
Different from oil or gas heating, the cost of electric heating will remain stable for years. In fact, electricity is the cheapest option for heating. If you want to melt metal, you don't need to preheat the machine, and that will help you to save energy. These machines are less expensive to install can last longer.
They are environmentally friendly.
As they don't depend on burning anything, they don't produce carbon dioxide. Besides, induction heating also can effectively preserve natural resources as you don't need fuel to operate it.
Most of the induction heaters come with a water-cooling system that can help the machine to keep running for hours without developing the overheating issue. So, forget other methods and get a portable induction furnace from SuperbMelt now.
17. What can you use as a crucible?
For the best result, experts have suggested using a graphite crucible as it can withstand a higher level of temperature. However, sometimes you need to choose a crucible that can match the induction furnace's operating frequency. So, if there is a lower level of frequency, then silicon and carbide-made crucible will work well. For machines with high frequencies, you can use a clay-made crucible. Always match these factors to protect the crucible from overheating. SuperbMelt always suggests using pure graphite crucibles. You can get one under your budget at SuperbMelt.
18. What is an induction heater used for?
An induction heater is used to melt different precious and non-precious metals. Such machines have greatly simplified the melting process by offering the users an efficient and faster way for metal melting.
19. How do you remove copper from gold?
You can remove copper from the gold using an oxidizer. One of the most commonly used oxidizers is sodium nitrate. When you heat it using an induction furnace, copper will get dissolved. You will get the copper in powder form. Besides, you can also use electrolysis technology. But this method consumes more electricity.