The Most Popular SuperbMelt 20-30kg Multi Tilting Silver Melting Furnace on the Market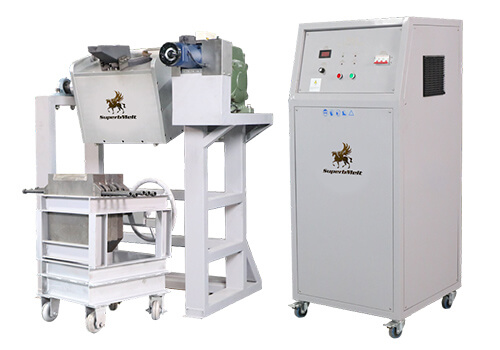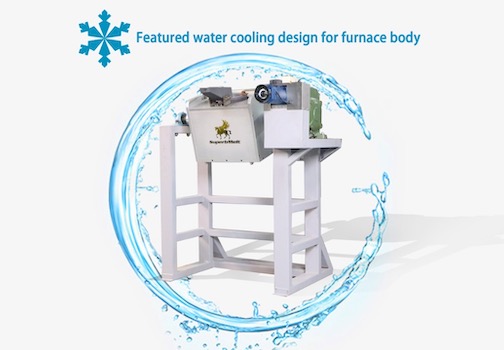 SuperbMelt silver melting furnace can melt 10-100kg silver with fast melting speed. SuperbMelt latest induction melting furnace with featured furnace body water cooling design avoid heat danger to melting machine operator. It could keep about 30-celsius degrees which are safe to touch when the melting temperature reaches 1500 celsius degrees inside the graphite crucible. It highly increases the safety of the machine operation.
SuperbMelt silver melting furnace is designed by our professional engineer team, the furnace has the features of electric tilting and manual tilting, which makes it easier to operate. This feature gives room for the pouring liquefied metal without splashing or spillage.
With the development of the industry, there are many professional machines are applied to electric melting furnace. The design of SuperbMelt silver melting furnace is combined with the traditional fireproof furnace and electric melting furnace, which combines the merits of both electric melting furnace and fireproof melting furnace to eliminate their defects. The machine is equipped with an excellent water cooling system, which is used for cooling the power supply and the furnace body at the same time. It has many advantages, such as fast heating speed, even heating, high efficiency, energy conservation, low consumption of electricity and so on.
The small land occupied, fast melting, and energy-saving are its obvious features. That is the cost-performance choice for metal casting with a small capacity.
Parameters
Power Supply Parameter of Multi Tilting Silver Melting Furnace
Model
RTF-35
RTF-45
RTF-70
RTF-90
MAX input power
35KW
45KW
70KW
90KW
MAX input current
51A
68A
105A
135A
Input voltage
Three-phase 340V ~420V 50/60Hz
Oscillation frequency
1K~20KHz
Requirement of cooling water
Hydraulic pressure
≥0.3Mpa
Flow rate
≥20L/Min
Temperature of water
≤45℃
Power supply
70*40*100cm
Furnace body
80*70*90 cm
Weight
220kg
230kg
240kg
250kg
Melting Capacity Parameter of Multi Tilting Silver Melting Furnace
Model
Fe, ss
Cu, Au, Ag
Al, Al-alloy
RTF-35
10kg
30kg
10kg
RTF-45
18kg
50kg
18kg
RTF-70
25kg
80kg
25kg
RTF-90
40kg
120kg
40kg
Remark: Above melting capacity sheet for general reference; Melting duration: When the crucible is hot,20~30min./workload; When the crucible is cold(first melt),40~50min./ workload.
Crucible
Features
W

hy SuperbMelt Silver Melting Furnace

Professional R&D Team:
Over 15 years R&D experience in gold machinery with a top engineer team supported

High Quality:
Only choose famous brand main electric components for production

ISO CE SGS Approved:
Professional certification bodies certify that the machines are of high quality
Any Question About SuperbMelt Multi Tilting Silver Melting Furnace
FAQ Guide of Silver Melting Furnace
1. Which furnace is the best to melt silver scrap?
Even though you will find different types of furnaces in the market that can be used to melt silver scarp, a SuperbMelt silver melting furnace will be the best option for you. In this process, silver will perfectly respond to the induction as the silver metal demonstrate a higher level of electrical conductivity compared to the other metals. Besides, the thermal conductivity level of silver is also good.
An induction silver melting machine generates a very lower level of pollution, and it is energy efficient. In fact, using SuperbMelt's machines, you can melt silver within a few minutes. These machines are all about better repeatable results and control. So, visit SuperbMelt's official site and place your order now.
2. How long does it take to melt silver in a furnace?
Well, the duration will vary based on the type of furnace you are using. For example, for a faster melting process, you can use induction silver smelting equipment. These machines can melt a batch of two kilograms of silver within just two minutes. To melt 10kg of silver, the machine may take around 10 minutes. SuperbMelt's induction machines are very fast and can offer high-quality silver and gold melting results. Get them now.
3. How many types of silver melting furnaces are there?
In silver casting, the required level of heat needs to be applied to the silver so that it can attain the melting point through the furnaces. In general, a furnace is utilized to melt different types of metals in the metallurgical process. Well, there are different types of silver melting furnaces that you can use to melt silver. Some common types are:
Some foundries utilize the hearth furnaces for melting different non-ferrous metals in small quantities. The machine utilizes atomized natural gas or heavy oil to produce heat to melt the metals. On the other hand, the open-hearth process can also be used to increase the heat of the metallurgical furnace.
This is a cylindrically shaped furnace that has been used for years in different casting applications. To melt silver, the operators apply layers of limestone, coke, and ferroalloys inside the furnace.  For construction material, sedimentary rock is used, and that reacts with the silver and brings the impurities on the top.
As the name suggests, these machines utilize powerful induction technology along with alternating electric currents to produce and apply the heat to melt silver. SuperbMelt's electric silver melting furnace used for melting silver makes the melting process more energy efficient compared to other available melting furnaces.
On the other hand, these furnaces are also perfect for melting different metals, like copper, iron, steel, aluminum, and more. No matter what is your per-day silver melting requirement, a silver smelting furnace can be a perfect option. If you want to know more about our machines, you can contact our experts anytime you want.
4. How do I choose an induction furnace for silver?
When it comes to buying induction silver smelting equipment, you need to consider different things, such as:
Understand the melting points of the metals you want to melt, as these machines are designed to heat up to a specific temperature limit. Chose a model accordingly.
Besides, don't forget to check the maximum melting capacity of the silver melting equipment.
You should know the energy requirement of the machine.
Furthermore, budget, business model, furnace crucible, and method of melted metal removal need to be taken into consideration.
5. At what temp does silver melt?
The melting temperature of silver is 961-degree C, and this is quite higher than gold. You can use an induction silver melting machine manufactured by SuperbMelt to melt the silver at the required temperature faster. Besides, you can also use borax to softening the oxidized layer. Our induction furnaces have advanced technologies and can provide you with accurate smelting as well as melting processes. Contact us now for a free quote.
6. Can you use a SuperbMelt silver melting furnace to melt gold?
Yes, you can use a silver melting furnace of SuperbMelt to melt gold. Our machines are designed to melt different non-ferrous metals, such as aluminum, copper, silver, and gold. Our models can melt any metals at a maximum temperature of 1800-degree C, and they use powerful induction heating technology. You can melt 2kg of gold within just two minutes using our gold silver melting machine. So, what are you waiting for? Place your order now.
7. Which type of heating is used for cast iron melting?
You can use different types of heating like electric arc, cupola, crucible furnaces, propane kiln, resistance furnaces are more for iron melting. However, the most effective heating method is induction heating. The process involves heating the materials using electromagnetic induction by passing the heat through a powerful induction coil that produces a powerful electromagnetic field. It creates a constant level of heat during the melting process and can melt iron faster than other heating methods.
8. How many types of melting are there?
Induction melting, cupola furnace melting, electric arc melting, and gas melting methods are used to melt different metals, including gold and silver. But the best melting method is induction melting. So, when it comes to melting gold and silver, you can always trust a silver melting furnace for faster and better results.
9. How do induction heaters work?
In general, the induction heating power supply first turns the AC line power into a powerful frequency alternating current. The current is then transferred to a coil. After that, a powerful electromagnetic field is created within that coil. The metal is placed inside the crucible, surrounded by the coil. The coil transfers the eddy currents into the metal. Induction heaters are designed in such a way that they produce non-contact, clean, and precise heat constantly to melt the metal faster.
10. What are the factors for inductor design in induction heating?
The induction heat treating inductors or coils are available in different sizes and shapes. They are designed to carry out different tasks in an induction heating application. Well, based on the applications, the inductor design requirements may include:
Heat treatment specification or heating penetration depth.
Robust enough to handle different levels of manufacturing variations.
Mount style into the machine.
A better electrical parameter that can properly match the power supply of the induction.
Satisfactory lifetime and efficiency.
Inductor's heating frequency.
11. How does an Induction furnace work?
Induction is a new, unique and effective method of heating and melting gold and silver. The best silver melting furnace utilizes physics, electromagnetism, as well as process control for metal melting. However, the concept behind the induction furnace machine and how they work are quite easy to understand.  
The heating process begins with a coil made of durable conductive material, for example, copper. The electric currents are passed through that coil, and it creates a powerful magnetic field. Here, the produced magnetic field can change the directions based on the current flow's direction. The alternating currents that pass through the copper-made coil develop a magnetic field that alters based on the speed of the current. The heat is directly applied to the metal, and the metal melts at a faster rate.
12. What is an induction melting furnace used for?
There are different applications that an induction silver smelting furnace can be used for. However, some common applications are:
Induction melting is quite popular in investment casting as they are available in different types of vacuum and air furnaces. You can use them for different metals.
You can use induction melting to cast large copper items or to melt custom casting. These machines can offer you the melting requirement you need for your copper application by lowering material loss. The temperature control level will also be very accurate.
Gold, silver, aluminum, steel, and more are some of the best examples of precious metals. You can melt them using an induction furnace. Besides, such machines can also melt platinum group metals as they can attain different temperature ranges.
For better flexibility and uniformity in the alloy manufacturing process, induction furnaces are used. With this, the manufacturer can easily attain the required amount of induction stirring every time to maintain the same quality.
13. What are the different types of furnaces from SuperbMelt?
1-2 Kg mini melting furnace
Using this small silver melting furnace, you can easily melt silver and other special metals, for example, gold, brass, copper, and more. The maximum melting capacity of this machine is 2 kg, and it can easily attain around 1600-degree C of temperature. To melt around 2kgs of gold, it takes just two to five minutes. As this is small in size, the machine is widely used in small or private melting businesses. If you are a small jewelry shop and looking for a melting machine, then go for this one.
Platinum 1-4kg melting machine
Even though the machine is designed to melt platinum, you can use this for gold, silver, iron, and other alloys. This is perfect for both ferrous and non-ferrous materials. The maximum melting temperature the machine can attain is up to 2000-degree C. It can easily melt up to 4 kg of metal within five minutes. Speaking more about it, this machine has a powerful electromagnetic stirring system to prevent uneven metal melting. On the other hand, there is a water pump cooling system that keeps the machine running cool, and you can use it for 24 hours.
3–10kg integrated melting furnace
As the name suggests, to melt up to 10 kgs of gold or silver, you can use this machine. The machine is easy to use and comes with a powerful cooling system. To melt 10 kg of metal, it will take around two to five minutes.
20–30 kg manual tilting melting machine
When you have this machine, you won't face any issues while melting gold, copper, silver, iron, steel, brass, aluminum, and more. It can effectively melt 30 kg of gold within 10 minutes at 1800-degree C. The best thing about the machine is it has an advanced Omni-directional warning system to prevent overheating.
10–50 kg chain tilting induction furnace
With this, you can comfortably use three furnaces simultaneously. The machine has IGBT technology, and you can save up to 30 percent power. With its motor-operated chain tilting system, you can use it safely.
10–100 kg motor tilting furnace
When it comes to melting up to 100 kg of steel, zinc, lead, steel, silver, gold, brass, and faster, this motor tilting melting furnace will be a good option for you. The power consumption limit is 15 to 160KW, and you can use it 24 hours, thanks to its unique cooling system.
50–150 kg hydraulic tilting furnace
The machine has a replaceable crucible and can be used to melt a huge quantity of metal faster. The cooling system ensures the maximum input and output parameters of the machine. The machine comes with IGBT technology, and you can save up to 30 percent power every month. The entire melting process can take 10 to 15 minutes based on the type of metal you want to melt.
14. How hot does a melting furnace get?
A good quality melting furnace with induction heating technology can attain a temperature of more than 3000-degree C. As a result, you can easily melt different types of metals using the melting furnace. If you are looking for the best precious metal melting furnace that can easily attain a maximum level of melting temperature, you can use SuperbMelt's induction furnaces. We have models that will satisfy your melting requirements and improve production efficiency. For more detail, please feel free to get in touch with us now.
15. Which heating is used for melting non-ferrous material?
No matter whether you want to melt ferrous or non-ferrous metals, you can always use the induction silver melting furnace for the best melting results. The machine can easily attain the melting temperature of bronze, brass, copper, aluminum, and other non-ferrous materials that you want to make. In such a machine, the heat is produced by the eddy currents induced inside a crucible. For better results, you can use a graphite crucible.
16. What are various types of furnaces used for heating and melting?
Well, it is a fact that the heat of all foundry or jewelry businesses is a good quality melting furnace. So, it is quite important to know the types as well as functionalities of the furnaces used for melting. Different furnaces apply different types of technologies to heat and melt metals. Now, let's have a look at some common types of furnaces used by different industries.
Since the introduction, these furnaces are dominating the industry as more and more silver producers and refiners are now adopting this technology. The machine utilizes alternating electric currents to properly melt the silver at the right melting temperature. The coil surrounds a durable crucible, and when charged, it heats the metals. Such machines, for example, SuperbMelt's gold and silver melting machine, are easy to use and can offer a better metallurgical function.
These are generally made of different refractory materials, for example, graphite, silicon graphite, or ceramic, as they are exposed to high temperatures. The crucible will vary in size, for example, from a massive kiln furnace to a cup-sized crucible furnace. During the melting process, the metal and additives are placed inside it, and then heat is applied. If you want to melt in small quantities, you can use a crucible furnace.
Such a furnace utilizes electrodes to generate the required level of heat to melt the metals. Most of the electric arc furnaces utilize carbon electrodes to charge the metal directly. These machines are quite common in factories and jewelry stores that deal with metal recycling. Using this, you can easily attain 100 percent scrap metal recycling, and the melting process is also very flexible.
These furnaces are very common and have been used for years. Talking about the structure of the furnace, the central dome of the machine is created from sedimentary rock, and it is lined with bricks and clay. This protects the interior walls from abrasion. Before melting the metals, multiple layers of coke, limestone, and ferroalloys are placed inside the furnace.
Among all these furnaces, it is advisable to use a silver melting furnace to enjoy better melting results within a short time.
17. How to Choose the right silver melting furnace?
Choosing the best silver melting furnace is not an easy task, and while buying one, you need to consider different factors, aspects, and functions of the machine. Nowadays, most metal melting furnaces come equipped with induction heating technology, and they need to be very durable as well as reliable. So, how to choose the right one? Here are some important factors that you can consider.
Consider your sliver capacity
Before buying a silver melting machine, you need to understand your daily silver melting requirements. Based on that, you can choose a machine with a melting capacity of 1kg to 500kg. However, most of the silver miners or silversmiths can always go for SuperbMelt's mini silver melter that is budget-friendly, compact, and easy to use.
If you have a silver refinery unit and want to melt up to 1000kg of silver in a day, then you can use our 5Kg mini silver melting furnace and hydraulic tilting induction melting furnace. All these machines are equipped with advanced technologies and can be used for 24 hours constantly. The machines will not develop any complications.
Understand your business model
Another important thing to consider here is your current business model. For example, if you are a small silver miner, then our mini silver smelting furnace will be a great option for you. For the silversmith and jewelry shops having a daily melting capacity of up to 10kg, then the mini silver melter will work great.
On the other hand, a chain tilting silver melting machine will be an ideal option for the refinery. If your daily silver melting capacity is more than 50kg, then go for SuperbMelt's hydraulic tiling melting machine. Some of the major benefits of using such a machine are:
The machine is small in size and will take less space in your shop.
You can get one under your budget.
The machine produces uniform stirring of charges, and there will be a perfect melted metal composition.
You will save energy as it can melt silver faster compared to the traditional methods.
The machine has advanced IGBT technology to lower the power consumption level and boost production efficiency.
Power usage of a silver melting machine
You should check the maximum energy consumption level of the machine to melt the required quantity of silver. Well, induction or electric silver melting furnace will consume less power compared to the other melting machines. For the best machine with a lower power consumption level, you can always trust SuperbMelt's silver melting furnaces.
Temperature range supported by the machine
Well, you should always remember that different types of materials will melt at different levels of temperatures. For instance, while gold melts at around 1064-degree C, silver melts at 900-degree C. Choose a machine that supports a different range of temperatures so that you can melt other metals.
Safety features of the machine
The machine produces a lot of heat, and you need to make sure that you are buying one that is super easy to use. Don't forget to check the safety features available in the machine, for example, temperature control unit, oxidation level, structure, and more. SuperbMelt offers models that come with a robust and durable stainless steel-made outer structure. Besides, the water-cooling system keeps the machine running for hours without any issues.
You need to think about whether the machine can offer the best cost performance in terms of energy efficiency, reliability, price, maintainability, and flexibility. If you find it challenging to get a machine under your budget, then it's time to check out the silver smelter for sale by SuperbMelt. Visit our product section now to explore the deals.