G

old Carat Checking Machine
The most popular SuperbMelt gold carat checking machine on the market
Superbmelt gold carat checking machine is used for the analysis of precious metal purity and authenticity. The gold purity testing machine accurately analyzes the level of purity in metals such as gold, silver, platinum, palladium, iron, copper, nickel, zinc, etc.
Superbmelt gold testing machine performs a quick and accurate analysis of metals without destroying the metal sample. The precious metal testing kit performs a fast analysis and display of results within 5 to 120 seconds.
The gold purity testing machine is applicable in jewellery making, pawnshops, banks, government agencies, etc. Call Superbmelt today for the best gold testing machine.
Parameters
| | |
| --- | --- |
| Model | SPB-XRA2000 |
| Excited Source | Ultra low power X-ray tube, air cooling |
| Collimator | 1-2mm or according to the customer's requirement |
| X-ray Generator | 50kV 1mA |
| Detector | High resolution detector |
| Processing Electronics | 1.2GB CPU with integrated FPU with 2GB RAM; DPP and MCA |
| Data Display | High resolution Color QVGA resolution with touch screen; 7 Inch |
| Data Storage | 32GB SDD |
| Data Transfer | USB interface with many equipment; WIFI |
| Software | Based on Microsoft Windows system (Win7 and Win8), easy operating, only to press "Start" button, then results will be shown on screen. No need more standard samples for calibration. |
| Analysis Time | 5s to 120s |
| Analytical Tolerance | 0.01% ~ 0.3% (average) |
| Detection Elements Range | Au, Ag, Pt, Pd, Cu. (Zn and Ni will be calculated in Cu; Cd will be calculated in Ag) |
| Power Supply Mode | AC100V〜240V,DC12V(vehicle power supply or Li-ion battery) |
| Dimensions | 40*30*27cm (floor space <2 pieces of A4 paper) |
| Weight | 17Kg |
| Standard Accessory | Polish kits; Operating pen; DC12V power supply; Manual; CD; Jewelry holder |
| Optional Accessory | Reference calibration samples; USB micro-printer; Micro-wireless keyboard and mouse; Vehicle power supply DC converter |
Advantages and Benefits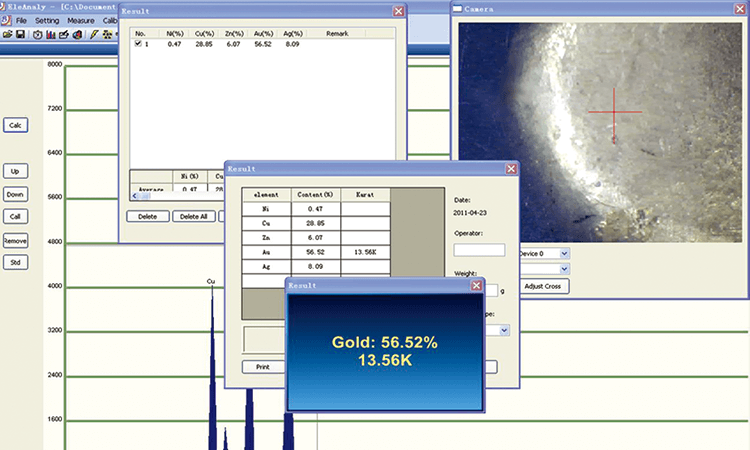 Analyze the percentage of all metal purity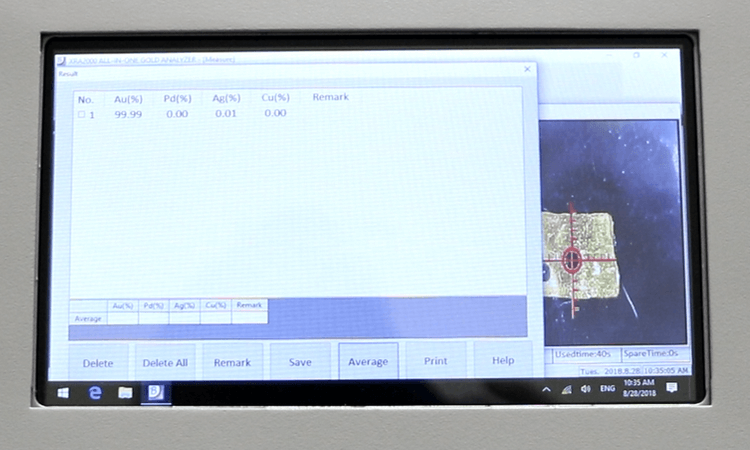 Analysis of gold, silver, platinum, palladium purity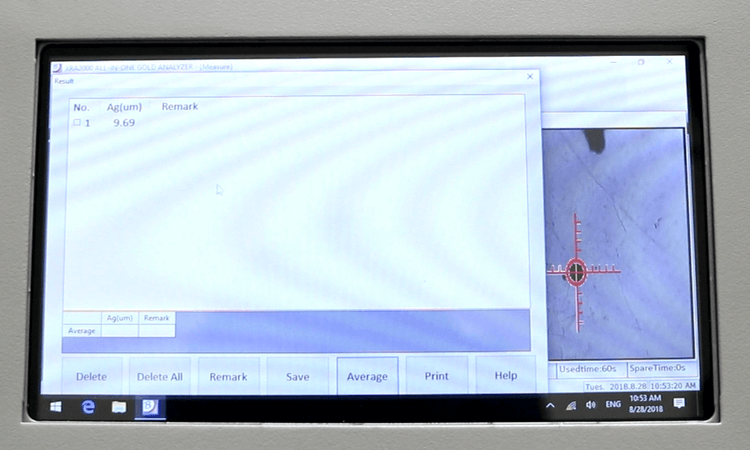 Testing the thickness of metal coating
W

hy SuperbMelt XRF Gold Carat Checking Machine

Professional R&D Team:
Over 15 years R&D experience in gold machinery with a top engineer team supported

High Quality:
Only choose famous brand main electric components for production

ISO CE SGS Approved:
Professional certification bodies certify that the machines are of high quality
Any Question About SuperbMelt Gold Carat Checking Machine
FAQ Guide of Gold Carat Checking Machine
1. How do you really know that gold is real?
Gold is a sought-after and most valuable commodity available on the planet. As gold is very expensive, some jewelers are taking advantage of it and making inexpensive jewelry pieces that can look expensive. In fact, you feel like the gold used in the jewelry is real. So, how to check if the gold is real to not? Well, here are some methods that you can try.
One of the easiest ways to check if the gold is real or not is to look for the hallmark. Speaking about the hallmark, this is a small mark that indicates the karat weight of the gold.  In different locations, you will find different types of measurements. If the hallmark is absent, then the jewelry piece can be fake. But remember that sometimes, hallmark numbers can also be faked. So, be careful about it.
Locate a place on your jewelry piece where you can create a small scratch. Well, the best place will be under the clasp or inside of the ring. Then create a scratch mark and apply a few drops of nitric acid. If the gold is real, then you will not see any reaction. However, if you see milky or green color on the surface, then you are using fake gold. However, this method can damage your gold jewelry.
Test against the ceramic tiles
Under this method, you need to scratch your gold jewelry on a ceramic tile. You will get results without massive damage. You need to use an unglazed ceramic tile.  Now, firmly rub the jewelry piece against the tile. After a few seconds, you will see a few fragments of gold flaking. If you find a gold streak, then the gold is real.
Different from other metals, gold is not magnetic. A real gold bullion bar, jewelry piece, or coin will never stick to the magnet. Try to pick up the gold piece using a magnet. If the magnet attracts the piece, then it has one or multiple metals and is not 100 percent pure.
But as per the experts, these methods are not 100 percent reliable. So, using the best gold carat checking machine will be a perfect option for you. Equipped with advanced XRF technology, the machine can accurately check the purity level of the gold. Besides, you can get the result within a few seconds. The best part is that the method is non-destructive.
2. Can simple methods identify the types of impure gold?
Well, when it comes to identifying different types of impure gold, simple methods may not be very effective. However, to detect fake gold, first, you need to understand the different types of jewelry pieces available in the market. For example:
New gold pieces are the products that are developed right after obtaining and purifying the gold. Such gold is very flexible and may not be suitable for making ornaments.
Old gold products are crafted after recycling old gold jewelry. Furthermore, here the jeweler can combine both new and old gold to make a jewelry piece. The best part of old gold, the jewelry pieces will come with low price tags. But using simple methods, you can't find the purity level of gold.
As gold is a malleable metal, to create jewelry pieces, jewelers use different materials to make the gold robust as well as durable. However, to earn more profit, sometimes, they mix more quantity of other elements, and that affects the purity level.
So, you can use a gold testing machine to detect whether the gold is real or not. Besides, the machine can tell you what type of metals are used in the jewelry.
3. What are the gold carat checking machines on the market?
The demand for the best gold carat checking machine is increasing with time, and the result behind this is the performance and accuracy level of the machine. Now, you don't need to send a sample to the lab for testing as this machine can be used on-site, and you will get the result within just 3 to 10 seconds. All the gold testing machines use modern X-ray fluorescence technology to detect the presence of other metals in precious metals. In the market, you will find different types of gold checking machines, but some of the widely used machines are:
Desktop XRF metal analyzer
Such machines are also called benchtop XRF metal analyzers. These powerful machines are designed and developed to carry out metal qualification as well as identification tests. Most of the industries are using this machine to enjoy a sophisticated metal analysis procedure. They emit powerful x-rays. As a result, they demonstrate better sensitivity and provide the users with the highest resolution.
What's more? The overall size of the machine is very compact and will take a few places on your table. It utilizes a unique calculation method and optical technology to offer you 100 percent accurate results. Talking about the analytic tolerance level of the machine, it can range from 0.01 to 0.3 percentage.
Handheld XRF analyzer or XRF gun
When it comes to choosing something small yet efficient, you will never go wrong with the handheld XRF gold tester. Without sending a sample to the testing center, you can test the metals for purity on the spot. The device is quite popular among geologists, jewelers, facility managers, and more. Besides, the manufacturers from different industries, for example, automotive, aerospace, fabricated metals, and more, can now enjoy a faster metal verification. It can easily detect different metals, such as zinc, palladium, cobalt, nickel, gold, carbon steel, aluminum, and more.
If you are looking for a perfect platform to buy a reliable and high-performance gold testing machine, then SuperbMelt will be a perfect place for you. Visit our site now.
4. How does the SuperbMelt gold carat checking machine work?
SuperbMelt manufactures the industry's best gold carat checking machine that utilizes XRF technology to detect the metal's purity level. Under this process, the electrons of the metal are displayed from the atomic orbital positions, emitting energy that is characteristic of a certain element. When the electrons produce energy, that is recorded by the powerful detector located inside the machine. It is the detector that classifies the energy by different elements.  
In general, the machine functions in four different steps. The first one is emission. Here, the machine produces x-rays. The second step is excitation. Here, the x-ray produced by the machine hits the metal. When this happens, it creates fluoresce, and it sends back the x-rays to the machine. After that comes measurement; in this stage, the detector perfectly measures the x-ray's energy spectrum. After that, it will display the result and tell you about the amount present in the material along with their amount.
It may be noted that the gold testing machines offered by SuperbMelt measure the elements between around 12 to 92 atomic numbers. The result will be visible on the LCD panel. It can be said that the machine has simplified the process of precious metal testing.
5. What are the applications of the SuperbMelt XRF gold carat checking machine?
The accuracy and precision level of the machine is quite good, and that's the way it is widely used for different application. However, some of the major applications of the gold testing machine by SuperbMelt are:
To analyze the all-metal purity percentage
When it comes to testing the purity level of the gold, using an XRF gold tester will be the best option for you. This machine can effectively analyze the purity level of different precious metals within a few seconds. From iron to gold, jewelry pieces to bullion bars, you can check anything using this machine. The best part is that it can test the purity level at the maximum level of accuracy. And it doesn't even damage your product. The X-ray hits the metal; after that, the metal emits fluorescent light, and the detector studies the energy level to know the metal's purity.
Analysis of different precious and non-precious metals
Well, the gold carat checking machine offered by SuperbMelt is very popular in various industries, for example, mining, metal testing centers, pawnshops, banking, and more. Why? Not just gold, it can be used to detect the purity level of other metals or elements. For instance, the machine can test copper, gallium, titanium, vanadium, iron, cobalt, chromium, niobium, zirconium, tin, silver, gold, tantalum, tungsten, and more.
When dealing with precious metals, you can't afford the loss caused by inaccurate results due to the old metal testing procedures. When the test result is 100 percent accurate, it can remove the variability. As a result, a fair transition will be possible.
This is the reason why almost all the industries are now using the gold carat checking machine of SuperbMelt. These machines are designed and developed to offer non-destructive, reliable, and faster analysis of metals. What's more? As it can detect different metals at a time, there is no need to calibrate the machine. Our machine can detect more than 50 types of metals along with alloying metals.
SuperbMelt's XRF handheld analyzer has become a perfect choice for art as well as archaeometry applications. Well, the reason behind this is the machine's non-destructive metal analysis process.  This makes it perfect for different uses, for example, determining the provenance of the objects, investigating different non-uniform samples, acquiring elemental data to carry out geochemical surveys, and more. This also helps in the restoration of art.
Our handheld XRF metal testing machine can also be used as an instrument to carry our soil testing. You can also use this for remediating, characterizing as well as monitoring the contaminated soils. Within just 10 to 20 seconds, you can get accurate data, and there is no need to wait for weeks to get a report from an expert.
It is important to carry our fuel oil screening of Sulphur to make sure the project meets the MARPOL- Marine Pollution regulations. SuperbMelt's XRF analyzer can be a reproducible and accurate tool for simple-to-use and quick screening for fuel oil.
To test the coating thickness.
Nowadays, metal can be found on every product, such as cell phones, computers, and more. Metal is also used as a coating to increase the value of the product. Besides, this way, a product can get new features, such as corrosion resistance, wear resistance, lubricity, solderability, durability, and more. But there should be a perfect level of coating on the product. And to know the coating value, you can use our XRF gold testing machine.
6. How to choose the right gold carat checking machine?
In order to choose the right gold carat checking machine, you need to consider some important factors, such as:
Understand your primary purpose of using the machine. For example, you can use the machine to detect the metal's purity level or the coating thickness level. Besides, it can be also be used in other industries, like oil, gas, agriculture, automotive, and more. Based on your requirements, you need to make sure that the device is capable of offering you the desired result.
Understand the materials that you want to analyze
You should know what type of metals or elements you want to test using the machine. Will it be powder or solid? Will the metals be known or unknown? Why is this important? Well, to test different metals, you need to make sure that the machines support multiple testing configurations.
Most of the XRF analyzers come with two types of detectors, i.e., PIN and SDD. PIN detectors are getting outdated with time. So, choose a machine with an SDD detector. Such detectors are very faster and can also detect different light elements, for instance, aluminum, silicon, and sulfur.  
Consider the size of the detector.
You can go for a machine with a large-size SDD or a machine with a standard SDD. To enjoy faster and better analytical sensitivity, a large-area SDD will work great.
Some of the most anode materials that you will find in an XRF analyzer are rhodium, silver, and tungsten. When it comes to testing light elements, an XRF with tungsten anode will work great. If your budget is a little low, then silver anode material can be a perfect option.
Understand your working environment
You need to know where you will be using the XRF machine. For example, if the environment is hot, then buying an XRF metal testing machine with a robust design will work best. This is where you can trust SuperbMelt's XRF gold testing machine.
7. What are standard samples?
While using an XRF gold testing machine, you will have to use standard samples for calibration. This helps in developing the working curves. However, if you are using SuperbMelt's XRF analyzer, you don't have to worry about the requirements of the standard sample.
8. Could XRA2000 analyze plating jewelry?
Yes, SuperbMelt's XRA2000 can easily analyze plating jewelry. Its detector is very powerful, and you can know the result within 5 to 10 seconds.
9. How long is your warranty?
Well, all the products from SuperbMelt come with one year of the warranty period. However, our machines are made of the latest technology and can work for years without developing any issues. Some people think they may not be able to get the best quality services after the warranty period. But the fact is that we are committed to offering technical supports till the users are using the machines.
10. What kinds of precious metals can your machine test?
Our gold carat checking machine can detect more than 50 different elements and metals. For example, you can use this machine for testing nickel, magnesium, gallium, zinc, tantalum, silver, titanium, cobalt, copper, platinum, tin, and more. What's more? Our machine can also detect ceramic, paint, plastic, paper, ore, and soil. This single machine is enough to offer you multiple solutions. Place your order now.
11. Will your X-Ray analyzer harm body health?
Direct exposure to X-rays can be harmful to the body. But our x-ray machine is 100 percent safe to use. But while using it, you need to carefully follow the instructions. The x-rays are one type of ionizing radiation. You should not place your hand between the analyzer and hand while testing a metal. Just use it properly, and you can enjoy a safe metal testing experience.
12. Can it detect the exact percentage of the gold? Like 18kg is 75% gold?
Yes, the machine is designed to test gold percentage. Using this, you can see Au, Cu, Ag, and Pd. If you are using the desktop version of the metal analyzer, you can even print the result.
13. How do you use the XRF gold carat checking machine?
Using the machine to test metals is very easy. All you need is to point the machine towards the surface of the metal that you want to test. After that, press the button to start the process. Keep the machine in that position for around 5 to 10 seconds, and you can see the result on the screen.
After using the machine, store it in a proper way.  You can store it in the storage box that you will receive with the product.
14. What are the benefits of using a portable XRF machine?
Using this, you can expect a 100 percent accurate result.
Thegold testing machine is budget-friendly and comes with one year warranty period.
This offers a non-destructive way of metal testing.
It is environmentally friendly.
We have added advanced technologies and features into our machines to keep them protected from low and high voltage, radiation, pressure, and more.
One machine can detect multiple metals or elements, such as tin, iron, Sulphur, silver, gold, silicon, and more.
The machine has modern and professionally developed software, and it is easy to use.
So, don't think much and visit our website to know more about the machine to get a free quote.
15. How accurate is an XRF gold carat checking machine?
We have developed this machine to offer 100 percent accurate results. It can show the purity and composition level of the material faster. Well, heavier elements will be more accurate compared to the lighter elements. That means 0.01 to 100 percent of accuracy can be higher than the accuracy level of 1ppm to100ppm. However, this is an effective method to test different precious metals.
16. Why can XRF detect light elements?
Our XRF gold testing machine works quite effectively in testing light elements. Well, light elements produce a lower level of energy, and they can't escape without getting absorbed. Equipped with advanced techniques, our machine will detect light elements, such as magnesium, faster.  
17. What is an XRF instrument?
The XRF metal analysis machine, functions by utilizing an X-ray system. It uses x-ray technology and detects various elements present in minerals, sediments, fluids, and more. For 100 percent accurate metal testing results and to conduct a non-destructive metal analysis, you can trust our gold carat checking machine.
18. How does XRF measure thickness?
Our machine detects the fluorescent x-ray released by the metal. And by analyzing the signal strength of the released x-ray, you can check the thickness. For this, our machine will take up to 15 seconds.
19. Can machines test fake gold?
Yes, in fact, this is the primary aim of our gold testing machine. To check the purity, you can use two methods. The first one is to melt the gold using an induction furnace, then test the gold using a gold analyzer.  The second method is to drill multiple parts of the metal to check the purity.
But these are time-taking processes. However, if you are in search of a faster method, using a gold tester gun can be a perfect option. For example, SuperbMelt's XRF gold carat checking machine. It offers faster analysis, accurate results and doesn't damage the product. For more detail, you can always get in touch with us. For a free quote, you can visit our official site.
20. Are XRF gold carat checking machines safe to use?
Yes, the XRF gold carat checking machine of SuperbMelt is safe to use. It will not cause any harm to the users as well as metals. However, don't point the device at anyone and pull the switch as exposure to the radiation can be harmful.