Aluminum Frame Induction Furnace
Induction Furnace Description
The aluminum frame induction furnace is most cost performance solution for foundry metal melting. The melting capacity of  iron melting furnace ranges from 0.5 ~ 3, 0.5~ 3 tons copper, 0.1 ~ 1 ton aluminum.
The operation for this device(such as iron melting furnace) is very simple. A full time operator specially for power supply is unnecessary. There is only one turn on/off switch and one power adjustment knob for best operation convenience. The titling control is by reducer box. The max titling angle is up to 95 degrees.
For saving your investment budget of your factory, this type of furnace will be the best choice.
Over 100 successful projects building will help you run your foundry with safety, high efficiency, low failure and low pollution.
Aluminum shell iron melting furnace parameters
KGPS-GW-MF Indcution melting furnace (Cast iron)

Furnace model

Rated capacity (T)

Max Capacity (T)

Rated power (Kw)

Rated frequency (KHz)

Voltage (V)

DC voltage (V)

Oven voltage (V)

Pulses

Melting rate (T/H)

Energy Consumption (KwH/T)

KGPS-GW-0.25-310/1

0.25

0.38

310

1

380

500

1500

6

0.45

600

KGPS-GW-0.3-350/1

0.3

0.45

350

1

380

500

1500

6

0.4

590

KGPS-GW-0.5-400/1

0.5

0.7

400

1

380/690

500/900

2500

6

0.7

580

KGPS-GW-0.75-500/1

0.75

0.9

500

1

380/690

500/900

2500

6

0.8

560

KGPS-GW-1-750/1

1

1.4

750

1/0.5

380/690

500/900

2500

6

1.2

550

KGPS-GW-1.5-1000/0.75

1.5

2

1000

0.5

380/690

500/900

2500

6

1.7

550

KGPS-GW-2-1400/0.5

2

2.6

1400

0.5

690

900

2500

6

2.4

550

KGPS-GW-3-2000/0.5-0.25

3

3.8

2000

0.5/0.25

690

900

2500

6

3.5

530

KGPS-GW-5-3000/0.5-0.25

5

7

3000

0.5/0.25

1000

1300

3400

12

5.5

520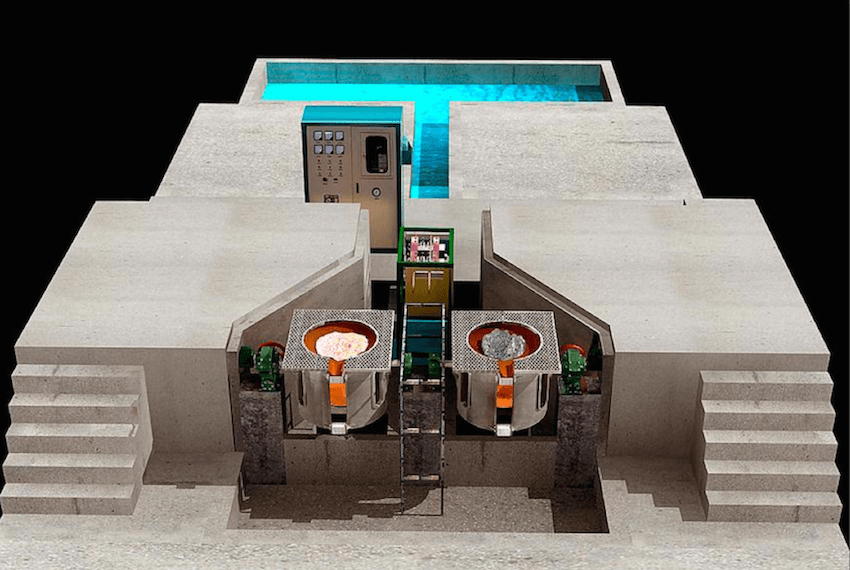 Easy operation:
A full time operator specially for power supply is not needed .There is only one switch for turning on or off and one power adjustment knob. After started, the only thing that needs to be done is rotating the power adjustment knob to the largest location, others are controlled by the device itself.
 Safety protection functions of induction melting furnace for steel:
1. The main circuit and short circuit protection
2. SCR overvoltage protection
3. Main circuit phase fault protection
4. The main circuit phase loss protection
5. Low water pressure protection
6. SCR overcurrent protection
Power protection warning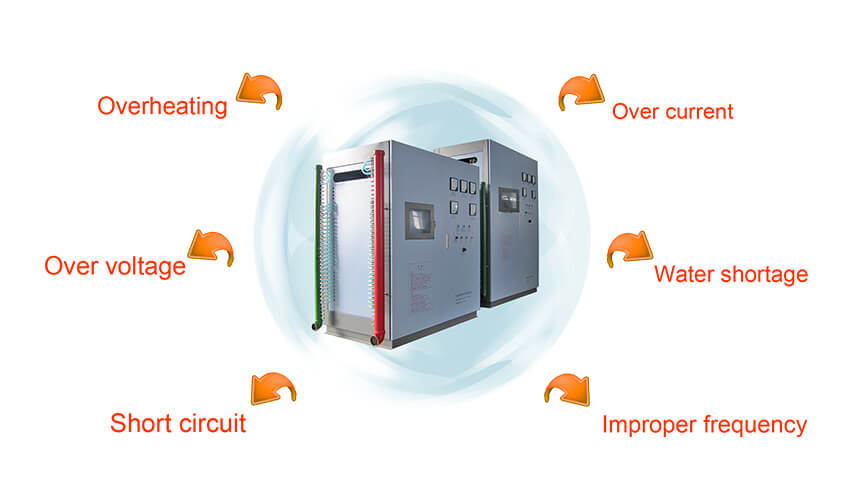 Link here to learn more


Highly reliable electrical control board

In the operation, the 3-phase current is balanced. Due to the advanced design, the 3-phase power supplys sequence could be connected randomly. Moreover there is no limit to connect to capacitor cabinet and furnace. All of these jobs can be judged to be adapted automatically by the device itself. It makes the installation and maintenance very easily.
The Power Supply components of induction furnace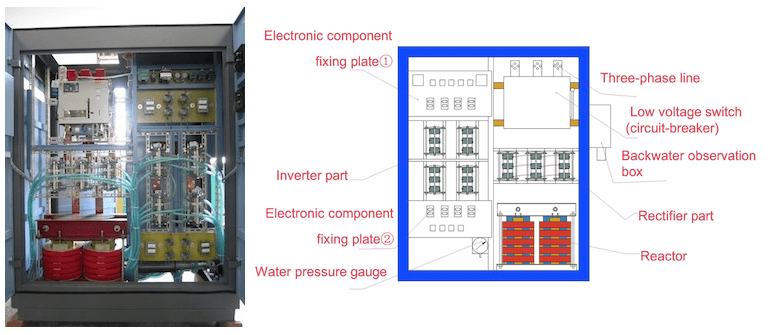 Contruction of aluminum frame induction furnace
Circular aluminum shell furnace is mainly composed of aluminum shell furnace body. bricks (up). bricks(down). asbestos plate .induction coil. stainless steel screw etc, see below: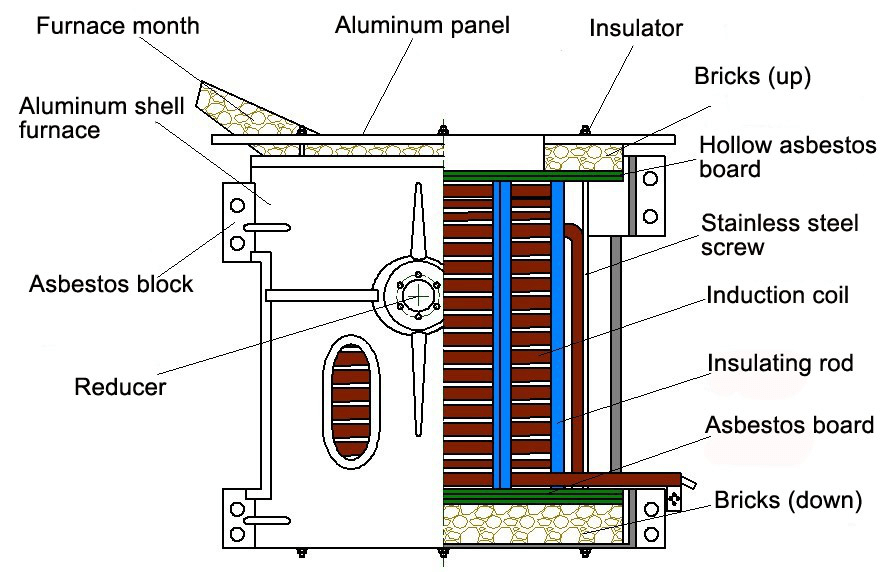 The furnace body is made by thick aluminum alloy shell to reduce the magnetic leakage and ensure furnace body strength.
The thick T2 standard copper tube is taken use for induction coil to provides high melting efficiency.
Open type furnace hearth reduces moisture,and design cooling rings on the bottom, which extend the furnace lining life time.
The titling is controlled by reducer gear box. The remote control panel can set the furnace in any position when titling. The max tilting angle is 95 degrees.